iCrowdNewswire - Feb 1, 2016
With LUUV, everyone can film like a pro. The revolutionary camera stabilizer solidLUUV, boasts innovative technology, has received numerous international awards, has been pre-ordered in more than 60 countries and is currently being prepared for its imminent market entry. solidLUUV is the foundation of our range of products that will permanently revolutionise the world of mobile filming.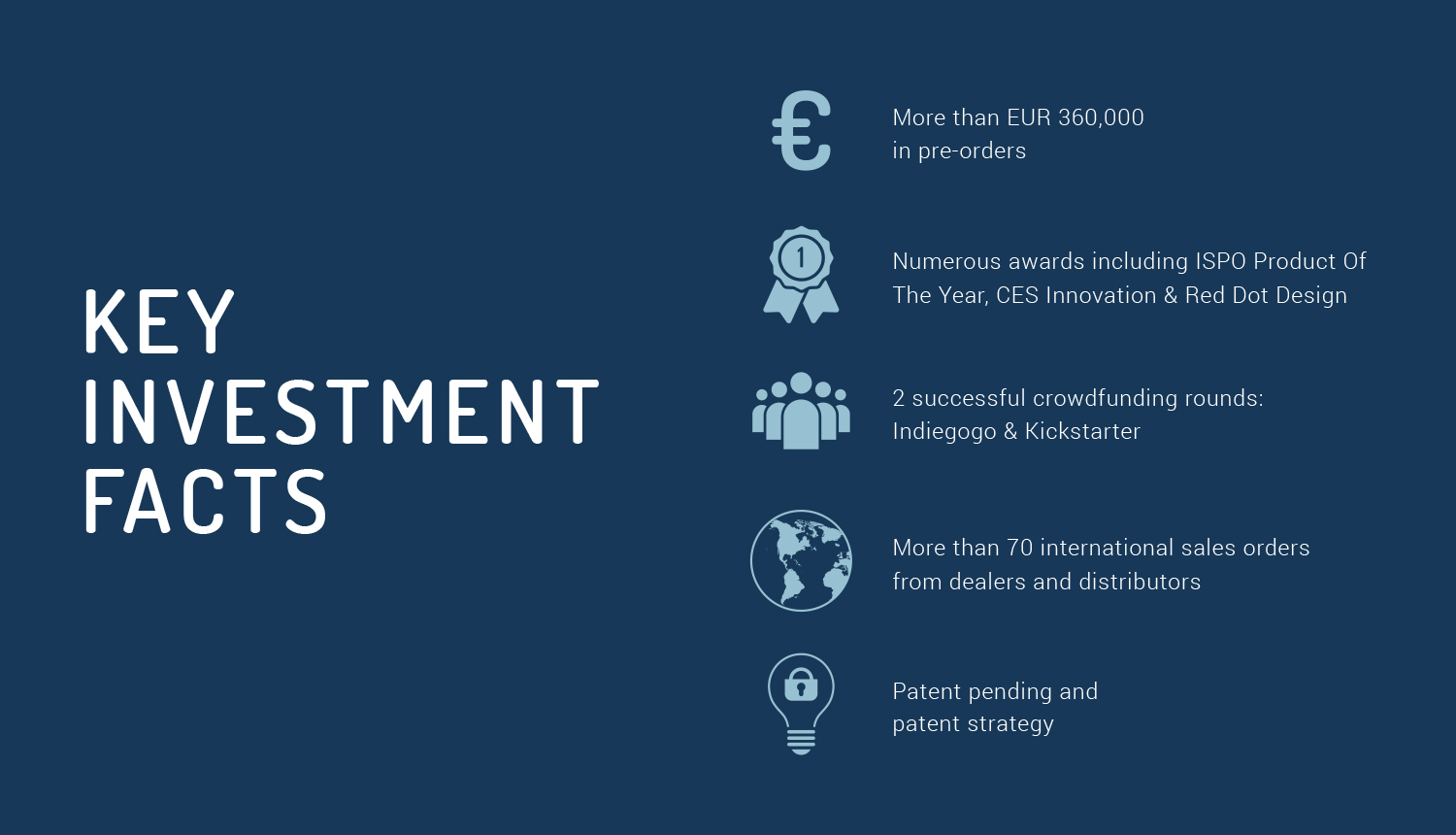 Videos are becoming increasingly important in everyday communication as well as in our media consumption. More than 400 hours of video footage are uploaded to YouTube every minute; sales figures for action cameras have skyrocketed in the last years, and smartphones have turned into the omnipresent camera of our generation. There are more than 46 million smartphone users in Germany alone. Last year, approximately 1.4 billion smartphoneswere sold worldwide. It doesn't matter whether you are on holiday, at work or just going about your daily business: Nowadays, every event, no matter how insignificant, is captured on film!
The result is exciting and unique video footage – dressed in shaky and unprofessional shots. There seems to be an enormous gap between the camera manufacturers' promotional videos and the videos shot by frustrated camera owners. LUUV products aim to close said gap.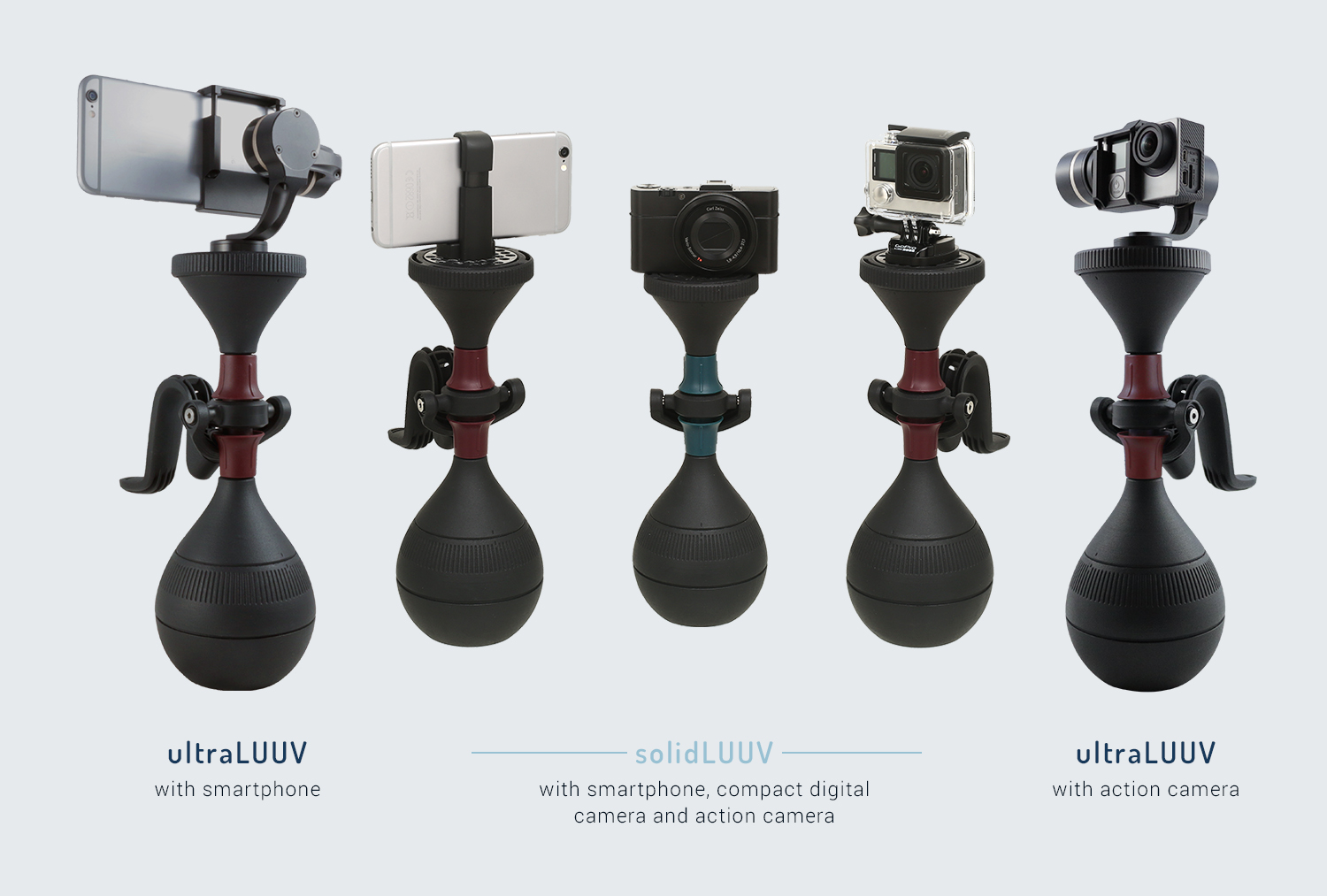 solidLUUV, the camera stabilizer for shake-free filming in motion, is the foundation of our range of products. solidLUUV prevents transmission of the body's movements to the camera with the help of the patent pending technology and guarantees professional videos at all times. solidLUUV makes expensive and complicated film technology accessible so that everyone can film like a pro!
Two successful crowdfunding campaigns, pre-orders worth more than €360,000 and enthusiastic beta testers – solidLUUV serves an international market with a strong growth potential. So far, we have been able to generate pre-orders from more than 60 countries without implementing any significant marketing measures.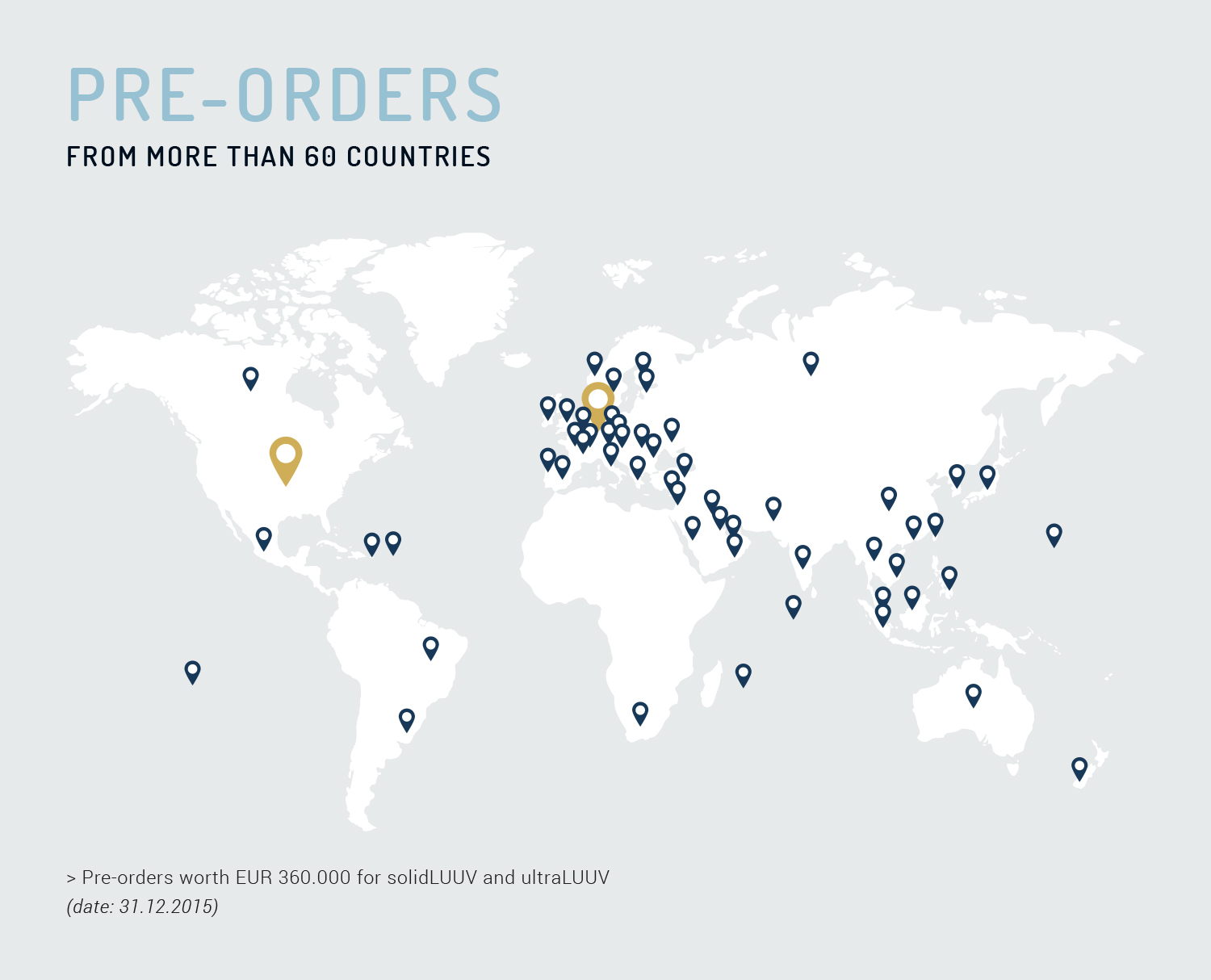 solidLUUV has generated enthusiastic international media coverage and appears in hundreds of media reports, as well as receiving numerous awards including:
the 'Product of the Year 2015/2016' award in the category 'Action' from the world's largest sports trade fair ISPO for the innovative features
the renowned 'Red Dot Award: Design Concept' for the functional design
the 'CES Innovation Award' from the world's largest trade fair for consumer electronics, which was also awarded to established camera manufacturers such as Ricoh or Canon

Snowboarders on the slopes, families on holiday, journalists in hotspots or real estate agents who want to show off their properties in the best light – the demand for shake-free videos is enormous, making the range of applications just as diverse as the target group. In order to satisfy all target groups, we attach great importance to creating a timeless product that is always ready to go and does not require any training.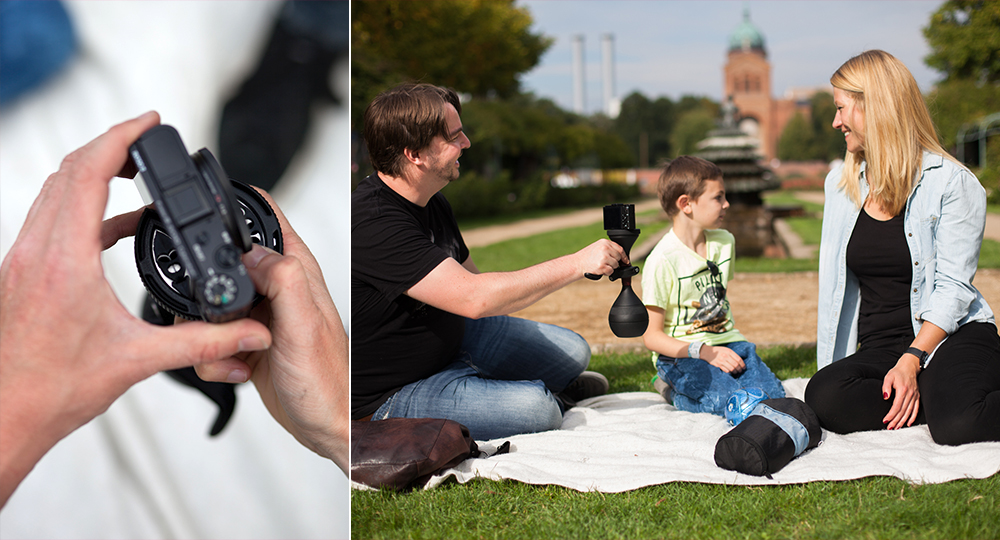 One of the main advantages of solidLUUV is its modular setup – it can already be combined with an electronic stabilization component and is equipped to handle all future cameras and trends. The special setup makes solidLUUV the world's only stabilizer for 360° and virtual reality cameras.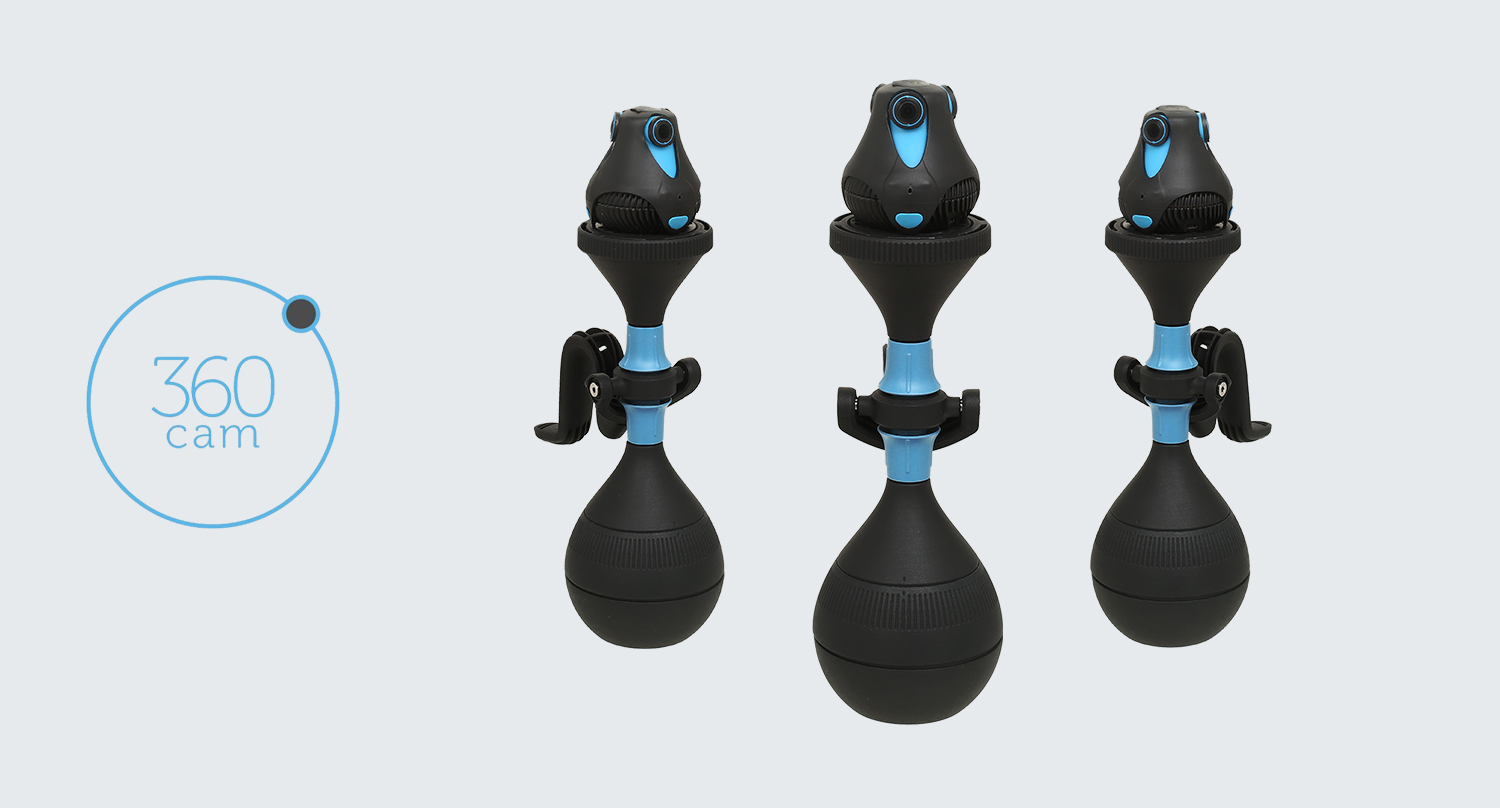 Our focus is on superior quality, which is why we have chosen Germany as our production site. The solidLUUV development phase has been completed, serial production is about to take off, the international market launch is scheduled for the second quarter of 2016 – the filming revolution starts right now!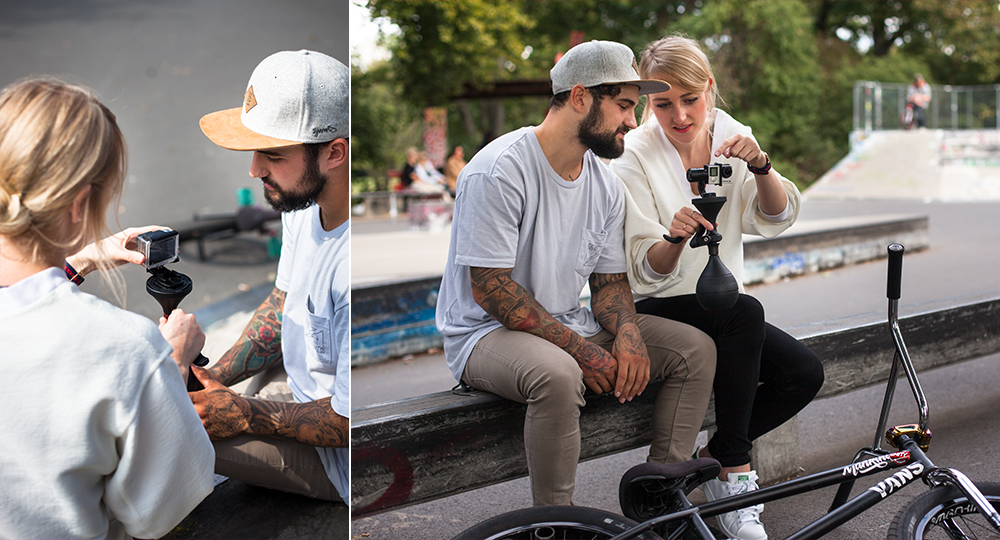 LUUV's vision is to become the leading manufacturer of innovative film technology and camera stabilizers. To this end, we are developing a range of products that focus on the central issue of shaky filming. Different products for a variety of target groups – our portfolio is currently arranged according to the following three areas:
1. Mechanical stabilization
Product: solidLUUV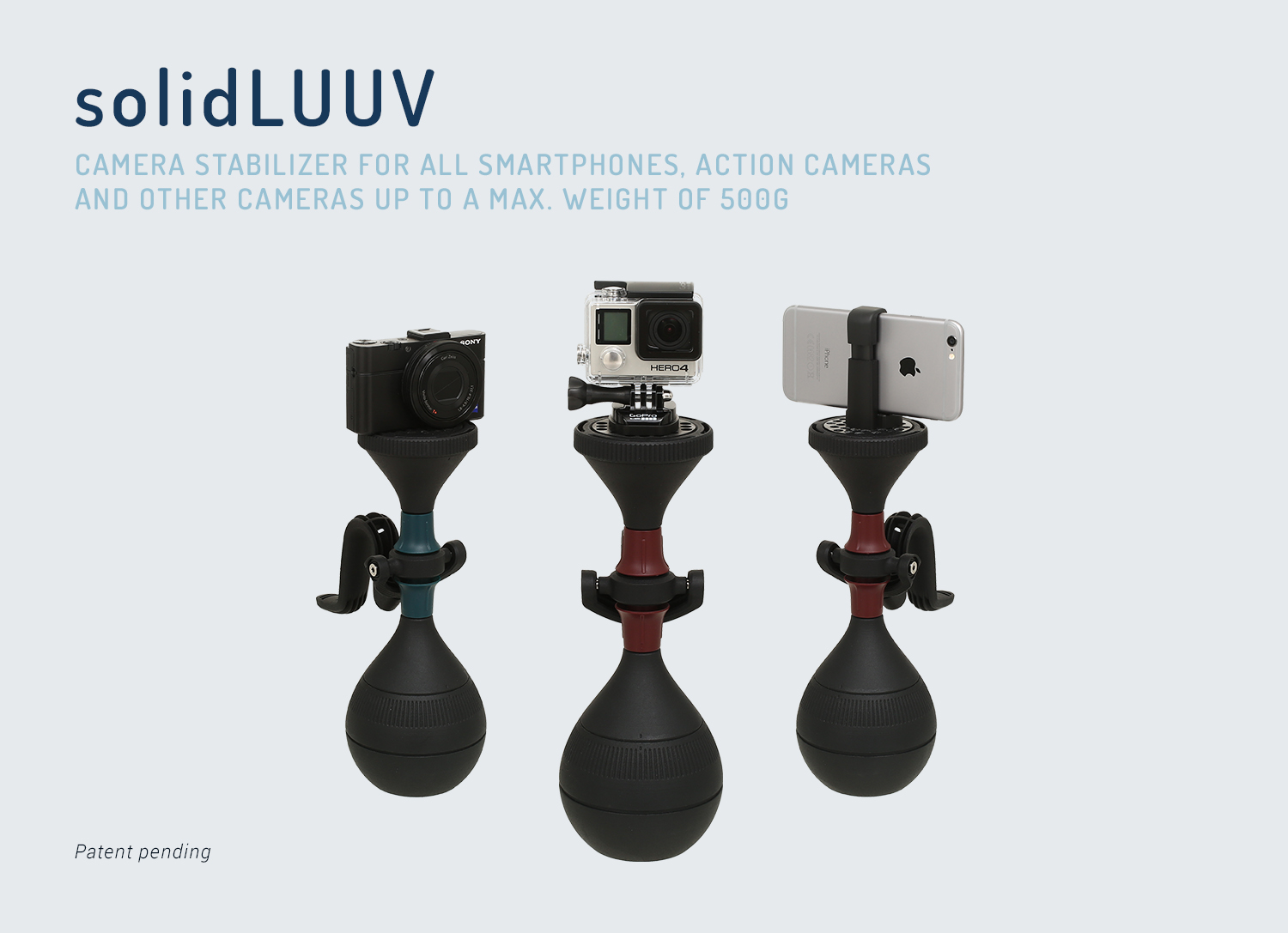 Mechanical 3-axis stabilizer for action cameras, smartphones and compact digital cameras:
Professional mechanical stabilization
Waterproof, robust, Plug & Play – solidLUUV is always ready to go
Easy to adjust and balance thanks to our patent pending technology
Simple use – no technical knowledge required
Perfect for capturing spontaneous activities, sports scenes and action-packed moments
no batteries required
In its basic version, solidLUUV is compatible with all cameras weighing up to 500 grams and is therefore also the world's first stabilizer for 360° and virtual reality cameras. 360° footage is currently one of the most important developments in the moving images industry.
In order to strengthen solidLUUV's position in the professional film business, we will also develop a module for enhancement of the weight range to include heavy DSLR cameras.
2. Electronic stabilization
Product: autoLUUV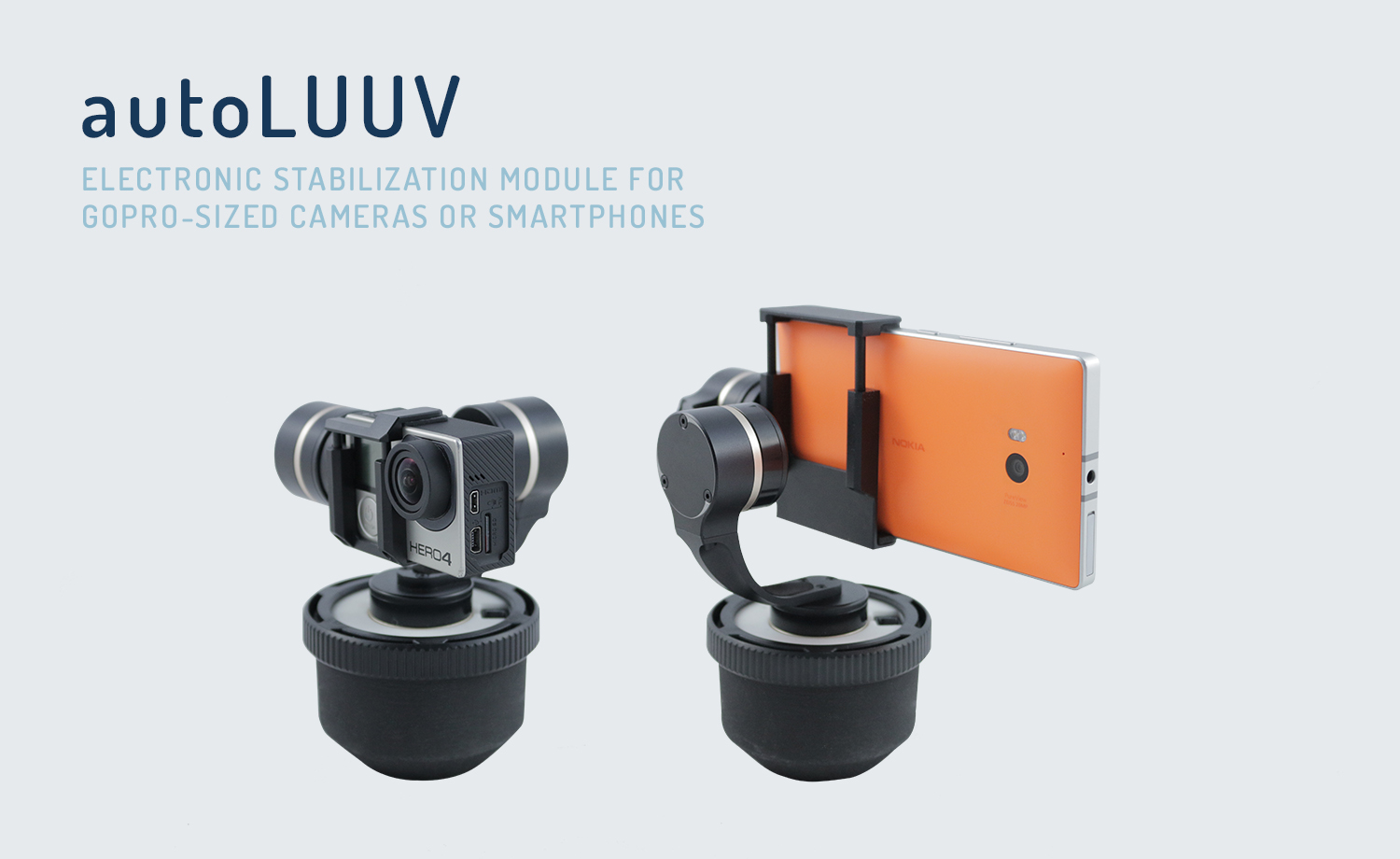 Electronic 3-axis gimbal for GoPro-sized action cameras or smartphones:
Electronic stabilization
Maximum flexibility: autoLUUV can be attached to various surfaces (e.g. helmets or handlebars) and common accessories (e.g. poles or chest straps) with the help of a universal adapter
Simple use – no technical knowledge required
The development of autoLUUV is supported by our partner FeiyuTech, one of the leading manufacturers of electronic stabilizer modules. Together, we are developing the most progressive and diverse electronic stabilizer module.
3. The best of both worlds: a combination of mechanical and electronic stabilization
Product: ultraLUUV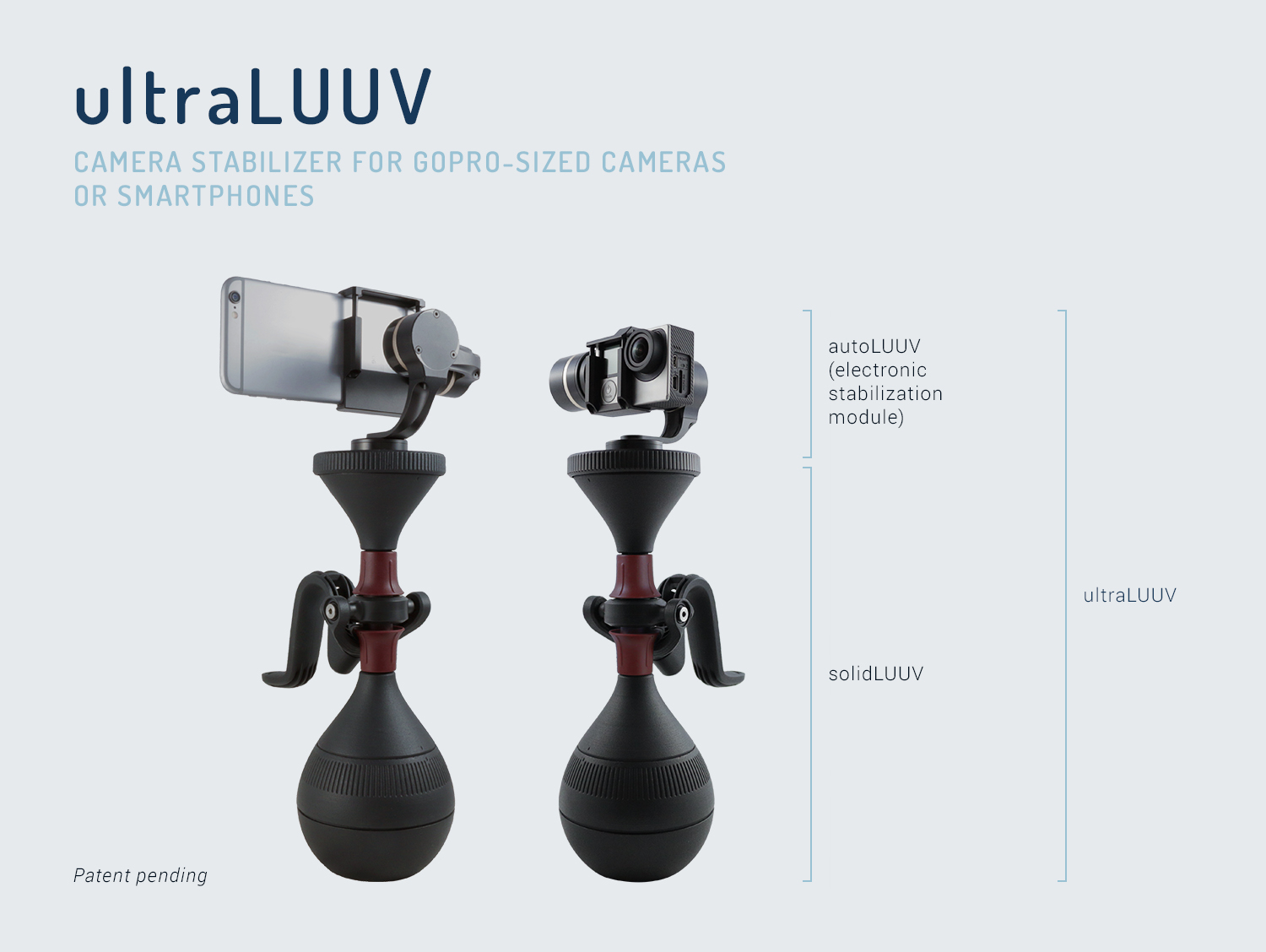 Combination of mechanical and electronic 3-axis stabilization
2×3-axis stabilizer for GoPro-sized action cameras or smartphones:
The new generation of stabilizers
Intuitive use – no training required
Consistently perfect, shake-free images – no matter whether you are a first time user, are travelling at high speeds or are moving rapidly
ultraLUUV combines the advantages of mechanical and electronic stabilization.
Filming in motion has always put video stabilization to the test. Walking, running, climbing stairs – in order to film these movements, professional film makers rely on expensive and complex camera tracks, use camera cranes or hire specialised steadycam operators: thanks to ultraLUUV, these approaches will soon be nothing more than a distant memory.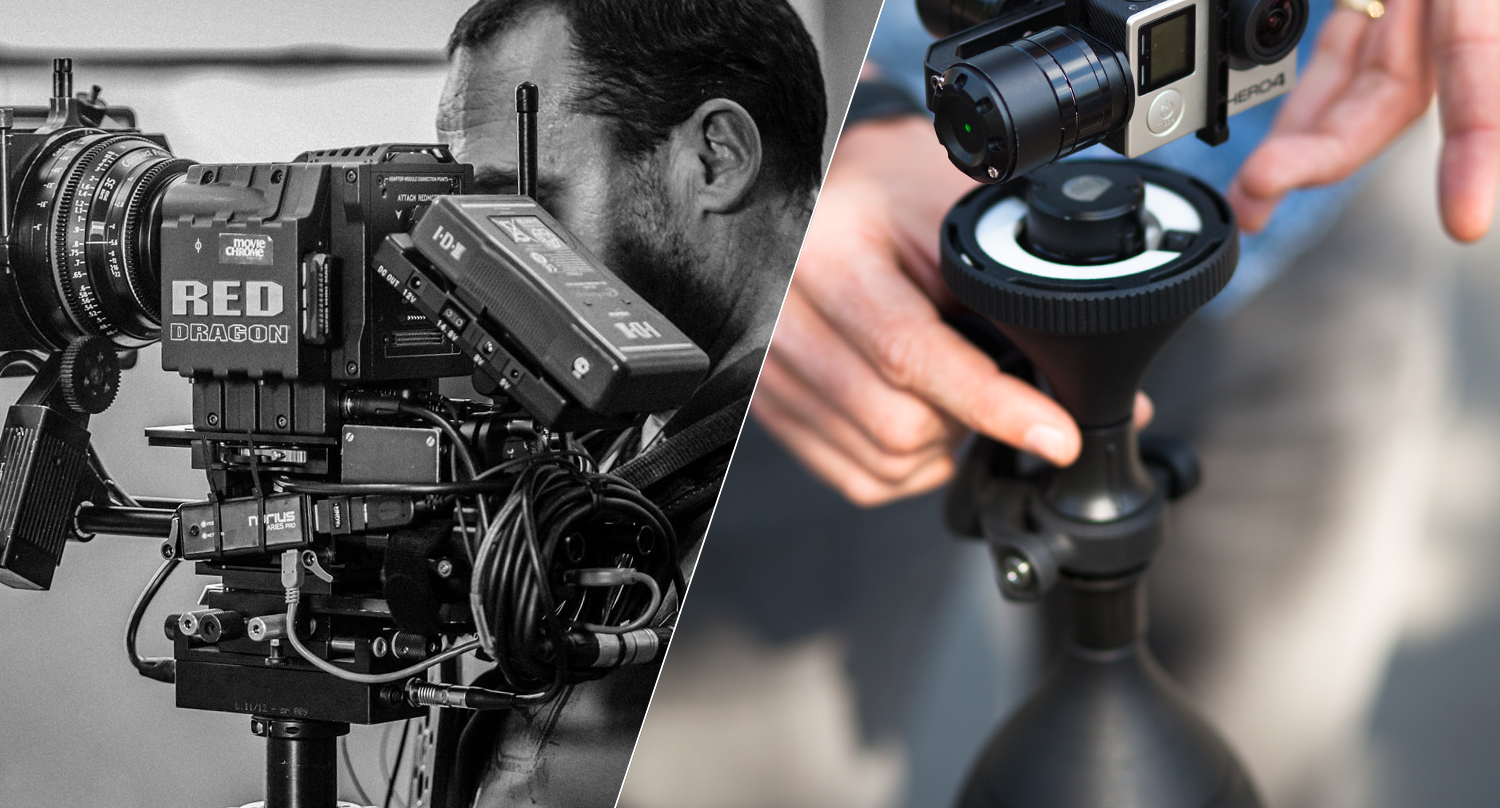 Steadycam Operator vs. ultraLUUV (http://www.stefanobella.com)
In order to demonstrate the simple operation and wide range of applications, we recorded a video with Amadei Weiland, the world record holder in parkour/free-running. The video is a definitive test with as many sprints, jumps and big movements as possible.