iCrowdNewswire - Feb 1, 2016
World's Fastest Pocket-sized Phone Charger. The power to charge your iPhone 100% in only 5 minutes.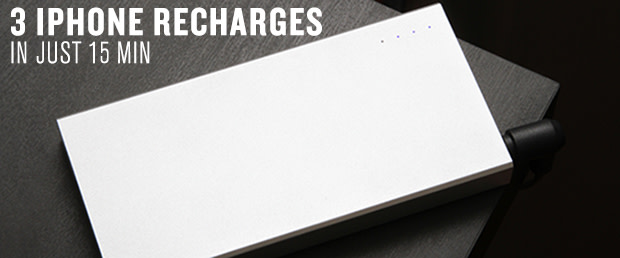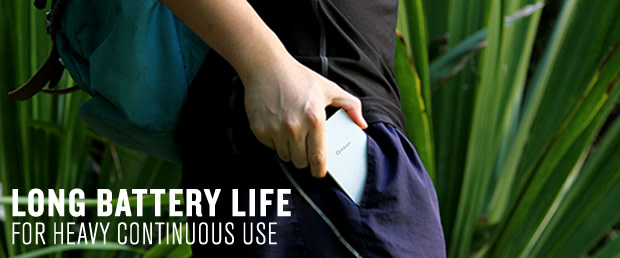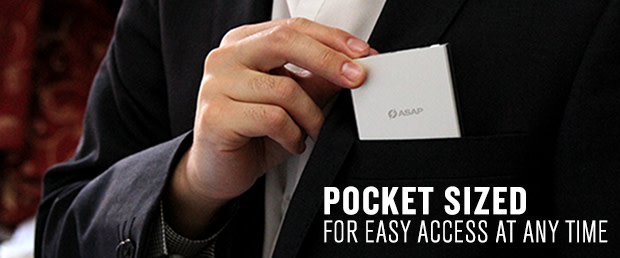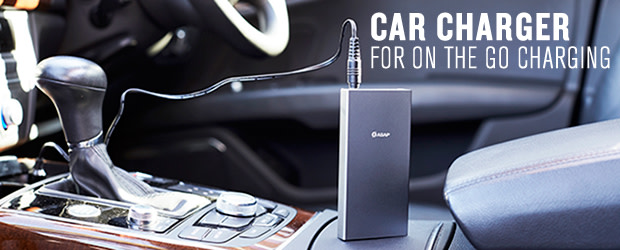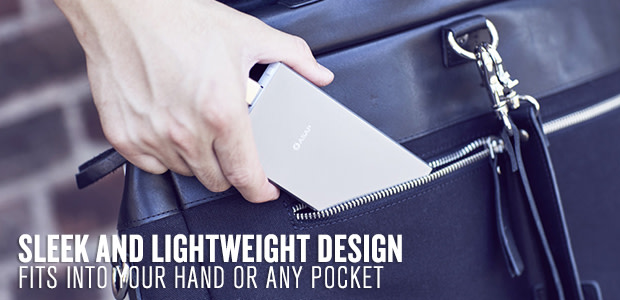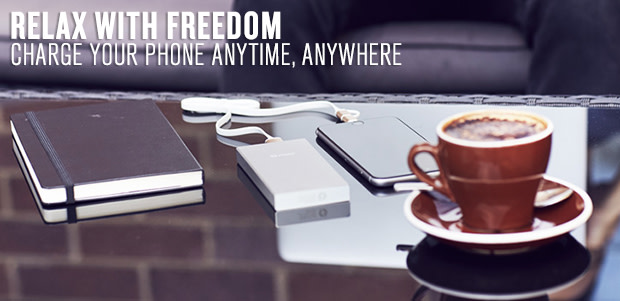 If you're familiar with crowdfunding websites you've seen many fast chargers launching in the past year, here's a comparison chart showing ASAP Dash's stand out features.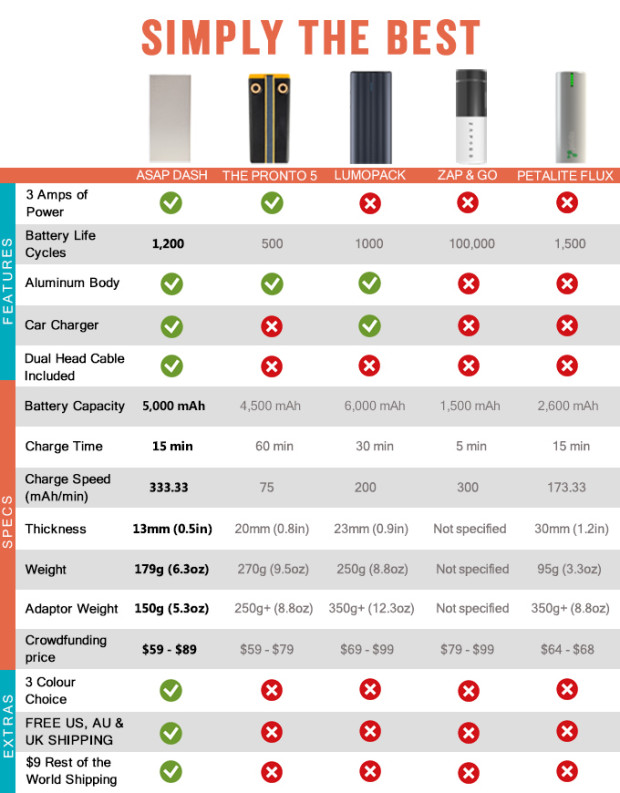 All competitor information has been collected from the latest publicly available campaign or website pages and is correct as of the date of campaign launch. 

ASAP (an acronym/abbreviation/slang) means "As Soon As Possible", which is how fast you can now be on the go with your smartphone.
Imagine the day you can say- "Just give me 15 minutes and I'll have my phone charged up for a whole weekend!" 
That day has finally arrived with the launch of ASAP Dash. Unlike other rapid charge chargers which have a tiny capacity (under 2,000 mAh), ASAP Dash stores an incredible 5,000mAh keeping your phone going for more than 48 hrs.
Check out how much power ASAP Dash can store in as little as 5 minutes:
"mAh" refers to the battery capacity of your phone. Samsung phones have a larger capacity than iPhone and hence will typically last longer.

Most portable chargers take FOREVER to charge, we've all been there waiting up to 10 hours to power them up, keeping you stuck to the wall and defeats the purpose of portable power.
Our mission is to finally fix this problem by creating a portable charger that charges insanely fast from a wall socket. How fast? ASAP Dash charges up to 16x faster than standard chargers in the market today.
Our patented fast charge technology puts us miles ahead of the nearest competition both in charge speed and size of the charger allowing you always be on-the-go. It's the first charger in the world to give you a whole weekend of charge that's pocket sized!

ASAP Dash features an amazingly slim and sleek anodized aluminum shell. We've really stripped down the charger and removed the unnecessary features to give you one of the thinnest high capacity chargers you've ever seen. Don't be fooled by the sleek profile as it does pack a punch of battery power!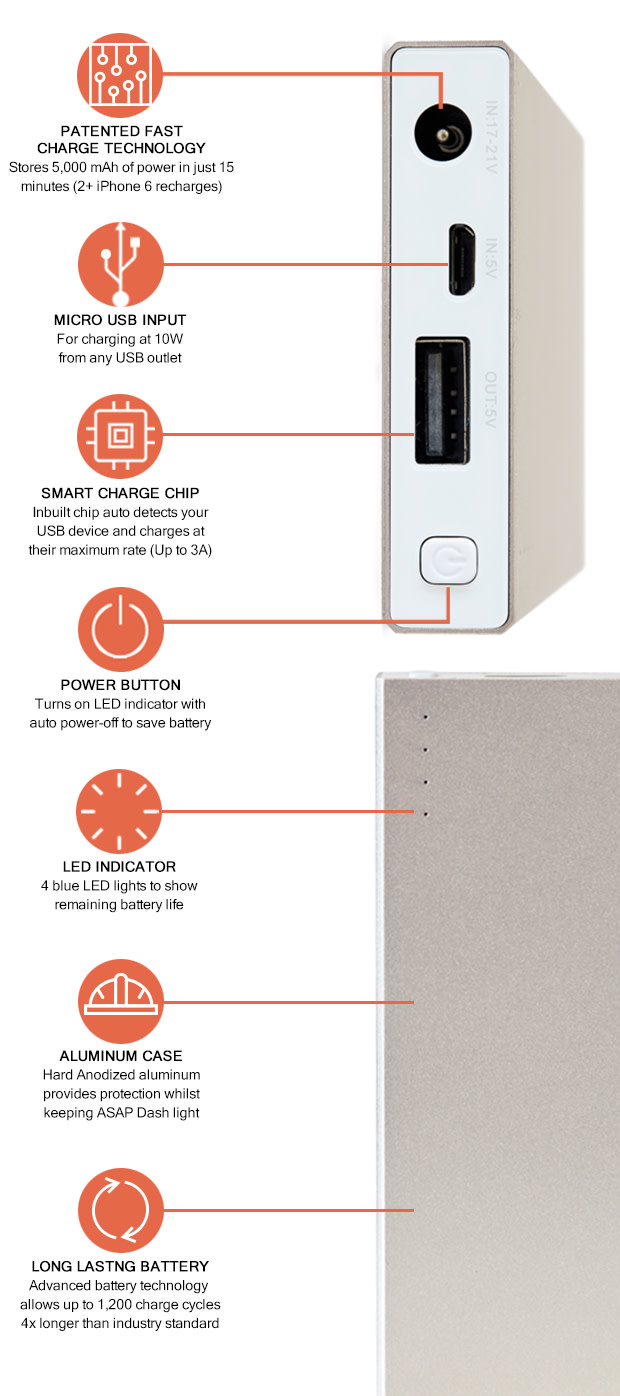 The ASAP Dash not only works with all Iphone and Android devices, it is alsocompatible with all USB devices. Most phone chargers or power banks are only capable of outputting 2.1 Amps. We're already preparing for the future phones that accept a larger input, the ASAP Dash comes with a unique 3.1 Amp output. As the new phones roll out, you'll be able to enjoy the fast phone charging speeds that manufacturers allow without having to buy a new portable charger.
The high output also means your iPhone will charge 2x faster than your standard wall charger (1 Amp).
You can also charge your iPad at the max speed of 3.1 Amp vs most wall chargers and power banks which only charge at 2.1 Amps.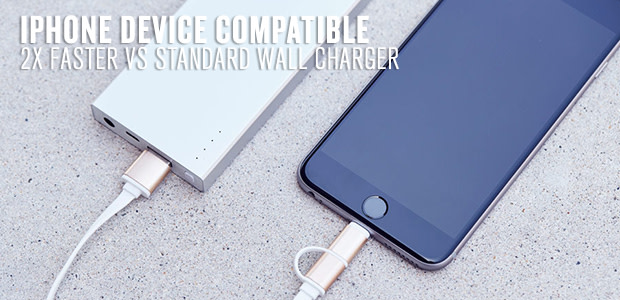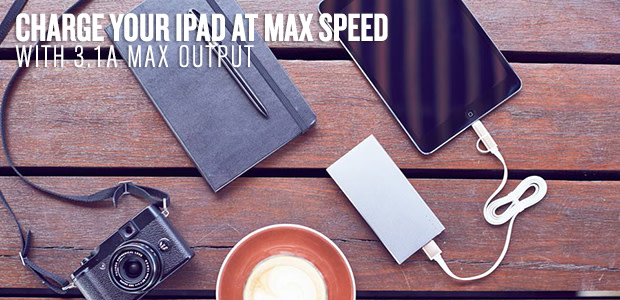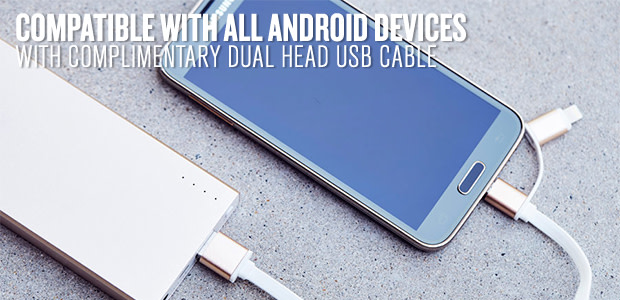 Have you ever used an old phone or laptop after charging it to 100% and it seems to run out FAST? It's because you've likely exceeded the battery life cycle.
Standard batteries today typically offer 100 – 300 cycles whilst premium battery packs can last up to 500 cycles (based on ideal conditions). Typically charging a battery at a higher than recommended wattage will result in it heating up (even exploding) or reducing its life cycle. 
By using advanced battery technology, ASAP Dash solves this conventional problem with fast charge speeds and a 1,200 battery life cycle, that's 4x the industry standard.
This means most batteries when used 7 days a week will only last 1 year whilst ASAP Dash will last 3+ years even when used 7 days a week. Finally a reliable charger that lasts!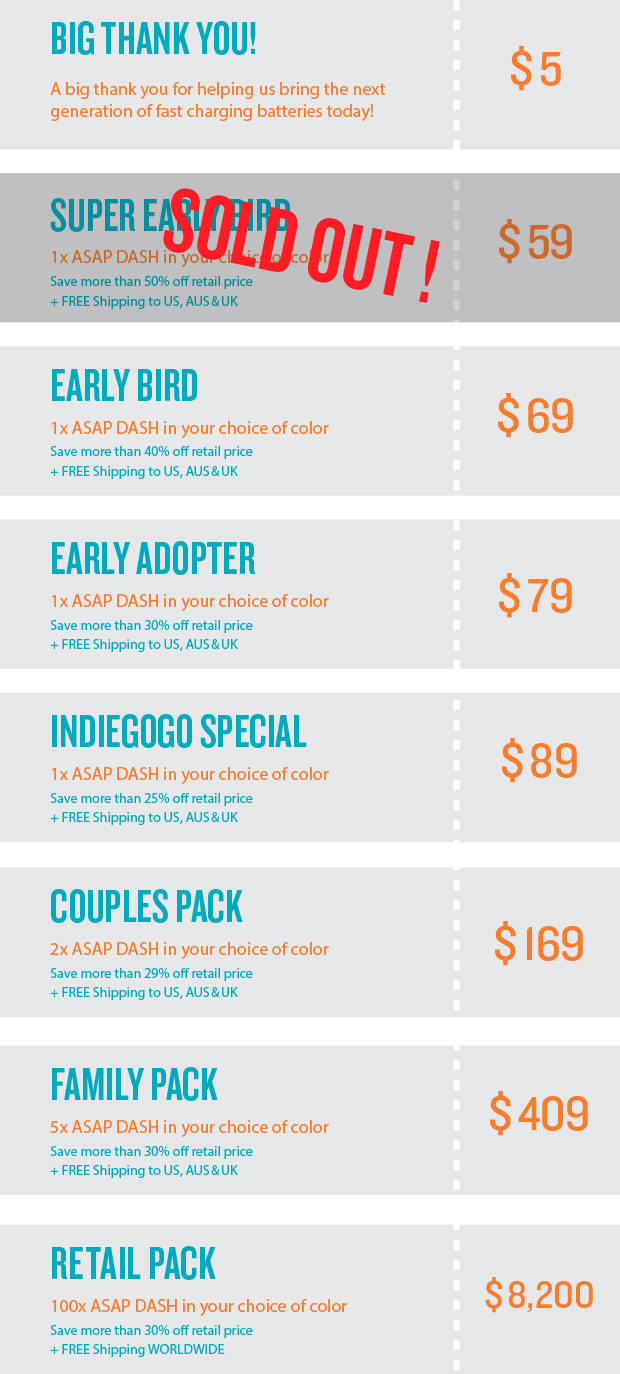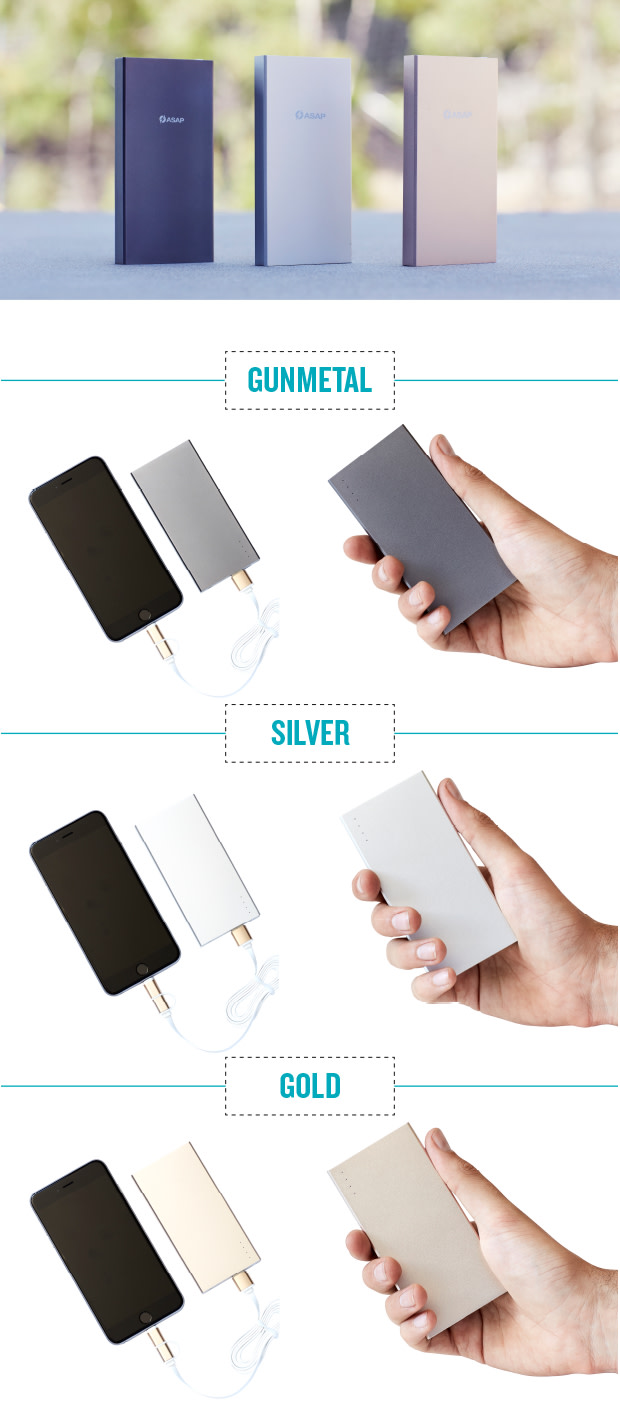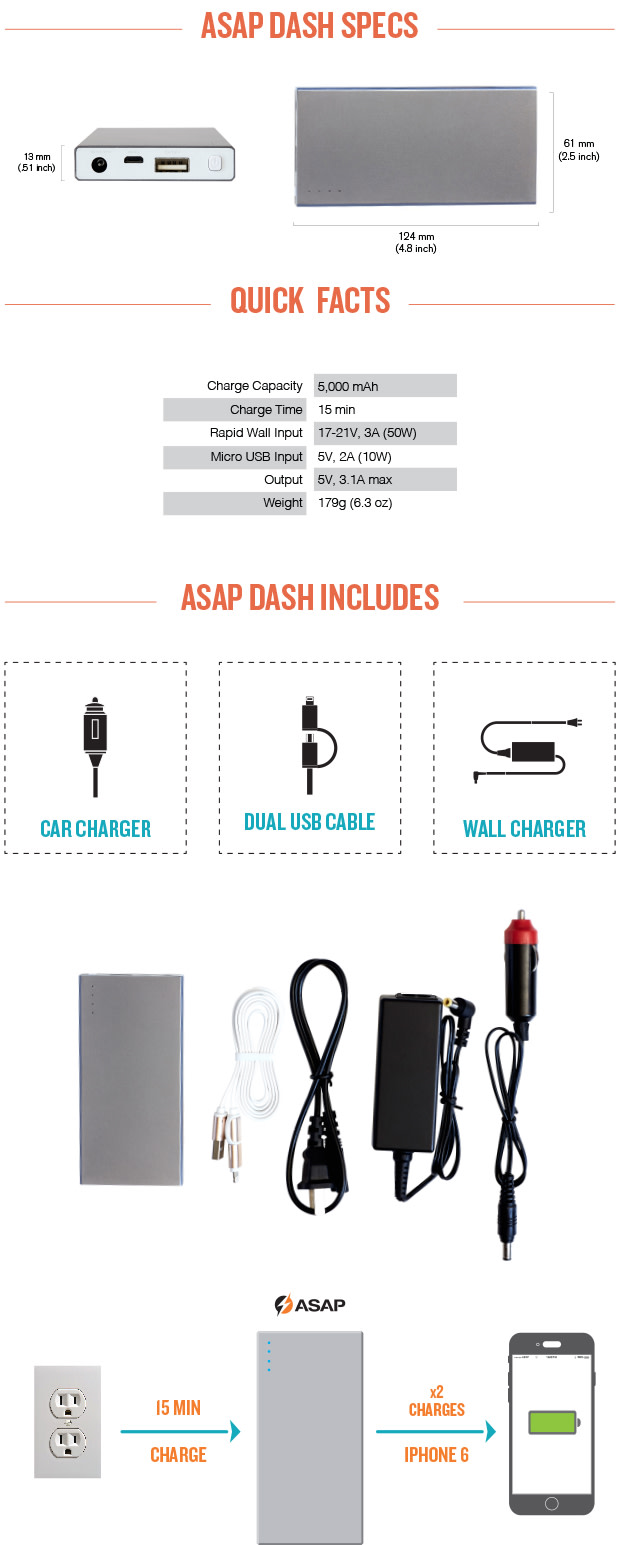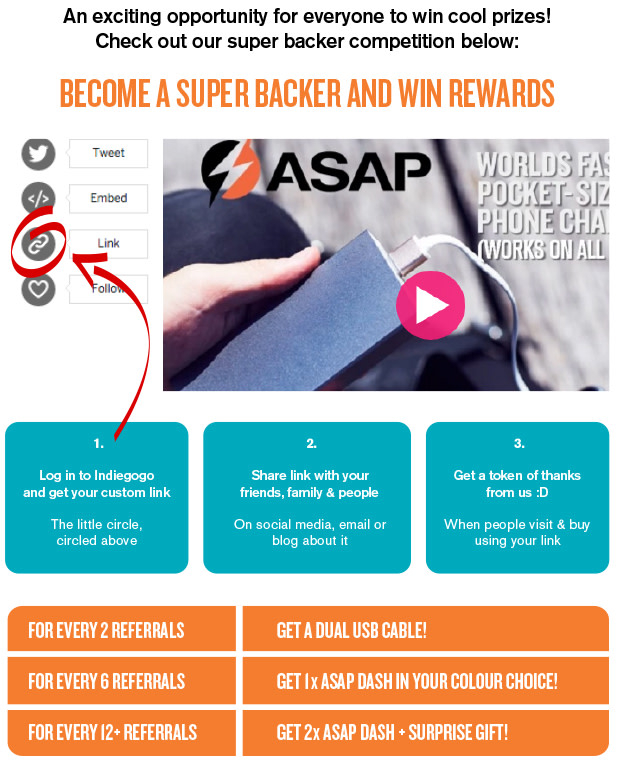 What makes ASAP Dash charge up so fast is the patented protection circuit board (PCB) that has been engineered with both smaller and fewer parts.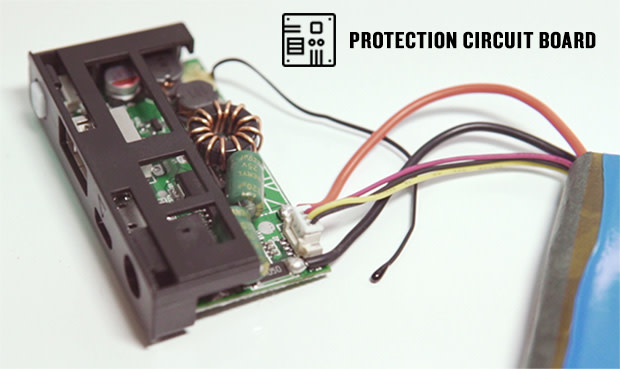 Our unique PCB (pictured above) is able to accept higher than standard wattage (50W) with a much higher energy conversion speed that results in a quicker charge despite a lower wattage input than competitors.
The result of a higher energy conversion speed is a much smaller adapter vs other fast charger brands, 40%+ lighter. With an adapter that's only 150g, that's light enough to fit in most pockets or bags for all your adventures.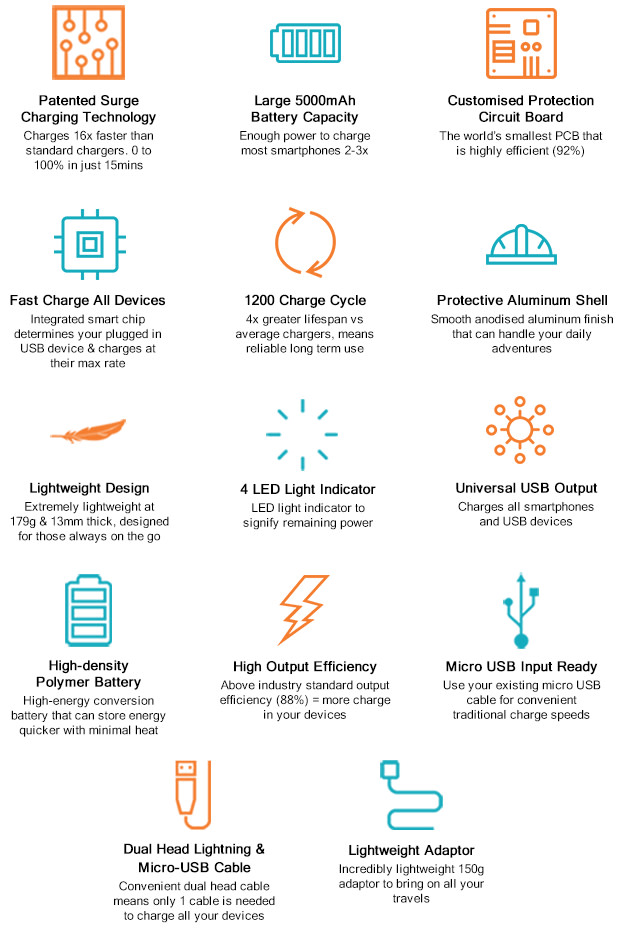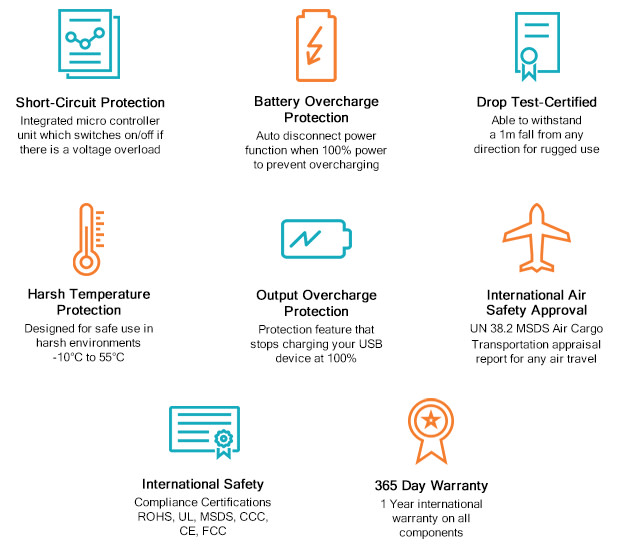 ASAP Dash units are put through a rigorous series of tests to ensure we're able to secure our international certifications. Some are outlined below.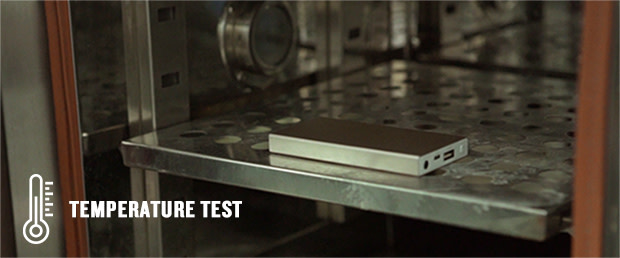 ASAP Dash units are placed inside a temperature chamber that mimics hot and cold weather conditions. They are put through extremes of -15°C to 60°C and tested after to still be in perfect working condition.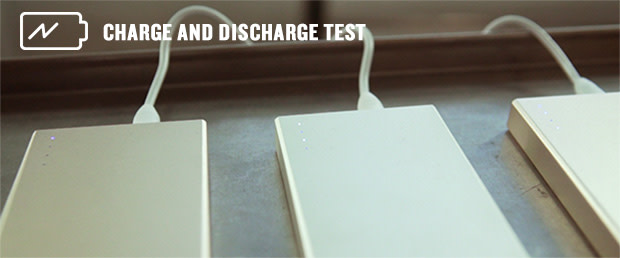 Chargers are repeatedly charged to 100% then drained to 0% to ensure the batteries are at perfect working capacity.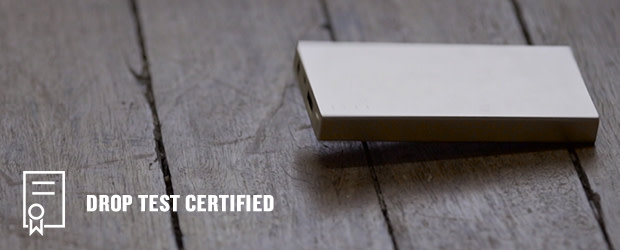 ASAP Dash comes with international drop test certification. This means ASAP Dash can be dropped from a height of 1 metre (3.28ft) onto any side of the unit onto a hard wooden surface repeatedly and will still be 100% functional.

We've gone the extra mile to ensure your ASAP Dash is a light as possible, so we're proud to be one of the first crowdfunding campaigns to offer our wall sockets in 4 different wall types, so you won't need to purchase a travel adaptor to use in your own country. You can choose from 1 of the 4 most popular international wall socket types below.

Type A: USA, Canada, Mexico & Japan
Type F: Europe & Russia, except for the UK & Ireland
Type G: United Kingdom, Ireland, Cyprus & Singapore
Type I: Australia, New Zealand, China & Argentina

The idea of ASAP Dash was born when founder Vinson Leow, a frequent world traveller, decided he could no longer cope with always being low on phone battery especially at the most inconvenient times such as using the GPS or catching an Uber. Today's solution of portable phone chargers solved this, however presented a new problem: they either take 2 – 4 hrs to charge but hold too little capacity or hold enough capacity but take 6 – 8 hrs to charge. The solution is a charger that can charge most smartphones 100%, fits into any pocket and charges in 15 minutes or less. With over 10,000 hrs of research and development into cutting edge battery and protection circuit board technology we've created our revolutionary surge charging technology.
We're a team of designers, engineers, and entrepreneurs across Australia and United States who've worked together the last 2 years to bring this vision to life.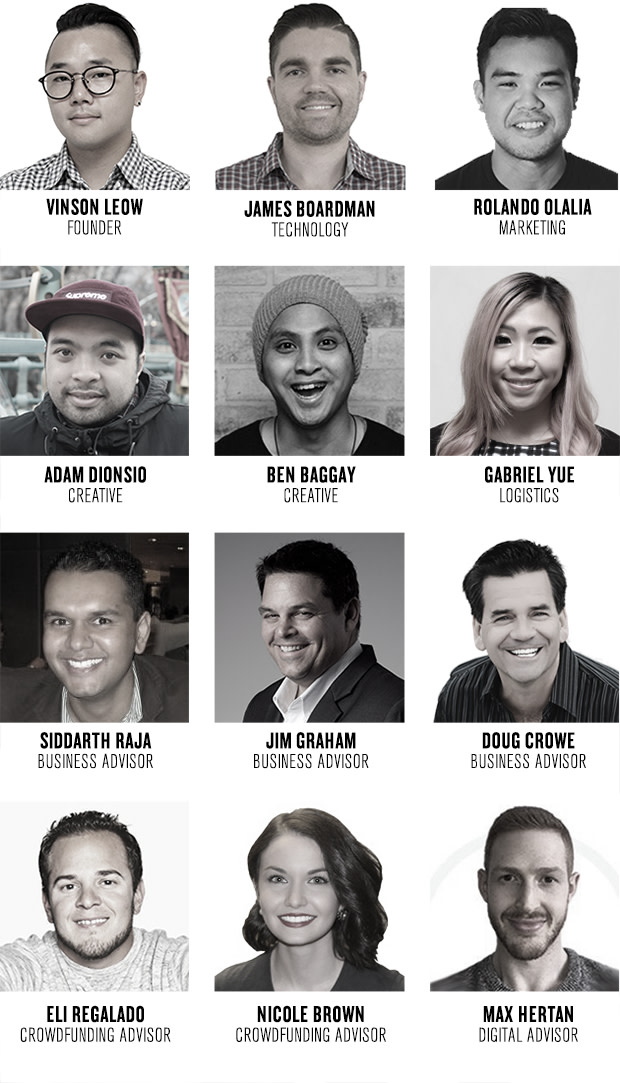 With the latest ground breaking technology, cutting edge design and experienced suppliers with 15+ years in the electronics industry, we ensure safety, quality and portability.
We wanted to share ASAP Dash with the Indiegogo community here first because of the strong community of creatives, innovators and early adopters. With your help not only will you help kickstart the next generation of batteries and change the world's expectations of charging speeds, you'll bring us one step closer to furthering future applications of this technology. Imagine a world with unlimited battery power, living life unplugged and always on-the-go. Help us bring the fast charge battery revolution today!
We've Partnered up with Backerkit!
We've partnered up with Backerkit for a smooth, streamline experience for the fulfilment process. Once the campaign closes we will send you out a survey that will help us to review and break down your pledge into the specific items you ordered. This is also where you will be given the option to choose the colour and the wall socket options.