iCrowdNewswire - Jan 21, 2016
BECOME AN EARTH ANGEL AND CO-CREATE EARTH ANGEL ECOVILLAGE WITH US!
Pleased to meet you! We are Rob Drexel, Nikola Wittmer and our daughter Kiara (of FB video fame). And we are Liv Lundmark and Anton Bergendorff. We 5 have come together with common goals and a BIG PASSION – to do everything we can to live harmlessly on the planet and help and teach others to do the same.  We also have excellent and qualified consultants like Simon Rack and Chaym Feldman guiding us on energy/water infrastructure and agroecology/agroforestry/permaculture development of the property. Rob has years of experience in both conventional and natural building techniques.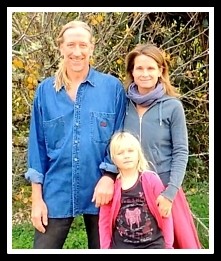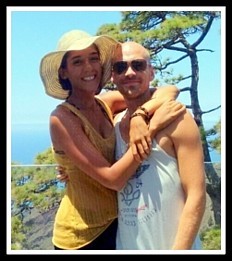 Rob and Nikola have between them, 6 decades of self-employed small business experience, conventional and natural building experience, commercial organic growing and living in intentional community settings (Rob is 60, Nikola 41).  Liv and Anton bring Permaculture Design training, professional sales/customer service skills, yoga, Liv is a reiki practitioner and all 5 of us are extensively studied in human nutrition and healthy food preparation.
 …and Kiara – a star of her own series of ecology videos on Facebook,  is ready to consult on all stuff for kids at Earth Angel Village!  
All told, we have the skills, experience and are raring-to-go in May of 2016 when we have scheduled to move onto the land and start creating gardens, living spaces and low-impact living facilities and creating, promoting and directing learning workshops and seminars. We'll hold EAV workshops in the first year for people to participate in the actual creation of the village while learning!
Why does humankind need to restructure  living communities into EcoVillages on Planet Earth?
An Ecovillage is: "a human-scale full-featured settlement in which human activities are harmlessly integrated into the natural world in a way that is supportive of healthy human development, and can be successfully continued into the indefinite future." Robert Gilman
Our human environment on planet earth is in a desperate state because of the wasteful and destructive practices of our pervasive -and now global – consumerist culture.   If we continue to race ahead as if we had 3 earths worth of resources and believe that our toxic trash and waste will somehow magically disappear – we humans and most of our beauitiful animal companions will most certainly cease to exist – (and in fact, many species already have.)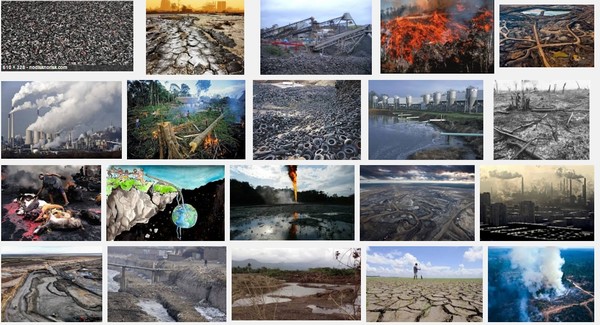 Global warming and pollution from burning fossil fuels due to demand for more and more electricity drivin by industrial production of consumerist goods (many electrical!)
UNSTOPPABLE radiation leaks, UNSTOPPABLE methane gas leaks, fracking chemical and earthquake damage, , oil spills, old toxic sites leaking, cancer-inducing glyphosate EVERYWHERE, and and and……
Destruction of tropical forests, temperate forests, wetlands, wilderness areas, savannas, rivers. According to Scientific American, we are losing 80,000 acres of rainforest a day (30k+ hectares) and with that, over 100 species of plants and animals DAILY!
Over-fishing of the oceans, destruction of coral reefs, pollutants, HUGE damage from plastic trash waste. Many estimate fish populations are already beyond recovery and for fishing purposes, will be gone by 2050.
Unseen contamination of our living spaces/whole towns, neighborhoods and cities with EMF radiation from cell towers, wifi and other transmitting devices.
The poisioning of our food supply by industrial farming and animal raising – pesticides, herbicides, GMOs, endocrine disrupters, un-necessary antibiotic use in animals AND humans.
this list is almost endless……
We REFUSE TO SIT QUIETLY AND LET OUR ECOSYSTEM BE DESTROYED along with OUR future, the future of OUR CHILDREN and indeed, the future of HUMANITY!  
Despite the gloom and doom that we see daily in the news about the environment, our team is resolute, excited and ambitious to re-pioneer the beautiful, long-vacant land located in central Portugal we are acquiring for the village and establish a 100% sustainable, self-sufficient, ecologically sound living and teaching center!
We are "Being the Change" & creating Earth  Angel EcoVillage and Learning Center! 
Earth Angel Village will be a point of light – a showcase of how well humans can live on planet earth without doing her harm and promising a cleaner and healthier future for our children and all humankind.
Earth Angel Village pledges that, within 1-2 years, we will be 100% self sufficient and sustainable in energy, food production and waste management.
Earth Angel Village will be one of the many thousands of such ecologically sound living villages that must be created for humans to live without damaging mother earth,
Earth Angel Village to be a leader helping others to create more earth-friendly, comfortable villages and teach low-impact, sustainable living methods.
Earth Angel Village will offer true eco-camping and glamping facilities that will provide ecologically-minded tourists a unique experience in an ecovillage, providing a cash-stream for the financial health of EAV.
Earth Angel Village will be a liberal, open culture where the arts and music will florish, creativity in every single aspect of the space and land will be encouraged, and socially open and tolerant values practiced.
WE ARE ALREADY UNDERWAY SEARCHING FOR THE LAND FOR EARTH ANGEL ECOVILLAGE AS YOU READ THIS!
We have just barely enough resources to acquire the land HOWEVER,  we do NOT have enough money to build the initial infrastructure for the village, workshop spaces and purchase the necessary equipment and materials. This is why we are asking for your help..  
Up front, our pledge to our contributors:

We will document on our EAV website complete expenses, pictures of our major purchases and general accounting of the monies spent. You will be able to "follow the money" that you contribute to this project and see the pictures of the items bought and the project steps finished.
We will also be keeping our virtual community updated with news, pics and videos of our progress and our growing of Earth Angel EcoVillage.
WHAT WE NEED INITIAL FUNDING FOR:
REBUILD RUINS using the most suitable natural building techniques for the situation (straw bale, earth bag, cob, light straw clay) and local materials, preferrably from the property itself. Our estimated budget for this varies according ot the condition/size of the ruins we finally acquire, but an estimate is 14-16,000 Euro.
CREATE OFF-GRID ELECTRICAL, ACQUIRE and/or BUILD REFRIDGERATION AND WASTE SYSTEMS using mostly low-tech methods and systems. We need to have a functional electrical system for not only daily life, but also running and maintaining any necessary water pumping and the use of electrical tools for construction. Estimated costs for solar system, necessary appliances, building waste/composting facilities, and the installation materials. We also need to establish an internet link.  estimate 10,000 Euro
INITIAL WATER SYSTEMS, TOOLS, GARDEN TOOLS, IRRIGATION EQUIPMENT AND GREENHOUSE MATERIALS. The budget accommodates pumps, storage and transport lines necessary for most of the potential properties we are watching. This portion of the budget is also to purchase a starter amount of fruit trees for immediate planting depending again on what is on the land already.  Materials for a greenhouse of decent size for first year overwiinter growing. estimate 11 – 13,000 Euro
TENTS, BLANKETS/BEDDING, KITCHEN MATERIALS, FOOD COSTS, MATERIAL COSTS related to the 1st 12 months of helpers.  We will be creating a program for young people to come and help in return for food, shelter and instruction to help us do the buildup.  We will likely use the Workaway.info system for this .  This budget will be to support a crew of between 5 and 8 for a whole year and will not only provide us many necessary hands to create the village, but will also teach and give experience to many young people in our sustainable value system. 12 month budget – 8-9,000 Euro.
A USED PICKUP TRUCK FOR WORKER, GUEST AND MATERIAL TRANSPORT will be necessary.  A suitable used vehicle (toyota or other 4 door pickup) can be found for a budget of 5-6000 euro.
FUNDRAISING COSTS, REWARD COSTS have to be factored in – the % taken by the CF platform and Paypal for their services as well as the cost of the rewards to contributors – approx 6000 Euro.
Our total budget for the first "ecophase" will be 58,000 euro.  We feel it is an extremely modest, but adequate budget given that much of the initial value built into Earth Angel Village will come from the volunteers helping us create this vision.
IF WE ARE VERY FORTUNATE AND SURPASS OUR MODEST GOALS, WE WILL BE ABLE TO EXPAND UPON THE INFRASTRUCTURE CREATING MORE LIVING SPACES, A BIGGER AND BETTER GREENHOUSE, AND MOVE AHEAD MUCH FASTER ON THE DEVELOPENT OF THE LEARNING CENTER AS WELL.
We ask you to
PLEASE DONATE WHAT YOU CAN 
to help us get to the land on schedule May 2016 and build Earth Angel EcoVillage – a 100% sustainable, low-impact living and learning center in central Portugal.
Look to the right at the possible contribution levels and choose one that you can afford to give.  Many donation levels have wonderful digital download thank you gifts, higher donation levels have rewards we will send you in the mail within 30 to 60 days.
IF YOU HAVE ANY DIFFICULTIES TRYING TO MAKE A CONTRIBUTION VIA PAYPAL,  PLEASE WRITE TO US DIRECTLY AT eav@earthangelvillage.org.  WE HAVE OTHER WAYS TO RECEIVE CONTRIBUTIONS IF NECESSARY. THANKS!