iCrowdNewswire - Oct 22, 2015
YoCo Club – The Monthly Whisky Subscription Club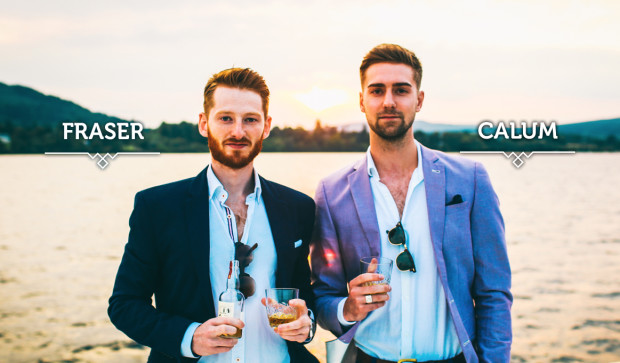 We are a group of young Scottish entrepreneurs who love two things: technology and whisky. But it wasn't always like this. We graduated from university a few years ago and as our lifestyles improved, we became tired of drinking low quality, cheap beverages. Drinking alcohol became less about quantity and more about quality and so it was time to upgrade our drink of choice. Being Scottish and huge fans of Mad Men, whisky was the natural solution. Yet, like most people we felt a little overwhelmed by choice, undereducated in taste and discouraged by price. So much so that the thought of purchasing enough whisky to discover what we liked didn't appeal. So, YoCo Club was born.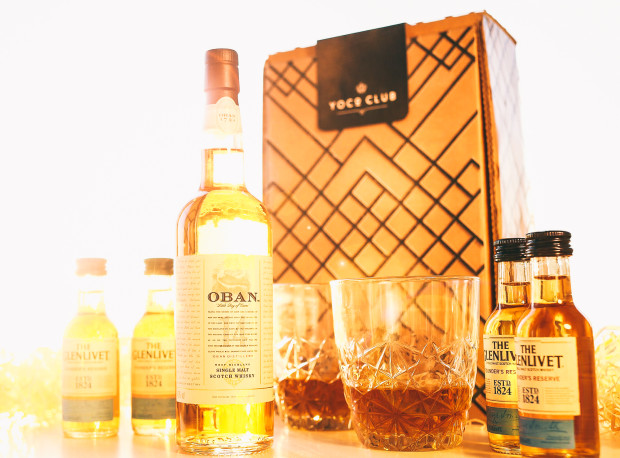 YoCo Club is the monthly whisky subscription service delivering a case of two single malt Scotch whiskies with accompanying tasting notes and a membership card for as little as £27 per month. We have selected a range of whiskies from each of Scotland's whisky regions and will be sending subscribers a monthly case containing 1x20cl bottle of our first chosen whisky and 4x5cl bottles of our second chosen whisky. One for you and one to share. In other words, each case contains 40cl of whisky, which is over 12 drams for you to collect and enjoy every month. 

We have included some of Scotland's most popular distilleries, such as Talisker and Glenlivet, as well as hidden gems like Inchgower and Kilchoman. This ensures you get to taste and experience the best of Scottish whisky: from the bottles that everyone raves about, to the undiscovered drams that you would struggle to find in a bar. Rest assured, every whisky you receive from our great range will be a premium single malt Scotch whisky…without compromise!

You can subscribe for either 1 month, 3 months, 6 months or 12 months and your first case will also contain a membership card that will give you exclusive access to some of the UK's finest venues. This will allow you to build on your knowledge and learn to appreciate the complex tastes of each whisky. In addition to the selected whiskies, each recurring monthly case will contain an invitation for a friend to join the club and tasting notes about the current month's whiskies, accessible by following the link on your membership card.

Joining the club will allow you to sample some of the world's best whisky whilst you discover what you like and what you don't like without racking up an expensive bar bill. It's really easy to join, just pick one of our rewards and become a founding member! 

YoCo Club is more than a whisky club. YoCo is an abbreviation of "Young Company" and we are on a mission to become this generation's answer to discovering, delivering and revelling in Scotch whisky. We are a lifestyle club that escapes the old school image of a whisky club. Whether you enjoy drinking whisky with ice, water, one sip at a time or all in one go, we don't mind and we won't hold you to "traditional etiquette". We're here to deliver great whisky directly to your door. 

It's now time to introduce the Indiegogo community to YoCo Club and share some of the world's best whisky with you. But don't just take our word for it. World leading whisky expert Charles MacLean has joined our team of Ambassadors and given his seal of approval: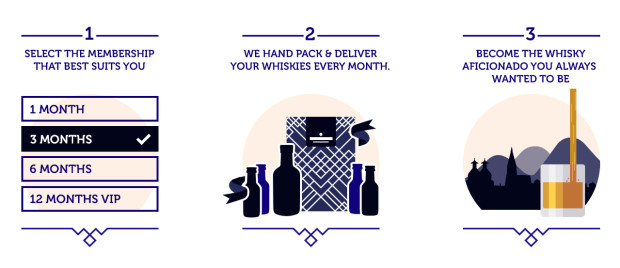 Select a membership. We offer 4 different memberships from 1 month to 12 months, so make sure to pick the reward that adequately quenches your thirst.
Every calendar month we will pick, pack and send your order giving you a full 30 days to enjoy the exquisite flavours packed inside each case. 
Every case contains two single malt Scotch whiskies with accompanying tasting notes, a membership card and an invitation for a friend to join the Club. Make sure to share on Facebook, Twitter and Instagram as after all, enjoying whisky makes for a better experience when shared in the company of others. 
So there you have it: a case of 2 single malt Scotch whiskies delivered to your door, every month. With over 60 whiskies on board we are quite literally opening the doors to Scotland's finest distilleries, offering you the best opportunity to delve into the exciting world of whisky.

We are looking to raise £10,000 to get us jump-started. We need the funds to pay for initial tooling & set up manufacturing costs, purchase stock, secure further contracts with distilleries across Scotland and cover start up costs associated with running a technology company.
You can absolutely help us achieve our goal by donating whatever you are comfortable with. We are desperate to unlock the potential of Scotch whisky for people around the world so that they can part-take in new experiences and flavours. Every penny towards the campaign will take us one step closer to reaching this aspiration so please back us today and receive one of the very first YoCo Club cases.
Oh and make sure to join us for a dram if you ever find yourself in Glasgow!


Please ensure you've read the FAQ before contacting us!
Backers: [email protected]
Business Enquiries: [email protected]
Press Enquiries: [email protected]
Thanks for checking out YoCo Club. Don't be shy to share with your friends. 
Calum (@calumleslie) and Fraser (@fd_sutherland).


We're almost ready to ship, Indiegogo funds will cover our initial stock purchase and allow us to put the finishing touches on our website (due to launch in December 2015). Your contribution guarantees you one of the first, exclusive YoCo Club cases despatched anywhere in the world.

You must be of legal drinking age at the time of purchase in the UK (we do not sell internationally…yet).
Please note that your travel and accommodation are your own responsibility (unless specified as part of the perk).
You must provide sufficient notice for any visits relating to perks. Sufficient notice being no less than 6 months. Visits will be subject to availability and must be agreed with the provider.
The provider reserves the right to revoke perks.
In the event of unforeseen circumstances, the provider is under no obligation to continue perk fulfilment.
Perks must be claimed within 2 years from the date of purchase.