iCrowdNewswire - Oct 2, 2015
Gazintu – Physical toys that control mobile games
Introducing Gazintu™
Gazintu is a small device that lets kids control and interact with mobile games–and each other–using their real-world toys. Place a Gazintu inside a toy sleeve (or customize a "plain"  Gazintu  toy with the included Stickers and Bits) and like magic, kids control characters and interact with mobile games in revolutionary new ways using physical toys.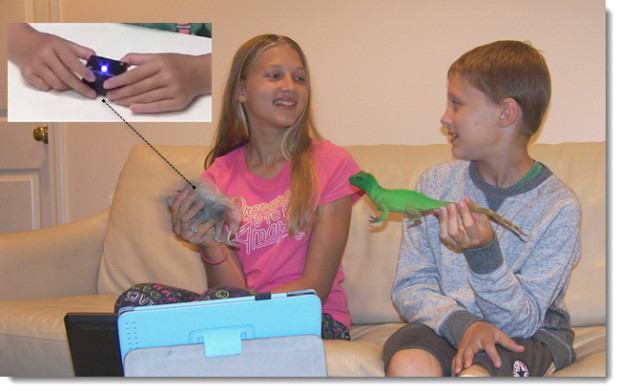 Gazintu detects play gestures that have been used by kids since, well, forever. For example, a child could place a Gazintu on his head and spin around. That could cause the games characters to dance. Or a "Mad Libs"-style game could ask the child to perform a gesture relating to the verb instead of actually typing in a verb.
Features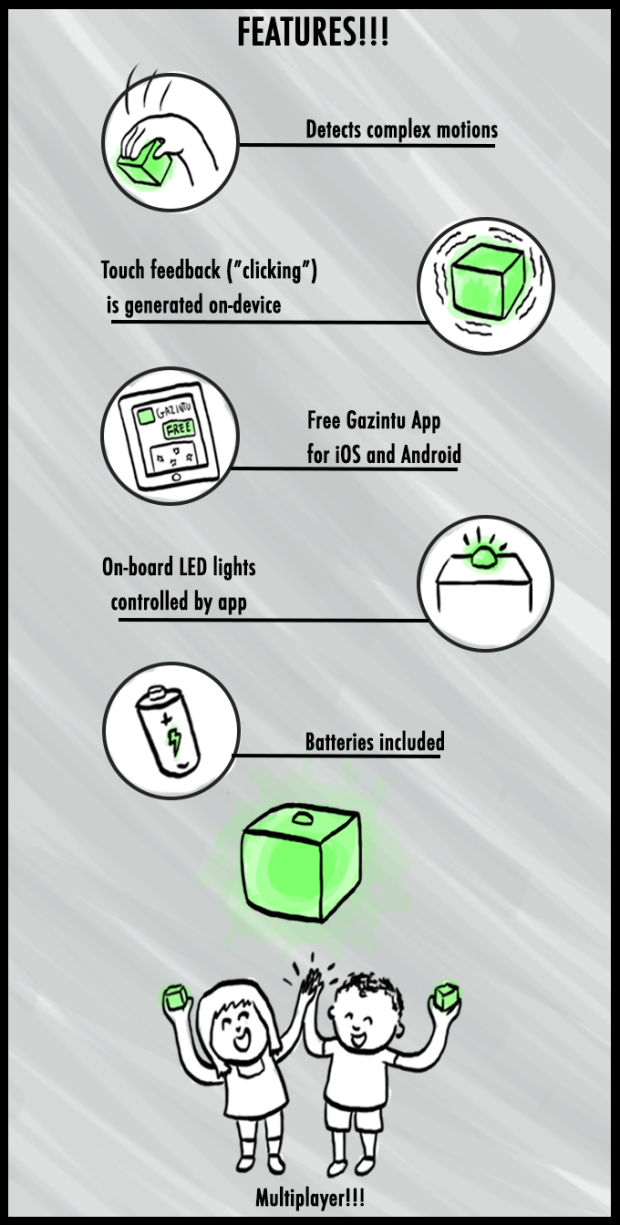 Gazintu in three steps
One: Take a gazintu and place it into a plushy (soft toy) or plastic (hard toy) sleeve. Or, use no toy sleeve at all and customize with Gazintu Stickers and Bits.
Two: Download the Gazintu app and pair it with a Bluetooth mobile device.
Three:
Play the game on the app by gesturing with the gazintu toy.
Early prototype. Production Gazintus devices can be much smaller. Toy sleeves, app worlds, and Gazintu Bits and Stickers will be voted on, by you!
How to play with Gazintu
When used without a toy sleeve, a child can customize a Gazintu with Stickers and Bits. It can be customized with the most popular style of "brick" toys
Or,you can use Gazintu with one of our plushy toy sleeves.
You can even use Gazintu in collaborative or competitive multiplayer worlds. We'll have a lot to say about the unique ways gazintu can be used this way in upcoming blog posts.
Crowdsourced Designs
This campaign isn't just about the money.  We are also sourcing ideas! By contributing to our campaign, you will decide the final design of the sleeves, the gazintu colors, and the app characters.
It is Playrific's methodology to constantly test with kids and learn about their preferences and get ideas that our smart engineers would never have. Please send us your ideas!
How it really works (geeky perspective)
If you don't want to believe in Playonium (oh ye of little faith) here is another story:
The gazintu compatible app sends information about what it is expecting of the gazintu, based on the specific activity that particular app supports.
The gazintu uses its internal sensors to measure multiple, discrete user gestures. These are the "primitives" of the gazintu gesture engine (the GGE). 
The gazintu, using context information downloaded from the app on the device, determines what the child is gesturing.
The gazintu GGE, based on what it was told about by the app being used, then sends back to the app the "verb" or action the child is gesturing.
Later in the development cycle, Playrific will share development methodologies and tools to specific business partners under a non-disclosure agreement.
Put more simply, Playonium kicks in and makes things work.
Other cool stuff: Playrific is working hard on moving the art and science of gesture interpretation ahead. One of the things we are working hard on is new ways of social play with multiple children and multiple devices.

In collaborative or competitive social play, multiple Gazintus can be manipulated by multiple kids in a patent-pending, multi-user, location-based social play mode.
What will Playrific use the funds for?
We have knowledge and expertise in bringing new tech to consumers, but our team will bring in other experts to make it happen faster and more robustly. For example, we targeting bringing in additional 3D gaming partners and consultants to move the app from our testing prototype into a full-quality production game. We're also continually testing and building prototypes. We have plans for stretch goals that would benefit customers and partners should we raise more than our initial target.
Our company's track record
Playrific, Inc., the company that is working on the gazintu, was established in 2010 and has successfully delivered an "app factory" platform that helps family-friendly brands bring their characters and brand to COPPA (kid friendly) compliant mobile apps.  Our CEO and CTO have deep contacts in the hardware, software, and supply chain. They have both built and brought multiple firms to successful exits.
CEO Beth Marcus is a pioneer in virtual reality (VR)
, having designed, among other things, products for NASA–that are still used–as well as the SideWinder force feedback joystick that was acquired by Microsoft, where over 10 million units were sold. Beth founded 5 companies, including 
Playrific
. Not to mention she holds over 30 technology and medical patents and has a Bachelors and Masters in Mechanical engineering from MIT and a Ph.D. in Biomechanics. Beth is also the parent of a young child.
The rest of the team consists of folks who have built billion dollar firms, educational marketing experts, military veterans, and artists and animators with deep talent.
If you have any questions, please email gazintu@playrific.com or post them on this campaign page.

Thanks for your support!