iCrowdNewswire - Sep 17, 2015
Sushi.com – The Authority for online sushi orders!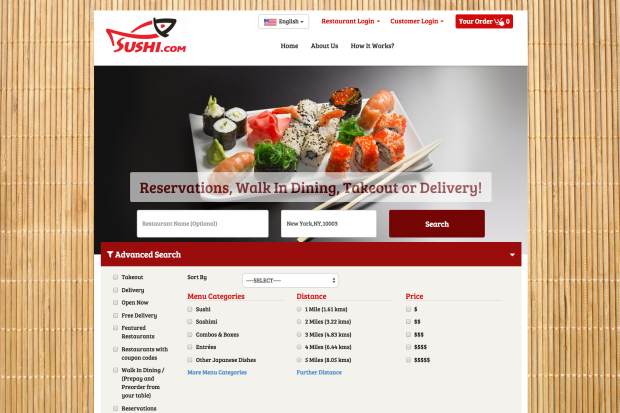 Summary
Sushi.com is the newest niche and ONLY portal online for ordering Sushi and other Japanese cuisine exclusively, globally from your favourite Sushi / Japanese restaurants. Order delivery and pickup, make reservations, and prepay in the restaurant or do pre-order – pre pay dining right from your table as soon as you sit down and avoid waiting on a server!  
Discover new places and find the ones you love!  We're more than just a directory!  We're your one-stop online sushi ordering and restaurant reservation portal!  You can also read / leave reviews, share images of your food, and grab great deals and coupons. With our upcoming mobile app, you can chat with other users locally and globally, share your experiences, or see who's ordering takeout, delivery, or eating near you.
The owner and founder of Sushi.com is web entrepreneur Todd Reum from Vancouver, Canada with corporate offices for Sushi.com in Manhattan. Todd has been an online entrepreneur for over 15 years now. He also owns the Amazon Thunder brand, www.amazonthunder.com, which has been in business for 10 years now!  Amazon Thunder has supplied the purest whole uncut organic wellness supplements with no additives from the Amazon Rain forest since 2005!
Todd is passionate and has a love for healthy Sushi and the Japanese culture, which he enjoys discussing with his sister-in-law, who is first-generation Japanese. He also has a passionate desire for helping others. All of this motivated him to create a niche online ordering portal to help sushi loving consumers get their favourite Sushi and other Japanese cuisines in the most convenient, efficient ways possible and to help restaurant owners increase their business and exposure to the public.  For Todd, helping others is the greatest reward of all.
Todd knew he needed the best domain name possible, and he spent everything he had on acquiring Sushi.com which he purchased several years ago
Todd feels that Sushi.com can be something great and wants to reward you generously for being part of it!
The great thing about Sushi.com is that unlike any other online food ordering portal, the restaurant is paid out quickly rather than having to wait 30 days like most other food ordering portals offer, Sushi.com also offers much more than just delivery and takeout but one can also do reservations and prepay them too or in restaurant and walk in dining orders right from one's table without having to wait on a server!  Sushi.com only takes a modest commission when an order is placed, and Sushi.com pays all of the credit card merchant fees! Sushi.com does all of the advertising to get restaurants the exposure they deserve so that they can do what they do best: serving their customers the best Japanese cuisine possible!
What We Need & What You Get
Our goal is $500,000 USD so that we can market extensively in the US and Canada via online ads and physical city billboards. Eventually, we want to market globally.   We need to get the word out, and it's not cheap to do that, unfortunately.  We need our team to physically reach out to Japanese restaurants globally and get their menus listed so that consumers can start ordering.  In return for helping us achieve our goals, we would like to offer our contributors different  perks.  
Even if we don't reach our entire goal, the funds will still go fully towards marketing Sushi.com in cities all over the US and Canada so that everyone can order Sushi or make a reservation in the most efficient and convenient way possible!
The Impact
Your influence in this start up is very much appreciated and will be noted on Sushi.com if you want us to publicize it!  We have an excellent track record in Web startups. Our Amazon Thunder brand has zero liabilities, and we have helped thousands of people become so much healthier!  If you're a sushi lover, this is going to make it so much easier for you to order sushi, and it's going to help others who have never had sushi have the opportunity to try it a whole lot easier because of the options Sushi.com offers. We hope that this will lead to a lot of people giving up fast food and junk food for the much healthier alternative of Sushi.  
You're also going to help local Japanese restaurants by giving them more business, creating more jobs, and allowing Sushi.com to hire teams of people to handle the workload, thus helping the economy and many individuals and families with great opportunities!  Online food portals like grubhub.com have received venture capital infusions of $600,000,000 + and are valuated at more than $3b USD!  
We have also included our business plan for those who would like to see just how serious we are at making Sushi.com a smashing success!  Also, if we ever go public, those who donated to us will be notified immediately about stock purchasing and will be first in line to purchase stock!
Risks & Challenges
In all honesty, Sushi.com is going to take a decent amount of funding to market, but we are dedicated to using the funding in the most effective ways possible to ensure success!  With our powerhouse domain name Sushi.com, we are set for incredible success as our name is half the pitch and has a wow factor to it!
Other Ways You Can Help
Even if you can't contribute, we thank you so much for viewing our campaign and would so appreciate it if you could spread the word via social media, email, word of mouth, or whatever way you see best!  Please be sure to use the indiegogo share tools to really get the word out!
Thank you so much!