iCrowdNewswire - Sep 9, 2015
Carbon Folding Bike – chedech
Carbon Folding Bike – chedech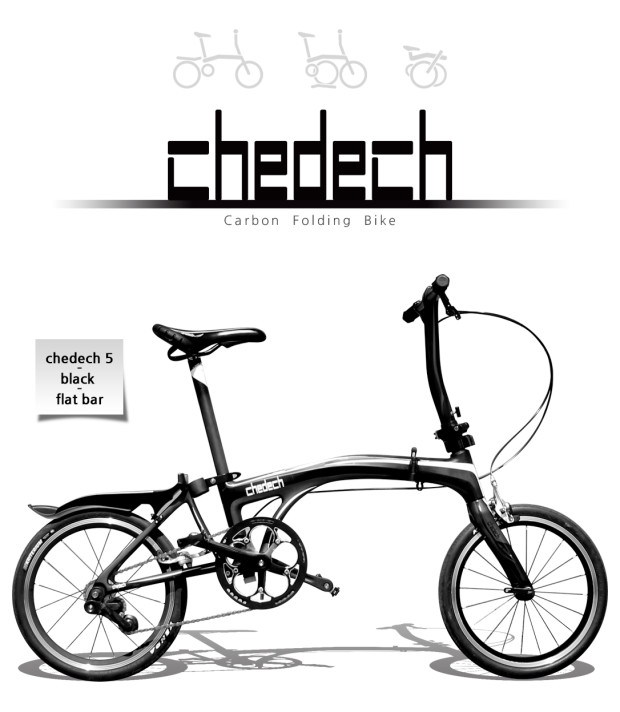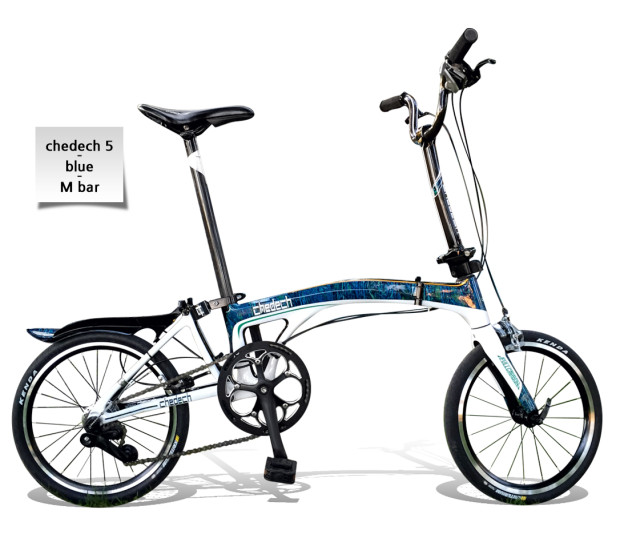 Request from Commuting Bike Riders
Folds small in one quick moment, with ease.
Light enough to carry by hand.
Runs fast and pleasant to ride.
Absorbs riding impact for comfort.
= Carbon Folding Bike, chedech!!

Strong Points of chedech
1. Fast and easy to fold into a small, convenient, compact size.
One of the main features of chedech is its small-sized folding function, which is perfectly suited for commuting. You can ride many hours without worrying about your endurance, because you can take a taxi or bus when you are tired. And, when you arrive at work you don't need to let your bike stand alone outside in bad weather, unwatched. You can keep it under your desk and then quickly unfold it for the ride home. chedech's folding mechanism was built with time management in mind. We adopted quick release system and even invented new hinge system for the main folding part. When folded, chedech is secure and easy to carry.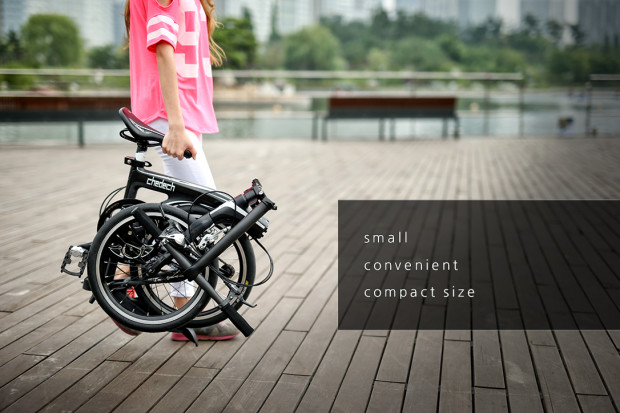 2. Lightweight.
chedech uses a special carbon material that is used throughout the frame (main and rear) and handles.
All the major parts are made of carbon fiber, and that leads to a comparatively lightweight bike. For example, our five-speed model is only 9kg (without pedal) and the single speed model is a mere 8kg. (final selling bike's weight is subjects change)
 This lightweight design helps you to ride faster, and you can also ride uphill more easily. Just like a good carbon road bike, it feels like someone is pushing you from behind per each stroke.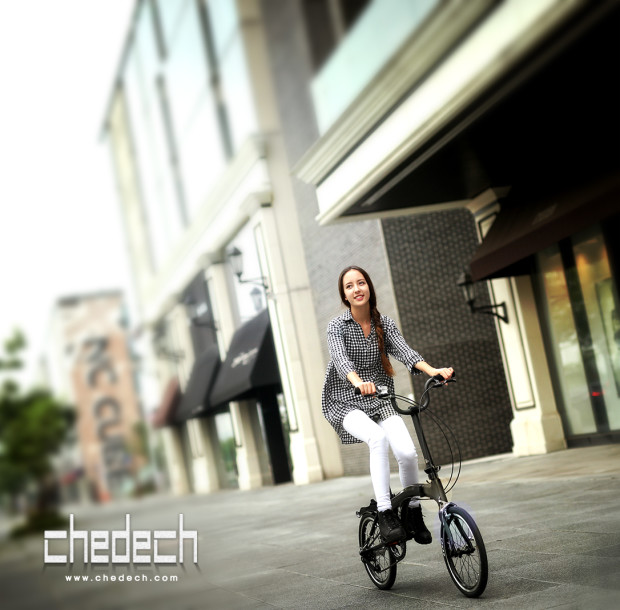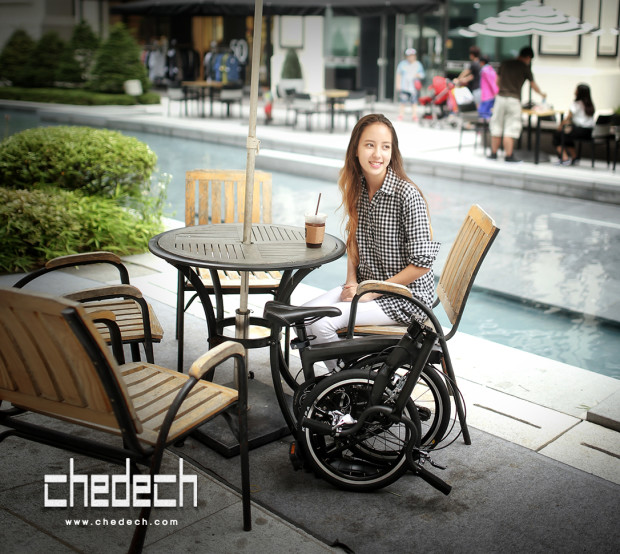 3. Strong and Durable.
We completely understand where to use carbon and where to use metal. For the folding hinges, we used metal to keep it strong for folding movements. For the other frame parts we used carbon to keep the bike light and comfortable. In addition, we use a stronger carbon material for the parts connecting the metal hinge and carbon frames. This is done by adding extra chemicals, which make those linking parts stronger than the other carbon areas.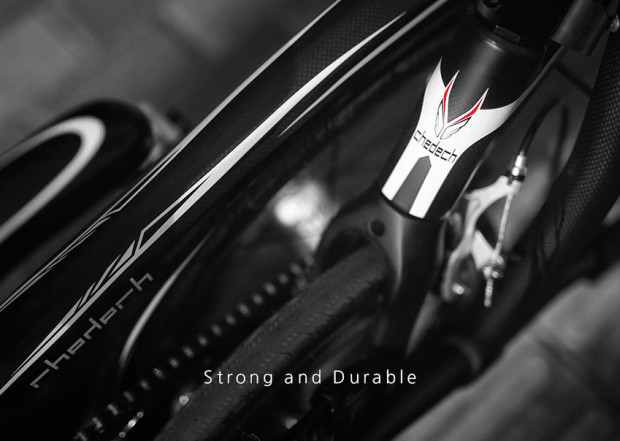 4. Flexibility.
It's commonly known that a carbon frame gives a much more comfortable riding experience, especially for long journeys. Many bike riders think that it's natural for a mini-velo to shake and vibrate a lot because of the smaller wheels that rotate more cycles per distance as compared to standard size wheel sets, as well as of shorter forks. We solve this shaking (or vibrating) problem by using a carbon material, because carbon absorbs impact and vibration. Unfortunately, the vibration caused by smaller wheels and forks also cause additional physical stress for the bike rider. So, many people even think a mini-velo is not apt for long rides, but this is not the case with chedech, which gives the rider a smooth carbon bike and flexible riding experience. You will feel and enjoy the carbon body in each pedal stroke. The bike will glide a long way even you stop pedaling. You cannot help agreeing with top cyclists, who always choose carbon bikes for competitions.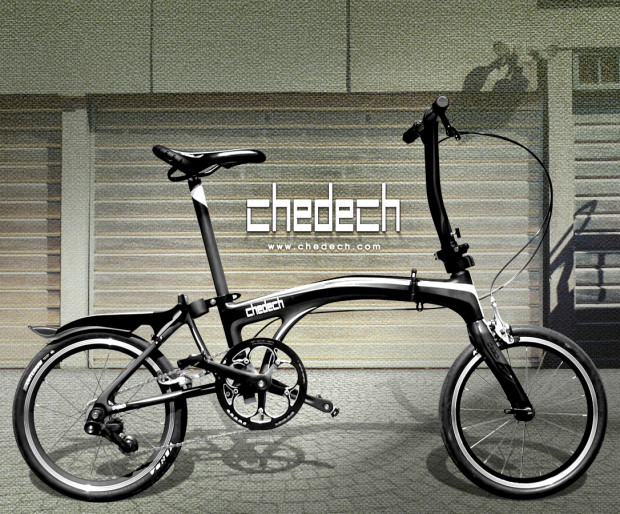 5. Sharp-Looking!
It was not easy creating a unique style for chedech. It's a fast riding carbon bike that is also comfortable. We could either show our bike as easy-riding with a more comfortable look, or we could show our bike as a fast riding carbon bike with a sharp shape. So, we were initially torn between the two design concepts, but finally we found a balance that we hope you like. chedech looks comfy and fast.
Technical Features of chedech
This bike was designed with many technical improvement and new inventions.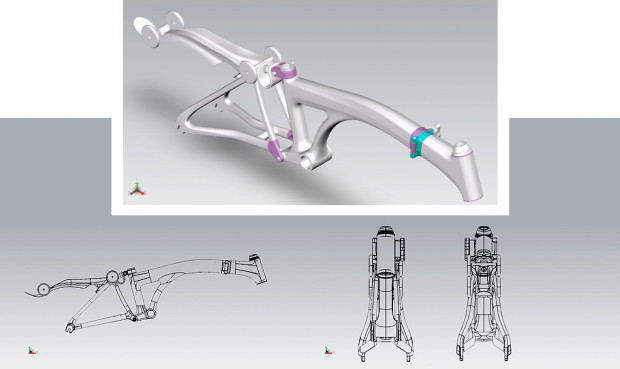 1. Hexa Form of Main Frame.
This clearly indicates our development process. The main frame has a hexa form, which makes the frame resist against a twisting impact. In order to make it foldable into a compact, small size, we adopted a one line frame system, not a triangle system that often leads to an unstable riding condition due to the bike being affected by twisting impact between the handle and the saddle. Therefore, it had to become a hexa form and also thicker than usual pipes bikes are using for their frames.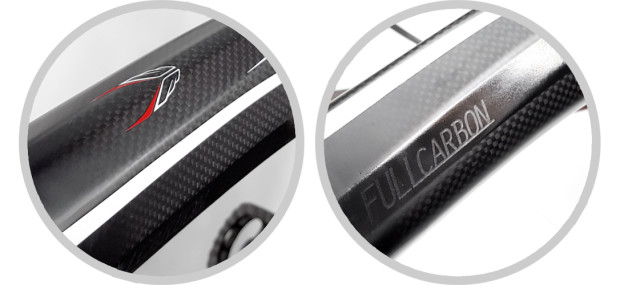 2. Chemically Reinforced Carbon Fiber.
Our study group tested many different carbon fibers in order to diminish the twisting movement on the frame. We did everything possible to come up with a more stable frame, such as testing different fibers, adding extra chemicals, or adopting various ways of adding carbon sheet per each part. As a result, the final product has a much stronger frame than our first sample bike of two years ago.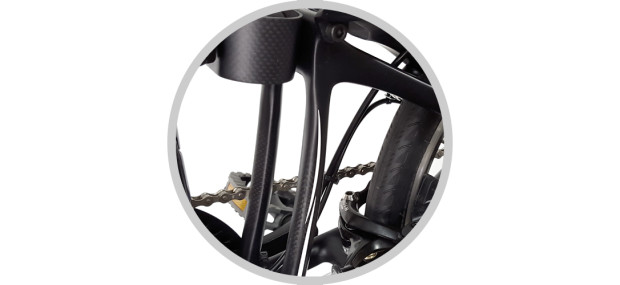 3. Hidden Wall Inside the Frame.
To reinforce and strengthen the frame to resist the twisting impact, we came up with a new design concept. A wall is inserted into the frame that gives more support that resists against pulling in one direction. This added a little weight, but it helped us to complete a dream bike that featured a one line carbon frame bike that does not shake while riding. We inserted this internal wall in main frame, handle post and seat post, and our chedech became more stable than initial models.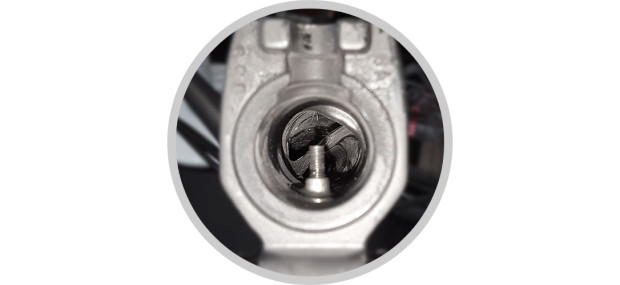 4. New Folding Mechanism.
In order to make a more competitive folding bike, we paid careful attention to the folding mechanism. We studied the way other bikes folded and tried to make our own way to attain a more stable and faster movement while folding. The hinge between the main frame and rear frame is a new invention that allows speedy folding and unfolding. Special hinges were developed for this new quick release system. However, we are not completely satisfied with the current hinges and will continue to upgrade them into smoother moving ones.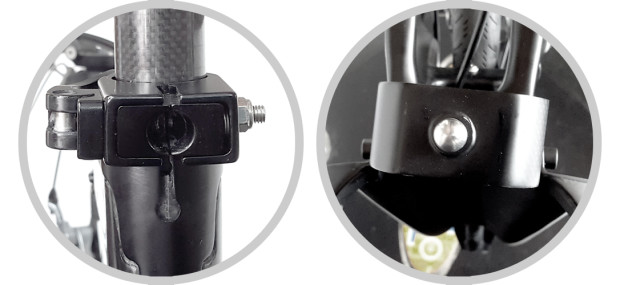 5. Optimum geometry for a one size frame bike
Most folding mini-velos are limited in frame size due to its folding mechanism, and they offer only one size, regardless of the bike-rider's height. Nevertheless, it's very important to design a one frame size bike that is capable of accommodating different sized cyclists. We were well aware of the shortcomings of chedech, which has short distance between two wheels due to the small folding size. If the bike's geometry allows a large difference on the bike-rider's saddle location per height then the bike will be insecure for uphill riding. This is because the front side will not be pressed enough with the bike-rider's upper body weight. So, we tried to keep the weight balance, regardless of cyclists' body size, and that made the one sizechedech very stable for most bike-riders, regardless of uphill or downhill cycling. This well-balanced geometry allows a wider variety for the bike-rider and more stability.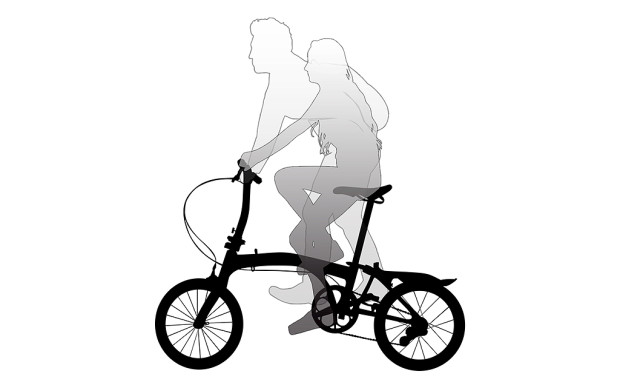 6. Speed
The main concern for a bike is speed. But this factor is forgotten for many folding bikes. Most manufacturers ignore speed in order to make the bike foldable. Impact absorption is often sacrificed in favor of small wheels. So, this foldable mini-velo is not fast or does not allow fast riding with added vibration. But you don't need to worry about losing speed with foldable mini-velo now. With chedech's anti-twist main frame design, you can run fast as much as you do with carbon road bike. Most testers started their review with one sentence, that they could feel the riding emotion when they usually have with a carbon road bike, and we think that is good explanation for the final chedech. It gives fast and smooth riding condition.
7. Weight
All bike designers are stressed-out about weight, especially with folding bike designs. A lighter bike is often the reason someone buys. For a folding bike, weight is a topic of much discussion and research because most cyclists want to carry their bike inside public transportation, into buildings, and even store under their desks. A stable carbon folding bike could not be made for several decades, so the task has been impossible to solve until now. With chedech, you can have the first hand-carryable, light, folding bike. chedech-5 (five speed bike) is 9kg, andchedech-1 is single speed bike, with weight of 8kg only. (this weight information is subject to change in the final selling bikes).