iCrowdNewswire - Sep 3, 2015
FRIUNO – A Customisable Home Automation System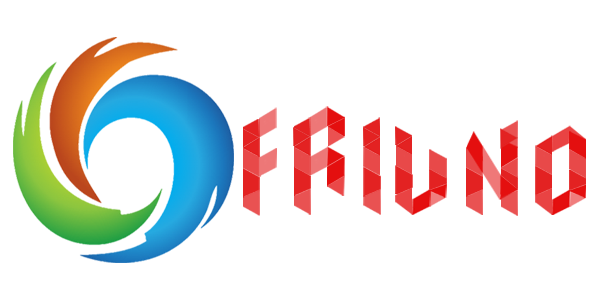 FRIUNO is a customisable home automation system that allows you to control and monitor virtually any device at home or commercial buildings from anywhere.
Its is the world's first home automation kit that supports both smartphone and smartwatch with ease use.
Energy Efficient
High class quality
Improved Design
Cost Effective
Automatic Timer
Voice Control System
Location Based Control
24×7 mode
Smartwatch support
Usage statistics
We offer two connection mode:
BLUETOOTH – inside home
INTERNET– remote access
Introducing Smart SwitchBoard:
Normally we all use normal switchboards at our home to control all device and appliance.Nowadays we even see smart devices coming up that can also be controlled remotely but the thing is that how do we manage all these things at one place?
For that we introduce Smart Switchboard-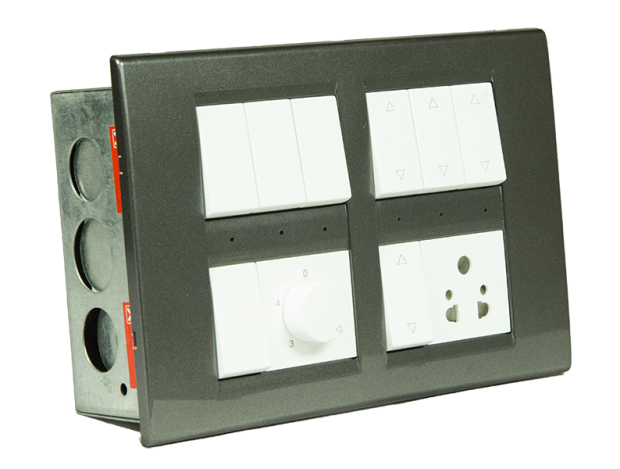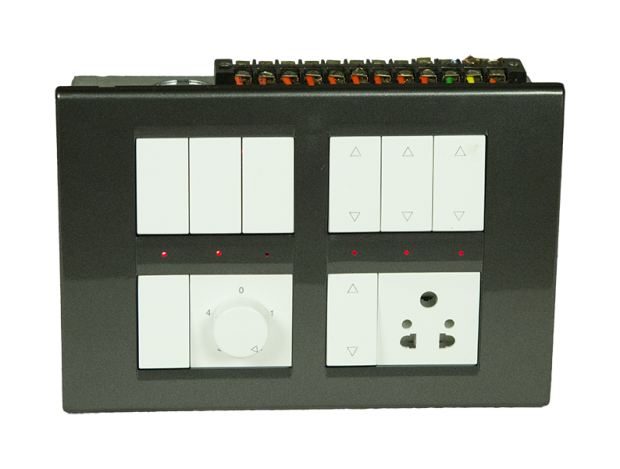 Just replace your normal switchboard with this smart switchboard and then control all the existing devices from anywhere without changing the wiring of the room.
Each and every device at your room can be controlled from your smartphone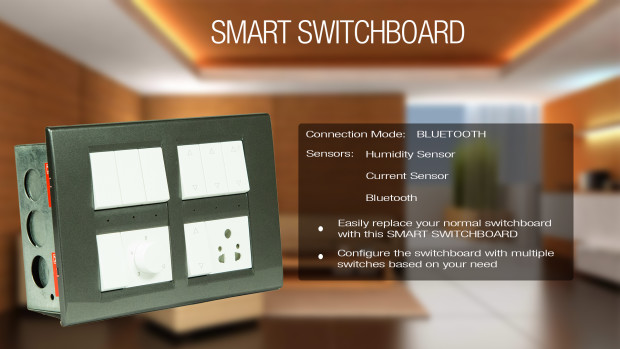 Central Unit:
To manage all your smart switchboard from every room across your home,a central unit is connected to all these switchboard so that it allows us to access remotely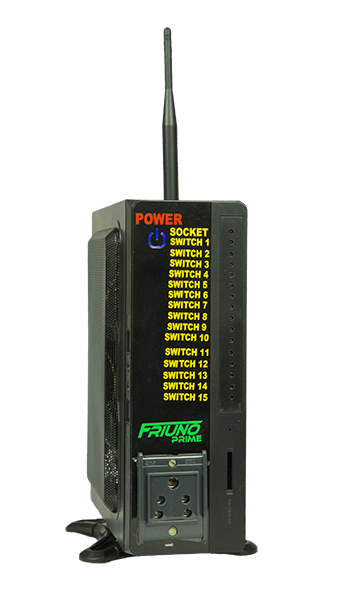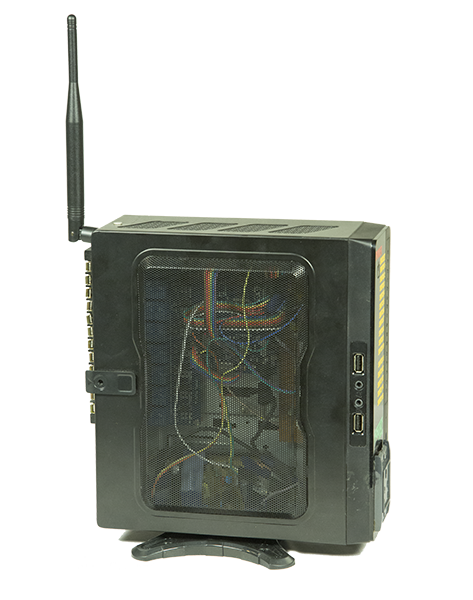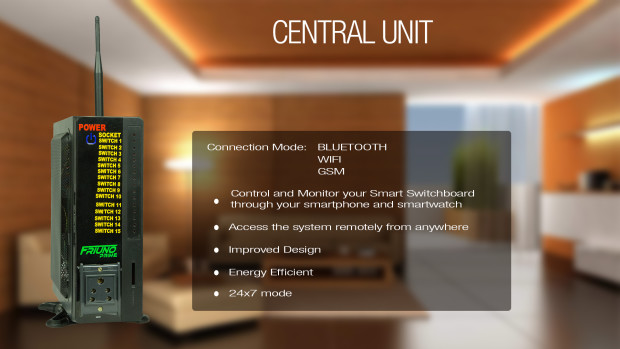 How it works?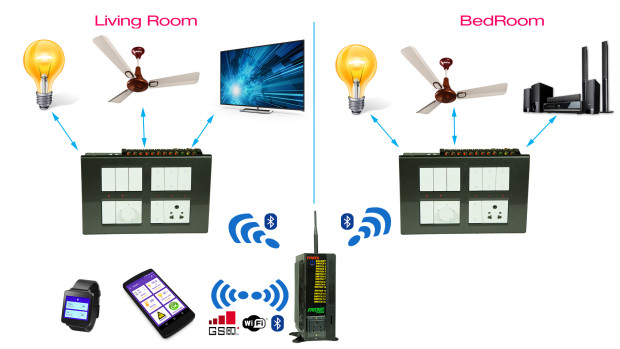 Smart SwitchBoard is placed at every room by replacing the manual switchboard and all device and appliances of that particular room is connected to the switchboard without changing the wiring of that device.The switchboard consists of a slave bluetooth module which receives command from the central unit which is common for entire home.
The central unit consists of a master bluetooth,wifi,and gsm module to give access to the user to control virtually.The unit acts as a MASTER and all the smart switchboard connected to it acts as SLAVE.
The smartphone app acts as the instructor.The app is connected to the central unit via Bluetooth or Internet.Bluetooth can be used for shorter range(i.e inside home) and Internet for remote access.We used high class bluetooth module so that you get range of about 500-700m.
The user access the device connected to the switchboard via the app,the app then transmits the command to the central unit via the selected connection mode.Once the central unit receives the command,it redirects the command to the particular switchboard and then switchboard takes the necessary action.
SmartPhone App and Features:
For initial purpose we designed the app for only android device and the development of ios app is on process.
DASHBOARD: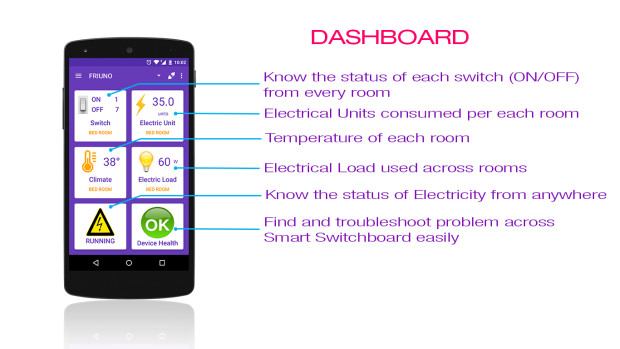 Here you can able to know the overall status of each room which is updated for every 3 seconds.
SWITCH – Know the status of each switch of particular room whether it is in ON or OFF state 
ELECTRIC UNIT– Know how much units consumed for each room
CLIMATE– Here you can able to know the current temperature of the room
ELECTRIC LOAD– Know how much load totally being used across rooms
ELECTRICITY STATUS– Know the status of electricity whether power is available or not from anywhere.
SYSTEM STATUS– Here you can able to find and troubleshoot problems when it occurs across smart switchboards.
SWITCHBOARD: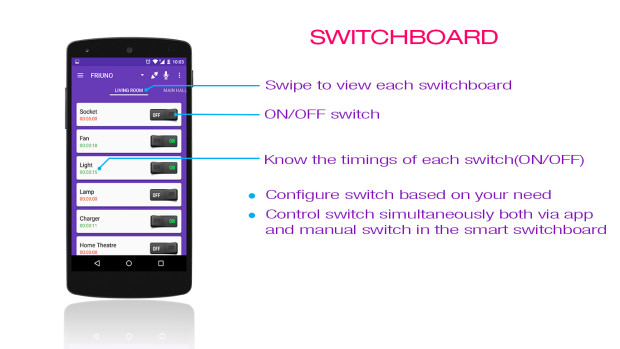 Here you can able to switch ON or OFF a particular switch of a particular room.All switches are easily configurable based on your need.Swipe in order to view switches of different rooms.
You can also able to know the timings for about how much minutes or hours,a particular device is being in ON or OFF state
You can also control the switches both  via app as well as manual switches in the smart switchboard.
Voice Control: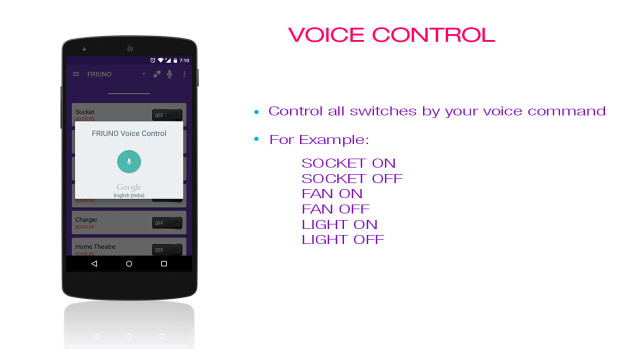 Voice control system allows you to control the devices based on your voice command.It gives an ease access to the user to control.
        SYNTAX: <SWITCH> ON/OFF
TIMER SCHEDULER: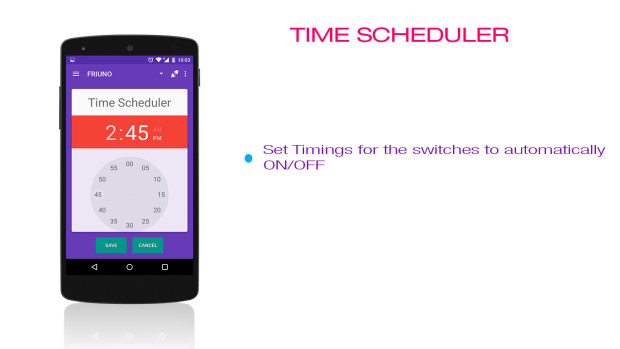 Here you can able to set time for the devices to automatically ON/OFF based on your schedule.
STATISTICS: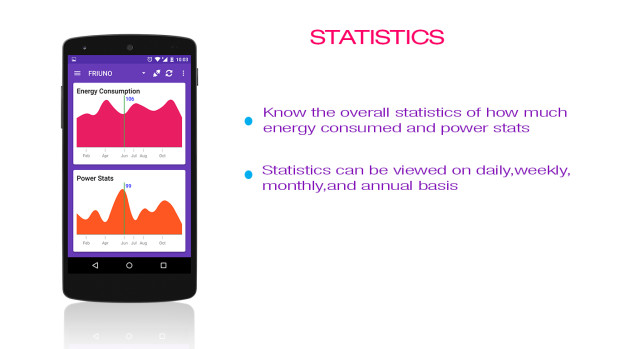 Know the overall statistics of how much energy consumed and power status across your home.
These statistics can be viewed on daily,weekly,monthly and annual basis
LOCATION: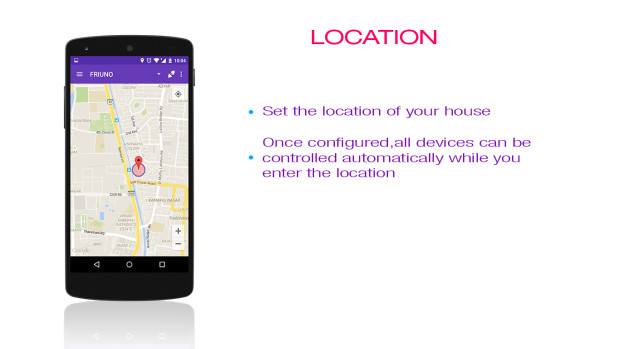 Set your home location so that you can control all devices based on your availability.Once configured while you reach your house,all devices are automatically turned ON/OFF based on your location.
SmartWatch Support:
Now you can also control the devices directly from your smartwatch too.
Risks & Challenges:
This is our first Indiegogo project and we hopefully looking for successful raising of this campaign.Like nearly all first time creators, as newbies we underestimated the time and money required to take a prototype into full production and get it certified. In order to make this project to come to our real life,we all working hard to make this a reality.
We also need your support by raising funds so that we can make this prototype to be a production ready product.The fund raised will be helpful for us to further redesign the product and to add more feature without reducing the quality of the product
Other Ways You Can Help:
If you are unable to raise funds,it doesn't matter and we gratefully thank you for taking your time to view this product.Please do share this campaign page to your friends and relatives across your social networking sites.
Gallery: