iCrowdNewswire - Aug 11, 2015
LIVALL – the First Smart and Safe Cycling Helmet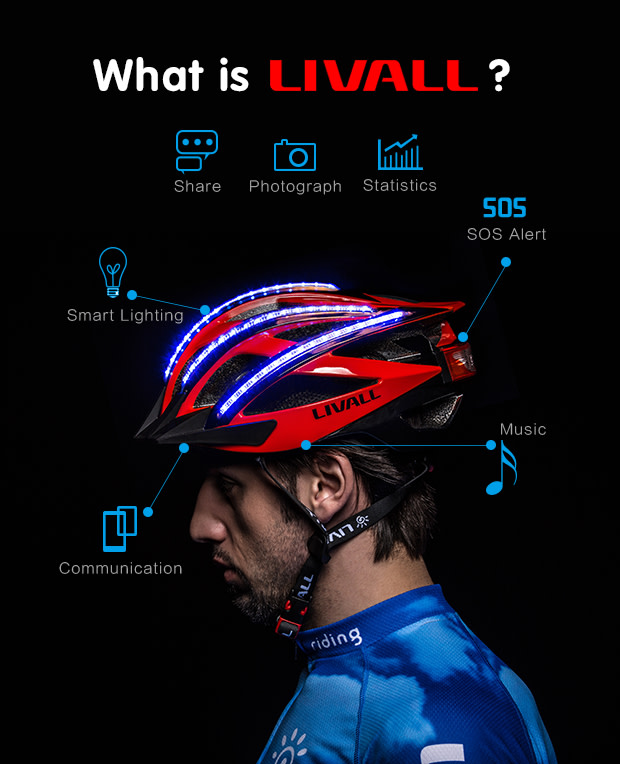 Cycling is not about the destination, it's about the journey. Exploring the world, enjoying the silence of nature or the vibrance of the city, seeing and experiencing new environments and exercising your body. During your journey, safety should always come first. That's exactly LIVALL's primary target: providing extra safety.
But LIVALL does more than that. LIVALL's high-tech smart riding security system is developed especially for cyclists, aiming to provide riders a SAFER yet moreJOYFUL riding/cycling experience.
With LIVALL's Bling Helmet, a high-tech smart helmet, and its accompanying Bling Jet (remote control), Phone Holder, Nano Cadence Sensor and LIVALL Riding App. LIVALL keeps you safe during your journey and makes your journey more enjoyable. Get LIVALL involved in your riding and create an incredible individual cycling experience! Riding with LIVALL, Riding with JOY!
Media

Be Seen, Be Safe
Cycling has little limitation. An experienced cyclist is able to ride almost anywhere and anytime as long as there is 'land'. To be seen and to let others know where you're going is the best way to prevent accidents. LIVALL comes with 8 colored LED tail lights at the back of the helmet which serve as direction indicators. Furthermore, 80 colored outline LEDs at the top of the helmet will make it very easy for you to be seen. The earlier others see you, the further danger is away from you.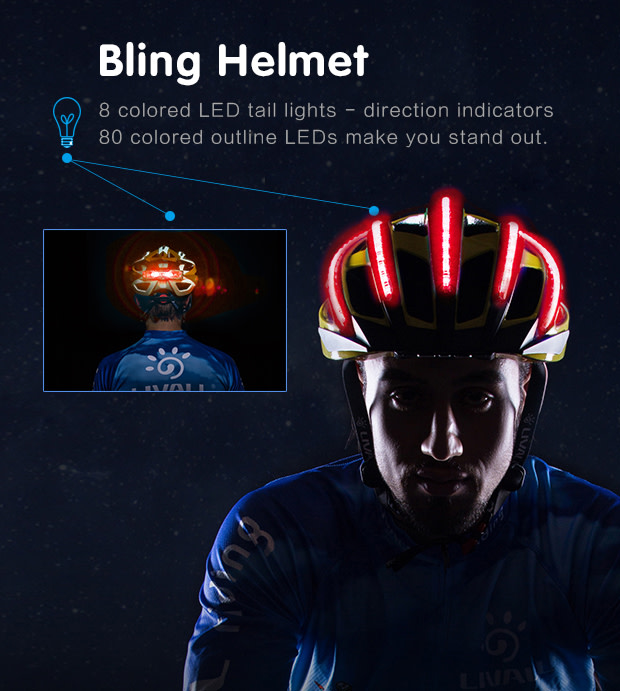 Get Help In Time
You might be one of those passionate cyclists who like to experience the wild nature and rough terrain. But what if anything happens while you're all alone in the middle of nowhere? LIVALL will make sure you will get the appropriate help in time. After the built-in gravity sensor detects a sudden downfall, the emergency signals on the helmet will be turned on and an SOS alert will be sent to your emergency contacts automatically.
Be Available for Emergencies
We know how much you appreciate your 'me time' on your bike, but we also know emergencies often come unannounced. What if you miss that one important phone call?  LIVALL enables you to answer phone calls or dial back with only one press on the button under the cap of your helmet with the built-in Bluetooth speakers and built-in microphone of Bling Helmet. Enjoy your riding as much as you would like to, because you know you will be found when you are needed.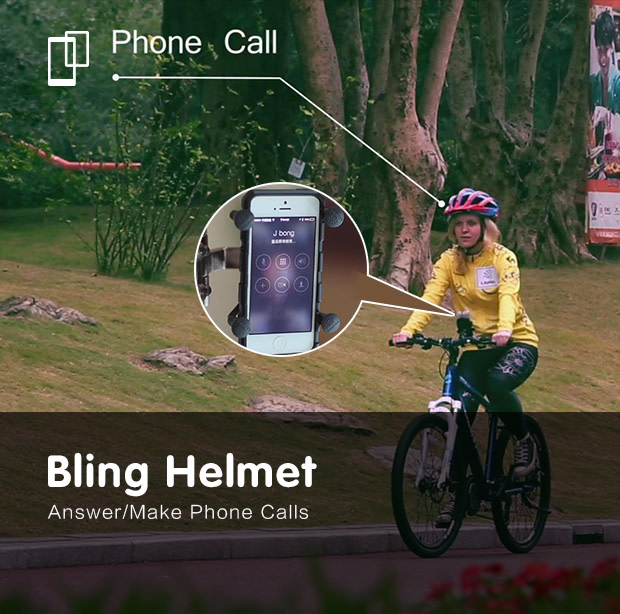 The More You Know 
The More Professional You Become
Measuring your performance does not only give you insight on how to improve, it also motivates you to do better. With the Nano Cadence Sensor set on your bike's crankset hole, the LIVALL Riding App can show the cadence of your cycling, and (based on that) your speed, traveled distance and burned calories. Seeing the numbers go up will boost your performance! The LIVALL Riding App can also show slope rate, altitude, and heart rate when you connect designated extension devices to your phone.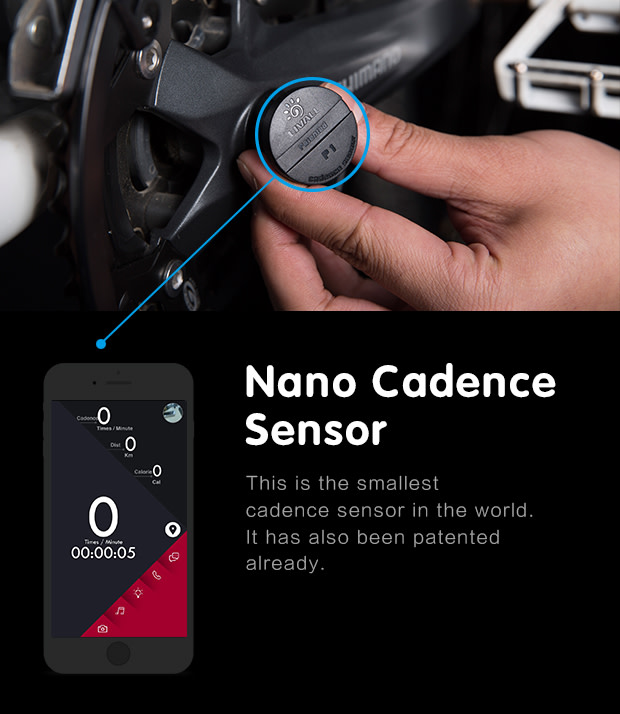 Cycle to the Beats
With the built-in Bluetooth speakers, you can listen to songs with LIVALL Bling Helmet and select/start/pause songs with LIVALL Bling Jet (remote control). Choose the music that matches your speed and cycle to the beats!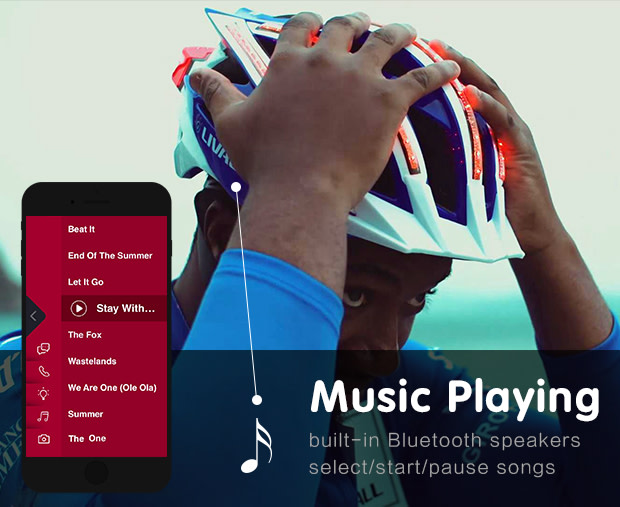 Make the Journey Memorable
The photo-taking button on the Bling Jet enables you to easily take photos and record videos with your phone and store them in the LIVALL Riding App. You can review your journey or share your story.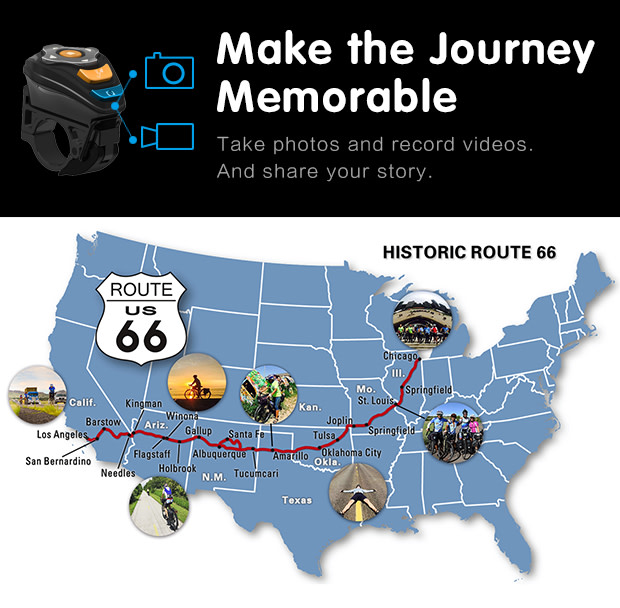 A Smart Device Comes With An App
LIVALL's Bling Helmet, Bling Jet, and Nano Cadence Sensor all work together with LIVALL Riding App. The app can play music, send out SOS alerts, control the lighting on the helmet, and show your journey's stats. You can share stats, photos and videos via Facebook or Twitter.
Furthermore, the app also allows you to import data from other device such as pedometer and smartwatch. With the parameters from other device, the stats will be even more extensive and trustable.
LIVALL Riding App also aims to build an online social cycling community for cyclists/bike riders.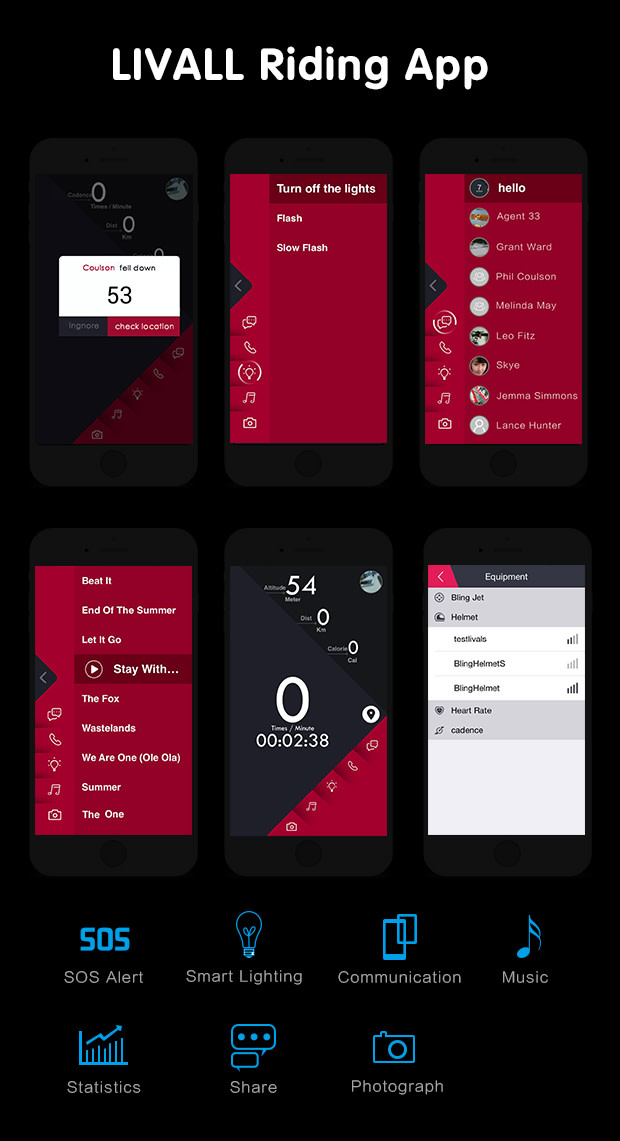 Remain Stable and Focussed with the Bling Jet
Taking your hand off the handlebar to use your phone, or looking at your phone's screen while you're on a ride, both increase the risk to get involved in an accident. Our Bling Jet remote control can be attached to your handlebar, and you only need to move your thumb to use it. You can connect your phone with the Bling Jet, and safely control the Bling Helmet and Riding App.
Sharing Photos And Videos Is Nice Sharing the Experience Is Even Better
As experienced riders, we know cycling can be more interesting when you're riding together. LIVALL isn't just smart, it's also social. Our app enables you to use the Walkie-Talkie function to send voice messages to your fellow cyclists. Voice messages will be played automatically via Bling Helmet. No more need to yell at each other. Text messages sent through the LIVALL Riding App will automatically be converted into voice messages for riders that are in riding mode.
You can even add photos at confusing points to make the map easier to read when riding with others.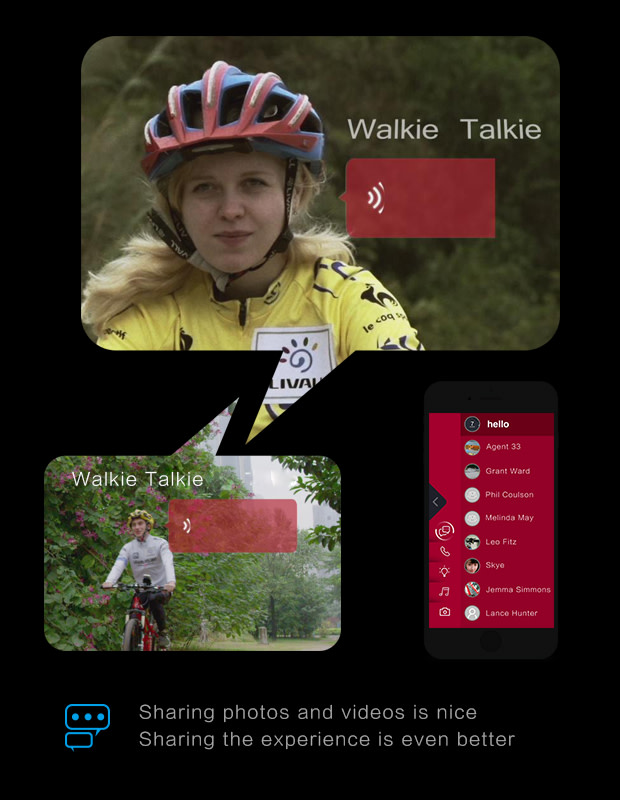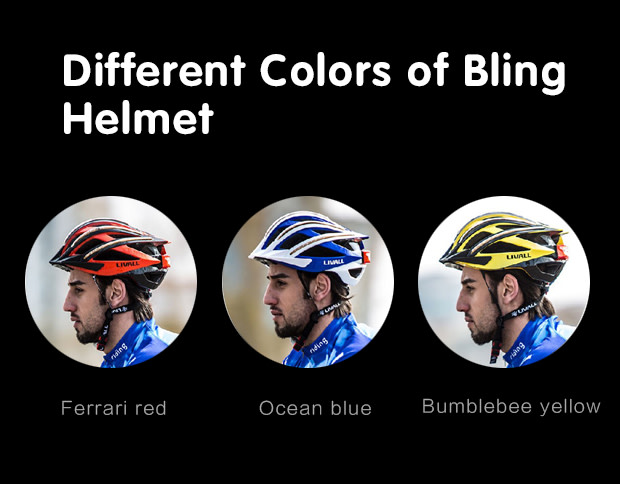 Bling Helmet:
Colored LED, Hi-tech and high-performance; Battery endures for 20 hours
Smart Bluetooth 4.0/ Hi-Fi Bluetooth Loudspeaker/ Wind resistance array microphone/ Highlight color LED/ Smart SOS Alert
Bluetooth: BLE4.0+HFP/HSP/A2DP;
Bluetooth Distance: no blocking>10 meters
Mic: -39dB array microphone (double Mic)
Outline lights: 80 colored LED
Tail lights: 8 colored LED + highly condensing optical lenses
Charging Interface: Micro USB 
Electrical Parameter: DC 5V/1A
Battery Capacity: 2200mAH(8.1WH)
Recharging Time: approx. 3.5hrs
Battery Endurance: >20hrs
Stand-by Time: >360 days
Product size:
M size (adjustable range: 54-58CM; Inside length:21.2cm; Inside width: 17.8cm)
L size (adjustable range: 58-62CM; Inside length:22.4cm; Inside width: 18.6cm)
Weight: 450 (±5%)
Bling Jet:
Wireless Remote Control Distance: non-blocking >10 m
Charging Interface: Micro USB
Electronic Parameter: DC 5V/0.3A
Battery Capacity: 3.7V/120mAH
Charging Time: approx. 3 hrs
Battery Endurance: > 80 hrs
Standby Time: > 90 days
Size: 57.8mm*37mm*55.4mm
Bluetooth: BLE4.0 
Phone Holder:
Fit: handle bar (middle part) diameter of 31.8mm, front fork steerer tube diameter of 7.5mm (for Mountain Bike)
Fit for phone size of: 4-6 inches
Battery Capacity: 3.7V/5000mAh
Charging Time: 3-7 hrs
Output Interface: USB A type, 5V/2A output
Button: Rest battery inquiry 
Battery Indicator: 4-level indicator
Adjustable degree: 360-degree rotatable/adjustable in 4 directions
Flip Angle: > 200 degrees
Aheadset Stem Length: 120mm
Size: 180mm*116mm*125mm
Nano Cadence Sensor:
Battery Model: CR2032 3V/210mAh
Installation Position: Crankset hole, inner right side
Standby time: > 180 days
Size: 30mm*30mm*12mm 
Certifications

"Cycling Across the U.S." 
-Starting from June 3rd
-Ending in Los Angeles on August 7th.
The "Cycling Across U.S." team is sponsored by LIVALL and led by Mr. Feibao Jin, who earlier climbed 7 summits and walked from the South to the North Pole in 19 months. The team departed on June 3rd in Plymouth and plans to arrive in LA on August 7th.
Mr. Jin carries a friendly letter from the mayor of Kunming to the cities/states that are being passed. In Pittsfield, MA, Albany, NY, and Independence, OH, the team was greeted by the mayors. Besides strengthening the friendship between the American and Chinese people, especially the cyclists, this cycling journey also aims to encourage people to be adventurous and to explore the world.
They may have experienced intolerable pain, mechanical difficulties, storms, rain, uncomfortable living situations and cultural collisions. But more importantly, #RideInAmerica brought brotherhood, life-long friendship, unprecedented joy, a much bigger family and an amazing and unique once-in-a-lifetime experience.
We hope we can celebrate their arrival in LA with a good result here on Indiegogo, and wish LIVALL can join more cyclists in their exploration of the world with more SAFETY and JOY.