iCrowdNewswire - Jul 29, 2015
POPELOUCHUM VINEYARD – 10,000 GRAPES FOR A NEW WINE
Pronounced: "Poh-puh-lou-shoom"
"Join me on a journey of discovery to change the way we grow grapes, to change the way we think about vineyards, to perhaps discover an entirely new vinous expression, and to maybe even get a unique grape variety named after yourself!" – Randall Grahm
We aim to create a truly unique, superior and nuanced wine, a "Grahm Cru," an expression of the unique terroirs of our Popelouchum Estate in San Juan Bautista.  We plan to do this by adopting a very unusual methodology – the breeding of 10,000 new grape varieties, each genetically distinctive from one another – and blending them into a unique cuvée that the world has not tasted heretofore. In so doing, we might also discover individual vines that are more congruent to our site as well as those that might have greater global utility – disease or drought tolerance – in a changing climate. We plan to employ biodynamic practice and use other techniques – some new-fangled (the use of biochar), some old-fangled (dry-farming), to grow grapes in a more deeply and truly sustainable fashion.
We are seeking 501(c)3 status to share the fruits of our labors with the community at large. We will offer our catalogue of discovery to others who want to follow in our footsteps.  
"I'm looking to change the wine industry in a big way. It is part of my life's work to continue to push the boundaries of this very conservative business. I want to create 10,000 new grape varieties over the next 10 years, and to plant a uniquely heterodox vineyard – each vine genetically distinctive from the other – in the hopes of revealing a new Grand Cru in the New World. I am seeking funds to help start breeding these new grapes at "Popelouchum," and to potentially leave a rich legacy for the next generation of grape growers and wine drinkers."- Randall Grahm

A SACRED LOCATION IN SAN JUAN BAUTISTA
"Popelouchum is a sacred place for me, as it was to the Mutsun people who lived here for many centuries. My work is to discover what this place truly has to say." – Randall Grahm
Popelouchum" is the Mutsun people's name for their historical settlement, located near San Juan Bautista.  The word can be translated as "village" and also, accurately enough, as "paradise."  
In Randall's words, "The farm has a special significance for me, representing the fulfillment of my lifetime dream of finding a site that speaks to my heart, where I might grow grapes expressive of unique and distinctive terroirs.  I first saw Popelouchum in my dreams before I observed it in 'ordinary reality.' It's where my legacy can live on long after I'm gone."
The farm is situated liminally – i.e. at the nexus of many transitional zones – climatological, pedological and socio-cultural. The San Andreas Fault squarely traverses the property, (through no fault of its own). Popelouchum is indeed a sacred place, possessing a unique and palpable energetic quality, one of wildness and great peace at the same time. As our crowd, we invite you to share some of the magic of this very special place.
"Having worked in the wine biz now for more than thirty-five years, and been on Earth a bit longer, I find myself facing the big question – what might I leave behind that will be of use?  The answer most compelling to me is to dedicate my resources, knowledge and energy to creating a true wine of place in the New World. The idea is deceptively simple, though the work is vast." -Randall Grahm
"We will establish a "mother block" of suitable parents of a worthy lineage of vitaceous offspring, tested both for their suitability for wine quality, sustainability (drought and heat-tolerance) as well as disease resistance."- Randall Grahm
The most significant aspect of this project is to breed 10,000 new grape varieties that have not existed heretofore. The  intention of the breeding program is to incorporate the features of disease and drought resistance into the vine offspring, making them more sustainable, in light of global climate change, and ongoing impact on the planet.
It is our intention to provide these varieties as a sort of "open code" to any viticulturist throughout the world who may be interested in them. Greater diversity will make the world a more interesting place.
We intend to do the following for you:
Breed 10,000 new grape varieties, beginning with the construction of a greenhouse.

Plant approximately 45 acres of Rhône varieties, as well as some extremely promising Italian varieties.  This is a two-step process, beginning with the establishment of drought-resistant rootstock, and subsequent field-budding of the fruiting variety when the plants are established.

Plant a substantial (5 acre) garden on-site, to supply a "pop-up" dining experience in the summer months.  

Plant a heterogeneous mix of companion plants (fruit trees and flowering shrubs) within the vineyard, to create additional biodiversity and a greater sense of ecological balance.

Plant the new seedlings after their fruitfulness has been established.
With this program, we are confident that we can create a number of wines with qualities that have never been tasted before.  You are welcome to our winery to enjoy a new kind of California vineyard experience. Spend summer months, harvesting produce from our biodynamically farmed/biochar-enriched garden, enjoying dinner at the vineyard, tasting revolutionary new wines, and becoming part of this new journey.
"The most interesting aspect of wine is what is sometimes called "minerality," which is typically associated with a wine of terroir.  Another way to think about this is to talk about the life-force or the qi of a wine."  – Randall Grahm
Become part of our community.
Come enjoy the bountiful harvest of Popelouchum and the pop-up dinners in the summer

Explore the unique tastes of the winery and cave that will be built on-site

Become a part of the sustainability movement

Get involved in winery and harvest events

Be a part of the unfolding and blossoming of a great experiment.  There will be an incredible amount of empirical data to observe and assess. Experimental wines and blends, combined in dizzying permutation and combination, will be the order of the day.  This is truly an opportunity to be a part of history in the making.
"If it sounds crazy, then it's the right thing for Randall Grahm." – Alder Yarrow (Vinography)
Randall Grahm has been making wine for over 30 years. Founder of Bonny Doon Vineyard in Santa Cruz, he is known for his unusual and maverick approach to wine making. He has been a big proponent of using italian grapes in the United States, and advocating for transparency in wine labels. He truly marches to the beat of his own "doon." But no matter what he does, he proves himself time and time again. He was inducted into the Vinter's Hall of Fame in 2010 through the Culinary Institute of America. He was proclaimed Wine and Spirits Professional of the Year by the James Beard Foundation in 1994.
"We have always sought the involvement from our customers in all of the experimental and unique wines that we have made over the years; we will deepen our commitment to transparency and innovation." – Randall Grahm
Wine is about community, and we want our customers to play an important role in this very ambitious project. We want to share what we learn and ensure generations to come will both enjoy what we have done and no doubt, improve upon it. This project is for you, our customers, friends and the wine drinkers of now and for those to come.
Funding of this initiative will accelerate the plantation of the conventional varieties as well as advance the breeding program of the new varieties.  The creation of the hospitality area and garden beds will build closer relationships to supporters and potential customers.  
With money and information from the crowd, we can build something really special that will last. That is why we have included the perk of having a grape variety named after you! We want you to be a part of this potentially world-historical movement.
"For the last 8,000 years, the wine grape has had very little sex. This unnatural abstinence threatens to sap the grape's genetic health and the future pleasure of millions of oenophiles." – The New York Times, Jan., 2011
For many years,Vitis vinifera, the European grape that gives us the world's greatest wines, has had very little opportunity to breed with other species. This leaves it prone to disease and weak in times of drought, sometimes requiring more active interventions and water at a difficult time for the planet. One of the reasons very little "grape sex" has been taking place is the fear of diminishing the "quality" or distinctiveness of the varieties to which we have grown accustomed. But we will never know what we can achieve without trying. Professor Andy Walker of UC Davis has already done some great work imparting significant disease resistance to a number of grapes. We want to build on his work and to optimize our grape selections for wine quality.

"In this instance, I believe we may create a happy confluence of doing the right thing for the planet as well as creating a uniquely superior and distinctive wine."- Randall Grahm
True sustainability is of increasing importance with the reality of global climate change and conditions of extreme drought in California.  This initiative with its innovative methodology (the large population of genetically distinctive vines, the use of biochar, dry-farmed vines) is intended to create a powerful model of true sustainability for the California wine industry.
Grape cultivation in California is generally predicated on a model that involves high investment in infrastructure and significant return on investment.  For any number of reasons (primarily high land prices and borrowed money for vineyard development), most growers rely on high inputs (fertilization, irrigation, denser vineyard plantations, and highly productive vines) and seek higher grape yields.  The model that Randall Grahm proposes is one of fewer inputs (no trellises, end-posts, irrigation, wider vine spacing), and lower output (i.e. lower tonnage due to dry-farming), but significantly higher grape and wine quality.
While this is a long-term project – it will be at least 10 years before we see wine from these varieties – it is an important project that will impact the entire wine industry, and change winemaking forever.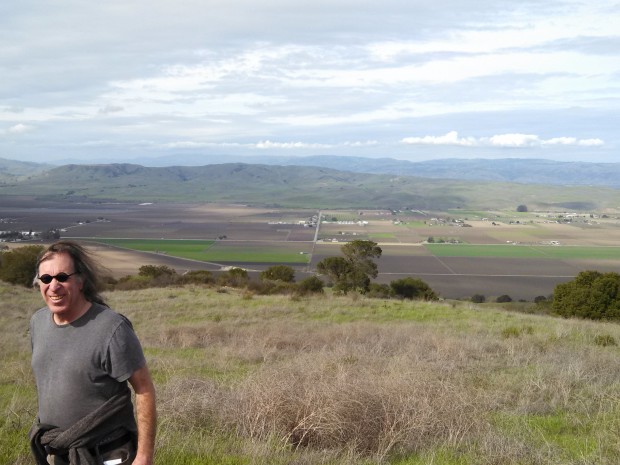 After graduating from UC Davis with a degree in Plant Science in 1979, Randall purchased property in the Santa Cruz Mountains and founded Bonny Doon Vineyard. He has been a tireless champion of Rhône grape varieties in the Central Coast since the inaugural vintage (1984) of Le Cigare Volant.  
In 1989 he appeared on the cover of the Wine Spectator magazine, anointed as "The Rhône Ranger," a moniker that has followed him ever since. Randall was named the Wine and Spirits Professional of the Year by the James Beard Foundation in 1994.  The University of California Press published his award-winning book, "Been Doon So Long: A Randall Grahm Vinthology" in 2009.  In 2010, the Culinary Institute of America inducted him into the Vintner's Hall of Fame.  He lives in Santa Cruz with his family and thesaurus.
"We are well-positioned for success, but there will still be unexpected challenges." – Randall Grahm
We have a great track record of over 30 years of success in the wine industry, and have built a great brand with Bonny Doon. We believe our track record as well as our vast number of friends, including viticulturists and academics, with whom we collaborate regularly, give us a greater chance of success. We have the following in our favor:
Popelouchum location is secured

Prof. Andy Walker of UC Davis acting as advisor

30 years of success in wine

Network of supporters in wine industry is strong
That said, we are entering into unchartered territory, with new farming techniques, new varieties, and the prospect of such a long time horizon. We are not certain which of the 10,000 varieties will be successful and which will be optimally suited to the location. We may encounter challenges in the planting and growing processes.
As always, there is of course the possibility that despite our best efforts and passion, Mother Nature will thwart our efforts.  Climate may not work in our favor; we want to make sure that we give ourselves the greatest likelihood of being able to dry-farm, per plan. But as with any project, especially one that involved mother nature, there may be delays.
Randall has been in long conversations with leading grape researchers, Prof. Andy Walker of UC Davis, and Dr. José Vouillamoz, who have offered their advice to devise the most appropriate strategy.  He has also brought in consulting geologists, Claude and Lydia Bourguignon, experts on the subject of terroir. They were delighted to discover the unique and distinctive soils (calcareous, volcanic and granitic) found at Popelouchum, and felt strongly that if terroir could be expressed in the New World, this would be an ideal place for its expression.
For inquiries including press, please contact: crowdfunding@popelouchum.com