iCrowdNewswire - Jul 23, 2015
CLESSANT – The First Luxury Strap for Apple Watch

Clessant brings you the first luxury watch straps for your Apple Watch. So instead of having the band everyone else has, wear your difference. 
Our straps are made to standards and with materials found on the most luxurious watches. Unlike the current trend of retrofitting stock bracelets, these are specifically designed for the Apple Watch. No compromises.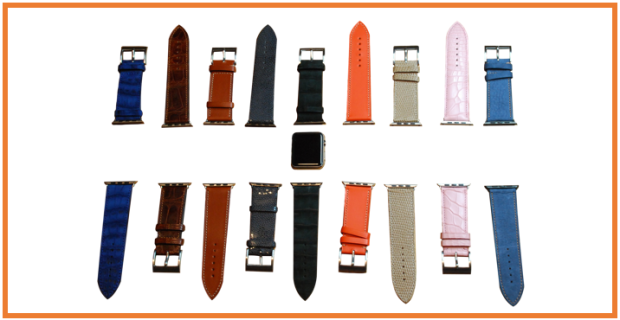 A watch influences how you are perceived by others, but most importantly, how you perceive yourself. While you surely embrace the productivity and connectivity you now have with your Apple Watch, many of you seek a more personalized experience. 
We aim to provide a wide range of highly qualitative straps for your Watch, with many different leathers and colors to fit your mood and desires. 
The Clessant strap is specifically designed for the Apple Watch. It makes no compromises or shortcuts. Every detail has been chosen with the Apple Watch in mind. 
When you receive your Clessant strap, you just need to disconnect your current strap and slide in ours, no need for tools or special adapters. Simple, elegant, personal. 
We very much hope you will enjoy these as much as we do and will contribute to making this project a reality.

In a glimpse:
Highest quality leather (France, Italy, UK, Belgium)
Designed in France
Handmade in Western Europe & final assembly in France
Designed specifically for the Apple Watch
Stainless steel hardware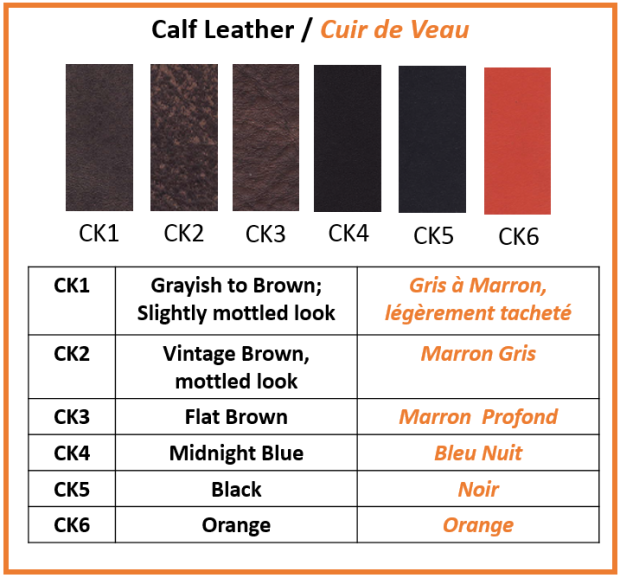 Calf – Vegetable Tanning (CK1-3): Smooth matte finish (absorbs light, no shine) -> a natural tanning process which shows off the natural grain of the leather. Takes on a strong patina and personality with age.  
Calf – Chrome Tanning (CK4-6): Smooth matte finish -> tanning process giving off very deep and even colors.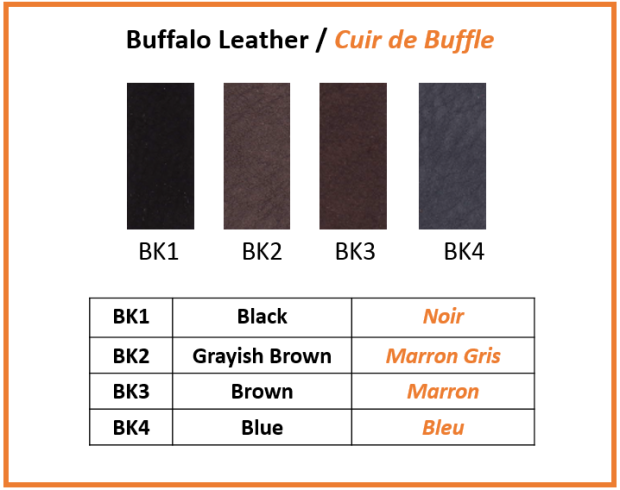 Buffalo Leather (BK1-4): Nubuck finish (soft, velvety texture, like suede but of better quality); matte finish (absorbs light, no shine).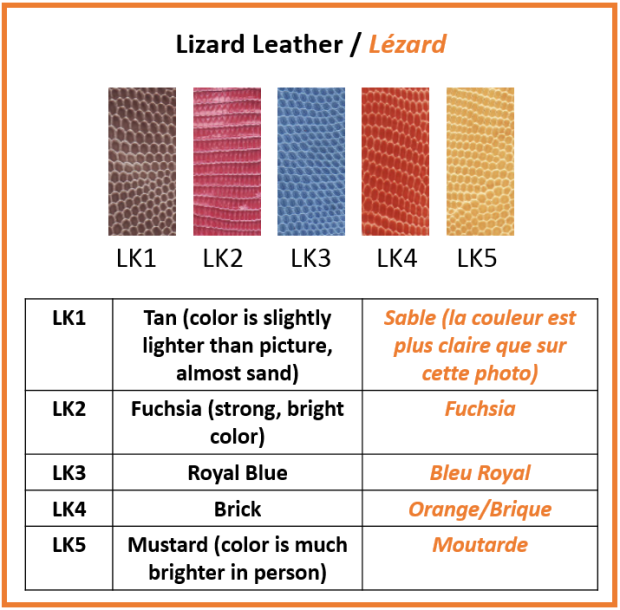 Lizard Leather (LK1-5): Smooth finish (very slight texture to the touch). Glossy finish.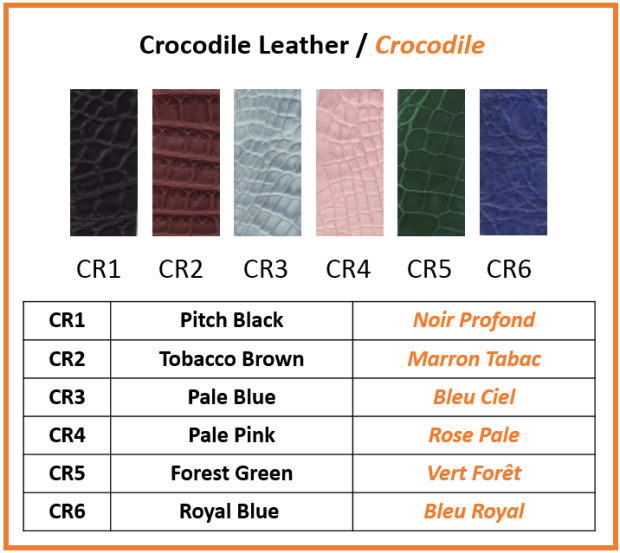 Crocodile Leather (CR1, CR2, CR6): Textured finish. Small scales. Matte finish. Very saturated colors. 
Crocodile Leather (CR5): Slightly textured finish. Small scales. Glossy finish.
Alligator Belly Leather (CR3, CR4): Textured finish. Small scales. Pastel colors. -> Same pledge level as crocodile. 
Alligator Leather: Textured finish. Large squarish scales.
Please note:
At the end of this Indiegogo campaign, pledgers will be able to fill out a survey stating their color choice, hardware choice, and size
The leather has been selected for its suitability and any irregularities or marks are not considered as imperfection or fault. They may be typical characteristics such as vein and growth marks which are natural properties of genuine leather. Each bracelet is inspected to conform to the highest standards, eliminating any flaws which would degrade the overall finish of the product.
Colors can slightly vary from the pictures. Each Clessant bracelet is unique. 

Shape– Slightly tapered to offer a more refined look. This is best when dealing with larger widths (like the Apple Watch) to maintain better balance. 
The hole placement for the buckle is also chosen to obtain a secure and tight fit. This ensures that your watch maintains all of its functionalities.
The width is made to allow no sliding along the adapter. This prevents an unsightly gap as well as premature wear.
Buckle- Clessant buckles are made of stainless steel and individually inspected, the size is non-standard to go perfectly with the Apple Watch. Finally, these are engraved with Clessant as a mark of the utmost quality. 
Adapters- Are of the highest quality, made in stainless steel (316L) to fit seamlessly with your watch. Once again these are tested individually to ensure a perfect fit. We offer both polished stainless steel and black to match your watch.
Quality Control- Once each strap is finished, it is reviewed by hand thoroughly to ensure that it is of the highest standard.

When we started the project, we started with a simple task, making the Apple Watch a luxury product that's even more personal. 
We loved the functionality of the Apple Watch, but we want to wear a watch we are proud of displaying.
After numerous prototypes and going back to the drawing board, we have finally reached what we know is the best possible product.
Our packaging is also underway and we are so far very happy with the quality of the presentation.
Now it's time to start a first production run.
To do this, we need your support. With this campaign we hope to raise enough interest to cover production and tooling costs, as well as purchase the hides. We are confident we can bring the products to your door within a month after funding and all indicators point to this being a credible timeframe.
It's up to you now to pledge and be amongst the very first to have a luxury strap on your Watch.
Time to show your difference!

We are extremely serious about taking care of our backers, early adopters, and clients. Service and trust are in the DNA of Clessant. We have worked extremely hard at readying our product for a launch on Indiegogo and are confident in our ability to get you the product we promise in the timeframe we give you. However, as with all projects, there are always imponderables. The following are what we see as risks and challenges, and more importantly, how we are mitigating them.
PRODUCTION: Our production workflow is ready to go, however, should we see a much larger demand for our product than expected, we could see some delays. We have prepared contingency plans in case of such events and although we could see an impact on delivery time, quality will never be compromised and delays should be minor.
PRODUCT ADJUSTMENT: Our prototypes are made and we are satisfied, however, there could potentially be small modifications to further enhance the product. These changes will always be for the benefit of you, the customer, and will be announced and discussed with backers.
Any pledge brings us closer to our goal, we encourage you to share this page, images, and project with as many people as you can, and also by contributing to the project by clicking the 'Contribute now' at the top of the page.
Thank you for your trust and support in turning this project into a reality.
Most Sincerely, 
William LAURENT & Nicolas PEROT