iCrowdNewswire - Jul 18, 2015
Organic Frame – Designed for your TVs & displays
We believe, that it's time to change our perspective on how we look at digital content. It's time to present and enjoy it in a way, that it deserves.
For hundreds of years we have been framing works of art, especially paintings and photographs. Why have we been doing this? Of course, it looks better! But why?
Frames separate any content from the rest of the scene. They make it easier for us to stay focused. Our eyes stop scanning around once they have found a clear border. In the end, frames help our brains save energy. They calm down the scene. Especially scenes with lots of details such as movies, photos, artworks, Excel tables and so on.
They make us more efficient!
Modern TV's  and displays, like the Apple Thunderbolt Display, are designed with glossy borders or cases to frame the visible area. This may look good – but it doesn't make any sense. Glossy surfaces reflect light, and this makes it even harder for our eyes, they are zooming in and out the whole time, trying to stay focused, and this isn't efficient or relaxing.
This is stressful  – and means a lot of unnecessary work for our brains!
The organic frame is our solution to getting rid of  distracting light reflections and to start enjoying digital content in a feel-good atmosphere that is efficient and relaxing at the same time. 
Organic Frame – A little revolution that makes our daily life more enjoyable
Colors & Styles
Currently we offer two styles and colors. Black and white, with and without ornaments.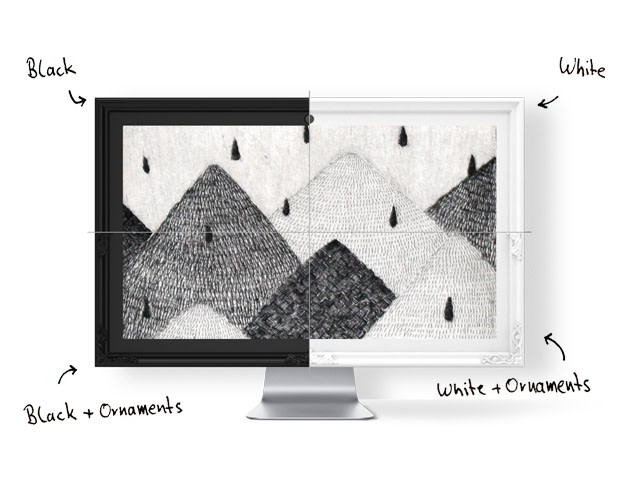 Thoughtfully designed
We have put our love and passion into developing and perfecting the Organic Frame.
Now we are proud to present a product, that helps you to stay relaxed and focused while creating or enjoying digital content. The matt organic material guarantees brillant colors and less disturbing light reflections for an unique viewing experience.
The overall design and its flawless one piece construction create an enjoyable feel-good atmosphere and blend the screen naturally into every environment.
• Helps to stay relaxed and focused
• Creates an enjoyable feel-good atmosphere
• Flawless one piece construction
• No disturbing light reflections
• Brilliant colors because of the matt organic material
• Universal Mounting System for easy attachment and removal
• Keeps your remote's functionality
• Organic recyclable material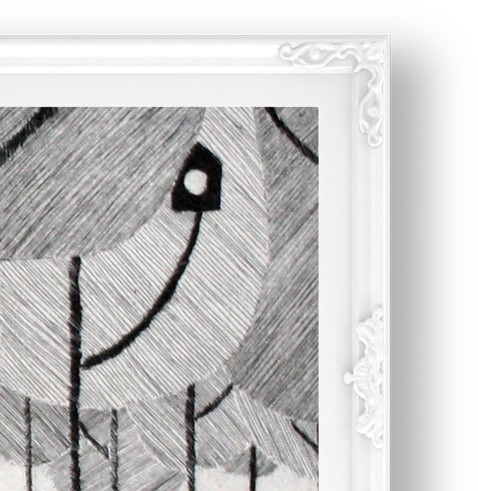 Universal Mounting System
For super easy attachment and removal within seconds, we developed the UMS – short for Universal Mounting System.
Elastic foam inserts in the corners of the frame guarantee a secure hold on various case designs. This little detail gave us the ability we were looking for to offer you a product, that fits most of today's available TVs.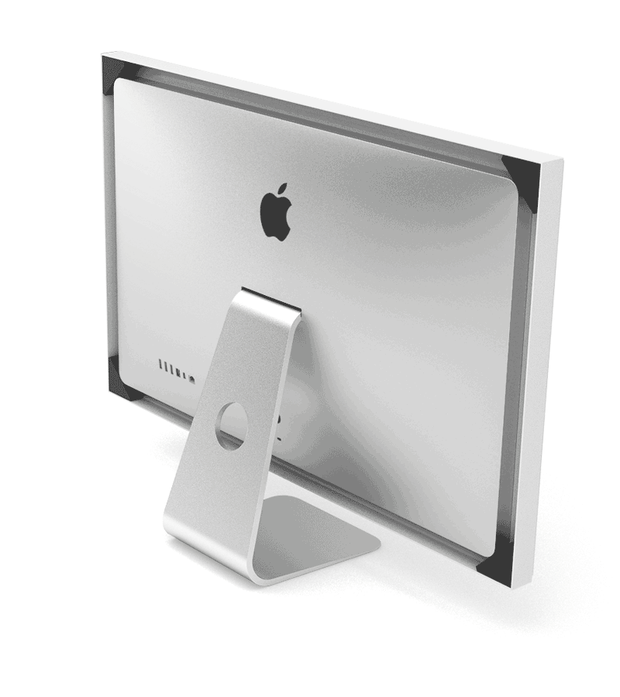 Requirements for your TV
The Organic Frame fits to most of the current available TVs.
Nevertheless there are some requirements to meet so that we can asure your TV is supported. In order to guarantee a perfect fit of the frame on your device, the front surface of your display's case must be almost flat. Also the width of the case must be within our specifications you can see below. Thank you for your understanding.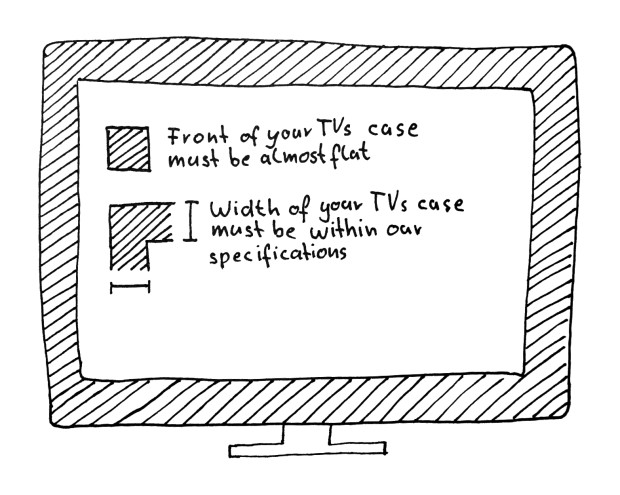 Specifications
32″ UMS supported width of your TV's case: 2 to 65mm
40″ UMS supported width of your TV's case: 2 to 75mm
46″ UMS supported width of your TV's case: 2 to 85mm
50″ UMS supported width of your TV's case: 2 to 95mm
55″ UMS supported width of your TV's case: 2 to 95mm
What and when?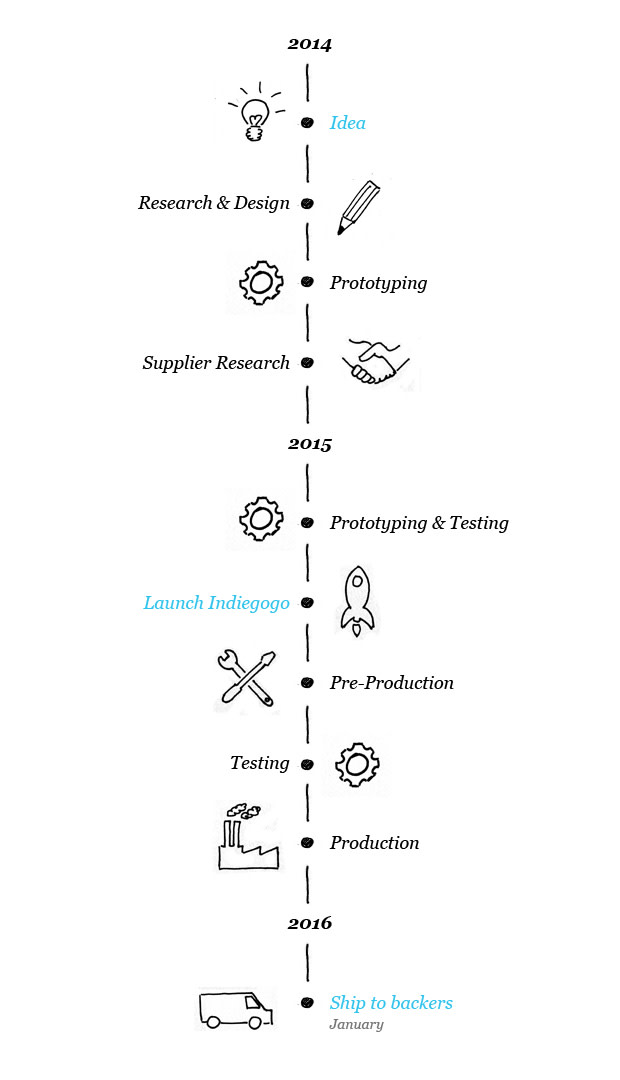 With your support,
we want to start our little revolution by reaching the 25k funding to cover the initial production costs.  
You get,
new friends! We love what we do! And we also love people who share our vision. Besides this, you get the perk you have chosen and a 20% lifetime discount on all our future products. Fully refund of your money if we couldn't reach our funding goal or you are not satisfied with the quality of your Organic Frame.
Possible risks & challenges
We have put our love and passion into developing and perfecting the Organic Frame, however there will always be improvements and innovations that we hope will be informed by your feedback. By pledging to support our project you are doing so with the understanding that this is a new product that you are making possible.
Manufacturing
We are working closely with our manufacturer who is able to produce our Frames at a very high quality. However, to produce on a larger scale will require increased tooling and production equipment and this is where some delay could occur.
Fulfilment
Despite the best planning, there may be factors that we cannot control such as transport or supplier delays. While we hope that your support on Indiegogo will enable us to begin production on a commercial scale we have no idea as to whether it will be 'usual business' for us or an overwhelming demand. If more people than we anticipate want an Organic Frame we may have to scale up the factory. However, we will endeavour to produce the product quickly and make sure that the early backers are given priority to receive their Organic Frames.
Product adjustments
After extensive testing of the latest prototype and materials, we think we have a product that is ready for market. Adjustments may be made along the way (as we can't think of everything). This will result in a better product but may delay production or shipment in some cases.
Thank you
Super thank you for watching, backing and sharing our campaign.
Special thanks to Judith Schaber for supporting us with her beautiful illustrations.
www.judithschaber.com
Have a good time. And please tell as many people as possible.