iCrowdNewswire - Jul 13, 2015
WeNote: never forget anything anymore, anywhere
What is WeNote?
WeNote is the smartest way to remember everything, stay organized, and easily keep in touch with your friends, family, and colleagues.
WeNote is the first indoor reminder system that keeps you on track – reminding you of everything at the right time, and in the right place. 
The innovative system, made-up of an app and a proximity sensor (also known as "beacon"), sends you reminders when you enter or exit a specific place and lets you quickly and easily share notes with others – just like a real pinboard!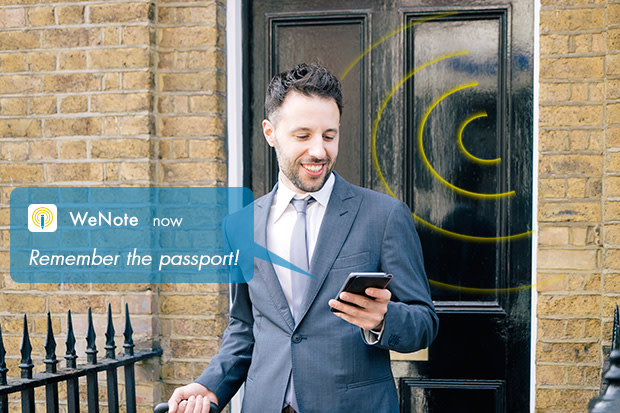 How many times have you left the house for the day and forgotten to take out the garbage, lock the door, or grab your wallet, and only realized it when you were stuck in rush hour traffic with no way to turn back? 
How many times have you forgotten about a meeting, or to make an important phone call or send an email that you could change the course of the day (or your career)? 
WeNote can help you in all of these situations and resolve your everyday problems and anxieties. 

Why need WeNote?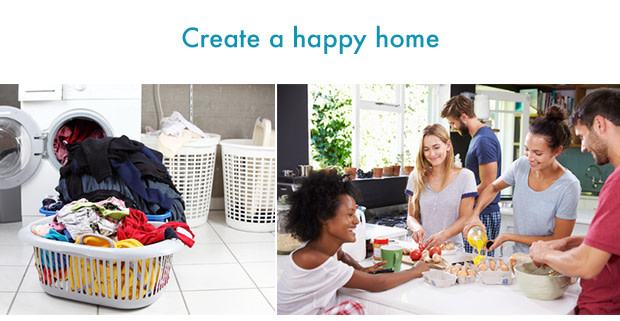 Tired of your roommates not taking out the garbage, or dishes just piling up in the sink for weeks on end? Put a WeNote beacon somewhere convenient for everyone and sit back and let the reminder system gently notify you and your roommate of the shared household tasks without you becoming the bad guy.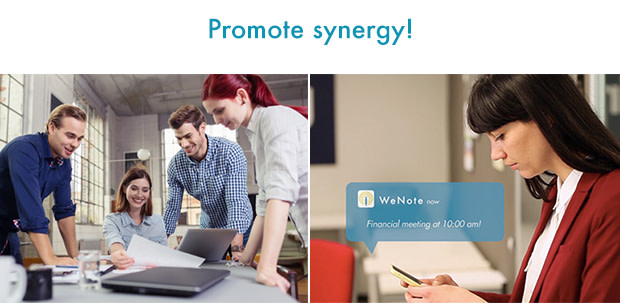 Need to send a "message of the day" to all your team to keep them up-to-date? Want to remind the last colleague exiting the office to switch off the coffee machine? Place the WeNote beacon in the office and let it help you coordinate your working group and get all things done.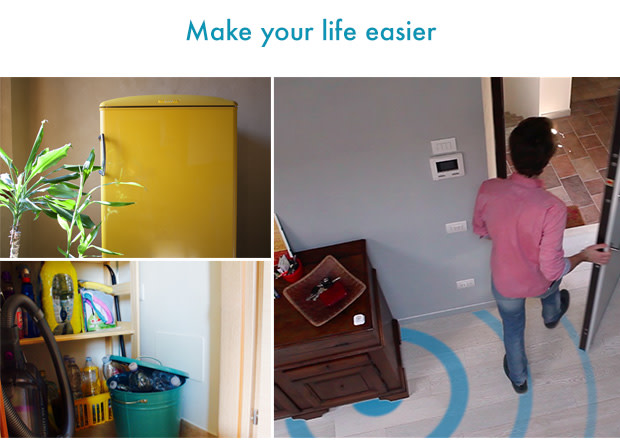 When you have to take one important thing before you leave the house, put the WeNote beacon in a strategic place, maybe at the front door, and you will receive a reminder when you pass by.
What makes WeNote so special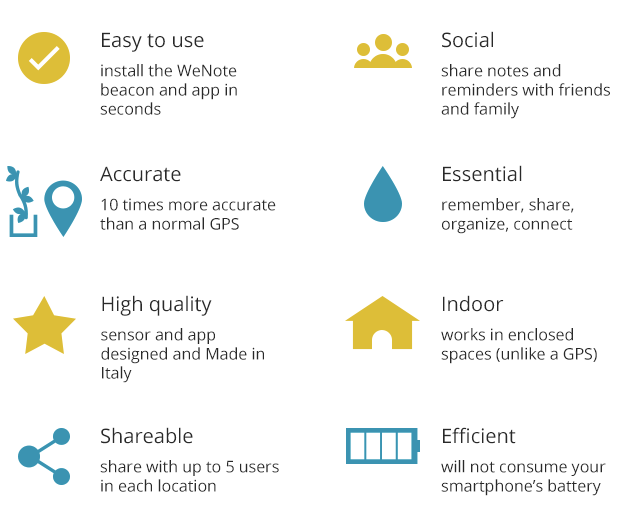 How does it work
WeNote's primary purpose is to make your life simpler, so it's easy to use! Just place the  WeNote proximity sensor,  AKA "beacon", in a convenient place in your home, office or anywhere else you might need it. It will even work in the car! Then start setting reminders or posting notes to yourself or the people you share the same space with, and receive the notification only when you are around; so always at the right time, and in the right place.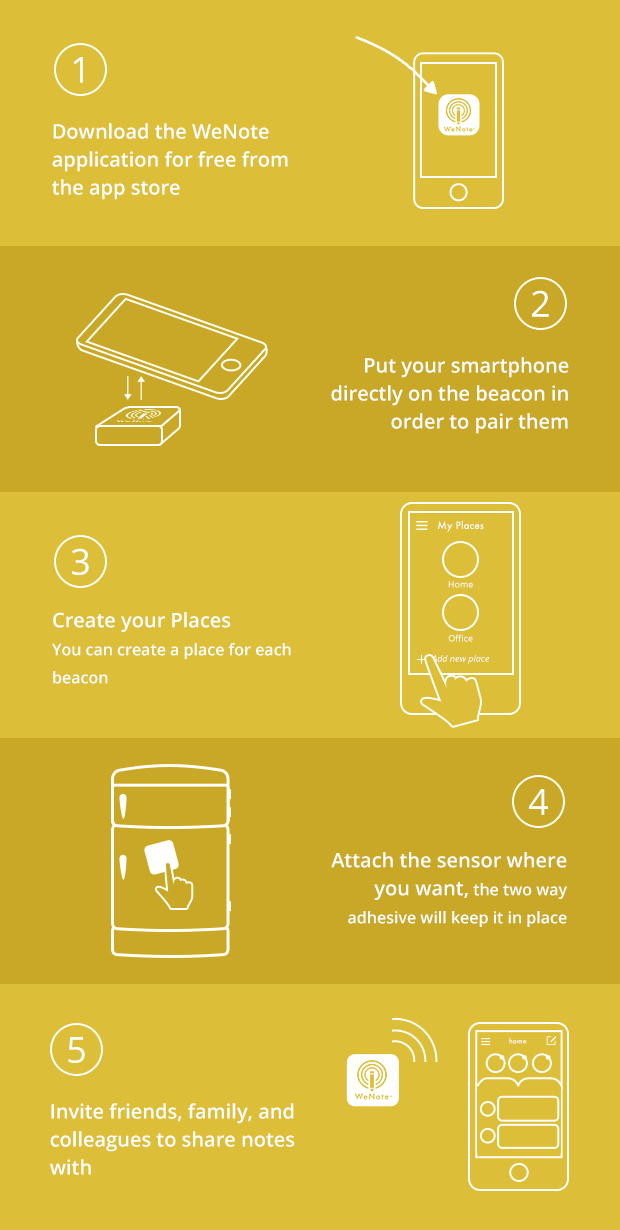 WeNote – The most useful application you've ever had
Last year at the MobApp Award SMAU, WeNote won the innovation award. Why? It's very useful to be able to send and receive notifications only when and where it is necessary. Invite the people you share space with every day and stay connected in an smart way. Let WeNote take care of all of the daily duties and reminders that you need so you can focus on what matters most. Kiss anxiety goodbye!


Technical details 
The WeNote beacon is a very small device, lightweight and easy to install. It communicates with your smartphone via Bluetooth low energy technology when it is in the immediate vicinity. WeNote will be sent with a double-sided adhesive, so you can stick it wherever you want.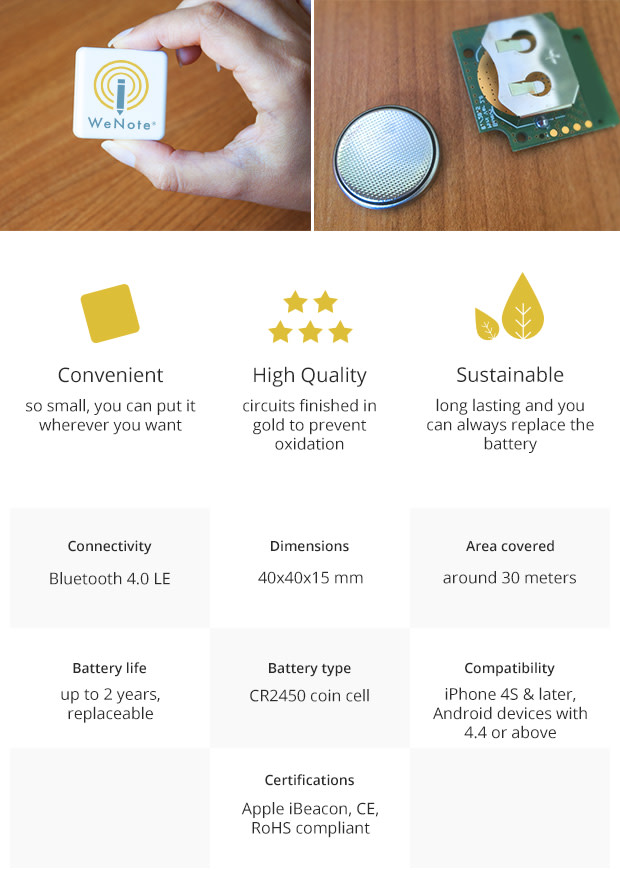 Let's improve our everyday life together!
We're the first to recognize that we need all of the features that WeNote offers and we firmly believe that it will be of great help to those like us who have a lot of things to remember every day. We really want to make WeNote a reality.
The development of the app is already in the Alpha version for iOS devices. All funds raised will be used to improve the development of the app on both iOS and Android, to add more and more useful functionality and to increase the number of users per site.
If we reach our goal we will be able to provide applications on both platforms, establish ourselves in the market, and integrate our application with other systems, such as IFTTT or with home automation systems. But we need your help and your feedback to improve.