iCrowdNewswire - Jun 12, 2015
Gratitude Bag
Every spring and summer, donations to food banks plummet — leaving many families in Toronto hungry. Gratitude Bag is a simple, special way to generate a huge amount of food for our partner, Daily Bread Food Bank, during this "dry season." Instead of asking people to make donations at their nearest food bank, we bring the food bank right to their doorstep. Last year, we tested Gratitude Bag in a few Toronto neighbourhoods, and the results were huge: over 10 tonnes of food that sent Daily Bread Food Bank's donation bins overflowing! This year, we want to go even bigger. But we need help.
How does it work?
A local volunteer leaves a Gratitude Bag at every door in your hood.
People fill their Gratitude Bags with non-perishable food. (The bag has helpful instructions printed on it.)
People leave their filled Gratitude Bags on their porches.
In the evening, the Gratitude Bags magically disappear. (Volunteers come by and pick them up.)
A hungry family gets a nice meal!
"Why is this so urgent?"
Acting as a distribution hub, Daily Bread is the largest provider of food relief in the GTA. Last year, Daily Bread provided food hampers for over 700,000 visits. One third of their clients are hungry families with children. 
But Daily Bread has a monthly 50,000-pound shortfall during the summer months. With your help, we hope to fill that 100,000-pound need over July and August.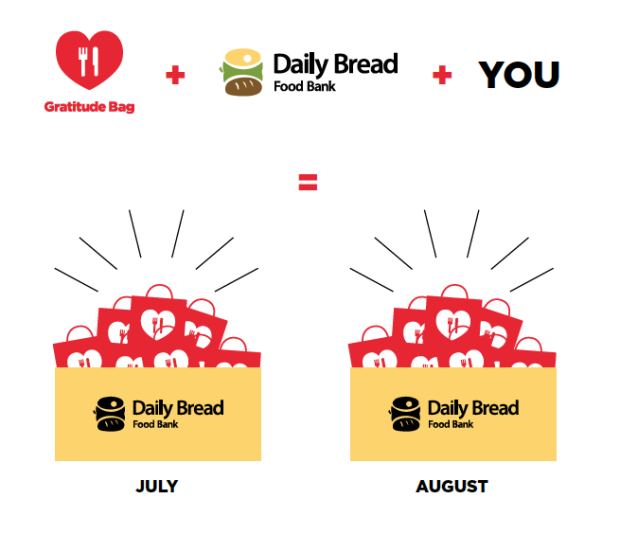 "Will this really work?"
We weren't sure at first. So we tested Gratitude Bag in Toronto east side neighbourhoods, including Riverdale, Leslieville, The Pocket, and Scarborough. Even with no prior publicity and minimal volunteers, we raised over 10 tonnes of food (and caught the attention of CityTV and Global!) And by experimenting with different locations, timing and strategies, we've figured out how to make Gratitude Bag get the best results possible.
"Who are you people?"
We're a small, diverse bunch of Torontonians who love our community: Grant Gordon and his family in Riverdale, Lauchlan Rogers, Mackenzie Gilmour and Trevor Watt who do all the work on the ground, and a growing bunch of volunteers. Special thanks to Monica and Melissa for all their great graphic design, and to Daily Bread Food Bank — who have been keeping Torontonians in need from going hungry for over 30 years. 
(And of course, Gratitude Bag collaborates & communicates closely with Daily Bread to make sure our efforts are as thoughtful & helpful as possible.)
"Where will my donation go?"
Bags and door hangers. Our reusable bags make it easy to donate (and painless for volunteers to lift), and our door hangers alert people that Gratitude Bag is coming so they can prepare their non-perishables. We re-use bags and doorhangers as much as possible, but we need to replace damaged ones & purchase new ones as we expand.

Gas money for our drivers. Our drivers go door-to-door, picking up filled Gratitude Bags and then driving them to Daily Bread Food Bank.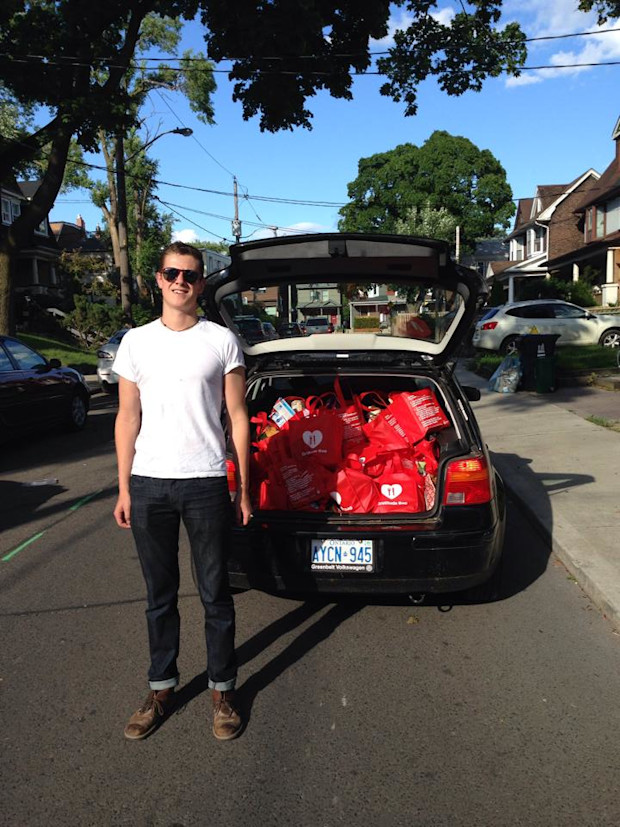 Money to hire coordinators. Coordinators ensure we have enough volunteers for every street, that streets get doorhangers and bags when they're supposed to, that no filled bags are missed, and that everything runs smoothly.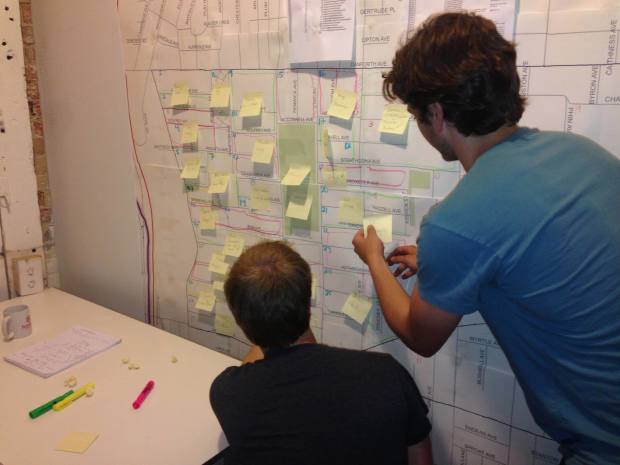 "What difference does my donation make?"
Our bags are reusable, and on average tend to be used 4 times before they're either lost or damaged.
Each bag is about $1, which works out to 25¢/bag, per pickup. 
On top of this, there's 25¢ overhead on each bag for gas money and other expenses.
So it costs us a total of 50¢ per bag, per pickup. 
Since each bag usually contains about 1 full meal (or more!), that's like paying 50¢ to give a hungry family their dinner.
What does that mean? For a donation of just $10, Gratitude Bag can gather 20 meals. In other words, a little goes a long way. And a lot goes a really, really, really, really long way!
"How can I help?"
If you can afford to donate, please do!
Get the word out! Share it, tweet it, email it, or even…G+ it! 
If you'd like to physically help, visit our website and fill out our volunteer form!
Contact us:
On Twitter: https://twitter.com/gratitudebagTO
On Facebook: https://www.facebook.com/bagofgratitude?fref=ts
By email: contact@gratitudebag.org