iCrowdNewswire - May 21, 2015
Summary
SWIIM is unlocking a new $150 billion market for water rights and conservation with a hardware/software system co-developed with the USDA. SWIIM gives farmers the ability to monetize their land's water rights, much like how individuals can sell their surplus solar power back to the electricity grid. Currently the only way for a farmer to lease their water rights is to take land out of production. SWIIM overcomes this restriction with a complete hydrological accounting of every drop of water on and off a field, satisfying the legal requirements which allow farmers to lease their surplus water rights. In doing so, farmers will not only make more efficient use of their water, but with SWIIM, a typical farmer can expect to earn an additional revenue stream averaging $250/acre.

Highlights
Patent-approved. USDA co-developed & PhD dissertation written on SWIIM
Total Addressable Market for U.S.: $31 Billion 
SWIIM was highlighted as part of The White House's Climate Data Initiative
Development partners: USDA, Colorado State University, Utah State University
40,000 acres confirmed for deployment in Q1 of 2015
Product
SWIIM integrates hardware and other remote sensing data with a software solution to provide a full accounting of all water coming on and off a farmers field.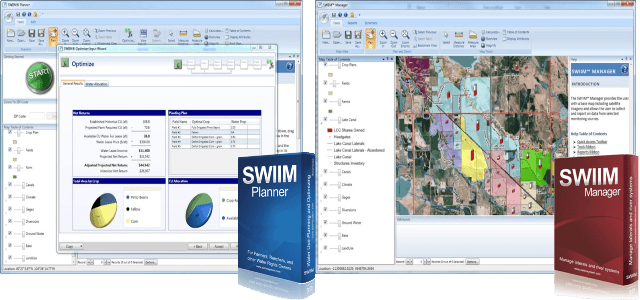 Installs in days 
Limited Instrumentation 
A full turn-key solution 
Low cost remote sensing 
Problem
Agriculture consumes up to 80% of fresh water. Aquifers are quickly being depleted and current water usage is not sustainable. Under long-standing water rights laws farmers have a disincentive to make more efficient use of their water allocation. As a result, farms waste at least 25% of their water. That's $14.1 billion in Colorado and California alone. 
To meet the needs of municipal, industrial and environmental uses, legislation and contractual commitments take water from agricultural use.  Currently, water transfers are made by taking agriculture land out of production through semi-permanent or permanent fallowing (Buy and dry). However, "Buy and Dry" leads to job loss, diminished community, ecosystem impacts. 
Solution
SWIIM solves this problem by allowing farmers to monetize their surplus water,  thereby giving farmers a financial incentivize to make more efficient use of their water resources without taking agricultural land out of production.
SWIIM provides the tools to optimize a farms water use and then transfer a portion of the saved water to other users while allowing for simultaneous farming with the remaining available water. With SWIIM, farmers can simultaneously generate revenue from both their crops and through a lease of their saved water.
Once an entire farm operation is optimized based upon water use, farmers will know exactly how much water is needed to grow crops, how much is available to lease elsewhere, and what revenue they can generate from their water savings.  SWIIM accurately estimate all elements of the crop water budget and report the same on a real-time basis. This protects the underlying water right from degradation. 
SWIIM is a hardware and proprietary software solution that can be set up in less than one week. This Includes planning, management and reporting to regulatory bodies on a farm to system-wide basis. This allows the farmer to focus on farming, while we manage the conserved water and generate additional revenue for the farmer. 
Business Model
SWIIM allows farmers to save 25% their farm's water use and to lease out this surplus. Farmers can expect to generate an average of $250/acre in new revenue with SWIIM earning ~20% of the new revenue ($50/acre). SWIIM has two sales channels: (1) direct through farmer cooperatives; and (2) through third-party equipment/supply providers. A typical farm with 500 acres can expect to earn $125,000 in new revenue, with SWIIM earning $25,000.
Addressable Market
SWIIM's Total Addressable Market in the U.S. covers 18 western states operating under prior-appropriation property and water rights dating back to the 1800s. These states constitute 822,683 farms, spanning 616.1M acres, with over 500M acre feet of water. Assuming average water values of $1,200/acre foot across these states, the total value of agriculture water on a leased basis is estimated at $600 billion.  With a conservative assumption that farmers could save at least 25% of the water through better water management practices, SWIIM can unlock a $150 billion market for farmer's water rights. Using SWIIM, a typical farmer should expect to earn $250/acre in new revenue, with SWIIM earning $50/acre to facilitate this market (20% of the new revenue stream); this implies a Total Addressable Market of $31 billion.
SWIIMs Initial Target Market is Colorado and California, which constitutes 118,200 farms spanning 56.9M acres and ~47M acre feet of water. At an average price of $1,200/acre foot, the total market value of water in Colorado and California is estimated at $56 billion. With a 25% saving through better water management practices, SWIIM expects to unlock a $14 billion water market for farmers in these two states, giving SWIIM an Initial Target Market of $2.8 billion.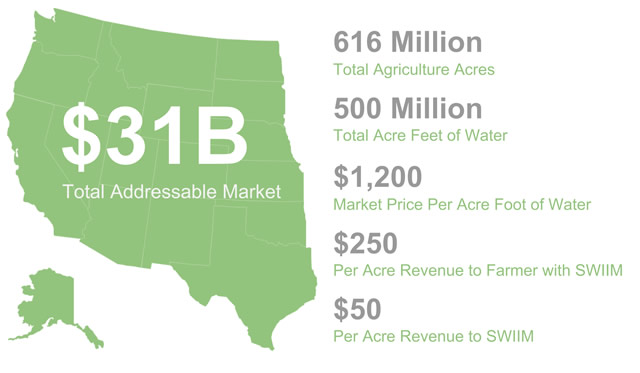 Competition
SWIIM simultaneously solves several problems for which there are no direct competitors:
I. Before SWIIM, a farmer was forced to take land out of production to make a water transfer (Buy and Dry).
II. Before SWIIM, these water transfers needed to be manually assessed at a cost of $30/acre, and this assessment had to be done each time the water transfer details change.
III. Before SWIIM, if a farmer did not use all of their water allocation they would lose this surplus allocation. Therefore farmers had no financial incentive to make more efficient use of their water allocation.
SWIIM solves these issues with a patent approved USDA-developed model that uses real-time data, to monitor the entire water balance on a farm. With this data,  farmers can apply exactly the amount of water needed, and generate revenue from their conserved water.  SWIIM acquire >remote sensing data from USDA, ESRI, our own leased aircraft, and other sources through contractual or joint venture arrangements.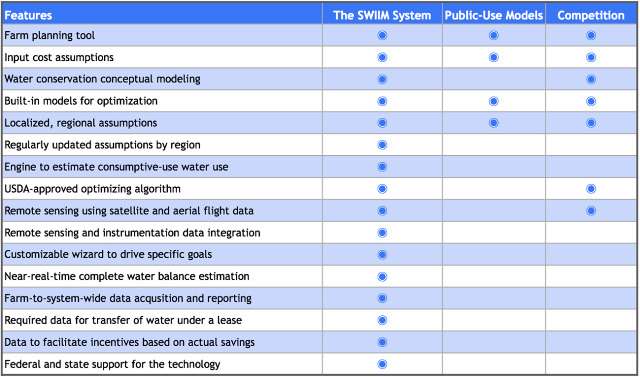 Partners


Intellectual Property
The SWIIM system uses a patent approved algorithm which was co-developed with the USDA and part of a PhD dissertation and took four years to complete. SWIIM owns 100% of the IP and owes no royalties.
Testimonials
"
The SWIIM Planner provides irrigators an accurate, economic and immediate way to conserve water and potentially increase their crop and water rights income. Tested by municipalities and government agencies, SWIIM is an academic-endorsed technology that improves the economic viability of irrigated farms. Simply put: It works
."
                                                                                  –Tom Cech, Co-Author of Colorado Water Law for Non-Lawyers 
 "Farming and ranching systems are complex and they require sophisticated analytical tools to make correct and optimal decisions. Fortunately, with the availability of easy-to-access data, with inexpensive computing power, and with clever software like SWIIM, farmers and ranchers can best decide how to use their portfolios of water assets." 
                                                                                 –John McKenzie, Director of Ditch & Reservoir Company Alliance
 "SWIIM gives farmers the opportunity to look at what their economic options are. It suggests to them what crops that they can grow, what kind of yields they can expect, and what kind of water they should use. SWIIM is a packaged tool that allows farmers to look at how to sell or lease their water, and yet keep enough back to continue farming." 
                                                                                 –Dr. Gale Dunn, Soil Scientist and Project Lead for the USDA
Use of Proceeds:
Continue deployment and expansion in CO & CA 
Capital expenditures to aerial flight equipment & inventory (~1/3rd) 
Can reach cash flow positive with this round (approx. 100 sites). 
To expand past CA and CO additional funding expected; 16 other western states, international licensing opportunities