iCrowdNewswire - May 21, 2015
Summary
AGERPoint is a precision ag company focused on orchards and vineyards. Founded by a Professor at Central Florida, AGERPoint's technology accurately identifies plant cultivar, health, size in three dimensions, fruit/blossom number and GPS coordinates in a single pass.
AGERPoint has developed a series of industry-leading technologies that are redefining data acquisition, analysis, and translation for growers, giving growers access to unprecedented levels of mission critical data for managing their assets in a competitive environment.
AGERpoint provides information management solutions to growers of tree and vine based crops.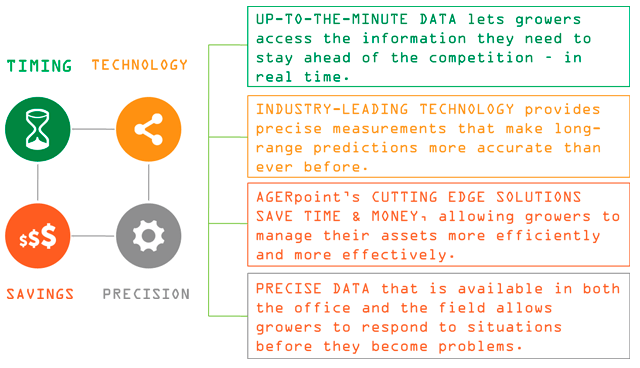 The Problem
The level of accuracy AGERpoint's system achieves has not been available before. Recent advances in LiDAR, GPS, and GIS have given AGERpoint the ability to collect a level of data not possible by any manual means. Our pending patent on this process means that we will be the only providers of this technology for years into the future.
Our system also allows us to take a wide variety of measurements at the same time. With a single pass, AGERpoint can take comprehensive measurements of a tree's size in three dimensions, count the fruit or blossoms on its branches, perform a spectral analysis of its leaves to ascertain its health, determine cultivar, and map it to precise GPS co-ordinates, providing a comprehensive inventory of a farmer's assets in the field.
AGERpoint is also actively pursuing new technological advances in the collection and distribution of agricultural data. In the near term, our software platform will allow our clients to access all of their data from the field. A GPS enabled phone or tablet will be able to automatically pull up information on any tree or vine on their farm, either chosen from a detailed, custom map of the property, or based on a tree or vines proximity to the viewing device. Furthermore, while UAV (drone) technology cannot yet be used due to regulation and limits of the power available to power sensors, preliminary work is being done to make sure that such advances can be put into the field as soon as they are legal and practical. A UAV-based platform is expected to be able to measure 1,500 acres in a day, a five-fold increase over land-based scanning. Our data infrastructure has been designed to readily accommodate advances such as this well into the future.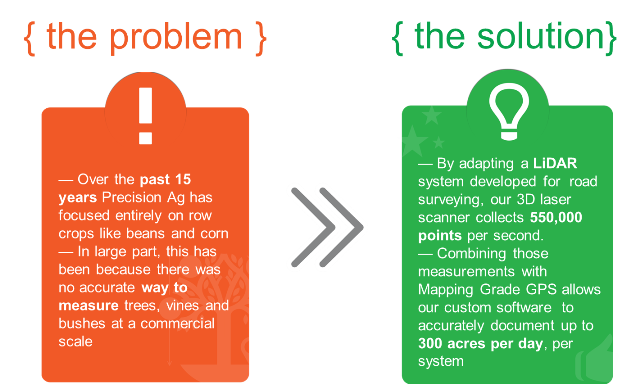 Business Model
AGERpoint will derive income through the licensing of its technology, through its data analysis and warehousing services, through the sale of agricultural inventory and tracking solutions, and through additional data services to primary and secondary markets that have an interest in agricultural productivity, including insurance, investment and real estate concerns.
Currently, AGERpoint has developed partnerships with Ag Leader, a front runner and driving force behind precision agriculture for over twenty years, and Durand Wayland, an 80-year-old firm, and leader in the design and manufacturing of spraying systems. We are also in the process of formalizing relationships with three other firms, which include established names in scanning technology and agricultural equipment. These partners will provide AGERpoint with technological assistance, as well as help us to develop our dealer network by building upon existing partner dealer networks.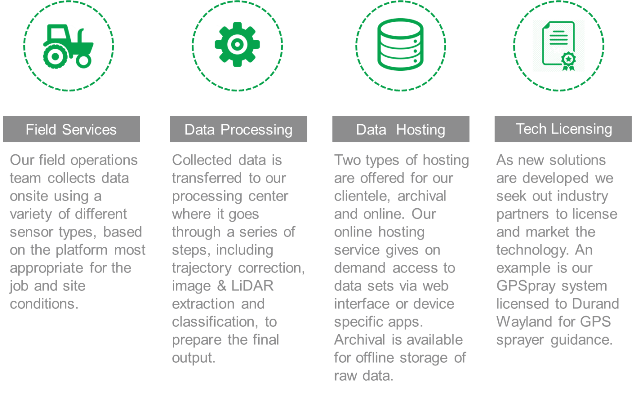 Product Line
Addressable Market
AGERpoint sees a total addressable market in the U.S. of $1.2 billion for initial scan services.
Assuming a seven-year re-scanning cycle, data hosting, and additional subscription services, the recurring, the total addressable market would represent an additional $495 million annually based on the product lines currently available and/or scheduled for deployment in the next three years.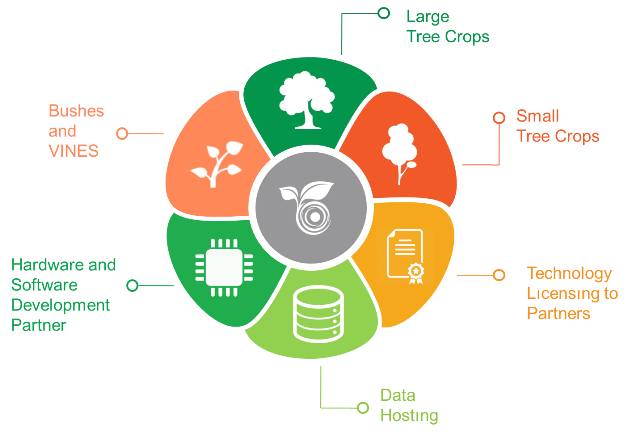 U.S. Fruit Bearing Trees – In Acres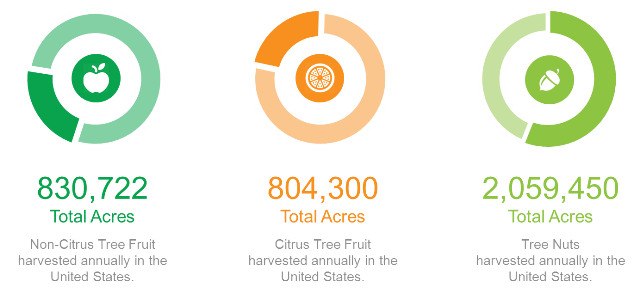 Largest Crops In U.S.A. – In Acres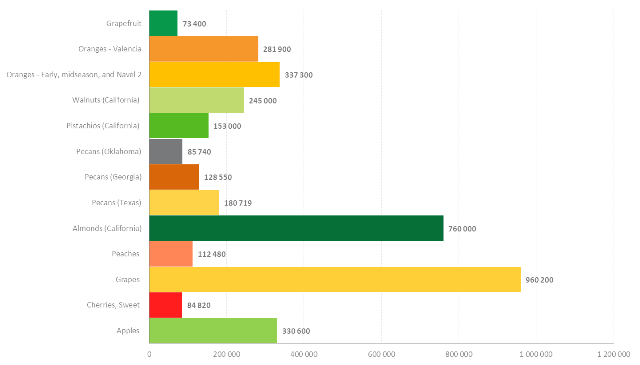 Global Acres Of Permanent Crops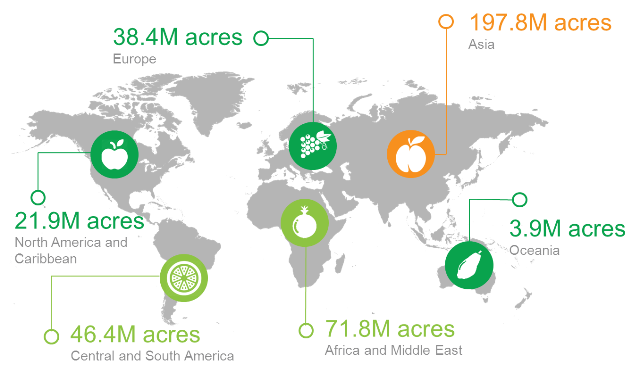 Competitive Overview
AGERpoint's agricultural asset management tools are unsurpassed in the industry.  The incorporation of LiDAR technology ensures the highest level measurement accuracy currently possible, making them appropriate for a wide range of applications.  Moreover, AGERpoint has developed algorithms that allow for the seamless integration of LiDAR data with data from other sources, ranging from augmentative aerial or terrestrial scans of a field or grove to existing topographical and watershed GIS data, to NOAA weather projections, making it the most comprehensive foundation available for agricultural information systems. By implementing its scanning hardware on mobile mounts, AGERpoint is able to customize its data collection efforts to the needs and budgets of its clients.  We can provide accuracy to a few millimeters, when required, or can increase the speed of collection and reduce costs when such precision is not needed, allowing us to customize our service to the specific data and budget needs of our clients.  As mentioned above, the AGERpoint system allows us to take a wide variety of measurements at the same time. From a single pass, we can provide a farmer with a comprehensive picture of every tree's type, size, fruit/blossom count and health. Our patent pending process allows us to provide more data per scan than our competitors, which allows us to competitively price our services. In addition, if a client desires information they did not initially request about their holdings after scanning has been completed,  AGERpoint's unique processing methodology gives it the ability to perform additional analysis on collected data without having to retake measurements in the field, saving significant time, effort and money.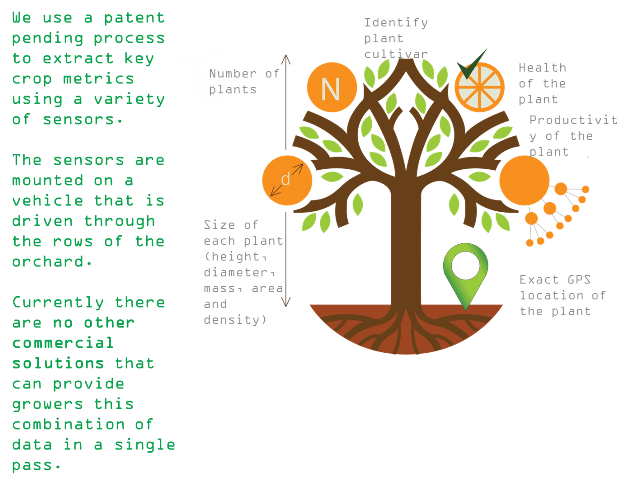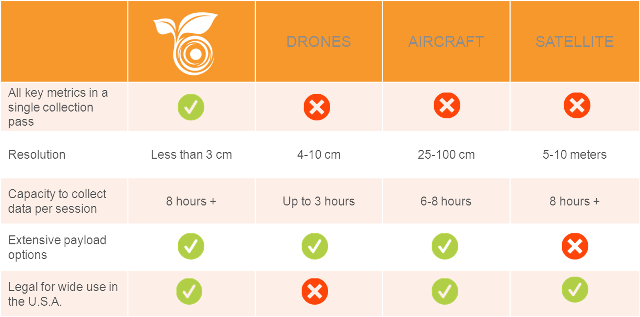 Marketing Strategy
Marketing and sales will be pursued through multiple channels.  AGERpoint will employ a centralized marketing effort, reaching out directly to farmers through trade shows, journals and online venues.   We will also act as a dealer in geographical areas where no other dealership has been established. These centralized marketing efforts will operate in tandem with a network of local dealers located throughout the United States.  These dealers will be able to serve the scanning needs of their local customer bases using systems sourced through our partner organizations combined with AGERpoint's proprietary software tools.  The data, once collected, will be analyzed by AGERpoint, who will act as the central repository for all data, and will translate it for incorporation into industry standard GIS systems. These systems provide access to crop inventory data, and drive our partners' automated spraying equipment.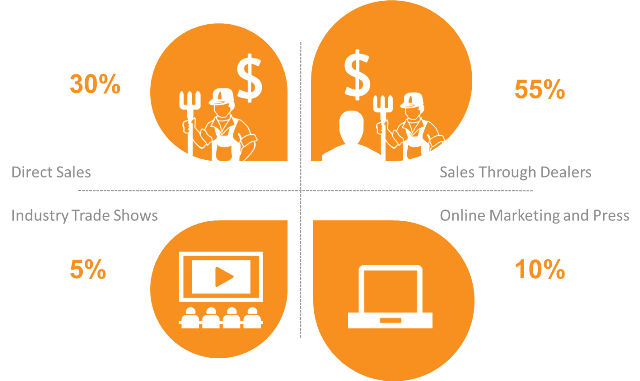 Revenue Model
Interest in AGERpoint's service has been high. Our early models suggest that rapid expansion will depend on how quickly we can bring dealers on line and train them. We anticipate bringing 100,000 acres under contract within the first three years, with a dealer network expanding at a rate of two to four new dealers each year, each representing an additional 10,000 -15,000 acres per year after three years. There will be an annual charge for maintaining each client's data, and re-measurement will be needed every five to seven years, depending on the particular crop circumstances.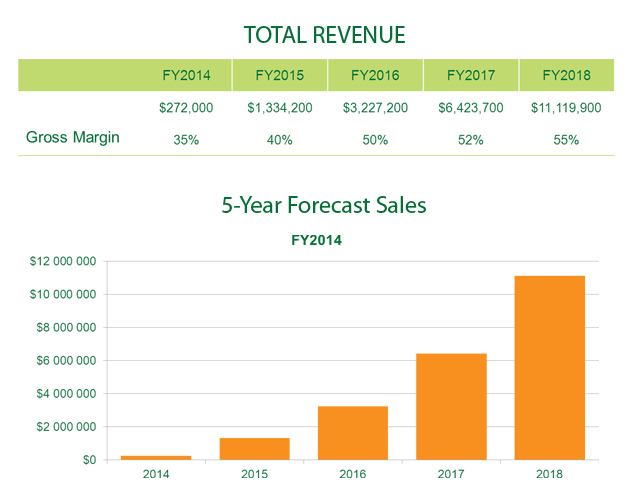 Partners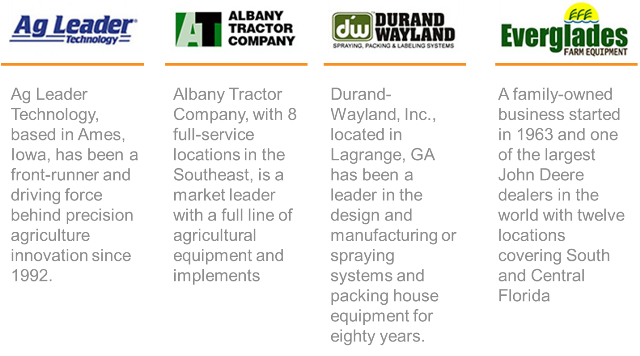 Testimonials