iCrowdNewswire - May 15, 2015
NEXTtoME: 10 sensors on-the-GO
NEXTtoME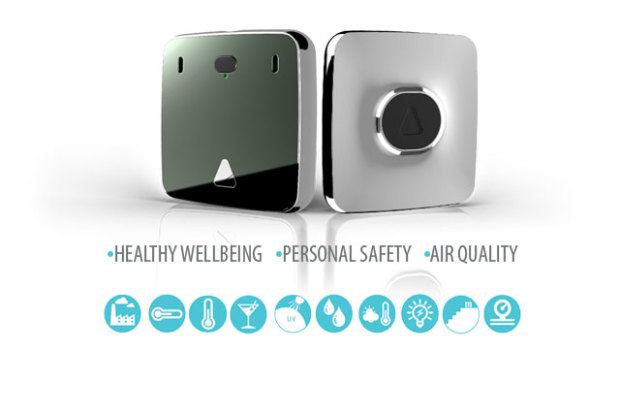 Imagine a wearable device the size of a key chain that drastically improves you and your family's well-being and personal safety. NEXTtoME alerts you to hazards from pollution levels and UV exposure; measures your body temperature and tells you the current Heat Index temperature of your location; records altitude and monitors air pressure; it even informs you of your blood alcohol level. And that's only the beginning.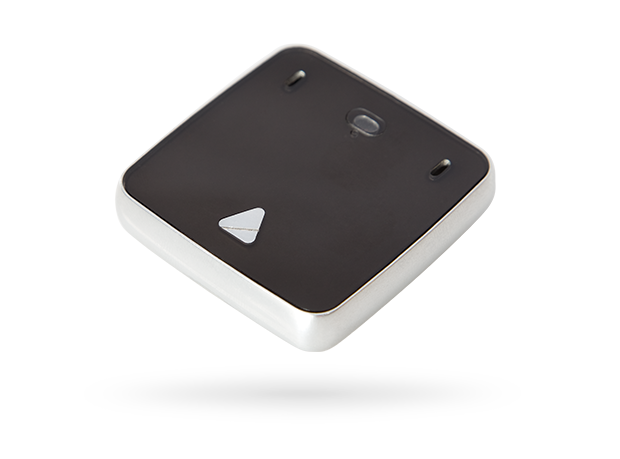 This Magic box of sensors coupled with any smartphone via bluetooth, transforms citizens into constant motion detectors that can share real time environmental data through a proprietary and/or major social networks, revolutionizing the way in which pollution and lifestyle are studied and improved as no other wearable device can do. NEXTtoME is not intrusive, minimally interacts with the users, and allows users to adjust the future behavior.
We aim to establish a link between Health and other sectors such as Education and Gross Domestic Product driving  a new model of investment that makes health the backbone of a sustainable economy.

10 Sensors' Complementary Application
A powerful system architecture based upon 10 sensors within the single device. Sensors have both standalone and group capabilities, all utilized at user's discretion. It is the only wearable to provide consumers with a complete and accurate environmental picture throught elemental measurements.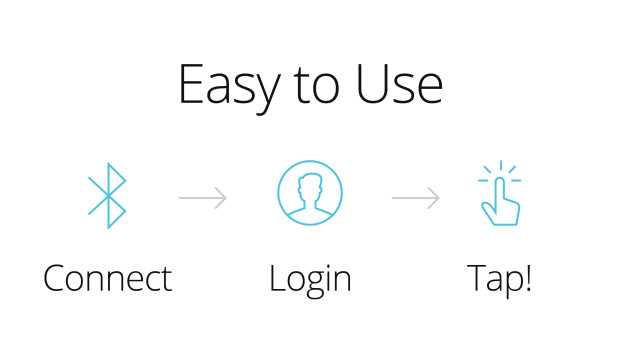 Maximum Flexibility 
A mobile application that monitors daily lifestyle and environment elements on-the-go.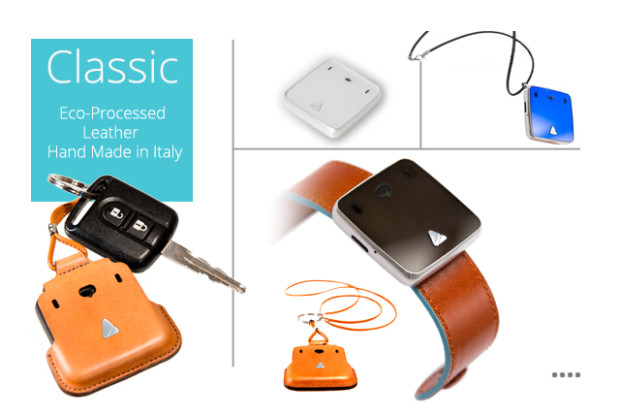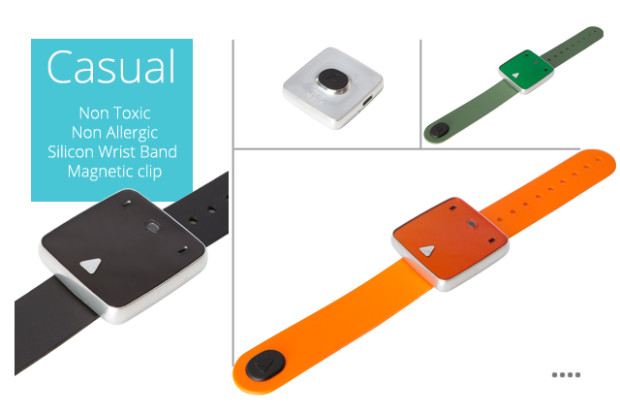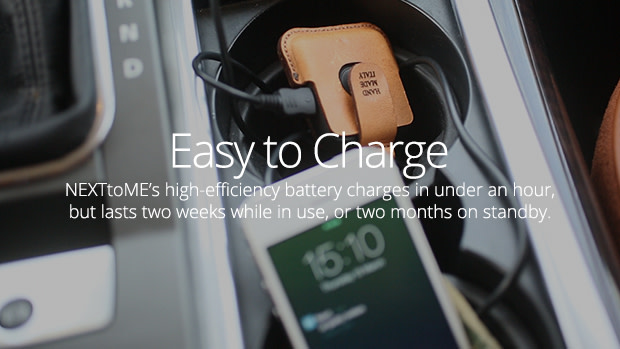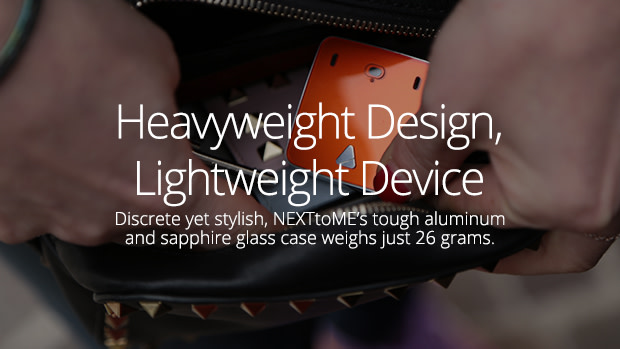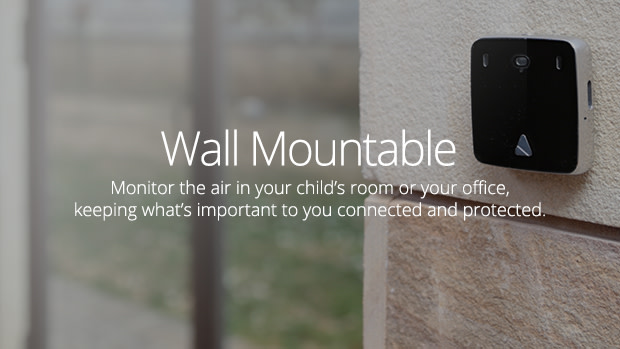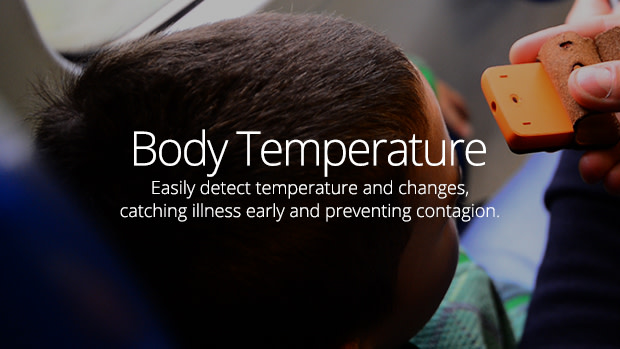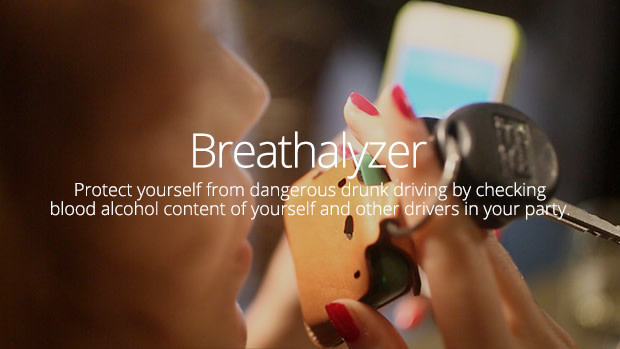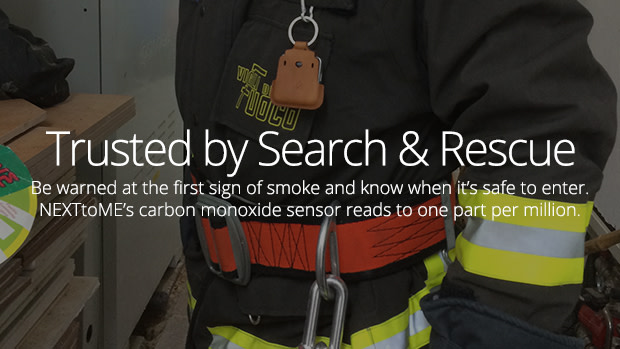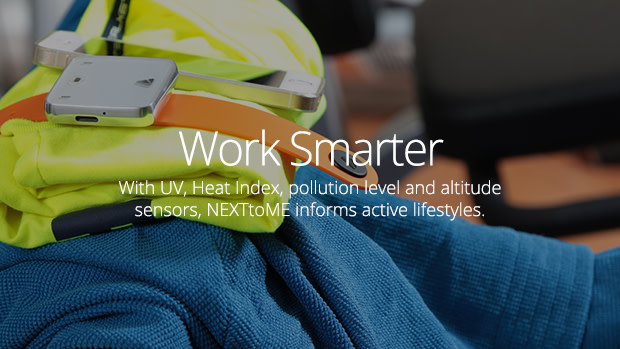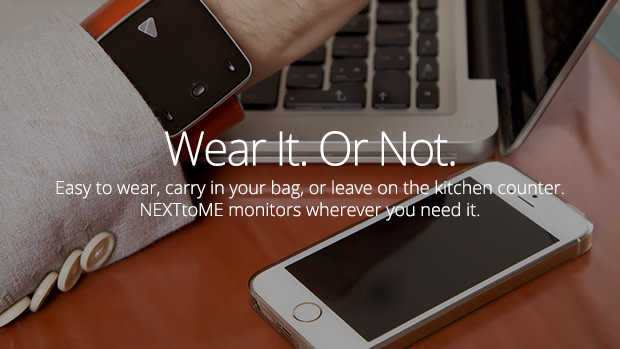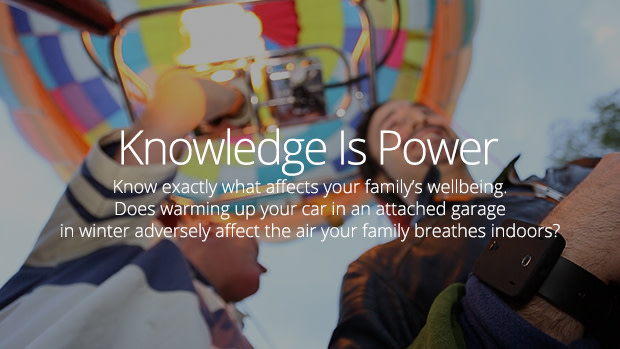 Why I need NEXTtoME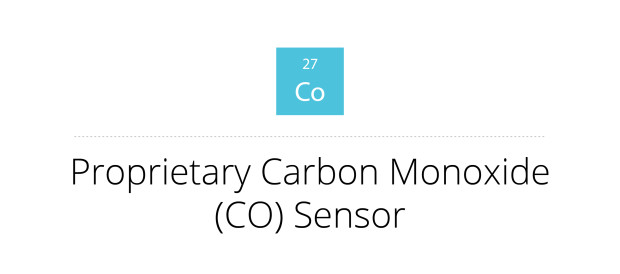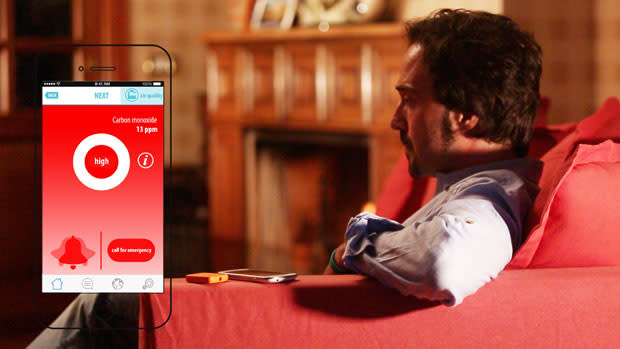 Proprietary Carbon Monoxide (CO) Sensor
• Monitors air quality indoors and outdoors, measuring your daily, weekly, monthly pollution exposure
• Immediately alerts users to "silent killers" like breathing hazards caused by   fireplaces or other dangerous fumes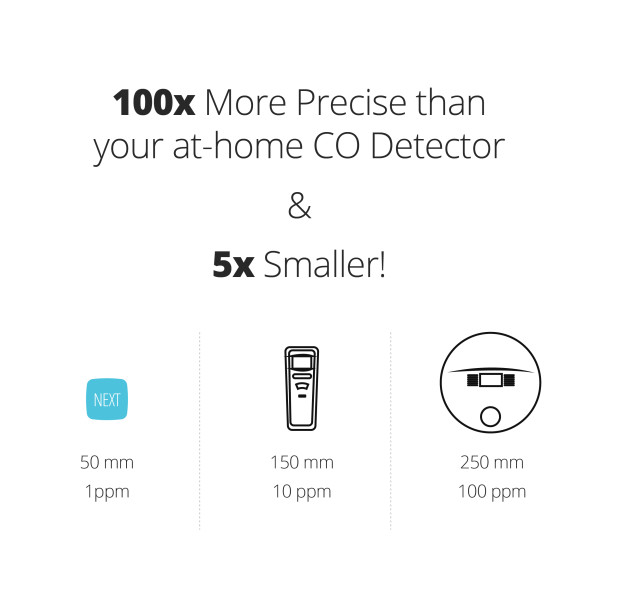 NEXTtoME app suggests activity or driving routes for healthiest air quality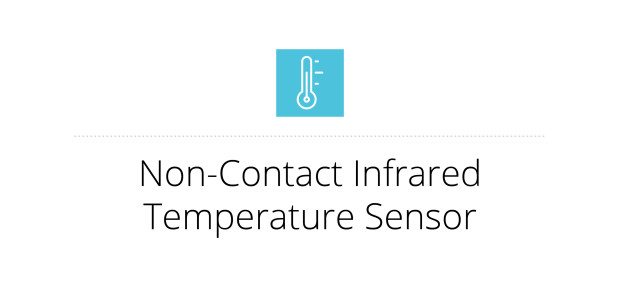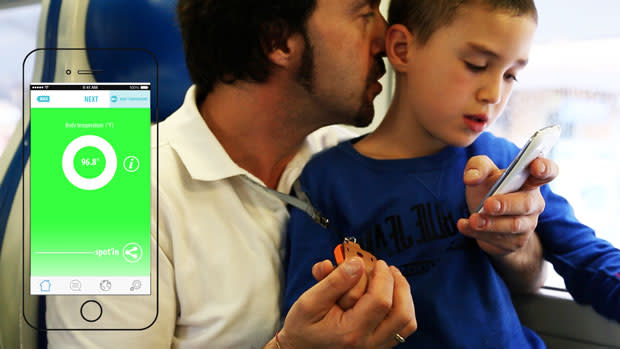 Non-Contact Infrared Temperature Sensor
• Monitors body temperature, sleeping or waking — goodbye traditional thermometer!
• Alerts users to changes in body temperature and helps indetify first signs of illness
• Easily detects thermal leaks for home energy audits or engine diagnostics
• Pinpoint accuracy for perfect temperatures and heating distribution when cooking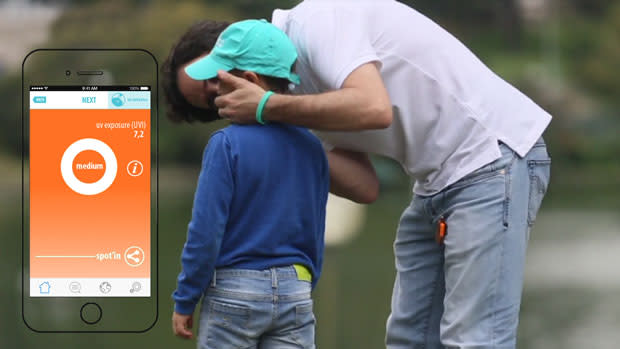 Ultra Violet Sensor
• Detects ultraviolet ray intensity
• Allows users to monitor their cumulative UV exposure in daily life, or on vacation in the tropics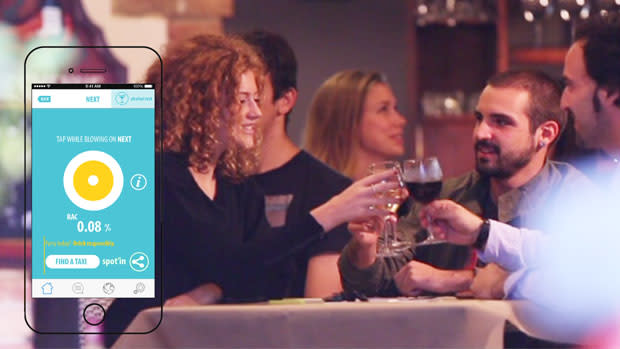 Blood Alcohol Content (BAC) Sensor
• Empowers users with breathalyzer
• Simple reading lets users know when they've had just enough — or too much
• Helps prevent buzzed and drunk driving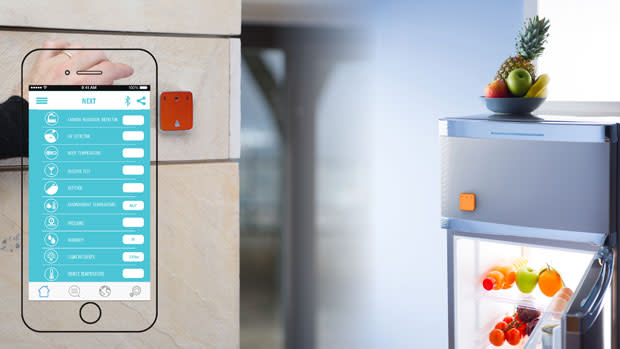 Temperature, Humidity & Light Sensors
• Monitors ambient temps and humidity, generating true Heat Index readings
• Records and analyzes temperatures in different areas to help maximize climate control efficiency
• Ensure perfect levels of humidity in children's rooms, pantries and crispers, and even wine and root cellars!
• Light sensor is accurate enough to use as a light monitor in various rooms/Classrooms for personal comfort and energy management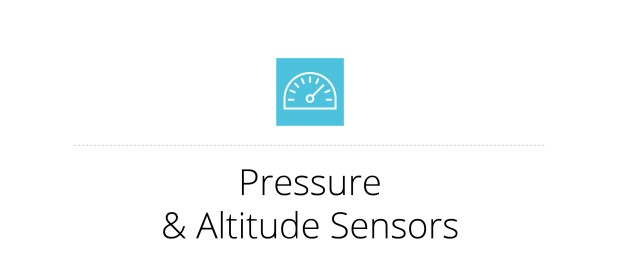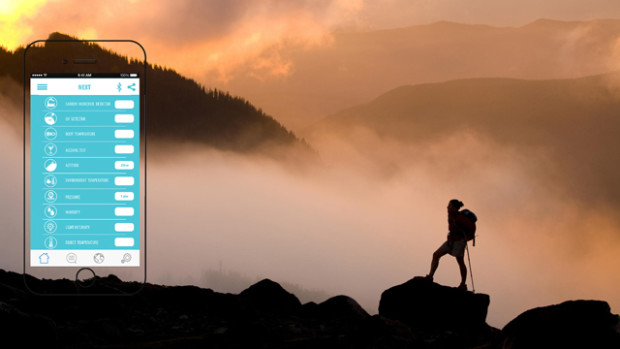 Pressure & Altitude Sensors
• Barometer readings alert users to changes in weather or impending storms
• Rapid increases in pressure often trigger migraine headaches; users are alerted to pressure fluctuations on airplanes and elsewhere
• Altitude sensor tracks user's change in elevation during outdoor activities — ex: How many vertical feet did you ski today?
NEXTtoME App
• A smartphone app that records and displays all data from your NEXTtoME's sensors
• Cloud-based data allows users to view ambient temperature and pollution levels from other connected NEXTtoME devices — you don't need to be using your NEXTtoME to see nearby readings
• App suggests alternative routes for least polluted air — perfect for runners or anyone exercising outdoors

Energy-Efficient & Lightweight
• Extremely efficient battery that lasts two weeks in Operational Mode, and two months on Standby
• Thin and stylish, weighs just 26 grams (0.91oz)
• Wear it on your wrist, arm or around your neck. Or just keep it in your pocket, laptop bag, or purse!
OUR PERKS

SOCIAL NETWORK COMMUNICATION INFLUENCE BENEFIT

Simon Vicari, Founder & CEO – Aroma Technology LLC
" Empowering citizens to be their own environmental detectors, because a healthy population is the backbone to a sustainable economy"
    Hierarchical Architecture for sensor information
Mobile social networking has drastically changed the way people interact with physical world. 
"NEXTtoME" influences lifestyle decisions by facilitating independent leaving and reduce sense of isolation in a positive manner
The "Always-On" mode enables users to search local map for various retail locations, nearby friends and interactive networks.

Web Server Architecture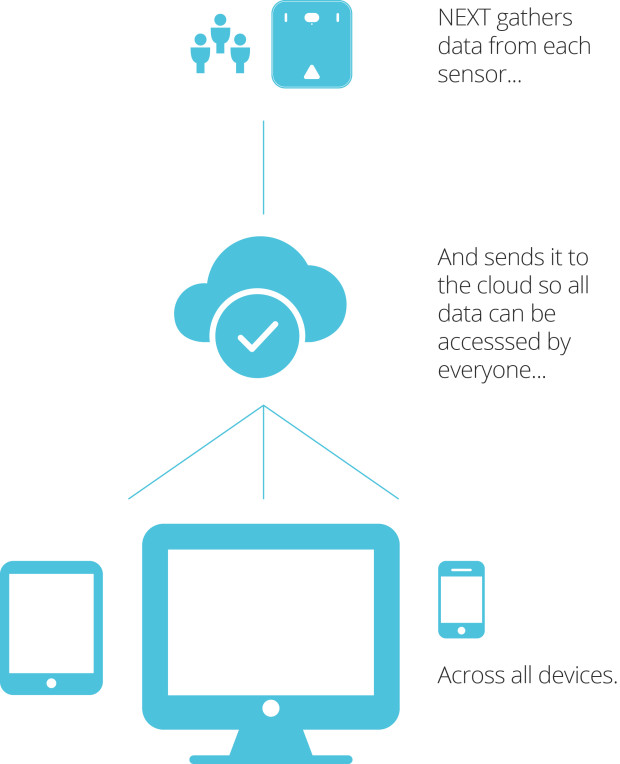 If you do not own a "NEXTtoME" device?
Download and use the App!
Login and click on spot'in to create a location-based Point of Interest (POI).
Application features include:
• Augmented reality messages based upon your location
• Photos
• Videos
Access to the consolidated data collected from any given location
Personal messagging that include option to share current location infirmation
The APP offers Location-based information and services and stores data colelcted on the Cloud
                       TECHNICAL SPECIFICATIONS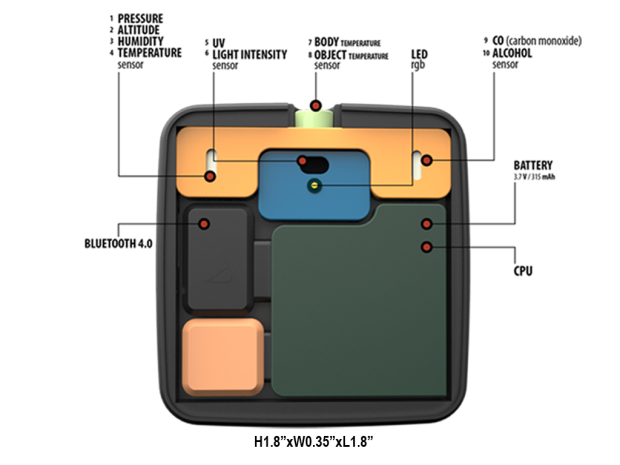 Ready
"NEXTtoME" utilizes industrial technology that makes the device ready for a very large spectrum of professional applications.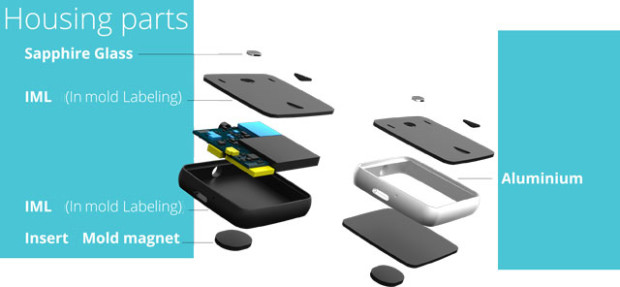 Production Process
• Few parts, no screws and magnet based allow for low cost manufacturing and product reliability
• In mold labeling for easy customization and anti-scratching

                    THE HISTORY OF NEXTtoME
Personal Reflection
Having travelled a lot  for business and leisure with my family, i encountered multiple landscapes from industrial areas to dense cities and remote destinations. During these travels, i found myself often wondering how these different environements affected both my health and the health of my family. Was the Air dangerous? Was the food fit for consumption? From these personal experiences i realized there was not existing tool to help monitor the environmental elements that makeup our everyday living. Monitoring Social and evironmental elements on-the-go through a buil-in Internet Of Things (IOT) and mobile multi-sensor system, i created NEXTtoME with the vision of enhancing the quality of life for individuals and groups at virtually any given time or place
Idea Behind the Project
The Key element to a sustainable world are Health, Personal Dafety and Air Quality. By creating a device that monitors this key environmental factors through its 10 sensor system, we have built the most advanced technological wearable on the market. 
WHY "NEXTtoME"?
NEXT means stepping towards the future. NEXTtoME is the future of Healthy leaving.
                                  TESTIMONIALS
The Experts Agree: NEXTtoME Saves Lives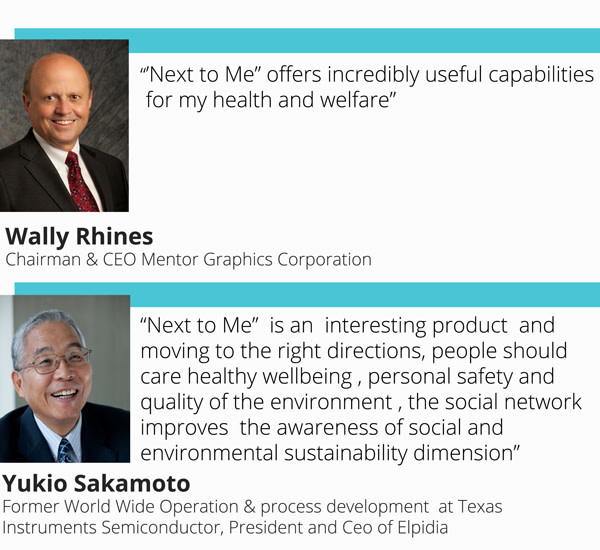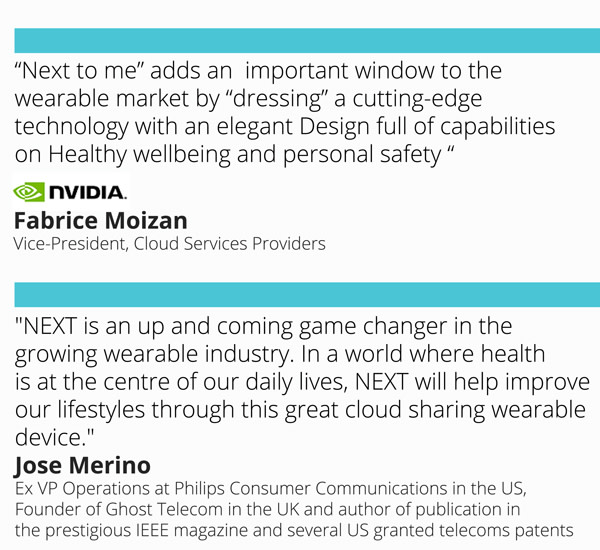 THE NEXTtoME TEAM

SIMON VICARI – FOUNDER & CEO
BIO: Vicari holds a Master's degree at the "Institut Universitaire de Technologie" (France) and a Master's degree in Sociology, including training on Design For Manufacturing (DFM), Business Process Management (BPM), Key Performance Indicator (KPI) and Business process re-engineering (BPR) . As an energetic business leader with a sterling reputation for guiding product development from concept to manufacturing to strategic sourcing, he also has extensive professional experience working internationally to build strategic partnerships with suppliers and manufacturers from the ground up. Vicari holds numerous patents for cutting-edge technological devices. 
M. WAGNER – HARDWARE VP
BIO: . Wagner holds a BS Degree, an MS in Engineering and PhD in Material Science. He has 12 years experience in all aspects of electronics materials and manufacturing.  Developed the core gas sensor technology for "NEXTtoME"
S. CARLUCCI – VP  APPLICATION  SOFTWARE and GRID INFRASCTURE ARCHITECTURE
BIO: Carlucci holds Master's Degree in Marketing SEO & Web Economy.  Has created numerous mobile applications within the area of Social Media, Gaming, Food and Safety. His latest App achievement is the Aroma Cloud Infrastructure and NEXTtoME App. 
A. LO PRESTI – ID & PRODUCT DESIGNER
BIO: Lo Presti earned a Master's Degree in Product Design from the European Institute of Design ( IED Rome). He has created Product Designs for multiple renowned Italian Design Houses and more recently has focused on development of the Insdutrial Design (ID), Mechanical Design and App Icon Design for NEXTtoME.
COMPETITION FOR THE PRODUCT
There are currently no wearable devices on the market that currently integrate 10  10 sensor system of various environmental measurements.
We use proprietary CO sensor that is de-facto scalable and therefore capable of measuring for several environmental gases as well as alcohol, breath and air levels.
There are currently no vertically integrated competitors who cover the entire Ecosystem, from component, product and system development to Social Network/Cloud Infrastructure as does the NEXTtoME.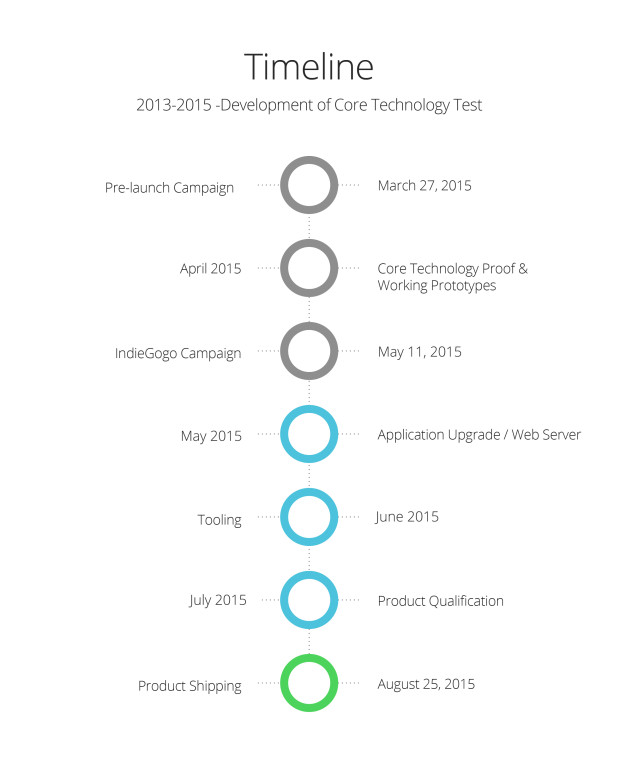 RISKS & CHALLENGES
Risk is minimum. We have developed and perfected functionality at the prototype level and are continually testing to ensure minimum to none technological risks. We also work closely with our US manufacturers to ensure maximum efficiency with all orders and deliveries. 
Our Founder and CEO personally reviews and monitors every production aspect, no matter how small, on a weekly basis.
PRODUCT FAQ's
Why did you decide on this sensor combination?
All of our sensors correlate to each other. Many stand-alone sensor devices currently on the market do not provided the comprehensive data that NEXTtoME collects through its multi-sensor system. Ex: Our Ambient and Body Temperature system uses humidity level data from your given environment in order to determine current Ambient and Body temperature levels.
Is it possible to have a dedicated design and sensor combination ?
Yes it is possible depending upon volume.
How about certifications ?
The product will be released with certification from FCC and CE. We plan to also obtain FDA approval.
How  about battery life
The Battery lasts one month in Standby Mode and two weeks in Operational Mode. When in "Operational Mode" an average of three sensors are actively taking environmental readings at any given moment.
Can the sensors automatically connect to the smart phone ?
Yes. There are three operating settings: Always On, Interval or On Request. Users can choose any sensor combination.
Will NEXTtoMe support Windows phones in the future ?
For the moment we do not support this Operating System.
Is the firmware upgradable?
Yes the firmware is updated as needed. This is an important advantage of our sensors – the ability to update the technology.
All updates are easily completed via standard mini USB cable.
What is the purpose of the LED  ?
The LED is multicolored and provides a quick environmental measurement value based upon on colors detected.
Why did you define CO as air quality ?
The Carbon Monoxide is the "Core" indicator of Air Quality. 
Where the product is manufactured ?
The Device is manufactured in the USA.
Is the App free?
Yes the App is free and available via mobile download.
Why so many accessories?
To have no excuse for not carrying NEXTtoMe with you!