iCrowdNewswire - May 15, 2015
ISOCASE-The First Functional Case For Smartphones
ISOCASE solves the two main problems with all smartphones – low battery life and breakability. ISOCASE transforms your ordinary smartphone into 'The Beast', a full-sized ultra-durable tablet. 

MEET THE ISOCASE
ISOCASE adds adrenaline to your smartphone. ISOCASE works with the following models:

HOW IT WORKS?
All is simple- just put your smartphone inside the ISOCASE and enjoy unprecedented protection, rich and sound along with multiplied battery life.
What's Inside?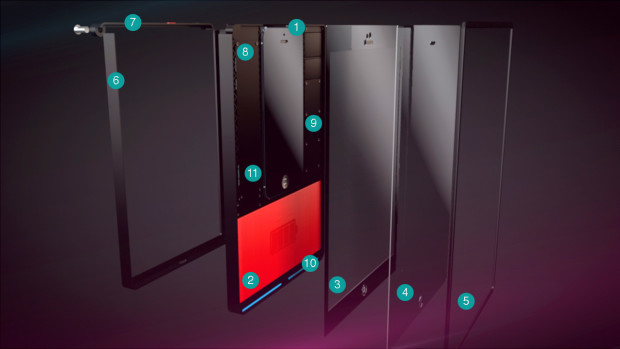 1. Your phone; 2. 10000mAh battery; 3. Touch screen; 4. Gorilla Glass; 5. Protection for glass corners; 6. Armor Shell; 7. High Impact Bezels for impact protection; 8. Damping elements; 9. Power management, controllers etc.; 10. Audio speakers; 11. Audio Amplifier.
TRANSFORM!
Transform your Phone with the ISOCASE
No more worrying about your phone constantly getting damaged!
BE THE BOSS!
Taking your phone on a long trip with no way to charge it on the way? ISOCASE has an Extra 10000mAh battery, more than four times the capacity of the original, so it won't lose power when you need it most. 
TOUGH
ISOCASE is tough – built with an armour shell and gorilla glass instead of plastic! 
The composite design of ISOCASE fuses a hard outer shell with a soft impact resistant core. The unique shape of the case also provides structural rigidity. 
With a crystal clear HD screen guard, soft rubberized screen surround, and rear skid pads providing 360 degree protection from scratches and abrasions, ISOCASE is as tough as nails.
STRONG
With its feather light composite construction, ISOCASE is truly strong. 
Additionally, ISOCASE is in the process of obtaining MIL-STD 810 US Military durability certification, to provide maximum protection.
DUSTPROOF AND WATERPROOF
ISOCASE can be completely submerged in water, up to two meters.
With ISOCASE, all tech specs of your smartphone remain the same, but you receive an extra large battery, a larger size, complete damage protection, and a more powerful sound system.
FEATURES:
TECH SPECS:
Size: height: 200mm, width: 135mm, depth: 9.5mm
Weigh: 330 g
Display: Retina display 7.9'' IPS 2048×1536 (330 ppi)
Battery: 3.8V, 10000mAh
Screen: Gorilla Glass 2mm
Charging Time: 2.5-3 hours*
*By wires
POWERFUL AND STYLISH
ISOCASE provides more features for less money. Compare prices of new tablets with no extra protection or battery life to ISOCASE:
ISOCASE provides an amazing visual display with 330 ppi, matching the resolution of the iPad Mini 3.  ISOCASE is right up there with the market's top offerings. In addition, by contributing now you'll get a special discount on the purchase of an ISOCASE. After this campaign the expected retail price per unit will be $189 USD.
SPECIAL GIFT
We are offering a Special gift to Indiegogo contributors: A free wireless charger with each unit purchased!
OUR PERKS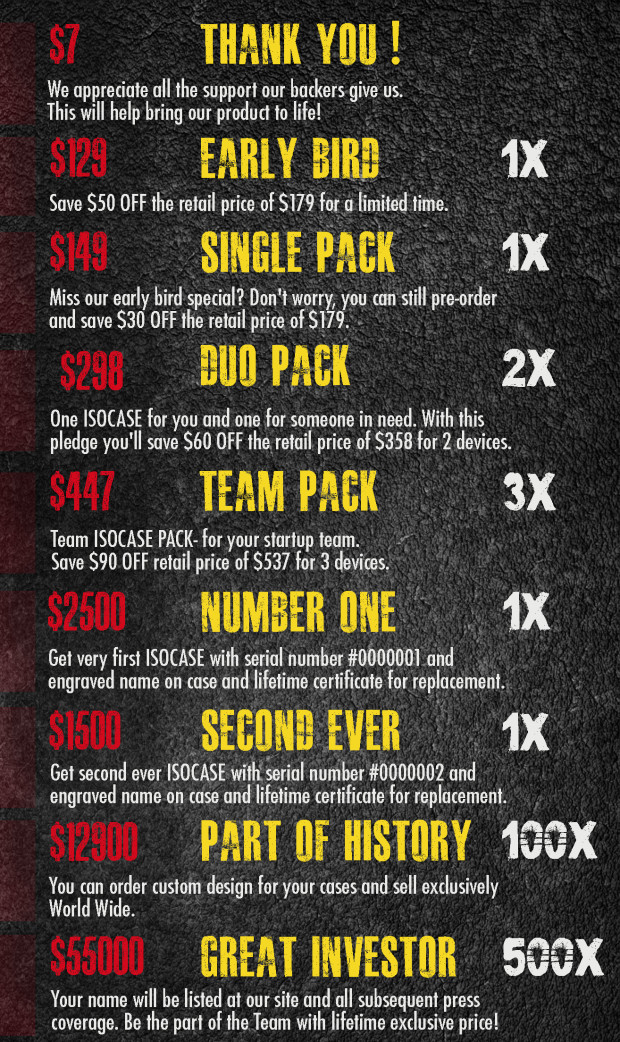 WHY SHOULD YOU SUPPORT US?   
Because you're excited about new gadgets and would like to be a part of a new innovative wave of functional, rational, and transformable devices. 
WHAT WILL WE DO WITH THE MONEY WE RAISE?   
Every single dollar from our Indiegogo campaign will be spent towards production of ISOCASE and delivery to our customers. That's all.
WHO WE ARE?   
We're an independent startup company founded by creative minds from Denmark, China, and Sweden. We have known each other for more than six years and mutually complement each other, working hard to achieve any task we undertake.
MEET THE TEAM:
FAQ:   
How big is ISOCASE?     
It's the same size as an iPad mini – height: 200mm, width: 135mm, depth: 9.5mm.     
Is the battery heavy?     
No, ISOCASE's net weight is just 330g.  
Why is charging with ISOCASE better than my phone?  
When charging with ISOCASE your battery will last four times longer!
Do I really get a wireless charger for free?   
Yes, it's free for all our Indiegogo backers.    
Can I also charge it with my regular phone charger?   
Yes.      
Is it waterproof?      
Yes, up to two meters in depth.      
Is it dust-proof?     
ISOCASE is  fully protected from any outdoor pollutants and can be washed under running water if needed.   
Are you planning on supporting other smartphones besides iPhone and Samsung? 
Yes we intend to support other brands when our campaign reaches its financial goal. Just send us your wish list.
Returns & exchanges
1. The ISOCASE TEAM wants you to love your device  that you buy from us. If you aren't happy with your ISOCASE, you can return it within 15 calendar days after the day you received it. We'll send a full refund (minus your original shipping & handling charges) to your original payment method within 14 business days after we receive the device.
2. The ISOCASE TEAM will replace any accidentally broken ISOCASE you bought from us within 2 years of purchase.