iCrowdNewswire - May 14, 2015
The WellBe
Learn Your Stress Triggers: When, Where and Who…
The WellBe is an elegant, light-weight bracelet and mobile app designed to support your emotional well-being. Find out what your stress triggers are and learn personalized meditation and other well-being exercises to release stress  immediately.
The WellBe models: black, dark brown and natural, with or without the flow symbol
It's All About How You Feel
The WellBe bracelet monitors your heart rate and uses a patent pending algorithm to determine your stress and calmness levels based on time, location and people you meet throughout your day. Crafted from cork, the WellBe bracelet is lightweight, durable, and soft against your skin.
Convert Stress into Calmness 
The WellBe app allows you to get an overview of your stress triggers, and offers personalized stress reducing programs to help you retain a calm state of being. Our app offers a variety of mindfulness exercises such as:
Meditations

Focused Breathing 

Guided Imagination

Personalized programs and playlists
Our app also offers programs for 7, 14 and 21 days from renowned mentors through the Mentors Channel, all designed to encourage you to adopt well-being as a habit.
Less Stress – Better Health – Slower Aging
Stress has been scientifically proven to have negative impact on human life, generating negative health implications such as headaches, fatigue, sleeping disorders, digestive problems, high blood pressure, heart diseases, aging and obesity. The longer the stress lasts, the worse it is for both your mind and body and the more difficult it is to recover. 
Mindfulness and meditation have been proven as highly effective ways to release stress and have many positive effects on sleep, productivity as well as lasting good feeling. A recent study from Harvard University suggests that meditation is influencing the grey matter in the brain and thus allowing better aging of the brain and the body.

Seeing is Believing 
The WellBe measures the changes in your stress/calmness levels while practicing the different stress release exercises, allowing you to see the 'before and after' effect of each program you practice. 
Personalized Playlist of Well-Being Exercises
Based on the analysis of your stress/calmness levels before and after the meditations you practice the WellBe app offers you a personalized playlist of programs and meditations that are likely to have the most positive effect on you. 
Relaxation is Good – WellBe Makes it a Habit
The WellBe app also offers many programs geared towards helping you remain calm regardless of circumstances. These programs include 7, 14, and 21 days plans coming from renowned mentors through our partnership with Mentors Channel and they are all designed to deal with all those stressful aspects of life which are keeping us away from our natural calm state of being.
These plans will remind you to meditate every day and will slowly but surely bring you back to the quiet space that always exist within you and for you. Practice makes perfect and the WellBe was designed as a tool that would make it easy for you to retain calmness as an ongoing state of being.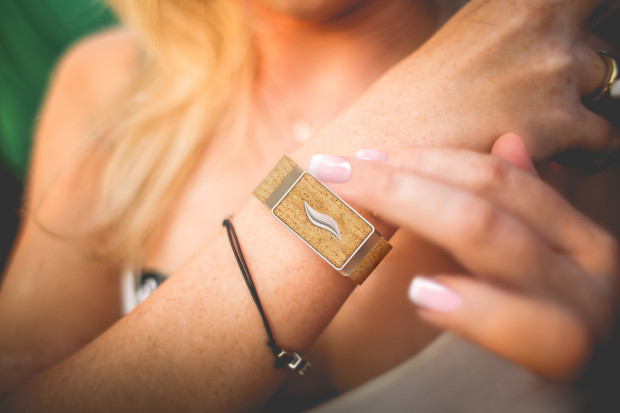 The Perfect Time to Take a 5-Minute Break
The WellBe app is receiving your stress/calmness information from the WellBe bracelet on an hourly basis. You can set the app to send you an alert when your stress level exceeds a certain level and this alert will also include an effective exercise or meditation that would allow you to reduce stress and restore your calmness immediately.
How About a Hug from a Tree?
We put careful consideration into the material selected to create the WellBe bracelet. We thought that the WellBe users do not need yet another screen in their lives. We wanted to make our bracelet as environmentally-friendly as possible. So plastic and silicon were out of the question. Eventually we discovered cork! Cork is a beautiful, strong and durable material and it feels wonderful when touched by the human body. Cork is a natural material and peeling it off from an oak tree supports the growth of the tree. If you love nature and trees you can see it as being hugged by a tree when wearing the WellBe.
Various Models and Colors
We have created the WellBe in a black, dark brown and natural colors and you can select the model that fits you best with or without the flow symbol:
Who We are and Why We Made It
The WellBe was developed by entrepreneurs with a tremendous passion for well-being. We believe that whatever we want in life is because we believe we would feel good when having it. With the WellBe we can turn a negative emotional momentum into a positive one and achieve that good feeling we desire regardless of the achievement of the actual object. We also believe that by sustaining a good calm feeling we are then more likely to achieve those things we want from life.
The Co-Founders of WellBe are Zach Sivan and Doron Libshtein, both are seasoned executives in the hi-tech industry as well as published authors in the well being space. Together with our team we demonstrate dozens of years of experience in mobile technology, mobile health solutions and digital well being solutions and our aggregated expertise has come together now to create the WellBe.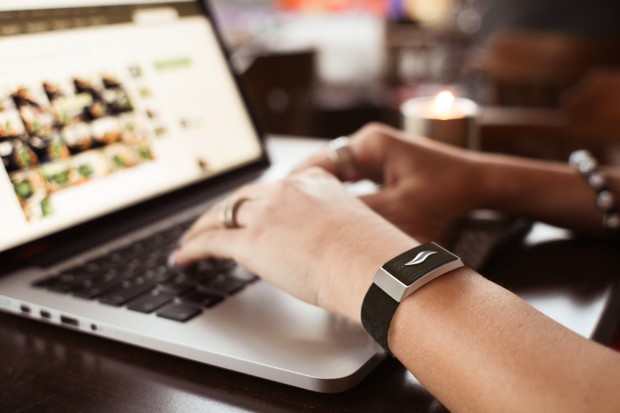 What We Need & What You Get
We have invested substantial time, money and efforts in the last year to research, design and develop the WellBe concept. We worked with experts to design the specifications of the WellBe hardware and software, we interviewed numerous providers for the WellBe hardware and mobile app, we hired industrial designers, graphic designers, user interface designers and the best creative minds to come up with a solution that is both pretty and efficient. We are now ready to manufacture and deliver the WellBe solution and for this we need your help in raising the needed funds for the following tasks: 
Manufacture the heart rate monitoring hardware, for which we have selected a top provider.
Execute the development of the stress detection and measuring algorithm, for which we came up with a unique, patent pending concept!
Develop an iOS and Android mobile app based on an extraordinary user interface that we have designed
Engage with various providers we researched for meditation, breathing and mindfulness programs
Engage with selected list of renowned thought leaders and mentors for inspiring sessions that will be included with the app
Purchase the cork, metal and other needed material that make the design of the bracelet and its package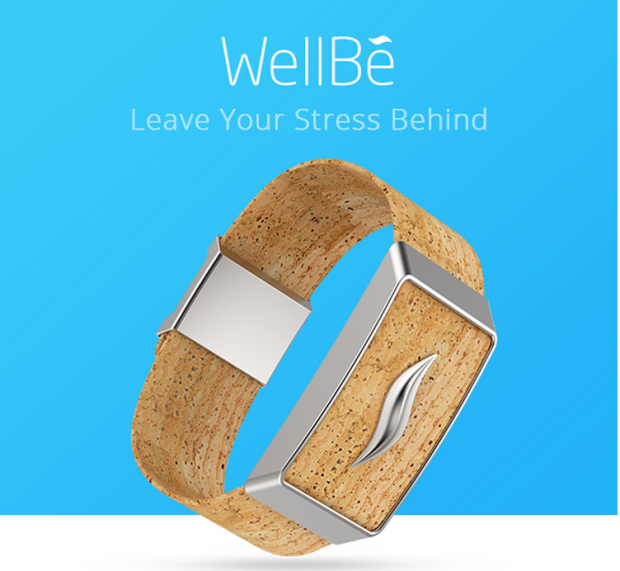 Frequently Asked Questions
What is the WellBe?
The WellBe is a digital bracelet designed to support and promote balanced well being for people in hectic and busy environments. The WellBe is using a heart rate monitor and a mobile app to detect and determine your stress level based on time, location and people you meet and then it offers variety of meditation and other wellbeing exercises to release stress and help you calm down immediately.
How does it work?
The WellBe Bracelet is using heart rate monitoring sensors that tracks your heart rate for 3 minutes every hour. The WellBe app includes a proprietary, patent pending algorithm, which analyzes heart rate variability to determine your stress level based on time, location and people you meet. The app asks your permission to access your location and calendar so it can display your stress levels based on time, location, events and people you meet. You can also set the WellBe app to notify you when stress level is too high and such notification will also offer variety of balancing exercises to release stress immediately.
Why is it important to detect and release stress?
Mindfulness and meditation has been scientifically proven as highly effective ways to release stress and have many other positive effects as better sleep, being more productive and benefit from a lasting good feeling. A recent study from Harvard University suggests that meditation is influencing the grey matter in the brain and thus allows slower aging of the brain and the body. The WellBe app is making the most of this ancient wisdom by providing users with easy tools to access this wisdom in the very right time and the right place.
Okay, so I'm stressed, what now?
The WellBe is not just about detecting stress but instead focusing on providing the solution! The WellBe app is offering a large variety of mindfulness exercises such as breathing, guided imagination and meditations that are all designed to bring you into relaxation within minutes. Moreover, the WellBe also offers variety of meditation plans for 7, 14 and 21 days to help you adopt a more serene routine. The WellBe also integrates classes and guided meditations from world class mentors that enhances users well being on an ongoing basis.
The WellBe studies your body's reactions to different meditations and breathing techniques and can recommend personalized exercise which are likely to have the most positive effect on you.
All in all, the WellBe bracelet and the WellBe app work in concert to convert negative emotions into positive ones and helps you maintain your emotional well-being on a day to day basis.
What is the WellBe bracelelt made of?
We wanted to create a digital product, as much as possible, out of natural materials. So plastic and silicon were out of the question and we weren't sure about leather too, being an animal made material. And then we found cork! Cork is a beautiful, natural material which is both strong, durable and feels wonderful on the human body and we chose it as the basis for the WellBe bracelet. For the metal parts we chose high quality polished stainless steel to create an elegant and beautiful design.
Also, the WellBe bracelet is designed to allow users to easily replace the design of the bracelet whenever they want while keeping the hardware and just replacing the bracelet itself.
Who are you?
The WellBe was founded by a group of entrepreneurs combining unique expertise in well being, mobile apps and heart rate monitoring technologies. All the components making and integrating the WellBe bracelet and mobile app were carefully developed and selected by our team members to create a state of the art solution, which is based on scientific tools and at the same time pleasant to use  and supports the ongoing well being of its users.
Risks & Challenges
While we have identified and very well researched all the technologies related to the WellBe project we still have not assembled them together into the full and complete product. The integration and assembly process of the different components of this project may reveal challenges that are currently unknown prior to beginning of execution and the project. Nevertheless, we have identified and it is our intention to work with people and companies that already proven their abilities and expertise in the relevant field related to their role in the project and we feel confident that our objectives would be achieved. In addition, the management team of the WellBe is well experienced in complex implementation project and we all feel confident that we can achieve our goal.
Other Ways You Can Help
Of course backing our project by selecting one of the perks we offer is a very effective way to support our project and we are very grateful for that. We do understand however that backing is not always an option for everyone and we appreciate any other help one would be generously willing to offer.
Our main challenge is spreading the word and here are a few effective ways to support this effort: 
Share the WellBe video or link on Facebook, Twitter, LinkedIn, Pinterest, Instagram, Thumblr or any other social network you subscribe to
Forward the link and the information by email to your friends and acquaintance and ask them to do the same
Tell us about blogs or other media channels that could be interested in writing or talking about the Wellbe. Our PR team will be happy to reach out and provide them with everything they need to spread the word.