iCrowdNewswire - Apr 10, 2015
Help Terminal Dad w Family Business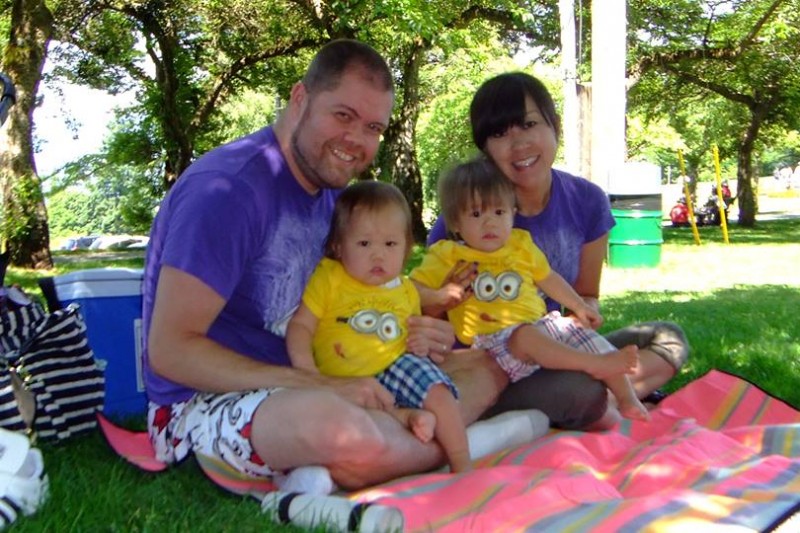 Singing Chef Michael – working toward leaving a business for his family.

Michael, Kyoko and their twin baby boys recently visited us after receiving news that Michael's cancer is terminal. Michael explained their idea to start a business preparing organic healthy lunches for school children (ages 3 to 17) whose parents want to make sure their children have healthy choices to help minimize chances of developing diseases. Michael says this is something that once off the ground, Kyoko and the boys can continue growing and provide for themselves once he passes.
Receiving a long distance phone call from your only child explaining that he was diagnosed with colon cancer metastasized into his liver and lungs is to say the least, indescribable. You reach for comforting words, holding out hope for all treatments to work, reminding him to have faith in God. You can't believe this could be happening to him and his beautiful little family. He was just married three years ago to a woman he waited celibately 27 years to meet and they now have twin one-year old boys. Michael—known to his friends as Big Mike—is one of those children people go out of their way and approach you to say how much they love and admire him. He's popular because all his life he is friendly with everyone and never excludes anyone especially including people with special needs and always outwardly shows kindness to strangers. My son is a better person than I could ever hope to be and through tears of helplessness daily ask, "Why are you letting this happen to him?"
Our hopes that the colon surgery and chemotherapy would work were dashed after the colon cancer aggressively spread to Michael's entire liver.
Speaking to his doctor was heartbreaking. Dr. Davidson explained there is nothing modern science can do, suggesting he should enjoy his life and hope for a miracle. He also said if he were in the same position, he would have also chosen not to continue chemo, which hasn't been working and instead, choose quality of life.
The doctor just kept saying how terrible, horrible, sad and awful this is and how it's so unusual at Michael's age. "He is terminal and although he looks healthy now, will begin to show frailty as the symptoms progress and will need more and more palliative care to make him comfortable," said Dr. Davidson.
The happy side is Kyoko and Michael are in love and believing Michael is not finished his course on Earth and a miracle is definitely possible.
A recent scan showed the cancer has not grown in more than six months, and the Doctor said if this continues to be the case; Michael could live much longer than anticipated while the cancer was spreading.
Prior to the diagnoses Michael was a chef in Vancouver and Kyoko has a nutritionist degree. They were both taking courses toward becoming school teachers. Now, they are beginning a business without funding preparing organic lunches for school children whose parents want to make sure their children have healthy choices to help minimize chances of developing diseases.
Michael recently launched a Facebook page called "Angel's Food" where he offers healthy recipes and informative articles on diet and nutrition.
He also has a YouTube site.
UPDATE #7
We want everyone to know how humbled and thankful we are with all your support, donating, sharing and spreading the word about our fundraising efforts.Thank you for your encouraging words and all the great cancer fighting information many of you shared from your own journeys.We are at a loss for words from the overwhelming support we've been receiving in just a few days since Isabel from Beyond Diet published a newsletter explaining our situation and business plan to her one million followers.Beyond Diet is the program that I (Michael) used to lose 70 pounds, and is the foundation for all my health tips, eating habits and everything that I will do for our business (Angel's Food) as well as my family.From the bottom of our hearts, thank you for your support and encouragement.