iCrowdNewswire - Apr 9, 2015
The Bluetooth Padlock Making Security Smarter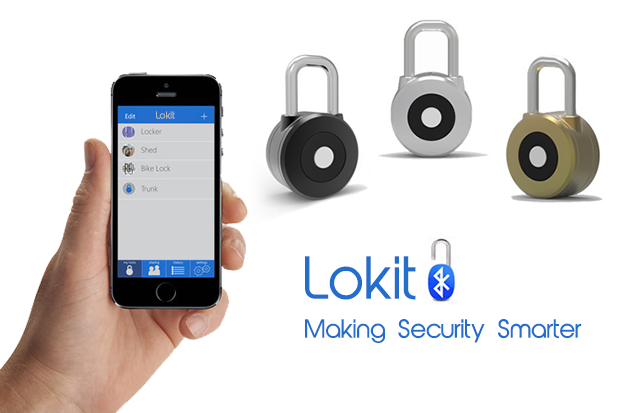 Forget Keys or Combinations, Lokit Lets You Control Your Lock on Your Phone via Bluetooth.
By: Dylan Kemp
Keys and combinations have been used to open locks for centuries. But keys have the same problems today as they did back then. They are easy to lose or forget, they can be stolen, keys are costly to get spares cut. And the more locks you have, the more out of control this gets.
At Feel we thought it was time to put those problems behind us, so we created Lokit. By using Lokit and your smartphone, you'll always have easy access to all the important things in your life, at the click of a button.
We made Lokit smart so you don't need to think. No more searching for keys or remembering combinations. Simply downloaded the iOS or Android app, Lokit automatically finds and pairs to your Bluetooth 4.0 enabled smartphone and you can then name your Lokit so you know what one it is. That's it.
To unlock Lokit, simply press the shackle. Lokit wakes up and searches for your phone. If the phone is within a few feet, Lokit will instantly unlock so you can be on your way. No need to launch an app or remove your phone from your pocket or purse.
If you have a specific reason to limit the range or turn off the auto-unlock feature, you can do this within the app. In order to unlock with the auto-unlock feature turned off, you can simply press unlock button in the app. This will allow you to lock your phone in a locker or stand near your lock without fear of it being unlocked.
Your gym locker, sheds, safety deposit boxes, farm gates, toolboxes, bags and bikes. Once you start thinking of all the places you'll use the Lokit, you'll be glad to know we have discounted pricing for multi-unit orders.
You will probably want to use Lokit on your bicycle, so we created a custom chain and bike mount to neatly and securely attach Lokit to your seat post. Available for only $20.
We spent months researching how existing locks work. We took several apart and learned what makes them strong, what makes them vulnerable, and how they could be improved. We used this knowledge to create the worlds's most advanced and secure padlock. It wasn't easy, but we think you'll love the results. A padlock that works as hard as you do that's also simple enough for anyone to use.

Attractive. We designed Lokit to look as good as it functions with a body the same size as an ordinary padlock but with subtle curves and bevels to complement its aesthetic. The compact size allows Lokit to be used anywhere you'd use a traditional padlock.
Strong. While Lokit is an incredibly attractive device, we also made it strong. Using hardened steel and boron, Lokit will stand up to the toughest environments. Lokit also uses the latest in anti-shim technology so you need not worry about thieves trying to use a shim to open your lock.
Water Resistant. You're sure to use Lokit in places where it may get wet, so we removed any external buttons and added four silicone gaskets to keep the water out.
Long-Lasting Battery. All these features would be useless if you had to worry about the battery. So we packed Lokit with a long-life battery that will last over a year of normal use. If you use Lokit infrequently, it should last a few years. If you need to replace the battery, this can easily be done without the use of any tools.
Security. Lokit uses Bluetooth 4.0 which contains the highest level of security. Bluetooth 4.0 uses a 128-bit AES CCM encryption algorithm and we've added our own PKI technology and cryptographic key exchange protocol to ensure Lokit keeps your valuables safe and secure.
Unlike many other campaigns we have spent months in development, prototype creation testing and are now ready for market. This campaign will allow us to get reduced pre-retail rates through mass production. This means if you back us you save over $30 on the retail costs and we can have your order shipped to you within 30 days of the campaign ending.
Compatible with iOS devices that have Bluetooth 4.0 hardware and running iOS 7.0 or later (including iPhone 4s or newer, iPod Touch 5G or newer, iPad 3G or newer, iPad minis).
Compatible with Android devices that have Bluetooth 4.0 hardware and  running the Jelly Bean (4.3) or Kit Kat (4.4) or higher versions of the Android operating system (including Samsung Galaxy S4 or newer, HTC One or newer, and several more).
Lokit is the slimmest bluetooth lock on the market but still packs a punch. It weighs in at 220g (7.7 oz), the lock body is made with with zinc alloy and high strength stainless steel. The double silicone gasket inside and outside of the circuit board keeps it well protected from the elements.
About Us
KitUp is a solutions agency working on solving everyday problems with beautiful simple solutions.
Dylan Kemp
As co-founder and Strategy Director at Feel I am focused on identifying emerging technology, behaviour, and business trends, and out of these synthesising applicable strategies for companies. I have 10 years of experience in global marketing, product design and special project management.
Chris HangAs a co-founder and Technical Director at Feel I've had 15 years experience with researching, developing, and deploying mobile and web applications for national and international clients. I have a passion for emergent technologies, user experience, and social enterprises.