Significant acceleration in construction activities, followed by developing automobile and solar power sectors, will drive the demand for float glass in the forecast period (2019-2029). The global float glass market was valued at US$ 100 Bn in 2018 and is projected to exhibit a robust CAGR during the forecast period.
The global float glass market growth is predominantly shaped by building and construction, automobile, and solar power industries, owing to extensive usage of float glass products in these industries. Around 20% use of recycled glass in manufacturing of float glass makes it viable and economical for production, resulting in gradual push from supply side of the market.
CLICK HERE TO GET A SAMPLE REPORT (INCLUDING FULL TOC, TABLE & FIGURES) – https://www.persistencemarketresearch.com/samples/30827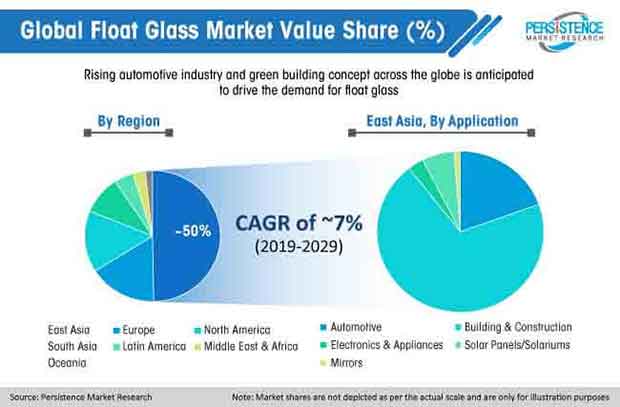 Key Takeaways
End-use industry players such as building and construction seek more sustainable products to develop new creative structures in line with the industry standards as well as government rules and regulations.
Clear type float glass is expected to be highly preferred over other categories such as tinted and wired, given its low installation cost.
New float glass is equipped with adequate energy-efficient glazing technologies, offering insulation against the cold and avoiding over-heating in hot and warm conditions. This new glazing technology is a key factor that will positively impact the growth of the global float glass market.
GET A CUSTOMIZED SCOPE TO MATCH YOUR NEED ASK AN EXPERT – https://www.persistencemarketresearch.com/ask-an-expert/30827
Rising need to curb emission levels is likely to drive solar PV glass usage in the solar power sector, along with the automobile sector.
East Asia is projected to be a prominent regional market for float glass owing to the growing construction, automotive, and solar sectors, especially in China. Moreover, growing government tie-ups with private organizations to initiate multiple new solar power projects in Thailand and India are anticipated to amplify the demand for float glass in South Asia.
Top manufacturers are recycling base glass for manufacturing new float glass, which will result into minimized usage of raw materials. It will also lead to reduced carbon dioxide emissions into the atmosphere and is expected to remain a prominent trend among float glass manufacturers.
GAIN COMPLETE ACCESS TO THE REPORT – https://www.persistencemarketresearch.com/checkout/30827
While demand for float glass is primarily driven by new building and construction projects, as well as solar plants, replacement of existing traditional glass also contributes to the growth of the market. Product consultancy and float glass installations are expected to play key roles in the value chain of the market.
Read More Trending Reports of PMR –
Drain Cleaning Equipment Market: Global Drain cleaning equipment market is set to dominate the industry throughout the 2017-2025 with a projected market valuation of US$ 104.5 Mn by the end of 2025.
Waste Management Equipment Market: Waste Management Equipment Market Segmentation By Solid, Liquid, Semi-Solid Form with Product Type – Dumpers Truck, Compactors, Cart Lifters, Screeners, Feeders, Conveyors systems, Shredders, Balers, Grinders and Granulators, Sorting Equipment.
Kitchen Sinks Market: Kitchen sinks are primarily utilized in residential and commercial kitchens. Most residential kitchen sinks either have a single or double bowl..
Wastewater Diffused Aerator Market: The global demand for wastewater diffused aerators is directly correlated to the infrastructural development activities in the water and wastewater treatment sector
About us:
Persistence Market Research is here to provide companies a one-stop solution with regards to bettering customer experience. It does engage in gathering appropriate feedback after getting through personalized customer interactions for adding value to customers' experience by acting as the "missing" link between "customer relationships" and "business outcomes'. The best possible returns are assured therein.