iCrowdNewswire - Jul 28, 2017
One The Bear Outreach Project
#GROWL WITH ME
BLACK HONEY COMPANY
Black Honey Company was established in 2012 by me (Candy B) and my big sister Kim Busty Beatz Bowers after a decade of making theatre together (Sista She/ Who's That Chik?/ Australian Booty.) Our work delves into the heart of black radical feminist dreaming and cuts and tickles in equal measure. We have had an incredible trajectory touring shows across the country, from the Sydney Opera House to basketball courts in Central Queensland to Campbelltown Arts Centre. In 2016 we took our landmark collaboration with Lisa Fa'alafi, "Hot Brown Honey" to Edinburgh Fringe and won the Total Theatre UK Award for Experimentation and Innovation of the Form. Since then HBH has picked up a swag of noms and awards including: 2 Greenrooms and the incredibly auspicious Helpmann Award for Best Cabaret Performer. #BLACKWOMENKILLINGIT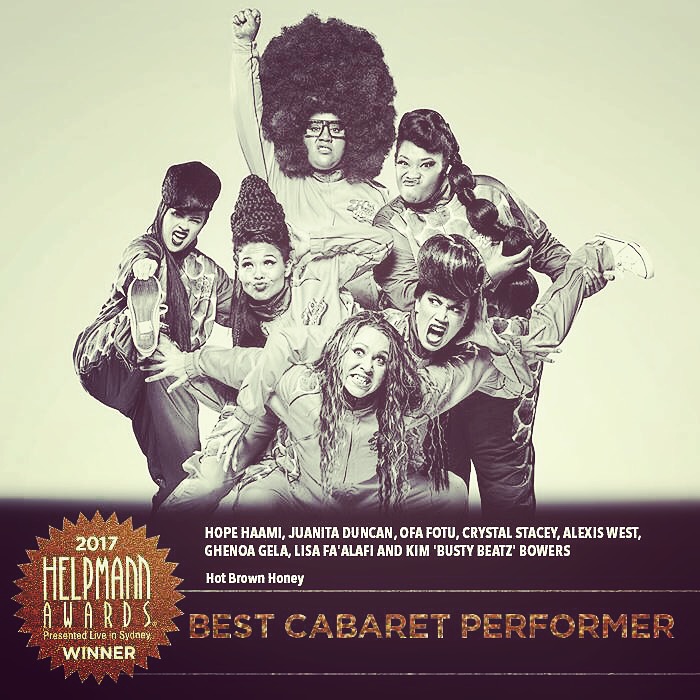 OUR NEW SHOW "ONE THE BEAR"
"One the Bear" brings colour back to theatre with a modern day fairy tale – two best-bear friends raising a ruckus against the dystopian rule of hunters as they spit rhymes that fuse feminist hip hop, afropunk and global music. Together, One and Ursula demand more for their tribe as they explore identity, friendship, exploitation and appropriation in a celebrity-obsessed world. It's basically a documentary.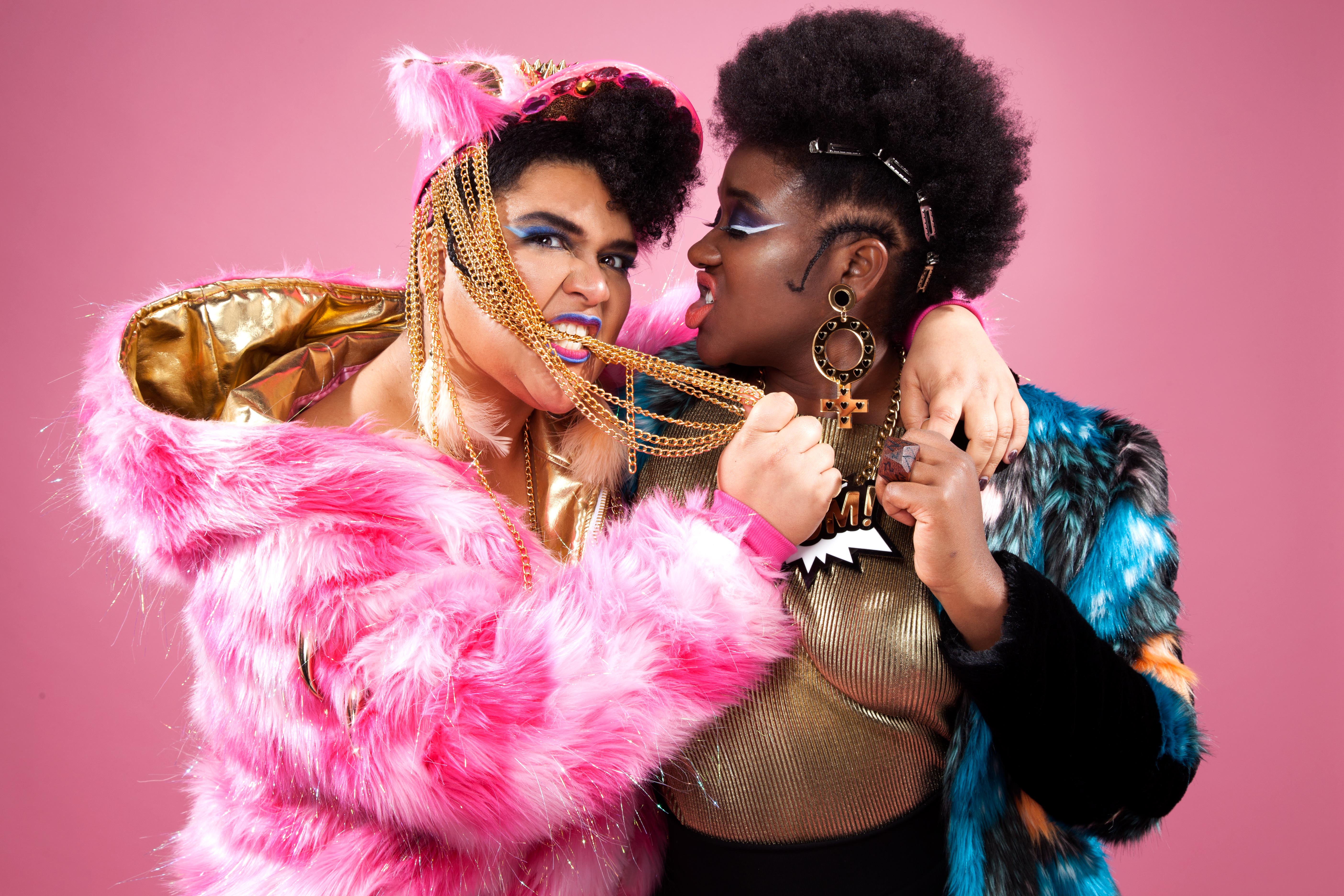 OUR PROBLEM
Modern Australian theatre is so damn white it says it doesn't see race. But more than 75% of Australian theatre productions are made by all-white teams: white writers, white directors, white dramaturgs…. Here's an article on the latest stats. #aussietheatresowhite https://dailyreview.com.au/cultural-diversity-theatre-report/60917/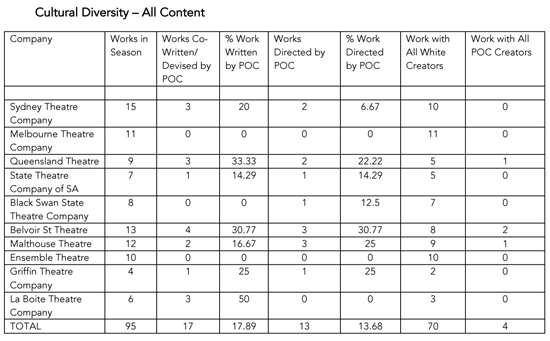 (Table by Kim Ho, Daily Review)
The resourced mainstage theatre companies of Australia are making majority white stories for white audiences who fund them to make more. Which is great – don't get us wrong, some of our best friends are white – but when white people are making white stories from white perspectives for white people….well, you get the impression you're not welcome at the theatre.
Don't you want something different?
Don't you want a mutha-luvin' revolution?
Can you imagine theatre beyond the pale?
WE CAN….so let's get this revolution started!
JOIN THE REVOLUTION!
Here's where you come in. You're going to help us do something brilliant – build and enact a revolutionary outreach program that welcomes folks who've rarely been invited to the party. Your donations will help us MAKE NOISE and birth a new chapter in Australian Theatre herstory!
FOLLOW ONE THE BEAR
FACEBOOK One the Bear_BHC
INSTAGRAM onethebear_BHC
TAGS #OTB #growlwithme #honeymoney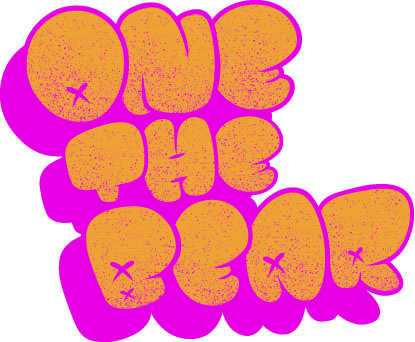 How The Funds Will Be Used
Firstly we are a part of Creative Partnerships Australia MatchLab 2017 so we will be matched $1 for $1 if we reach our target.
$10,000 Pozible
$10,000 Creative Partnerships Australia
= $20,000
$3500 towards Outreach Workshops in schools & Community Centres
$6500 towards Outreach Tickets and Travel for disadvantaged schools and community groups
$3500 towards Outreach Engagement- Visual content (Photography/Videography) for online communication
$3500 towards POC and Feminist Voices (Writers/ Art Directors/ Social Media Influencers)
$3000 towards Advertising to POC and Feminist networks and media outlets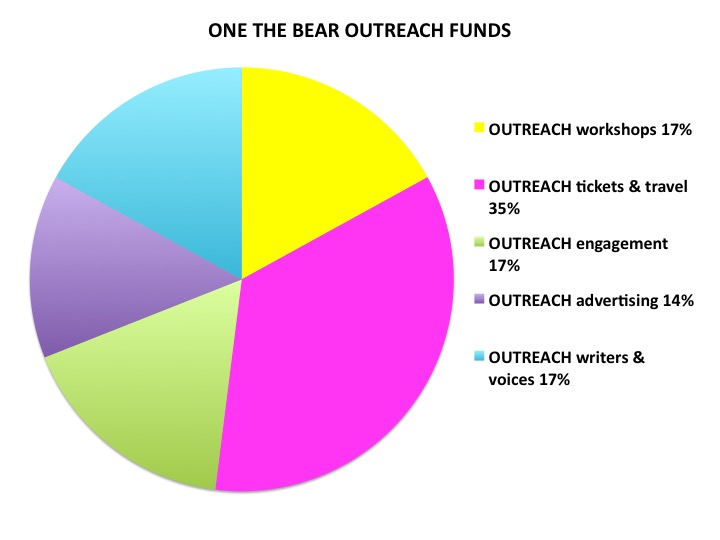 The Challenges
Black Honey Company makes work full of radical black intersectional feminist wonderment. We smash sterotypes, place outliers centre and empower. Australian Theatre Companies don't know how to engage and excite the types of markets we want at our shows. Our potential audiences have not been invited in and don't feel welcome at the party. Some may say it's a closed shop and we are wasting our time trying to revolutionationise a historically white space. BUT WE BELIEVE THAT THEATRE HAS THE POWER TO CHANGE CULTURE. We have witnessed the potential #HotBrownHoney. Australian Culture needs changing. Theatre has a rich WORLD history, we are storytellers from the African Diaspora and we make work with people of colour: Indigenous, Native American, Maori, Southern African, Indonesian, Chinese, Haitian…. Our challenges range from misogny to classism and white supremacy to colonisation, you know the small stuff. Our work is a delicious antidote to all that BS. Oh yeah and we are hella talented and insanely funny!