iCrowdNewswire - Jul 28, 2017
Deeply Viol
My name is Helen Thomson, and I am not your average soprano.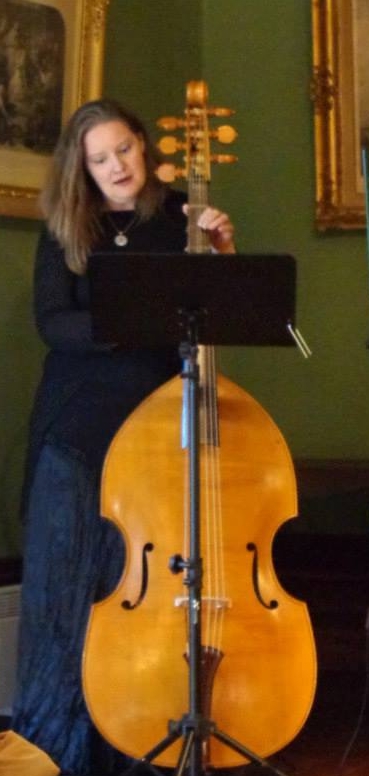 My professional singing career began suddenly at age 21, when, half way through an Arts/Law degree with no music component, I sort of accidentally landed a gig with the Song Company. It was a fantastic opportunity and a major wakeup call.
Having established that I was, indeed, a soprano (and not a lawyer, as I had imagined up to that point), I did the following stuff:
got a Masters in Voice at the University of Melbourne Conservatorium.
went to Europe for eight years to seek my fortune
performed under directors like Nikolaus Harnoncourt, Philippe Herreweghe, Ton Koopman, Richard Egarr and John Adams
And, since coming home, I've also:
performed solo with outfits like La Compania, Ludovico's Band, e21, the TSO Chorus and Sequenza ensemble
got some regular choral conducting gigs (QTas Choir, Sing Australia, and the Conservatorium Vocal Ensemble)
dusted off my compositional practice (most recently premiered, a song cycle for Sequenza which we performed as part of Ten Days on the Island, and coming up, the very exciting and very daunting Tasmanian Requiem)
got several grants for various projects, mostly incorporating New Work, from Australia Council, Arts Tasmania, Tasmanian Regional Arts and the Cities of Hobart and Clarence
kept up a vocal coaching practice, and recently began teaching Classical Voice at the UTAS Con.
I put these lists in mostly to demonstrate that I am an accomplished, versatile, self-starting, pro-active operator, a big proponent of innovative practice, and I aim to bring to this project, of getting a Violone and learning how to play it really really well, the same determination, organisation and passion that has got me to where I am today.
Because my musical practice, many-tentacled as it is, does lack an essential element: the mastery of an instrument. I do play instruments, but I've never reached that peculiar level of competence where I've become one with the instrument – that state so instantly recognisable in musicians who are genuine masters. For a long time I assumed that it was just because I was such an inveterate singer…
But it turns out that actually, it was just because I hadn't met the right instrument yet. Who'd have thunk it??
A couple of years ago I was lucky enough to have the opportunity to borrow a Violone from the Early Music Studio at the Melbourne Conservatorium of Music, and it was life-changing. For the first time, I felt I'd found an instrument that fitted me (and that gave me low notes I'd only ever dreamed of!!). And, even over the short time I had the use of the instrument, I experienced glimpses of that feeling of co-extensiveness, as the instrument lay snuggled against most of my front half, and those extraordinary deep tones vibrated through my whole body. The day I had to give it back was another groundbreaking moment – it was the day I realised I had to have one.
So after years of longing, it's time. It's time to get one.
Why now?
For a few reasons:
it will round out my practice and my range (at the risk of belabouring a silly gag – I need some depth!!)
it will provide me with a whole lot of extra work opportunities and outlets – and of course, challenges to rise to
because one of the main long range aims of the campaign is for me to become a professional Violone player, having the use of an instrument will, in the medium term, open up opportunities for me to play further afield. So, while the Tasmanian instrument may or may not travel outside Tasmania for performances, there's every chance that I will – increasing my versatility as a musician both locally and further afield.
conversely, whether it's me playing it or someone else, having a Violone in Tasmania will be incredibly useful for the burgeoning Tasmanian professional Early Music scene, providing a wonderful, historically-appropriate, extra low octave for any continuo group, without the hassle and risk of having to transport a very large, fragile instrument by air from the mainland.
and possibly most importantly: this year, I got accepted into the Match Program. Which means that:
every dollar I raise during this campaign will be matched by a dollar from Creative Partnerships Australia.
So every dollar you contribute is doubled!
So make your pledge now, help me over the line, and know that your donation will magically double. Thank you so much for being part of this project!
How The Funds Will Be Used
All funds raised by this Pozible campaign will be used to acquire Tasmania's first resident D Violone.
This instrument has a range between D1 (think 16′ stop on an organ) to around A3. Because it is a fretted instrument, the sound even when playing a stopped string sounds quite similar to an open string, giving the Violone (as with any member of the Viol family) a unique ringing timbre. The combination of this sonority with the "growl" of the low notes is, to say the least, arresting.
But wait, you ask. Aren't there campaign on-costs, like publicity and reward provision?
Yes, there are. Details of the costs are below; but those costs are coming, not out of the Pozible campaign funds, but out of a commission fee (for Birdsong, with the generous support of Arts Tasmania) which I had already earmarked for contributing to the Violone Fund.
Here are the details of the on-costs.
We're running two live launch events on Saturday in Hobart and Cygnet – this is so that people who aren't necessarily big into the online world also get the opportunity to support the campaign.
The costs of both these events are:
$150 Hobart Venue Hire
$350 Catering incl wine
$35 Printing of posters and pledge forms
My thanks go to: Kate and John at the beautiful Southern Swan Bookshop & Apothecary in Cygnet, for providing their space free of charge; PFlag Cygnet for providing their catering time in kind and allowing us to keep catering costs amazingly low – owe you folks a big one!; and Sequenza, for providing their amazing skills for free to support this campaign.
The costs of reward provision:
$150 venue hire
$ 8 per art card set (estimate around 30 sets, so $240)
$ 3 per EP (estimate around 30 EPs, so $90)
The printing costs of my own CD, meditatio/xv, I've donated to the campaign 🙂
The Challenges
The main challenges I face in running this campaign are these:
1) Pozible is an all-or-nothing platform. If I reach my goal, great. If I don't – if I fall short by even a single dollar – the campaign comes to nothing.
So (obviously) my plan is to run a really serious media campaign to get as much momentum on this project as humanly possible. And here's where you can help, in at least two ways:
* by sharing the campaign as widely as possible through your networks, and
* by giving early – the stats suggest that a Pozible campaign is a great deal more likely to succeed if about half the target is reached within the first couple of days of the campaign start date. So please feel free to be an early adopter – show the rest how it's done!
2) Ready or not: the Match program is a now-or-never sort of opportunity. This is my absolute best opportunity to raise instrument funds!! But it does mean that I'm going to be running this campaign at the same time as getting into the swing of a brand-new job at the UTas Con, and finishing the Requiem commission (want to hear more? I'll be running a daily blog herefor the duration of this campaign, where every day you can get a glimpse of what I'm doing with my life.
Fortunately for the health of my campaign, I love technology, and as a veteran freelance musician and project originator, I'm really used to running several parallel projects. I have an obscene number of reminders set, and a whole lot of systems ready to go to track supporters and rewards, so make your contribution and claim your reward now, in the secure knowledge that you will get a shoutout for your contribution, and you will get your rewards in a timely way, and (thinking longer-term) I willpractice the violone like an obsessive mad person when it arrives; the better to treat you with amazing low notes in performances in the near future!