iCrowdNewswire - Jun 19, 2017
FXT Marvel 2 FPV Goggles with DVR & HD Input
First Person View Goggles: 5″ Removable Monitor Combo and Built-in DVR Flight Recording & HD Input
Second Generation FPV Goggles with True Diversity 5.8ghz Receiver, Built-in DVR Flight Recording, Removable 5″ Full Color Monitor, HD Video Input and Comfort Fit Headband and Goggles. Our customers have been asking for DVR capability and we have answered with the Marvel Vision 2 FPV Goggles! Enjoy bright, crisp video with reduced lag time using the true diversity 5.8ghz receiver and comfortable fitting headband and reduced eye-fatigue lenses. Get flying and racing in FPV for less cost!
FXT New Marvel Vision 2 All-In-One High Brightness 5.8GHz Video Glasses With Diversity Rx,DVR and HDMI IN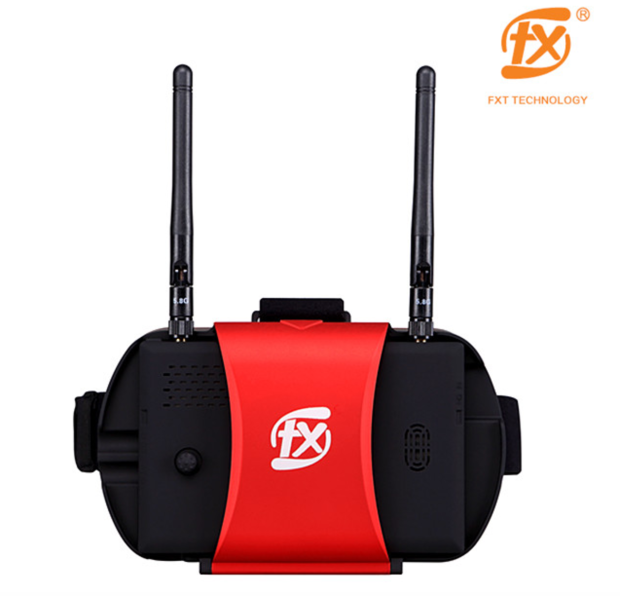 Features:
Plug&Play
Detachable 5" LCD monitor
With HDMI IN,mini HDMI version 1.1
Built-in DVR, support one-key-recording
Built-in true diversity receiver, automatically receive best signal
High brightness 800cd/m2
Easy to use system and multi-functional joystick with channel autoscan
With AV IN and AV OUT
Wide input voltage range:7-28V,support 2S-6S battery
On screen display channel,band,input voltage and working time
Specifications: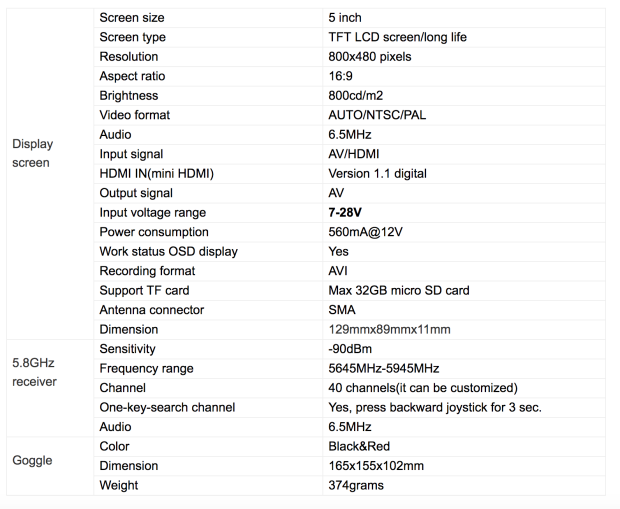 Below is channel table for your kind reference(unit:GHz)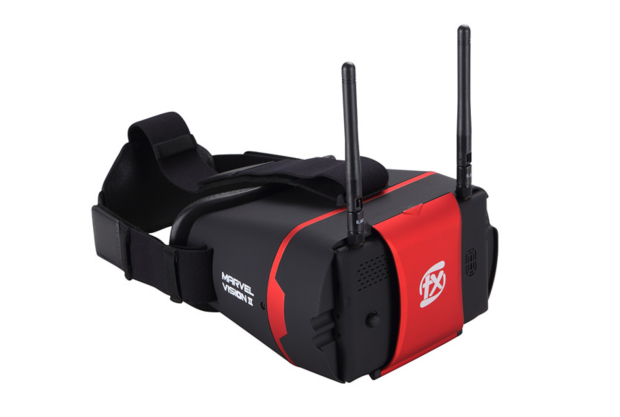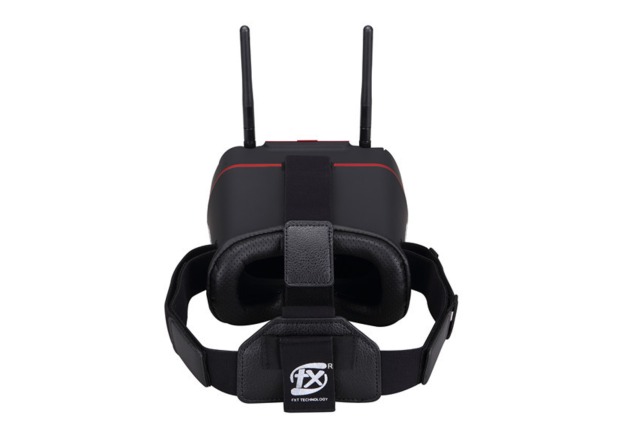 Shipping:
All perks will ship from our new warehouse in New York to save on shipping, import duties to the US and allowing for better customer service.
Perks include US Shipping, International Shipping Charges are Listed on each Perk.
All Perks will ship within 45 days of campaign end.
Battery:
Goggles come without battery, you will need a 7-28 volt battery to operate, standard goggle batteries from FatShark etc will work with this model.
If you would like to add-on a battery please select the BATTERY ADD-ON PERK.
Memory Card:
The built-in DVR System can accommodate Micro-SD cards up to 32gb, memory cards are not included.
If you would like a 32gb memory card, please select the MEMORY CARD ADD-ON PERK.
Compatibility:
The FXT Marvel Vision 2 Goggles will work with all 5.8ghz transmitters and cameras.
Here is a short list of popular and compatible models and products:
Don't see your model listed? Email us at [email protected] so we can check for you.
DYS XDR220 RTF FPV Racing Quadcopter
Vortex 285 Racing Quadcopter
ARRIS FPV 250 Quadcopter
Walkera Runner 250 Pro Quadcopter
DJI Spark
TBS Vendetta Quadcopter
DJI Phantom 4 Quadcopter
Yuneec Typhoon H Hexacopter
Eachine CMOS 700TVL FPV Camera + Transmitter
FatShark 900VTL WDR CCD FPV Camera
FatShark Dominator HD V3
Crazepony VR-D2 FPV Video Goggles
Boscam TS351 200mW Transmitter
Crazepony 5.8G 32Ch 25mW Transmitter
Production:
We are ready for full-scale production and just need pre-orders to help get the ball rolling.
Your contribution will allow us to manufacture specifically for your order to reduce in overhead costs associated with inventory, warehousing and fulfillment costs.
All contributions through this campaign are non-refundable but each product is backed with a full 90 day warranty for quality assurance.
Help Spread the Word:
We know we have many loyal FXT Customers in the world who will love this new version of our FPV goggles but we need your help to continue to grow our product line, please click the links below to share this campaign on your social media to help spread the word!
PLEASE NOTE: These link buttons do NOT contain your unique share ID for the contest, please use the links at the top of the campaign while logged into your Indiegogo account.



Win a Free Set of Goggles!
We are giving away free sets of our new Marvel Vision 2 FPV Goggles to those who help us gain contributions, here is how the contest works:
Login to Your Indiegogo Account.
Back Our Campaign by Selecting at least ONE (1) Set of Goggles.
Click on the Share Link Button at the Top of the Campaign:

The Generated Link will be Tied to your Indiegogo Account Name

Copy and Paste the Link to Share the Campaign
Track Your Progress on Your Indiegogo Profile Page under REFERRALS

For Every $1,000 in Contributions Your Account Generates You Will Receive ONE (1) FREE SET OF Marvel Vision 2 FPV Goggles! (limited to 10 sets, $10,000 in contributions per account)