iCrowdNewswire - May 19, 2017
the lowercase – new album, mountains
Rock music from Ann Arbor, MI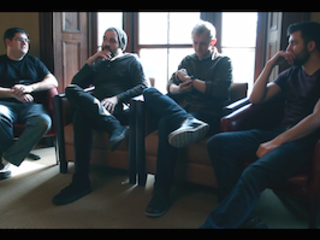 We (the lowercase) are a rock band from Ann Arbor, MI that has been writing music and playing shows since 2015. We are currently working on our debut album 'Mountains,' slated to release later this year. We are excited about this campaign and the perks that it offers. We invite you into the journey of making music with us.
Our Band
We are a band that started in Ann Arbor, MI. We Are very excited to be releasing our debut album. We really believe in these songs and the impact they could have on people. Music is a fantastic way to relate to people through similar emotions and experiences. With your help we will be able to get this music out there to make that impact on people. When this album releases we plan to tour and promote this album to further share our experiences and emotions with others.

The Album
This is a record about a traveler, a journey, the cycle of exertion and depletion, of death and resurrection, and the weariness that gives way to gratitude, celebration and awe.

What We Need & What You Get
For this campaign, our goal is $2000 which will cover the cost of CD duplication, paying our album art designer, and mastering.
A few perks we have include: early release of the album, a digital download of the album, a signed physical copy, and access to acoustic or demo versions of the songs.

http://www.thelowercasemusic.com/
Be sure to select a perk on the payment screen!!! Or you can easily click on the perk you desire to the right which will take you to the payment screen with the perk already selected–>