iCrowdNewswire - May 19, 2017
Help us get Bryce to Cincy!!!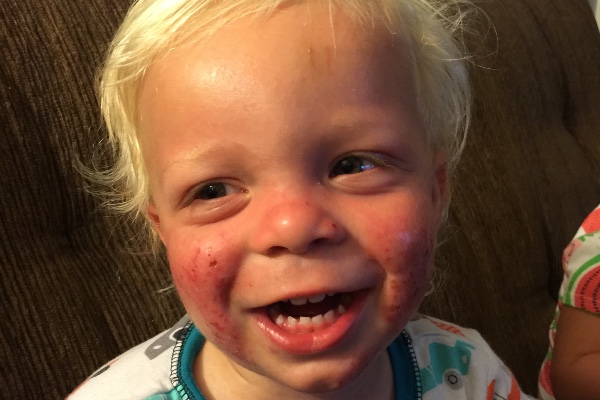 Bryce has a disease called Eosinophilic Esophagitis (EoE). It is an allergic inflammatory disease characterized by elevated eosinophils in the esophagus. Bryce started having issues around ten/eleven months with eczema. It had gotten so bad that he would scratch until he bled and almost every morning woke up in a pool of blood all over his sheets. Our primary care physician had mentioned that a lot of times eczema especially on the face is linked to food allergies, so we made an appointment with an allergist. We went to the allergist when Bryce turned eleven months old and had skin tests done that revealed 11 food allergies (dairy, eggs, corn, green beans, carrots, chicken, sesame seeds, oats, peanuts, etc.) We took all of these things out of his diet and he was still having skin issues and had quite a few anaphylactic reactions. We revisited the allergist in April and were tested again and positive to two more things (garlic and yeast). The allergist suggested going to see a GI doctor at UVA. We made an appointment and were scheduled to see him in the beginning of May.
On Saturday, May 2nd, Bryce woke up with a fever and a boil under his chin that was pussing. We took him to an urgent care place and they drained it and sent labs to test for MRSA and sent us home with antibiotics. On Sunday he woke up with more boils a small one on his wrist and a large one behind his knee. I rushed him to the ER and they drained the one behind his leg and got 10ml of liquid and decided we need to be admitted and put on IV antibiotics because they were concerned with it being in his blood stream the way it spread so fast over night. We were admitted and unfortunately missed his appointment at UVA due to being admitted into the hospital for MRSA.
Fast forward we finally got him an appointment at the beginning of June and the GI doctor mentioned that he needed to have blood work done to check his IgE levels to the foods he had skin tested positive and get a endoscopy done. We had that done in the beginning of July and the results came back positive for EoE based on the number of eosinophils in his esophagus (anything above 15, EoE diagnosis, Bryce had 19). The doctor agreed with me that the number was probably lower due to having a very restricted diet already. We went back in August to discuss treatment and all agreed that an amino acid formula was the best route to take. He has been on that formula for four weeks and we have seen some improvement but are still having a hard time with his skin and eczema.
We want our boy to be seen at Cincinnati Children's Hospital. They are among the top Children's hospital's in America and specialize in Bryce's disease.
Obviously this will be pricey with trips back and forth, hotel stays, medical bills, time away from work, etc. and we would really appreciate any donations to help us make this happen. I am feeling defeated and am not happy with the care we have received thus far being as we are 9 months in and still struggling with getting to a point where Bryce is even remotely comfortable.
Thank you for reading Bryce's story and even if you are unable to donate, please consider sharing his story!