iCrowdNewswire - Apr 28, 2017
WNE – AVR collection
A limited edition textile collection in honor of 500 years of the creation of Le Havre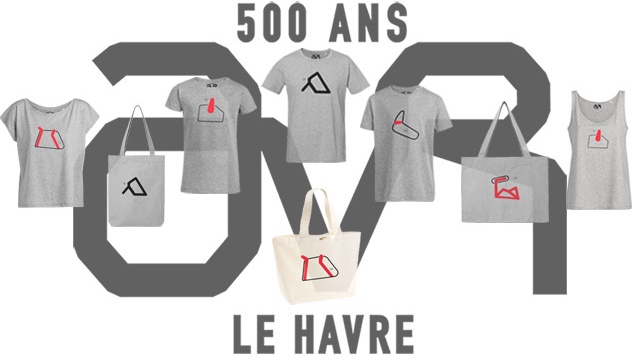 About the project
"WNE is a unique way of showing contemporary art through silkscreen printing on textiles: t-shirt bags and other accessories, produced in series limited to a maximum of 50 copies per pattern on each type of item. In honor of the 500th birthday of Le Havre, WNE has designed a collection, the SPECIAL EDITION AVR which includes 500 copies! Participate in this campaign to get an AVR article in preview"
More than a way to dress, WNE is a larger artistic project that aspires to fight against the "ikeisation" of the world where everything becomes standardized, uniform and programmed.
What's more banal and, at the same time, more unique than a T-shirt? Those of WNE allow and stand out. The abstract motifs created by Charles Rousselin blend into the city, streetwear participates in urban architecture.
What does WNE mean?
It is a neologism; WearNcarE.
Wear: wear
N: and (contraction of and)
Care: take care
Then, in a spirit of acronymic symmetry, letters were taken off to pass from "WearNcarE" to "WNE". WNE was then declined by modifying the referring acronym: WatchNsharE, WorkNcarE, WashNcarE etc.
What are the funds for?
In honor of the 500 years of the creation of Le Havre, we have designed a SPECIAL EDITION, AVR, reminiscent of the imaginary and ambience of the industrial and port architecture of which Le Havre has a vast heritage.
WNE has the will to bring art out of the places and institutions that are usually dedicated to it: galleries, museums … In short, to get it out of the established framework!
By participating now in this fundraising campaign, you can acquire preview articles from the AVR Special Edition. We remind you that it will comprise only 500 pieces in all and for everything!
Your participation also allows you to obtain, through counterparties, one or several WNE articles from previous collections, or even original works or surprises!
For this crowdfunding campaign rooted in Le Havre, we want to sustain our project, which until now has been financed with our own funds. We have the ambition to create a company. We receive encouragement and support from partners who are interested in the whole project, a project that is not limited to screen printing on textiles.
Why a special edition for the 500 years of the creation of Le Havre?
This special edition celebrates the city and harbor of Le Havre. For us, on the one hand, as living creators in Le Havre, we must be present at this anniversary to show another vision of this city where we have personal, family and professional ties. On the other hand, it is in Le Havre that WNE was born and it is here that WNE begins to develop with the invaluable support of certain cultural and commercial actors inescapable who participate in the life of the city.
The idea, innocuous, came from comments on certain drawings of Charles Rousselin, which refer allusively to the industrial landscape of Le Havre: chimneys, towers, factories, cranes …Le Havre is often represented, either by the Perret architecture, by the containers or, of course, the beach! However, the singularity of the city lies in the mix of very different urban and architectural styles including industrial architecture. When one arrives at Le Havre, the first image that the eye perceives is an industrial landscape, a landscape often neglected in representations, as if it were something almost shameful. Yet it is the industrial zone and the port that constitute the infrastructure and the hub of the economic relationship with the world..
Building on the resemblance between the drawings and port and architectural forms, we decided to create a collection with colors, patterns and cuts reminiscent of the so special atmosphere of Le Havre.
This collection is exclusively made from high-quality organic cotton items from the "Stanley and Stella" and "Now" brands.
In order to restore some singularity in our globalized societies, WNE offers collections of T-shirts and bags in limited series: collector's items produced up to 50 copies. Each item is accompanied by a certificate of authenticity numbered by hand with the name of the motif. Some articles only exist in 10 copies, others are even unique!
Silk-screen printing is a durable, noble and ancestral technique that allows the use of Pantone colors. Our serigraph provides expertise both in the calibration of printing and in the control of its deposit.
Drawings and paintings are handmade on thick, smooth white paper in square format with markers, for drawings, and, on square format canvases with acrylic paint, for paintings.
Then, some drawings or paintings are chosen to become entirely or partially a pattern printed on a textile. The drawings and paintings are scanned or photographed and then vectorized and adapted to screen printing by CAD and CAD software.
Charles Rousselin sends the digital file in PDF of the motif to the serigraph with the precise coordinates of the placement on the textile and Pantone colors to be applied to the marking. Once the textiles have been screen-printed, they themselves carry out an exhaustive quality control. and in the control of its deposit.
What is more common than a T-shirt? It is however the fact that the T-shirt is a common object that makes it easily included in exchange processes and that can however be singled out to the extreme.
In the Facebook group "I love WNE" are photos of people who wear WNE articles all over the world. This makes it possible to understand the contemporary aesthetics of these motifs. This also shows how these patterns resonate compared to people who wear them on bags and t-shirts in very diverse environments.
These people are not professional models but people who have purchased the product or not support this project by posing for WNE on a voluntary basis.
ROSARIO ARGENTINA
CORDOBA ARGENTINA
MALEVICH EXHIBITION FONDACION PROA BUENOS AIRES ARGENTINE
AMSTERDAM NETHERLANDS
OSAKA JAPAN
ROSARIO ARGENTINA
AILLON LE JEUNE FRANCE
LE HAVRE FRANCE
LE HAVRE FRANCE
OAKLAND CALIFORNIA USA
The motifs are of abstract lineage without austerity, nor dogmatism. On the contrary, they open up a playful attitude.
Each pattern has a name, it has an identity in some way …
There are currently twenty motifs : ROOG, QUAT, BONOM, ASTRO, ASTRO PETIT, NEZENLAIR, DIAB, DIAB NOIR,THE "a", THE "a" NOIR, SNEAK, SNEAK NOIR, NADO, KORNET, ZAG, VERD, ORALO, ZIG, TRIPOD, MOM.
We call item the textile support.
T-shirts are available in men's, women's, children's, unisex, long sleeves, short sleeves, tank tops and baby bodysuits. Several sizes are available in each category.
T-shirts and bags are made of cotton and organic cotton, depending on model.We have chosen to collaborate with the best and most reliable suppliers, such as the "Stanley and Stella" brand, which manufactures high-quality organic cotton t-shirts and meets both the ethical sustainability criteria of the Fairwear Foundation charter and Innovative ideas in the design of T-shirts and bags.
WNE, includes four collections to date
1st collection June 2015 : 100 pieces, 2 motifs "Roog" and "Quat"
2nd collection December 2015 : 50 pieces, 1 motif «Bonom»
3rd collection April 2016 : 1020 pieces, 10 motifs "Astro small", "Nezenlair," "Astro", "Diab", "The a", "Sneak", "Black diab", "The a black" , "Nado"
4th collection October 2016 : 700 pieces, 7 motifs "Kornet", "Zag", "Verd", "Oralo", "Zig", Tripod, "Mom"
You will find the description of different models (man, woman, child, baby, bags) as well as the quantity that has been produced, on the website http://www.wearncare.org/ tab "collections" under the heading "articles WNE ".
About the project owner
Charles Rousselin, havrais by birth, is a graduate of the School of Art of Le Havre. He lived many years in Paris where he often exhibited. He has also exhibited in other French cities and abroad, notably in the United States and Argentina during his artistic trajectory. As far as WNE is concerned, he is also responsible for the visual and technical aspects of the creation of the works.
Ana Inés Doino, of Argentinian origin, has lived and worked in France for 25 years. She has been working with Charles Rousselin since 2010. As far as WNE is concerned, she is in charge of the business and communication.
But we are not alone …
Our partners in France:
• Boutique of the Andrée Malraux Museum, Le Havre
• Bookstore La Galerne, Le Havre
• XL Lab, London
• NOW, Paris
• Rozé Screen printing in Plérin
Our partners in Argentina:
• Mal of Archivo, Rosario
• Florinda y Silvestre, Palermo, Buenos Aires
• Maqui Leo: Santo Tomé, Corrientes
We thank:
• the people who played the fashion model game for WNE, too many to quote them all here, a BIG THANK YOU very special!
• people who have tried the t-shirts to help us in the choice of models
• the people who helped us with the packaging of the items
• Benjamin Majster, for his serene and enlightened collaboration at all stages and almost all tasks
• Serge Wanstok, for hosting our project
• Julien Flaux, for his professionalism and patience …
• Eric Forlini, for photos taken for WNE, 3D photo prints and photos
• Jacques Rousselin, for the photos taken for WNE
• Macarena Leo, for the design of unique models
• Sandy Rouart, for his valuable assistance in accounting
• Hélène and Olivier Prieur, for their advice
• CCI Normandie, for the support in our project of creation of company
and also,
• City of Le Havre
• Tourist Office Le Havre
• MEDIANE art & communication, Paris
• and of course our families and friends, who support us in a warm and caring way!
and also,
• City of Le Havre
• Tourist Office Le Havre
• MEDIANE art & communication, Paris
• and of course our families and friends, who support us in a warm and caring way!
To find us:
Https://www.facebook.com/groups/478858495634745/