iCrowdNewswire - Apr 28, 2017
Centenary of WW1 US railway cars in Europe
Support this campaign and get your 0-scale model!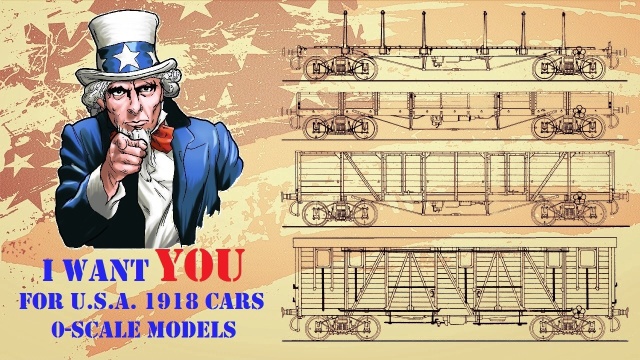 About the project
Contribute to a legendary 0-scale railway model: the USA 1918 reefer-car!
When General J.J. Pershing arrived in France in 1917 to prepare American Expeditionary Force engagement, he soon realized how the railway system would hardly meet his requirements in terms of logistics and troop transport. As early as 1 September, improvements were considered to the infrastructures and orders were placed with industrial plants for additional locomotives and freight cars.
Spare parts were manufactured in the United States and shipped by sea. From March 1918, 38000 freight cars were assembled, mainly in La Rochelle harbour, and thereafter used to transport soldiers and equipments to the front.
At the end of the war, the Ministry of Public Works (TP) bought the rolling stock and deliver it to the various railway companies, in compensation for war damages. Basic while very sturdy, some of those cars remained in service at the SNCF until the 1980s.
Very popular among railway enthusiasts, collectors and model makers, the TP wagons were reproduced in Tin Plate and later in injected plastic by many model train manufacturers, i.e. Hornby, Jep, Jouef, V.B …
On 3 March, 2018, we can have a thought for the very first of those railway cars, put together just 100 years before by the the 35th Engineers soldiers at the "Pullman camp" in La Rochelle …
Two videos on You Tube give a chance to get a feel for those days:
Whether you are a history buff, a knowledgeable collector or the most demanding railway modelers, with this centenary arises the opportunity to bring you this finely crafted, accurately reproduced and reasonably priced Gauge Zero (32mm) model. Such a scale allows vibrant execution and a wealth of details. Delivered ready-to-roll, your car will immediately find its place in your present miniature layout or, perhaps, will open the way to a new hobby …
Model Features
We aim at delivering a high-quality product, at par with today's top manufacturing standards.
– 1/45 scale proportions
– Die Cast chassis and bogies
– Injected plastic body with inset detail features
– Sprung buffers
– Fine Scale metal wheels with blackened bandages
– Several coupling systems available: european screw-type, Lenz-type, Kadee adapter…
– Realistic paint schemes and markings.
As a first model, we offer you the reefer car, used to transport frozen meat for troops feeding, which represents the technological advance of the USA in these times.
36′ wood sided reefer around 1921 with both US, TP and Paris-Orléans letterings.
If the operation is a success, the other types of cars built at the time will be successively made available:
4 doors box car
High sided gondola car
Flat car
6600 Gal. Tank car in its genuine military livery
SNCF Low sided gondola, loaded with containers around 1950.
Paint schemes:
– Item Nr1: U.S. Army, artillery gray, white lettering
– Item Nr2: white livery (STEF , PLM company) around 1930
– Item Nr 3: white livery with big STEF logo (SNCF 1938-1950)
– Item Nr 4: white livery with big blue STEF logo (SNCF 1949-1958)
– German railways (DR and DB) liveries (to be confimed)
– Belgian railways (to be confimed)
Why support us?
CHREZO is a young company, with insufficient funds to launch such a project and it is unlikely to get support from a bank. Crowd funding offers an alternative solution, as long as transparency is maintained and contributors are fully informed. Please keep in mind that the project is committed to values ​​it shares with Crowd Founding:
– Heritage celebration, both industrial and historical.
– Respect for the environment: mainly implemented by French businesses, car production needs limited transport, packaging is made from recycled cardboard.
– Work ethics and social involvement: some of the assembling and packaging tasks will be performed within an ESAT (Occupational center for the handicapped persons).
So … ready to enroll so that you can enjoy yourself?
What happens if we get beyond the 300-order target?
Orders over 300 will be taken and contributors will receive their model under the same conditions. The additional funds will be used to develop and start manufacturing the following car type. Our aim is, indeed, to reproduce every type ever been built for the AEF logistics.
What are the funds for?
All financing will be used along the various phases of production:
– CAD of component parts
– Prototyping
– Molds and tooling
– Parts manufacturing
– Purchasing of spare parts (buffers, axles …)
– Assembly
– Painting and lettering
– Packaging
About the project owner