iCrowdNewswire - Apr 27, 2017
"my soul supplies positive efforts"
Exhibition of AMIGOE Dieudonne Semanu with Space Art Gallery ( E A G ) in Brussels (Belgium) from September 25th till October 25th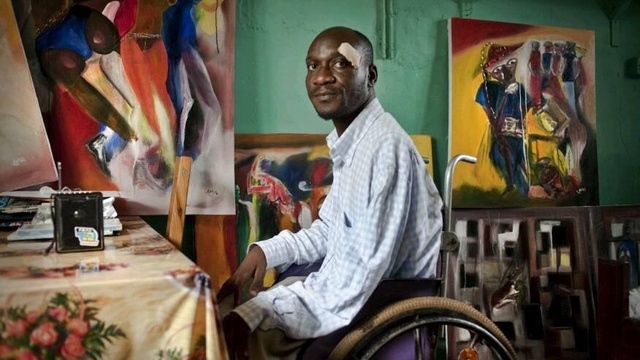 About the project
Hello to all and thank you for carrying interest to my project!
I am young one painter based in the capital of Togo (Lomé) and if I call on to you today, it is for a simple reason: finance my exhibition of paintings which will take place in Belgium. I decided to direct my exhibition on my subject of preference: "my soul supplies positive efforts". Staging the African everyday life, my work aims not only at expressing me, but also at making known the traditional values of Africa about the general public.
The exhibition would contain 70 paintings for a future Exhibition with Espace Art Galerie (E A G) in Brussels (Belgium). It will consist of my works of the coming months, centred directly on the theme of the exhibition as well as the totally new works. Details (a date of the Exhibition, duration…) will be seen with the Gallery, during a meeting in May 2017.
What are the funds for?
To what is going to be of use the financing?
Your contributions can allow me to acquire the necessary materials: paintings, paint oils and acrylic, brushes, and other. It is necessary to me to settle also 900 Euros for the collision of these paintings. So it is necessary to note that Your contributions will allow me to honor the very important meeting with the gallery, and very safe to promote and to expose my works in a near future. Without forgetting expenses Ulule and the counterparties. Then any help will be welcome.
Each participates of the amount which he wishes. And even if you cannot, then just to share all this and to send me a little of courage will help me very also! One thank you beforehand for your help.
About the project owner
This is my biography
AMIGOE KRAMATI Kodzo Semanu, also known as "Dieudonne", is a painter and visual artist from Togo. He was born on the 5th of September 1977, in the village of Lavié in Togo. He then went to Lomé the capital for his education of The Arts. Finally in 2001 he decides to leave his home country and goes for an adventure across West Africa. Being a non-ambulant person and with very little money he wasn't spared by the difficulties of life. He visited and worked in Niger, Burkina Faso, Ghana, Mali, Senegal and The Gambia. It was in Bamako in 2005 where his work began to gain recognition and from there on he was able to participate in numerous events as well as expositions and art competitions. From 2005 to 2013 he spent his time between Dakar and Bamako he was able to evolve during this period as an artist and as a man. Hard working and determined, Dieudonné depicts the scenes of everyday life in the world surrounding him. He has his own style that he developed through the years. And his mostly abstract work, gives the spectator a wider idea on the realities illustrated. The painter's work is always a pleasure for an art lover to witness, as he showcases his ability in the choices of colors, and his unique way of working with oil paint as well as acrylic paint. Education: 1998-2000: Certificate in Arts (Lome TOGO). 2007-2008: Certificate in Management and Creation of a Cultural Project. Department of Labour in Rufisque SENEGAL.
Working Experience:
From the 27th of October to the 7th of November 2004: SIAO (Ouagadougou, Burkina Faso)
From the 2nd of November to the 26th November 2004: Sen Sad. Palais des Congres (Bamako, Mali)
2005-2006: Arts teacher at Landoso Yagare a youth developping program (Lafiabougou, Mali)
2006: Competition of Visual Arts and Paintings Palais de la Culture (Bamako, Mali)
28th-29th of July 2007: Dialaw Arts Festival (Dakar, Senegal)
From the 1st of December to the 4th of December 2007: HandiFestival (Dakar, Senegal)
2008: Biennal of Dakar (Dakar, Senegal)
2008 and 2009: SANTA Trade Fair, Palais de la Culture (Bamako, Mali)
2010-2011: Arts teacher at the American School in Bamako (Bamako, Mali)
2013-2014 : Arts teacher at the American School in Banjul (Banjul, The Gambia)
Exhibitions:
2 005: Helvetas-Mali (Bamako, Mali)
2005-2009: Various expositions at EU offices in Bamako
2008: Enda E Copol (Dakar, Senegal)
2008: French Cultural Center with the partnership of Helvetas-Mali (Bamako, Mali)
2009: Hotel de Salam (Bamako, Mali)
2011: National Arts Institute (Bamako, Mali)
2012:
World Bank office and La Fourchette (restaurant) (Dakar, Senegal)
Various expositions at Saly Mbour (Senegal)
2013: French Cultural Center Banjul (Afg) (Banjul, The Gambia)
2014: Ebun Jan (Banjul, The Gambi 22 Mai 2015 exhibition at Carrefour des jeunes de Bamako (Mali).
Creation of a structure
21th – 07 2017 : President / Founder of the Assistance center to the People Disabled women ( CAPH). The seat is in Lomé – Togo.