iCrowdNewswire - Apr 27, 2017
Help Free Radicals Make Science Better!
Science is valuable, complicated, and messy. Help us make it more accountable to all!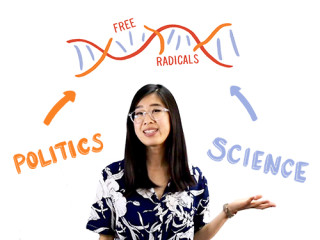 Science has enormous power in today's society. It can help us do great things – explore the world around us, heal hurt, understand how and why things happen, and make our lives more comfortable. And it can also do not-so-great things – allow one person to harm many, exacerbate inequality, and create a culture that values certain perspectives over others. Free Radicals is a group of people trying to make science do more of the former and less of the latter.
A BETTER SCIENCE
A better science – what does this mean to you?
For us, this means a science that is accountable to all of our world's communities, a science that is politically engaged, and a science that values and benefits all human beings. (Just to start!)
We're working on making this vision of science a reality through political education, and we'd love to have you join us on this journey.
OUR ORIGIN STORY
In 2015, a group of recent science graduates came together over one very important, very confusing, and very difficult-to-answer question:
How are science and social justice related?
Okay, that's a little bit of a lie. We didn't have just one question – we had a million, like "How can we make science more accountable to more communities?" or "What is the responsibility of scientists to keep the scientific community ethical?" or our middle-of-the-night-slightly-tipsy favorite – "Is there an objective reality?"
We created Free Radicals as a way to explore those questions and make some of the answers more accessible to everyone – including folks without extensive scientific or social justice knowledge. (Because for all the flack that scientific jargon gets, social justice language can be just as inaccessible!)
WHO ARE WE?
We're a bunch of nerds with too many feelings about science.
Okay, that's true, but we're also a diverse group of folks with backgrounds in STEM spanning from ecology to mathematics to astronautical engineering to biochemistry (and more), in addition to a wide range of experience in other fields from community organizing to activism to ethnic studies to postcolonial studies (and more).
WHAT DO WE DO?
We do political education about science primarily in two ways: 1) our blog, and 2) events.
Our blog hosts pieces ranging from an article about the politics of birdwatching to a podcast about the medical industrial complex to a comic about scientific objectivity. Each piece helps us chip away at this perception that science is (and should be) neutral and apolitical, revealing the ways that science is in fact reflective of and inseparable from the society it is produced in.
Our events function as outreach, political education, and nexus points for people interested in science and social justice. We've done teach-ins, guest lectured in classes, and hosted discussions. We've also presented a round table at a conference (as one of the few non-academic groups in attendance!)
WHY NOW?
Cuz Trump. And because we're tired of seeing communities be hurt by science that pretends to be "neutral."
We're launching this campaign at the time of another big moment in the history of politics and science: the March for Science. We see this as a critical time where scientists are beginning to become engaged in politics and we want to sustain this momentum for positive social change.
WHY SUPPORT FREE RADICALS?
We're the only organization out there that's bringing a political education on science out of the ivory tower and into the hands of the public in a way that is accessible, accountable, and intersectional.
WHAT DOES YOUR DONATION HELP US DO?
1) Organize Workshops!
Because IRL events, like school workshops and teach-ins, are awesome places to bring together folks invested in both science and social justice, AND to teach folks new things about both. These events often require things like funds to print and purchase workshop materials and travel costs.
2) Pay Content Creators!
Because the labor of artists and writers isn't (and shouldn't be) free. We would like to be able to pay all of the artists who create header images for our pieces, as well as folks who submit content pieces for our site!
3) Produce Educational Materials!
Because we want to make even more things like workshop curricula, future zines/books, training guides, etc on how science and social justice are related!
4) Cover Outreach Costs!
Because we'd like to reach more scientists and social justice folks out there, and most ways to do that effectively require some investment of not only time but funding as well!
5) Purchase Equipment!
Because we're hoping to make more awesome multimedia materials for our blog, and this will help us get the equipment like cameras, software, and tech equipment to make that possible!
CONCLUSION
It's about time we did our part to make science better. This is your time to join us, and we're excited for your help!