iCrowdNewswire - Apr 27, 2017
CorePro – Activate Your Core to Support Your Back
An all new solution to back and posture issues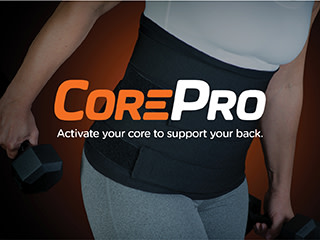 CorePro™ is an all new solution to back and posture issues. CorePro activates your core by triggering your abdominal muscles to engage to help stabilize your spine. Our patented design works with the natural anatomy and physiology of your body and allows you to maintain full range of motion. It fits comfortably under clothing and can be worn for most sports/activities. Stuck at a desk with bad posture? On your feet all day? Battling an old back injury? Golfer? See how CorePro can help you.
HOW COREPRO WORKS
CorePro activates your core by triggering your abdominal muscles to engage to help stabilize your spine.
How does activation happen? The elastic straps pull across your stomach from opposite sides and provide gentle resistance to which prompts activation of your core muscles.
Our patented design works with the natural anatomy and physiology of your body, allows you to maintain full range of motion and helps to stabilize your spine to keep you moving.
Full range of motion – your body does the work in a healthy way.
CorePro is slim enough to fit under clothing so you can wear it anywhere you go!
And you can even toss is in the washer!
WHO USES COREPRO
CorePro is ideal for anyone who struggles with their back or posture. It will help your body function with proper form and is slim enough to fit under most clothing. Perfect for: golfers, fitness buffs, nurses, waiters, new moms, desk jockeys and many more.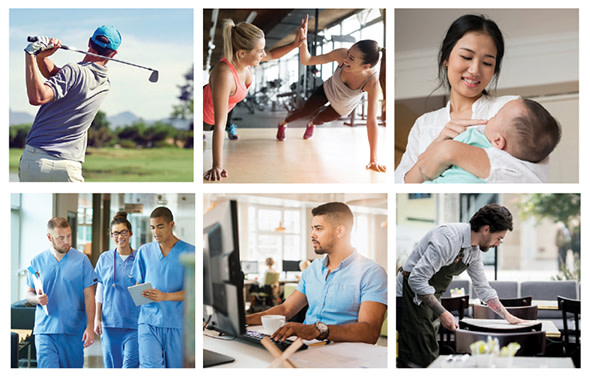 TESTIMONIALS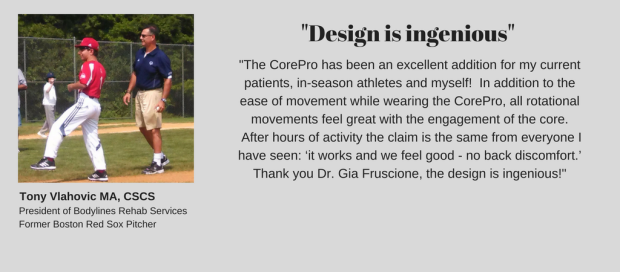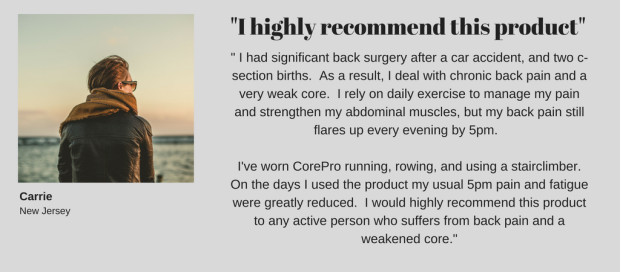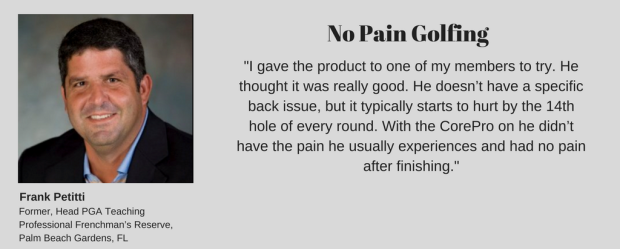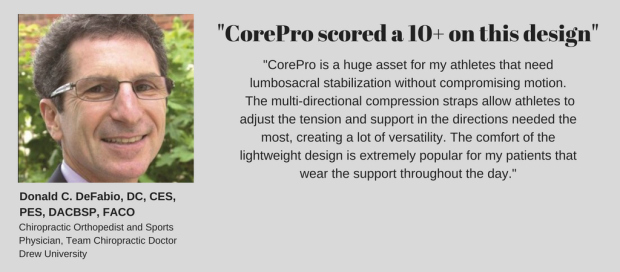 PURCHASE A COREPRO NOW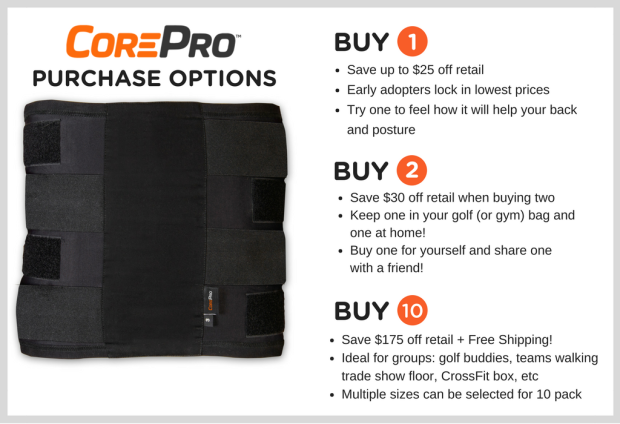 WHEN TO WEAR – Before Your Core Fatigues!

WHY OUR PATENTS MATTER – CorePro is Different from Products in Stores Today
CorePro has multiple patents, both design and utility. This means that it's uniquely different from any other product on the market today. While you may have tried compression sleeves or rigid devices, this product functions differently and we encourage you to experience it for yourself.
CorePro provides relief you can feel better about because it gets your body doing the work. Traditional wrap around back support products do the support work for you. The patented design of the sleeve and elastic are intended to help you engage your core muscles – a major support and stabilizing system for your spine.

CorePro is 100% Made in the USA. We source and sew everything domestically so we can be hands on throughout the process and to ensure the best quality for our customers.






WHAT WE NEED
We need your help to bring CorePro to the people who need it most! We have spent over two years developing the product and produced small quantities to demonstrate it is ready for production. Reaching our goal of $25,000 USD will enable us to source materials, hit our manufacturing minimums and ship the product directly to you.
Stretch Goal – Additional Color
We'd love to offer CorePro in a neutral color so it's even less visible under white clothing. To achieve this we need to raise at least $100,000. When we reach our stretch goal the color option will be available with your size choice in the fulfillment survey sent at the end of the campaign.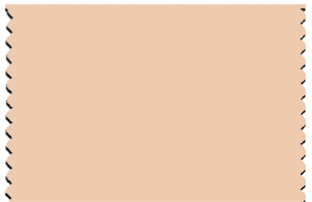 PRODUCT TIMELINE

COREPRO FEATURES
CorePro is made of three key components:
A breathable fabric sleeve made of a 4-way stretch material to provide both gentle compression and flexibility.

A soft, non-stretch back panel that provides an anchor for the elastic straps, in the same way your spine connects to your deep abdominal muscles.

Four elastic straps that pull across your mid-section from opposite sides to offer gentle resistance and activation for your core muscles.
Product Specifications & Details
Made in the USA
Machine Washable
Material Specifications

Sleeve: 55% nylon, 33% cotton, 12% spandex
Trim: 97% cotton, 3% spandex
Elastic: 64% poly, 36% rubber

Medical Disclaimer: Content is for information purposes only, is not medical advice, and should not replace the recommendations of your healthcare provider. Consult your physician before use.

​
SPREAD THE WORD
Not sure you need a CorePro but think it sounds interesting? Please help us spread the word to your friends and family. 80% of Americans will experience back pain at some point in their lives, so you probably know someone who has suffered. Please let them know about this new solution – it could make a big difference! Share this link or hit us up on social @GetCorePro on Facebook, Instagram, and Twitter. We really appreciate it!



WHO WE ARE
Hi, we're Gia and Kristen; college classmates from Princeton University who partnered to bring this powerful product to market. Gia is the product mastermind. She invented, designed and patented CorePro based on her extensive experience as physical therapist and athlete. Kristen brings sales and marketing business expertise to the mix. Together, we're working to produce smart, well-designed products that will improve lives. We know CorePro can make a difference for people suffering from back and posture issues and we want to get it into their hands as soon as possible.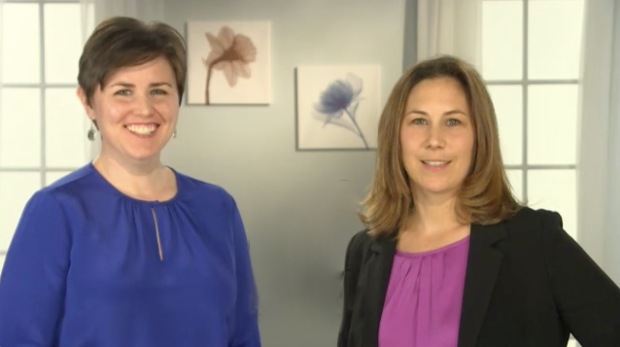 Dr. Gia Fruscione holds both a physical therapy and massage therapy license. She received her undergraduate degree from Princeton University and her Doctor of Physical Therapy degree from the Feinberg School of Medicine at Northwestern University. Gia's continuing education portfolio is extensive and includes, but is not limited to: corrective exercise, suspension exercise, pilates, functional movement assessment tools, kinesiology taping, sports massage, myofascial release, and trigger point techniques. Gia is also Certified by the Titelist Performance Institute. During the summer of 2016, she spent time mentoring for rotational training with Jason Glass in Vancouver, BC, and with XPE Sports/CORE Institute in Boca Raton, FL implementing recovery bodywork techniques with a number of NFL and NHL athletes. Gia draws significantly from her history as a two-sport Division-I athlete at Princeton University and athlete with USA Field Hockey.
Kristen Leone has led teams in marketing, sales, and strategy at both startups and major corporations including: The Weather Company (an IBM Business), JOOR, WebMD, General Mills, Pfizer, and Arrowsight. Kristen received an MBA from The Wharton School at the University of Pennsylvania and a BA from Princeton University.

FAQs
How Does Sizing Work?

Once the campaign closes, we will send a survey to all supporters to select their preferred CorePro sizes
CorePro is a unisex product that fits both men and women based on a measurement taken around your belly button.
CorePro comes in 7 sizes that fit waists that range in size from 25 inches – 47 inches (measured around your belly button)

What if CorePro doesn't have my size?

Currently CorePro accommodates individuals who measure 25″ – 47″ around their trunk at the height of the belly button.
We recognize that this may limit our ability to serve everyone and we greatly appreciate your understanding in our inability to accommodate everyone at this time.

How can CorePro help with my posture?

It can help to cue better posture and activation of abdominal muscles when they are usually dormant (slouching at the desk), especially if you are sitting for extended periods of time.
When sitting upright, your body needs to use your abdominal wall to keep you in a good position. CorePro is a physical reminder not to slouch as well as an active trigger for your core muscles to maintain proper position.

Will CorePro mask back pain?

It will not mask pain. It's not rigid, and therefore doesn't limit/block movement. If pain is from movement, this will not restrict movement. If you are experiencing pain, please remember to consult your medical provider

Is the goal to help me move through pain?

No. The goal is to re-educate/activate your deep abdominal wall (some of the main stabilizing muscles for your spine). Many people have lost the ability to activate these muscles for stabilization and/or they have an inadequate endurance of these muscles. When the spine is not well stabilized it can cause pain.

Should I wear it even if I don't have back pain or back issues?

If you don't have trouble with your back, but know you have a core weakness than it can help and be proactive in avoiding possible back issues. Core weakness can be from poor fitness, pregnancy, abdominal surgery, hours at a desk, etc.
Will CorePro give me 6-pack abs?

Unfortunately, no. :(
CorePro is designed to engage your deep abdominal stabilizing muscles under your rectus abdominis (commonly known as 6-pack).

RISKS & CHALLENGES
Very limited risk. We have already established manufacturers and suppliers and produced the product in small batches. The only potential issue could be a delay in production timing due to volume of orders (if we exceed our goal and need to make more than anticipated some buyers may receive the product after others – we will fulfill orders in the same order they were received).