iCrowdNewswire - Apr 20, 2017
Thor: The Lightning and the Storm
A 12-episode podcast love letter to Walter Simonson's epic 1980s run of The Mighty Thor!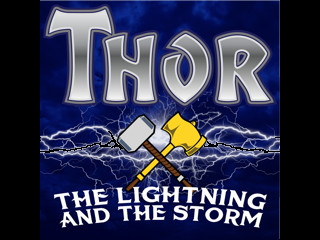 KRAKA-DOOM! Walter Simonson's run on Thor is objectively* the greatest combination of words and images ever created by mortal man – and Miles Stokes (of Jay & Miles X-Plain the X-Men) and Elisabeth Allie want to make a 12-episode podcast about it! Help us enthusiastically expound on the most glorious funny-books ever to grace the Nine Realms! *subjectively
Behold: the sound of thunder!
Hello, my friends – I'm Miles Stokes! I've been talking about X-Men with Jay Edidin on Jay & Miles X-Plain the X-Men for a few years – and now, I'm ridiculously excited to expound at length about my other great comic book love, Walter Simonson's 1983-1987 run of The Mighty Thor! Joining me as co-host will be Elisabeth Allie, former marketing manager of Things From Another World and longtime comics fan, and producing will be Kyle Yount, host of Kaijucast and producer of Jay & Miles X-Plain the X-Men.
If this campaign is successful, we'll be able to create a 12-episode podcast covering the entirety of Simonson's run: Noble alien horse-dudes! Star-sized fire giants trying to burn down the universe! Villains redeemed through valiant and legitimately tear-jerking sacrifice! And yes, that one time Thor was a cape-wearing frog for a surprisingly long time!
It won't just be a list of plot points, of course: Elisabeth and I will be pondering each cluster of issues' Most Metal Moment, Most Exciting Hat, Worthiest Inanimate Object – all the important stuff. This is my favorite run of comics ever, and I'm excited as Hel for Elisabeth and I to share it with you!
Transforming gold to glory!
Were the Nine Realms truly just, we could merely speak our Asgardian ideas into the World Tree itself to share from Vanaheim to Nidavellir – but here on Midgard, glory ain't free. If you can help us fund this campaign, we'll be able to:
Pay for high-quality production to sound more like Viking war-bards and less like a couple of random mead-lovers!
Host the podcast online for at least a year!
Commission some sweet cover art and maybe even some custom intro music!
If you can contribute any amount, we shall remember you e'er onward in legend and song. But if you can contribute a little more, we'd love to show our gratitude:
$5 donors: exclusive access to a special "zero issue" preview episode featuring the non-Simonson fill-in issues of the era, #356 and #370!
$10 donors: a personalized Asgardian thank you, emailed as an audio file!
Trust these heroes, honest and bold!
With Miles's years of experience on a successful X-Men podcast, Elisabeth and Miles's long careers in the comics industry, and Kyle's truly ridiculous quantity of amazingly edited podcast episodes across multiple shows, you can count on us to actually deliver a polished and professional set of episodes instead of just mumbling and coughing into a headset for 12 hours.
And: Miles and Elisabeth aren't just good at talking about comics – they're good at talking about comics together! We've co-hosted a number of podcast episodes together over the last couple of years.
If thine coffers be empty:
Even a small contribution will help us get closer to bringing Asgard to Earth – but if you're not able to (or even if you are), please share this campaign and let other folks know!