iCrowdNewswire - Mar 20, 2017
The Whiskey Film
A visual collective of tales about those who work to define American craft whiskey.

Traverse Image
Denver, United States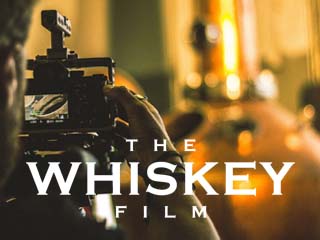 The Whiskey Film is a documentary film about those who work to define whiskey—as well as themselves—as they explore their craft. The Whiskey Film's characters demonstrate that whiskey is an agricultural product deeply rooted in the land, and that distilling with excellence requires creativity, perseverance, and artistic risk-taking.
ABOUT THE WHISKEY FILM
Cheers Friend! My name is Thomas Kolicko, the director and writer of The Whiskey Film, as well as the founder of Traverse Image, a documentary film company based out of Denver, CO. Our third feature-length documentary film title will explore a new creative spirit, The American Spirit: whiskey. The Whiskey Film tells the inspirational story of whiskey distillers and the farmers that provide them with the raw ingredients.
The Whiskey Film is a visual collective of tales about those who work to define whiskey—as well as themselves—as they explore their craft. The key concept is that change occurs over time, not only in the whiskey itself, but also in the lives of those who create it. Like the spirit in the distilling process, whiskey maker's changes under the pressures of their lives and within the context of their craft.
We've thought it would be fitting to fund this film through the group effort of people who love the product, much in the way that the most inspiring distillers launch and create their whiskey. We want to let you, the fans, distilleries, and whiskey lovers help shape the narrative of this film through this crowdfunding campaign.
Although our "starter" goal is $5,000, our ultimate fundraising goal is $100,000.
We want to reach this ambitious goal in 30 days. We can't do this without your help!
QUOTES
"The story of whiskey is a story of passion and dedication, the story of the men that make whiskey is compelling and inspiring. After seeing how Tom captured the heart of the craft brewing industry in "Crafting a Nation" I can think of no other filmmaker better suited to capture the spirit of whiskey. "
— Jake Norris, Whiskey Distiller
"American craft whiskey is 100% where it's at right now. The innovation that's happening… There are so many great distilleries out there. The folks behind the scenes are pushing way beyond what has always been done and they're making some truly amazing whiskies. We're so stoked that these stories are being told."
— Lenny Eckstein, Deerhammer Distilling Company
FUNDING THE FILM
Creating a feature length film is no small task. It takes a talented crew, a solid production and writing process, and lots of miles covered to find the best stories in the craft distilling world. This is where things get exciting.
Every $1,000 raised allows us to create 1 minute of final film. The Indiegogo goal is set at $5,000, which is the minimum of what we need to move a step forward with production on the film. But our goal is much higher. To create a full 90-minute feature-length film with extra content and other features, we need to raise $90,000 to $100,000.
We have focused on local partnerships with artists, photographers, and distilleries to offer some really cool gifts to show our gratitude to our backers. After we hit $10,000, there will be a new gift for all backers. At each additional $10,000, you will unlock a few extra perks, as well as a new location for filming,
Here is the map of locations for filming: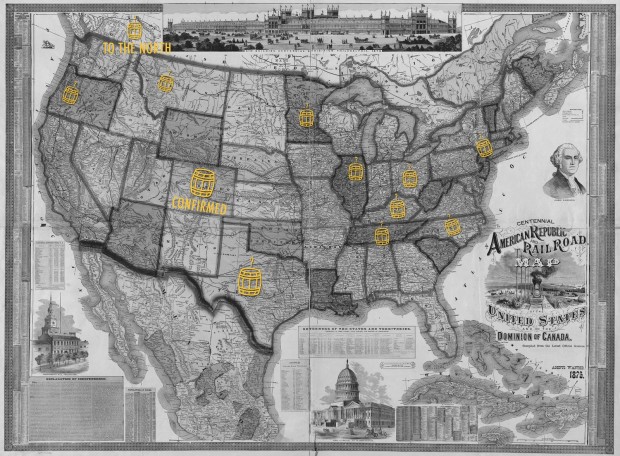 Several locations are unconfirmed! Each $10,000 raised allows us to travel to a new region to feature the culture and a distillery in that area. With your support and feedback, we will be unlocking new regions on the map as the campaign is funded.
With a production budget of $100,000, here is how the budget will be allocated:
$10,000 – Preproduction
Story Consultants
Travel Expenses and Location Scouting with Characters for the Film
Website, Branding, and Poster Artwork
The Legal and Accounting for the Film
$60,000 – Production
Paying the Crew
Travel Expenses
Equipment Rentals
$30,000 – Post Production
Editing
Subtitling for Different Languages
Color
Music Licensing and Audio Mastering
The Whiskey Film has already secured a letter of intent to distribute. That means, that once the film is completed it will be distributed to a large audience. Furthermore, your backing and your support in guaranteed to fund a film that will be released and represented by a distribution company. We are preparing for a similar release schedule for this film as for our previous film, Crafting A Nation, which is currently on Netflix.
"BUT WHAT HAPPENS IF YOU DON'T GET YOUR FULL BUDGET…?"
If we only fund $25,000, $10,000 dollars, or even $5,000, you are still backing the progression of the feature-length film. No matter how much we fund, we will be using those funds to film scenes for the film and continue to go after alternative funding and partnership resources to finish the full film. Each scene that is funded will be completed with a video that is released on The Whiskey Film's Youtube Channel, as we continue production. Our timeline may be longer to deliver the final film, but you will still be credited in the film, or on IMDB depending on your backing level.
THE IMPACT
The Whiskey Film is about whiskey, yes. But more importantly, the film focuses on those who create the character of American Whiskey. This industry has been around for a very long time and is well-established. However, it is now experiencing new growth and exposure, allowing distillers across the country to create incredibly distinct products with compelling backstories.
In those main streets, barns, warehouses, and production areas are the rebels, creatives, entrepreneurs, and dreamers who inspired us to create this film. There are those who look towards the fields, declaring that whiskey is an agricultural product. There are those who collaborate with farmers that are innovating within their business models, designing a better agricultural process that focuses on the value of telling a local story.
These are the stories and plotlines that we deeply believe should be told. The stories are real, and telling them offers a chance to close the gap between whiskey lovers and the people who create the products they love.
MORE ON THE FILM
Our storytelling mission at Traverse Image is to tell the stories that enrich and preserve authentic experiences of the outdoors for years to come. In The Whiskey Film, we focus on handmade entrepreneurs who are inspired by the local spaces in which they operate, and are building their brands from the ground up. With unprecedented access to some of the nation's best whiskey distillers, we've chosen stories that genuinely allow the agricultural influence on the spirit of whiskey to shine through.
This feature-length film will give a larger voice and audience to an industry similar to what we have previously accomplished with the release of Crafting A Nation.
RISKS AND CHALLENGES
Honestly, with any independent film production, fundraising is the hardest part of the production. Since we've already secured a letter of intent, the amount and timing of the funding impacts when the film is going to be released.
If we aren't fully funded through this campaign, that may add more time to our production schedule which will delay the release of the film. We are currently looking at early 2018, a one-year production timeline, for the release of the film.
We are actively involved in other conversations to find additional funding and partnership resources to complete the film on-time to respect your backing. We plan to shoot nationwide through the summer of 2017, and to overlap post-production through most of the shoots to expedite our timeline. We have a track record of success with producing other documentary films and countless client projects along the same scope, so our production process is already designed to be able to account for changes in schedule and hurdles that may arise.
FUNDING ISN'T THE ONLY WAY YOU CAN HELP
This is a casting call.
We are seeking distilleries across the country with unique and authentic stories to be featured in the film. Please inquire with us to set a time to chat over the phone so we can learn more about your story and see if we could feature you in the film. Contact us at: [email protected]
Other ways you can support the campaign:
Are you a tourism department or distillery group looking to increase agritourism or exposure for your industry? Please email us to chat more.
We are seeking musical composers or independent artists to help us score the film.
Are you a distillery or huge whiskey fan? Please share the campaign with your social media audience.
Are you journalist or member of the media looking for a unique angle on the distilling industry for an upcoming story? Please email us to see how you can help.