iCrowdNewswire - Mar 20, 2017
Sue's Movie, Music, and Performance Space
Raising money to help get Sue's 100% operational.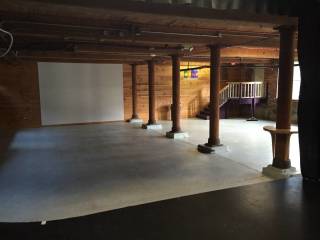 Sue's is a member-run creative collective dedicated to bringing a wide variety of affordable events to the greater Dover area. Sue's opened in February of 2017 and is currently raising funds to improve it's audio and lighting setup.
What is Sue's?
My name's Joe Pratt and over the past 8 years I've put on the Pawtuckaway Takedown Music and Arts Festival. Early in 2017, I came across a craigslist add for a space that was oozing with potential. My friends and I jumped at the opportunity and had our Grand Opening February 1st. We named the space 'Sue's', after recently deceased superhuman Sue Russell. Sue was a champion of constant volunteering and helping others achieve their dreams. Her named seemed a perfect fit for the space we were trying to create. Sue's is a place where people can work, entertain, and create with each other, all at a reasonable cost to everyone.
Our combined efforts will make a place where people from all walks of life can enjoy movies, theater, and music for next to nothing. And if it sounds too good to be true, it's only because lots of people are working their tails off to make it happen. Because this is a good thing.
As stated above, Sue's has opened and is operational. This campaign will serve to boost the already solid foundation we've built. Members of the space have donated thousands of dollars in audio, visual, and lighting equipment as well as countless hours preparing the space. What we're looking for now are funds to improve our audio setup. I will emphasize now that this is a one-time campaign. Our long-term plan is one of sustainability through donation-based events and memberships. This campaign is just to give us a strong start.