iCrowdNewswire - Mar 20, 2017
pisound – Audio & MIDI Interface for Raspberry Pi
Turn your Raspberry Pi into a complete audio workstation!

Pranciškus Jansas
Vilnius, Lithuania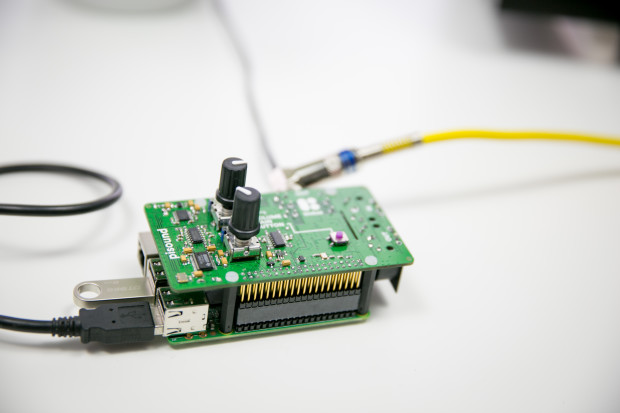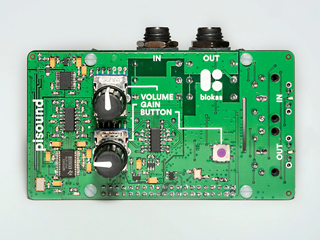 pisound – the first all around solution for your Raspberry Pi based audio projects! Equipped with Hi-Fi stereo input and output, classic MIDI In and Out ports, user-customizable button and bundled software tools, pisound has everything you need to bring your audio projects to life in no time.

pisound is an ultra-low latency high-quality soundcard and MIDI interface specially designed for Raspberry Pi pocket computers. Equipped with 192kHz 24-bit stereo input and output driven by the legendary Burr-Brown chips, classic MIDI In and Out ports, user-customizable button and bundled software tools, this little board is an all-around solution for your Raspberry Pi based audio projects.
pisound mounts directly onto Raspberry Pi via its 40-pin header, no additional power adapter, cables or soldering is required. Just use included spacers and screws to fasten it. After that, simply power up your Raspberry Pi, wait for it to boot, connect it to the Internet and enter a few commands in a terminal window:
wget http://blokas.io/pisound/install-pisound.sh -O install-pisound.sh
chmod +x install-pisound.sh
./install-pisound.sh
And that's it. Done. Thank You! Now you can choose pisound as your main sound card through native Volume widget and use it with any Linux Audio/MIDI software.
pisound allows you to connect a huge variety of different types of audio-related gear. Thanks to the design of stereo input with wide-range gain control, you can connect audio sources ranging from your bass guitar to a CD player or your modular synth. Using stereo output you can hook pisound to any mixer, speakers or just plug in your headphones. Volume and Gain levels can be controlled using on-board knobs. For MIDI connectivity you also have a lot of options – MIDI In/Out through on-board DIN-5 sockets, USB-MIDI via Pi's USB ports or even WiFi-MIDI!
When we were designing pisound one of the main goals was to empower everyone to use pisound and Raspberry Pi in headless mode – without an external monitor, keyboard or mouse. As it turns out, one button, is all you need to achieve this. We call it The Button. It single-handedly allows to perform multiple forms of interactions, such as single click, double click, triple click and hold.
Its functionality can be customized according to your needs. By default, using The Button you can open patches straight from a USB thumb drive, safely close them, shut down the Raspberry Pi and even launch "pisound" Wi-Fi hotspot, so that you can connect to the device via SSH, VNC or send WiFi-MIDI messages directly to your Pi using a smartphone or tablet.
Our favorite use-case for it – you can run your Pure Data patches, without any need to connect a display, keyboard or mouse, just by plugging in a USB drive containing "main.pd" file, any optional MIDI controller / keyboard, click The Button once and Voilà!
* Triple-click WiFi hotspot works with Raspberry Pi 3 & Zero W out of the box. Other versions require SoftAP capable USB WiFi adapter to be plugged in.
Make Your Own Instrument
pisound in combination with Raspberry Pi provides you an easy and quick way to create your own instrument, e.g. digital synthesizer, effects unit, groovebox or sampler. You can use LV2 plugins, SuperCollider, Pure Data, Sonic Pi or any other Linux compatible audio application to take care of the software side of things and pisound will do the rest.
The fastest way to create your own thing is to use Pure Data. Pure Data is a real-time graphical programming environment for audio and video that lets you generate and process audio signals in many different and magical ways.
You can find pre-made patches on PatchStorage, write one of them to a USB drive, plug it into your Raspberry Pi, click the pisound's button once and enjoy! And if you want to get your hands dirty you can create your own patches too!
Live Coding Jam-Session
Sam Aaron used pisound for his Sonic Pi presentation and jam-session at this years' Raspberry Pi birthday party. Both the Guitar and Synth are connected to the stereo input of pisound.
Glove Controlled Voice Augmenter​
Tomme, one of our beta-testers, used pisound to finish his prototype of a glove controlled voice augmenter. The glove is made using Arduino, 2 buttons, 4 flex sensors, 1 XYZ accelerometer and Bluetooth transmitter. Pure Data is responsible for the sound processing.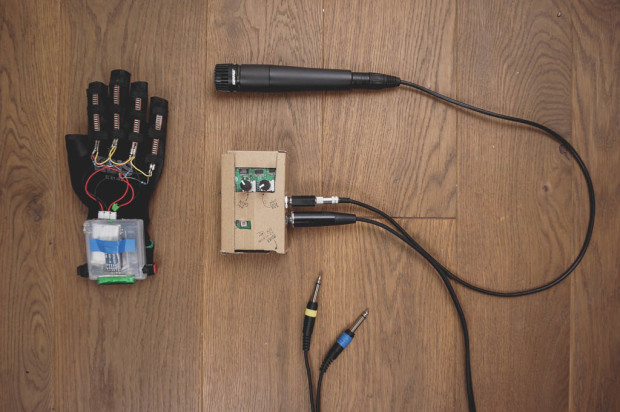 Audiophile Network Player
Using Raspberry Pi + pisound + Volumio/RuneAudio you can build your own Hi-Fi network player. Just connect it to your home stereo system and control it using any device running a web browser. You can find project instructions here.
Recording Studio
pisound works great with Audacity – an open source, cross-platform audio software for multi-track recording and editing, so you can start recording your creations with just a few clicks.
Your Own Internet Radio Station
Have you ever dreamed to have your own radio station? Now you can! You just need to use pisound, darkice and icecast with your Raspberry Pi. You can find project instructions here.

Meet Blokas Team – Justinas (guy in the tree), Giedrius (the one in the sky), Jatas (guy with the glasses), Šarūnas (the one that sings), Aida (the smiling one) and the one on a boat is Pranciškus.
We love to make things and we love to talk about them, so if you have any questions, you can ask us in the comment section, on our community forums or even chat with us here!
If your question is more technical one, you can have a look at pisound's documentation page here.

"If you currently use or plan to use Raspberry Pi for any audio/MIDI-based work or projects, and you need a quick, easy, and affordable solution for high quality and low latency audio, pisound is the answer, and I thoroughly recommend it." – Liam Lacey, ASK.AUDIO
"If you're experimenting with Pure Data or any other Linux audio toy, this could be a useful addition to your Pi stack." – Brian Benchoff, HACKADAY
"The Blokas pisound board looks exactly like the Raspberry Pi soundcard Sonic Pi has been dreaming about: Quality Audio/MIDI In & Out" – Sam Aaron, SONIC PI
"Audio quality is very good. All my old problems of noise caused by bad cheap sound cards are gone." – Tomme, BETA-TESTER

Over the past 18 months we went through 6 different hardware revisions until we have arrived at the current design. Some of the design options we've explored before was using the Raspberry Pi's UART (RX/TX) pins directly for MIDI interface implementation, however we found that the MIDI 31250bps baud rate is not considered standard in Linux world, achieving it required tinkering with kernel configurations, depended on the CPU frequency, and methods to achieve serial communication using the MIDI baud rate were changing over time. A long term and reliable solution for this was needed, so we came up with the current solution that uses the Serial Peripheral Interface (SPI) and a translator microcontroller for the MIDI interface.
In addition, we went through multiple power supply designs. For example in the previous revisions we used to have an external power connector. Thanks to the feedback from our beta testers, we found out that for them to get the right power adapter is going to be tricky and expensive compared to using official and highly available Raspberry Pi USB adapter. We adjusted our design and now pisound is powered straight from the Raspberry Pi board itself.
Currently we're at the point where pisound has reached a mature and stable state, successfully went through a beta test program, conforms to Raspberry Pi's Hardware Attached on Top (HAT) specifications and is ready to reach the wider audience.
3D-printable case specially designed for pisound. You can find all the necessary fileshere.
pisound is compatible with virtually all Linux distributions and software as it comes with an ALSA audio and MIDI driver integrated in mainline Raspbian Linux kernel (ver. 4.4.27+). The pisound-btn daemon, which runs in the background, monitors and reacts to The Button. It uses next to no CPU time, as it executes instructions only when it receives interrupts raised by the kernel when the voltage level on the GPIO pin controlled by The Button position changes.
Thanks to the daemon, The Button triggers shell scripts when performing the following actions: single clicking; double clicking; triple clicking; holding the button down. The default scripts for the actions respectively do: start a Pure Data patch from connected USB drive; safely stop the patch and prepare the USB drive for removal; toggles WiFi Hotspot mode; safely shuts down the device.
Figure 1. Response of the sine signal fed to loop-backed (digital→DAC→ADC→digital) pisound showing the Signal-to-Noise Ratio (SNR) of 110 dB. Calculated Total Harmonic Distortion (THD) is less than 0.05%.
Figure 2. Frequency response of the white noise fed to loop-backed (digital→DAC→ADC→digital) pisound showing the bandwidth (BW) of the device and how it is estimated.
The legendary Burr-Brown Op-Amps, ADC and DAC chips are brought together on this little board to exhibit clean signal amplification and conversion between digital and analog realms. The device exceeds HD-Audio standards thanks to its linear bit depth of 24 bits and maximum sample rate of 192 kHz.
Even though audio converters and other chips have a pretty good power supply rejection ratio (PSRR) on their own, to ensure low-noise operation in the vicinity of an electrically noisy Raspberry Pi computer, any power line going to the analog stuff is coupled via low dropout regulators (LDO's) which filters any digital interference out. This design enables pisound to be graded as a high-fidelity (Hi-Fi) audio device. For example a Hi-Fi device is expected to have the Total Harmonic Distortion value (THD) less than 1% and the pisound has it less than 0.05% (fig. 1). That means that you can daisy-chain 20 pisound boards and the chain would still be considered as a high-fidelity device!
We also measured the audio bandwidth of the device and as you can see (fig. 2) it is as flat as a proper table and shows -3dB high-pass and low-pass roll-off at 7.5Hz and 23kHz accordingly.
Another nice feature is a clip-LED – it will light up whenever the signal at the ADC input is too high and the gain should be lowered. Please see the specs table below for additional specifications of the device.
To satisfy your MIDI communication needs, pisound has 3 options: DIN-5 Input and Output MIDI ports with activity LEDs, WiFi-MIDI and USB-MIDI via Raspberry Pi's USB ports. Unlike usual MIDI solutions for Raspberry Pi, serial DIN-5 MIDI on pisound is implemented using high speed SPI and a dedicated microcontroller for translating SPI data to serial MIDI byte streams and it's readily recognized in audio software as an ALSA MIDI device. The loopback latency of MIDI was measured to be 2.105ms. The two MIDI activity LEDs blink based on the flow of MIDI events.
In addition, pisound lets you take advantage of WiFi-MIDI. When WiFi Hotspot mode is enabled via triple clicking The Button, touchosc2midi daemon gets launched. It translates OSC messages to MIDI events so you can control audio software running on Raspberry Pi from your smartphone or tablet.
And of course you can use USB-MIDI devices as usual by connecting them to Raspberry Pi USB ports.
Also if you'd like to add some specific controls to your pisound audio project, you can easily make your own custom MIDI controller.
Arduino sketch code and more information available here.
Audio
| Parameter | Value |
| --- | --- |
| Input/Output Channels | 2 x 2 (Left and Right) |
| Input/Output Type | ¼" (6.35mm) Stereo |
| Input/Output Resolution | 24bit |
| Sampling Frequency (Fs) | 48kHz, 96kHz, 192kHz |
| Input/Output SNR @ 1kHz | 110dB * |
| Input Impedance | 100kΩ || 2pF |
| Input Gain (G) | 0dB to +40dB |
| Input Clip LED | Yes |
| Input Clip Voltage | 5V (Peak to Peak) * |
| Full Scale RMS output @ 1kΩ | 0V to 2.1V |
| Loopback Bandwidth (-3 dB) | 7.5Hz – 23kHz * |
| Loopback THD @ 1kHz | < 0.045% * |
| Loopback Latency | 2.092ms ** |
| Phantom Power | None |
* Conditions – G = 0dB, Fs = 48kHz
** Conditions – Fs = 192kHz, Pi Model = 2, Buffer Size = 128 Frames
MIDI
| Parameter | Value |
| --- | --- |
| Input/Output Connectors | DIN-5 Female Sockets |
| MIDI Loopback Latency | 2.105ms |
| Activity LEDs | Input & Output |
Other
| Parameter | Value |
| --- | --- |
| Current Draw | < 300mA @ 5.1VDC |
| Dimensions | 56mm x 100mm |
| Weight | 67g |
Compatible Raspberry Pi Models
Raspberry Pi 1 Model A+, Raspberry Pi 1 Model B+, Raspberry Pi 2, Raspberry Pi 2 version 1.2, Raspberry Pi 3, Raspberry Pi Zero version 1.2, Raspberry Pi Zero version 1.3, Raspberry Pi Zero W.
KARMA POINTS
Help us spread the word!
If you know someone, who is interested in audio projects – share a link! It takes just a second, but it makes a huge difference for us. Thanks in advance!
LOVE FROM BLOKAS TEAM
$3 USD
You are awesome!
Thanks for helping us make pisound a reality. You will receive all the campaign updates and we will include your name in our Board of Honours!
INDIEGOGO SPECIAL
$84 USD
1 x Early-bird pisound board!
$22 discount from MSRP & Free Worldwide Shipping!
Raspberry Pi not included.
Estimated delivery – June 2017
SINGLE PACK
$89 USD
1 x pisound board!
$17 discount from MSRP & Free Worldwide Shipping!
Raspberry Pi not included.
Estimated delivery – June 2017
DOUBLE PACK
$168 USD
2 x pisound boards!
$44 discount from MSRP & Free Worldwide Shipping!
Raspberry Pi not included.
Estimated delivery – June 2017
UNIVERSITY PACK
$405 USD
5 x pisound boards!
Save $125! Free Worldwide Shipping!
Raspberry Pi not included.
Estimated delivery – June 2017
* Shipments to Non-EU countries are subject to duties and taxes as determined by customs in the destination country.

| Month | Process |
| --- | --- |
| March | IndieGoGo Campaign |
| Late April | End of the Campaign |
| May | Parts Sourcing |
| Late May | Manufacturing Begins |
| Early July | Quality Control & Packaging |
| Late July | Backer Fulfillment Begins |

ASK.AUDIO, HACKADAY,
GEAR NEWS, EVERPI,
LAVA GUITARS, ESEMDA,
CONSUTLATION STUDIO,
KAMERA, SONIC PI, SOUNDIUM,
PATCHSTORAGE
Our Beta-Testers
Dan Powell, Mattia Bonafini, Borys Kowalewski, Jeremy Bernstein, Guillaume Brunet, Tommaso Rosati, Jonas Urbat, Jeff Merkel, Martin Dupras.
Risks and Challenges
To get to the current stable stage we went through 6 hardware revisions, found a reliable local manufacturer and had our beta batch manufactured. At this point pisound is fully developed and ready to go, so there will be no unexpected hardware or software design issues that could cause any delay to start the production and we know that we will be able to deliver the project as planned.
We can identify one risk though that we, as any other hardware developer, could face – sourcing of the necessary parts and custom components. Unavailable parts could cause a small delay in the manufacturing process (up to a few weeks). A large quantity production has an even more likely chance of it. To be safe we have taken this into account for estimating the shipping date.
Some Post-Assembly Photos by Our Manufacturer