iCrowdNewswire - Mar 17, 2017
Hubblo PX6 – 360 3D 4K VR Broadcasting Platform
The world's first all-in-one 360° 3D 4K ultra portable at-a-click VR broadcasting system
The Hubblo PX6 is a bleeding edge all-in-one ultra portable VR broadcasting system that allows you to painlessly set-up and live stream to an audience in less than 30 seconds.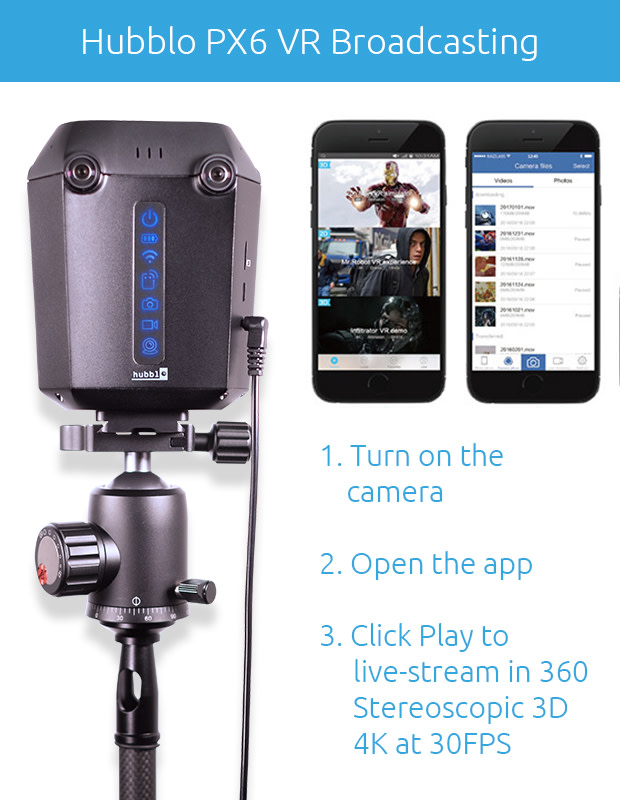 "Artists, performers, event hosts, and anyone who wants to expand their audience beyond a physical location can simply do it with the push of a button."
CEO Eric Tsang
After reaching the finals of Last Gadget Standing at CES 2017, live-streaming the Samsung booth at Mobile World Congress 2017 and being written about over 300 times, Hubblo's bleeding edge prosumer camera is finally ready for project backers.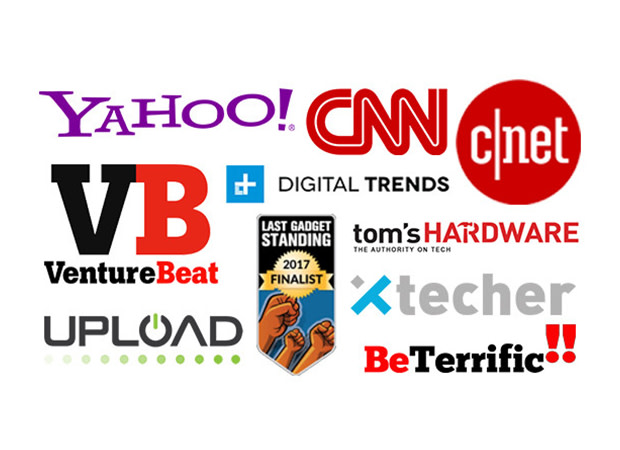 Real-Time Stitching, 4K Live Streaming
Whereas most VR cameras require you to do the image stitching yourself, Hubblo does all the hard work in camera, saving hours of tedious post-processing. It gathers data from all six cameras simultaneously; correcting and stitching images in real-time to create a stunning 360° spherical, 3D-immersive video stream. The video can be broadcasted or stored in 4K 30fps quality, and viewed with any cellphone VR headset using the Hubblo iOS and Android apps.

Using biomimicry to simulate immersive 3D vision, as well as in-hardware (not software) processing, the PX6 offers VR prosumers and enthusiasts a long awaited one-click solution that's about the same height as an iPhone 6.
The triangular design delivers 360° spherical, panoramic vision with three pairs of 200° fish-eye lenses. Dedicated sensors on each lens provide the high quality image-capture free from gaps at the top or bottom of the image creating true-to-life depth perception for a fully-immersive 3D experience.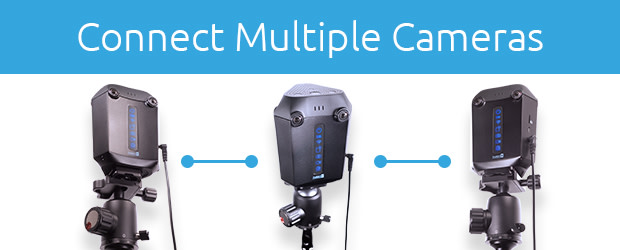 For professionals who need to show multiple scenes simultaneously, connect multiple PX6 cameras to a live-streaming server and you have a very powerful, affordable VR broadcasting platform that's suitable for huge events with massive audience interactions.

The Hubblo VR camera is portable and lightweight, handheld or tripod mountable. The height of the camera is less than an iPhone 6! You don't need any additional software, just high speed Internet access and cell phone apps that can be downloaded for iOS or Android. Setup is easy as can be; just connect to your network and live stream at the click of a button.

Hubblo, isn't only looks, speed and futuristic tech, it's also a safe bet. The PX6 is being created by a 20+ member team – led by CEO Eric Tsang – a former Silicon Valley engineer who worked for the likes of OPTi, bFrame Logic and Broadcom. After 10 years in the US, Eric came back to Shanghai and went on to found two startups including Montage Technology Group that achieved IPO and a 70+ million dollar valuation.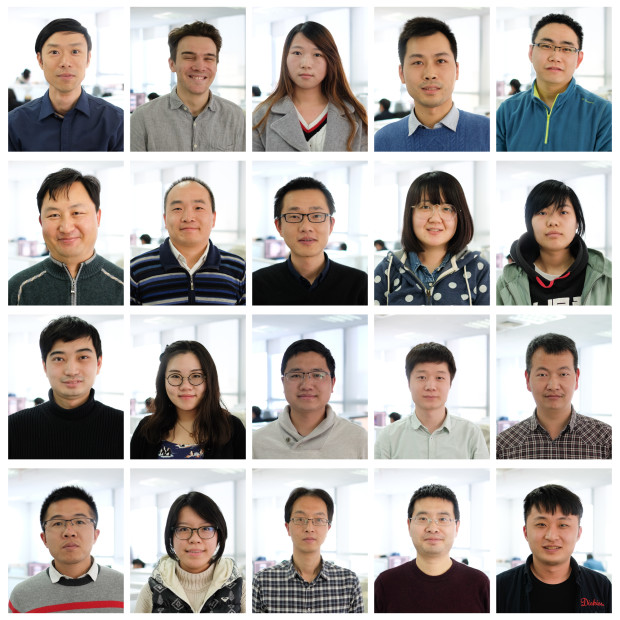 From left to right, top to bottom: Eric (CEO), Dan (Global Marketing), Sunny (App designer), Stephen (Hardware engineer), Max (Social media), Peter (Hardware engineer), Craig (General Manager), Janus (Hardware engineer), Myka (Social media), Supercat (App designer), Jack (Software engineer), Tina (Graphic designer), Lucky (App designer), Somepig (App designer), Vincent (Software engineer), Warnus (Software engineer), Jane (Accounting), Steve (Hardware engineer), Yuntao (Software engineer), Bobby (Graphic designer)

Lexy Savvides demoes Hubblo VR live streaming for CNET

CES 2017 & Last Gadget Standing Finalist
Hubblo soft launched at CES 2017 in Las Vegas, where thousands of guests and industry experts demoed the camera live streaming. It stood up to the test, live streaming for 9+ hours at a time without fail and receiving rave reviews. Also we were one of just ten
Last Gadget
Standing finalists
!

Hubblo PX6 Specifications

3D 360° video: 4K, 30fps
2D 360° video: 2K, 30fps
30 Mbps (bitrate) MP4

Optimum bandwidth 3D 360° live stream: 3840*2160 (16:9)
Low bandwidth 3D 360° live stream: 2160*2160 (1:1 ratio)
2D 360° live stream: 2160*1080 (2:1)
H.264 codec, RTSP/RTMP (protocol), 15Mbps (optimum bandwidth)
Share: Facebook, YouTube, Twitter, WhatsApp, Messenger, WeChat

3D 360° photo: 3840*2160 (16:9), 2160*2160 (1:1)
2D 360° photo: 2160*1080 (2:1)
JPG

Lenses: 6 x 200° fish-eye, F2.6 Aperture

Sensors: 6 x 3.15MP

Connectivity: WiFi 802.11n/ac, Bluetooth, MicroUSB

Storage: 32Gb internal, 128Gb MicroSD, Smartphone (64Gb = 4.5hr, 4K, 30fps)

Audio: Built-in stereo microphone, Wireless Bluetooth microphone

Power: 12V DC adapter, 4000mAH removable battery (up to 1-hour standard use)

Dimensions: 103mm x 103mm x 124mm

Weight: >800g

Material: Aluminum Alloy

Apps: Hubblo VR Player, Hubblo VR Camera Control, Hubblo VR Live (iOS & Android)

Prototype Sample Videos
​

Availability
The Hubblo VR camera is at the stage of creating manufacturing samples. Expect mass production this summer and delivery by July 2017.

Exclusive, Live VR Events
Between April and July you can tune-in on the Hubblo VR Live app to watch exclusive live streaming events, broadcasted by Hubblo, 360° and 3D. Be one of the first to demo the Hubblo VR Live app in Beta mode by backing us just one buck!

Q: Are 6 lenses enough to capture a 360° panorama?
A: Some cameras use just 1 or 2 lenses, others use 12 or more! Less lenses means lower quality, but more lenses can mean mountains of data. Hubblo PX6 is designed to be both portable and high quality. Watch our sample videos to see for yourself!
Q: Why is real-time stitching technology such a big deal?
A: With real-time stitching you not only save bags of money on software, but also a lot of time. Manually post-processing a short video could take hours and involve a highly complex workflow. On top of all that, real-time stitching makes live streaming as simple as point and shoot. Until Hubblo came along real-time stitching and 3D 360 4K live streaming was only possible for professionals. Now anyone can do it with the push of a button!
Q: Is the stitching template-based or optical flow?
A: Optical flow requires 10-fold computation, which is very big and very hungry! If you're not making a Hollywood movie then all that power is very inefficient, so the PX6 uses template-based stitching instead. It means you can achieve optimal quality for today's technology, along with an affordable price tag.
Q: Does the PX6 perform well in low light?
A: You can control exposure using the Hubblo Camera Control smartphone app, available for iOS and Android.
Q: How is the battery life and potential for overheating?
A: With a 4000mAH battery we estimate you could live stream for around 1 hour. The smartphone app has a battery status indicator so you'll know how much juice you've got left. If you need to recharge, it will take around 3 hours to charge from scratch. You can also use a 10,000mAH external power pack to increase its longevity. Heat dissipation depends on the environment. If you're heading to the Sahara desert then bring a few ice packs along with you… The PX6 is constructed from aluminum-alloy with air intakes at the top and bottom, as well as a fan for increased ventilation.
Q: What accessories will I need?
A: The Hubblo PX6 is a standalone camera so you don't really need any accessories beyond an external battery pack or power adapter and a smartphone. The stitching is optimized so the camera can be mounted on a monopod or tripod (via a standard 1/4 inch tripod mount) with no blind spot below. Additionally, if you need to capture ambisonic audio or clear speech we recommend you use external microphones which can be connected to the camera via a 3.5mm mic jack on the camera.
Q: How much video can I record at once?
A: The camera itself has 32GB internal memory, plus a Micro-SD card slot supporting up to 128GB*. At 4K 30fps, we estimate you could record for around 4.5 hours with just 64GB. The smartphone app will show you how much space you have left. If you're live streaming, however, the capacity for cloud storage is practically limitless.
* SD card not included. PX6 supports micro SD cards upto SDHC and SDXC.
Q: Does Hubblo offer a warranty?
A: We offer a one-year warranty for hardware faults. Terms and conditions apply.
Q: Will you offer worldwide delivery?
A: We will definitely deliver to the USA, Europe and most of Asia. If you can't find your country listed on Indiegogo then please contact us to confirm.
Q: When will the Hubblo PX6 be ready for delivery?
A: Production is scheduled for June and delivery in July.
Q: Is there an HDR mode?
A: The PX6 doesn't support HDR.
Q: What is the wifi range?
A: The effective range is 10 – 20 meters.
Q: Will the API be made available?
A: Yes.

Performance Without Compromise
Eric Tsang, a hardware pioneer who worked at OPTi, Broadcom, and bFrame Logic is a self-proclaimed "hardware geek" with a special interest in video related technology. He started Hubblo out of frustration with the trade-offs in existing 3D recording technology. "We wanted to deliver an all-in-one package: 4K live streaming and great stitching; 360-degrees and full 3D vision; affordability and great design. None of the winners of this year's CES Innovation Awards in virtual reality categories, for example, have all of these features in a single package."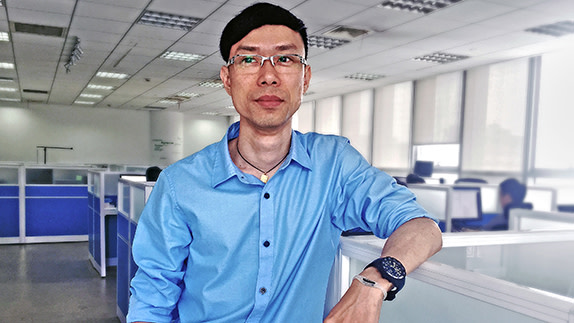 His last startup project, Montage Technology Group reached IPO in 2014 valuing over $70 million. He headed the main product line, TV set top boxes that accounted for around 90% of the company's profits at the time of IPO.
The Hubblo team has developed patent-pending hardware algorithms that deliver stunning video correction and stitching using FPGA (Field-Programmable Gate Array) as the developing framework, and optimizing the outcome with RTL (Register Transfer Level) hardware programming logic. "We are making products for 2 to 3 years in the future, not copying something that already exists," Tsang said. "Our core innovation has to do with video streaming quality and immersiveness; this tech is at least one year ahead of the market."

About Hubblo Technology
Hubblo Technology is a leading developer of pro-consumer grade VR technology for artists, performers, and anyone that wants to share a live, 3D-immersive experience with remote audiences. The company's flagship product, the Hubblo PX6 offers an unprecedented combination of features including 360° recording, 4K resolution, real-time stitching, and live streaming for just $999*. Hubblo Technology was founded by video technology pioneer Eric Tsang and has offices in China and Silicon Valley. For more information visit www.hubblovr.com

* For the special Indiegogo $999 price, purchase our "Power to the people!" perk.
Hubblo at Venture Beat and Tom's Hardware.