iCrowdNewswire - Mar 15, 2017
Tyler Hudson Album Release
My second album is ready to move! We just need $$$ to shoot music videos for the digital release!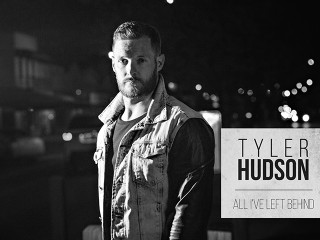 "All I've Left Behind" is my second studio project featuring 8 original tracks. I'm offering you this album PRE-RELEASE so that we can raise funds for the film clips needed for the digital campaign.
All I've Left Behind Digital Release
"All I've Left Behind" is the follow up project to my debut EP "Beautiful Life". For my second project, I wanted to reach into the depths of who I was as a songwriter, and show the shadow side of a "Beautiful Life", so although there are some fun, lighthearted songs, there are also songs of heartache, change, and loss. As everyone knows, mountain top experiences are fun, but the valley is the sustainable place where growth occurs and life is truly lived. As a human being, and an artist, I'm learning to be fully present in the valleys and not just wish them away for the next mountain top which has brought a depth to me as a husband, father, and artist that wasn't realised before. As you journey through life, sometimes the only way to know what truly has value is to leave it behind for a time. This album is part of that story. And I need YOUR help to share that story!
What We Need & What You Get
We would LOVE to produce some beautiful film clips to coincide with the release of this album. The goal is to sync up our video and radio releases to maximise our exposure with the goal of seeing the album charting on Australian country music radio, and Australian Country Music Television. To accomplish this, we are sending you PRE RELEASE, physical copies of this album in exchange for your contribution to our digital campaign. So you RECEIVE THIS ALBUM BEFORE THE REST OF THE WORLD, and get to help create some beautiful pieces of art!
We need to raise $10,000 to produce 3 film clips.
In addition to the pre release album, other perks include:

Social Media Follow/Shoutout
Personalised social media song dedications
Opportunity to appear IN one of the music videos
Live performance house concerts
The Art
What I enjoy most about my life in music is the opportunity to create something that moves people. It can be a smile, a tear, or just a second thought. With my first EP, producing the film clips for the songs was my favourite part of the whole process, and has produced the most feedback from you. They say a picture is worth a thousand words, and alongside Scott Christian from Radiant Media, we are ready to produce some beautiful pictures, moving in all their 4K glory.
The Challenges
To really make an impact in the industry, we need to string of film clip releases alongside the radio release. The amount we raise determines the number of clips we can produce. We have a solid concept for 4 clips, we just need the financial support to see them come to life. If we only raise enough for 1 clip, thats where this journey will end. If we reach our goal of $10,000, we will be able to see 3 possibly all 4 of those ideas come to life!
Other Ways You Can Help
We want you to contribute to one of the perk packages, but we also want to you share this campaign with your friends! Thanks for making the digital release of "All I've Left Behind" a reality!