iCrowdNewswire - Mar 14, 2017
OCTODON: blazing fast and accurate mobile keyboard
An ultimate tool for texting & coding for mobile professionals. Ergonomic, compact, fast and precise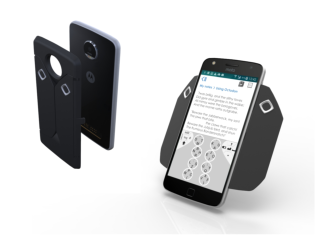 OCTODON is the world's first keyboard designed for mobile from the scratch. It is ergonomic, fast, precise and yet pocket-sized. High-tech solution for comfortable texting and coding on your mobile. Special Moto Z edition – fully integrated to your smartphone.
Modern smartphones are very powerful – now we have a full-functional computer in the pocket. It is exciting! But one thing we are not happy about – texting on a smartphone. So we started the OCTODON project to bring advanced texting and coding capabilities to our smartphones.


We believe that it should not be necessary to have a desk with keyboard on top for a comfort typing. We believe that for cool mobile devices there should be a cool mobile keyboard. A really ergonomic device, not a micro-clone of an ancient typewriter.
We've built several iterations of prototypes, conducted First-time users tests and optimization – everything to make really ergonomic and fast device. We reached on our prototype fantastic 400 CPM speed!

We change the game – with the OCTODON you feel comfort and confidence of typing on your mobile devices!
Now you can have an ultimate tool for texting & coding in your pocket!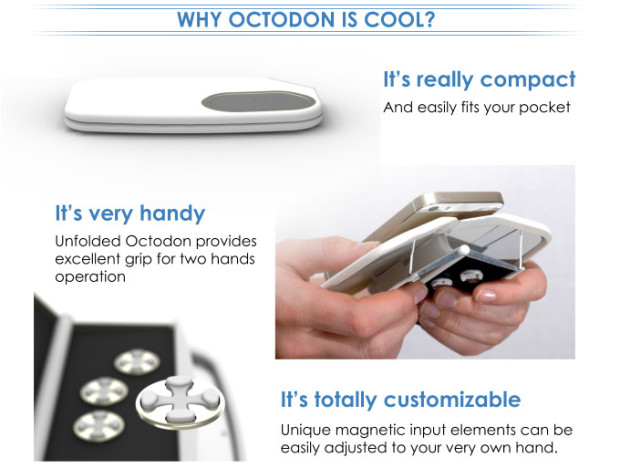 Meet OCTODON MOD for LENOVO MOTO Z!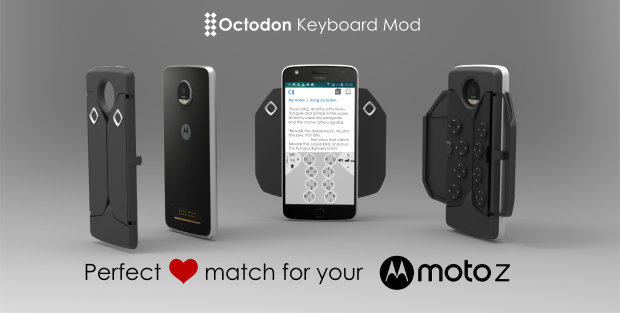 We are happy to announce that Octodon is partnering with Lenovo to develop a Moto Z module which will power up your Moto Z with super-typing capabilities!
HI-TECH
OCTODON is a pocket-sized transformable mobile gadget. Being unfolded it features a comfortable grip while typing and editing texts on your smartphone. Now your keyboard is in your hands. Octodon involves all your fingers into the typing process, that's why Octodon is the fastest typing device among handheld mobile physical keyboards. Typing speed we achieved on the prototype is 400 CPM.
HOW IT WORKS
OCTODON keyboard is a backtyping device, 8 input elements are located on its back side.
Each of 8 back-side elements can be easily directionally pressed in one of four directions (up/down/left/right). So every letter of the alphabet is typed with the single slight movement of one of the fingers. Screen hints located similar to backside elements locations let user know which finger to move in which direction to type required letter.

Thumb's elements are located on the front side and responsible for space, backspace, common punctuation marks and switching between input modes.
EASY TO LEARN
Very intuitive "matte glass" style interface helps you to start typing right out of the box. Octodon gives you distinct tactile feedback, and the perfect feeling of the keys. It is easy to learn and master.
Just by solving your everyday tasks, by writing notes, code or emails you will quickly increase your speed. Touch-typing comes to you naturally – you do not need to memorize the layout… it just comes by itself soon. Just use Octodon and your mechanical memory will do the rest.
HIGHLY ADJUSTABLE
We all have unique hands of different size. But with our patented magnetic joysticks you can reposition OCTODON input elements individually, up to your hands – for the best fit. Either you have big or small fingers – it's good for both. OCTODON is the only keyboard that perfectly fits YOUR hand. Simply adjust the keyboard up to you.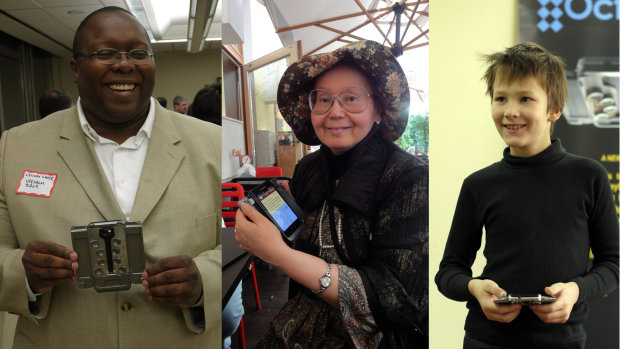 You can set up your own configuration of input elements, assigning your custom commands and macros on them. You can even place additional joysticks to get even more input options.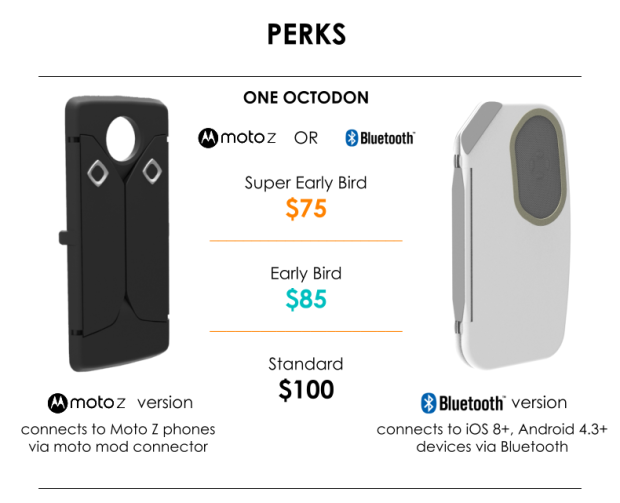 WHAT PEOPLE ARE SAYING ABOUT OCTODON?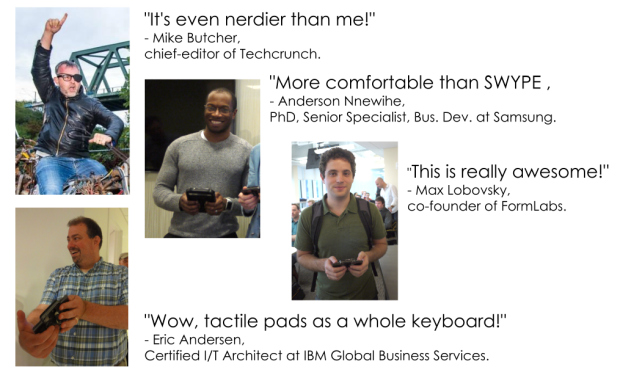 We've already presented OCTODON keyboard at many events all over the world. You could see it at CES'15, at MIT, at Pirate Summit in Germany, at Building Global Innovators events in Portugal, at Skolkovo Startup Village in Russia or elsewhere… Many people had a chance to try OCTODON for some time. We recorded some of their reviews to share with you.
OCTODON TEAM
Our strong devoted team is capable to solve all the challenges.
We've already done a huge stuff: designed the device, conducted tests, optimized the ergonomics and evaluated the learning curve.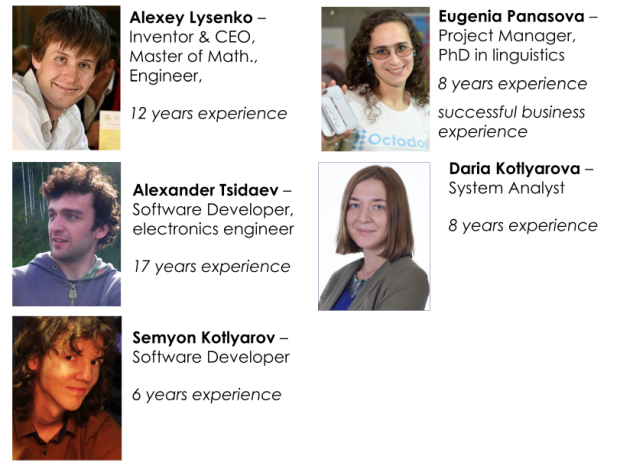 We are positive and fond of active sports and we can't wait to produce our first OCTODONs for you and for ourselves, as we truly believe that we are building great product!

HISTORY
To achieve the best mobile typing experience we get trough numerous iterations – from proving the concept to making the device compact and adjustable.