iCrowdNewswire - Oct 18, 2016
from textile waste to conscious luxury fashion
zerøwaste fashion & art with purpose: live life with fewer things of greater value.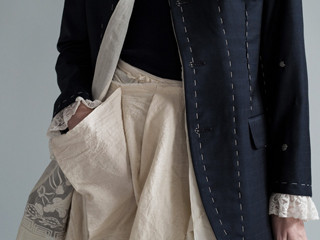 zerøwaste karen glass (Ø) seeks conscious contributors, passionate about radically transforming the way fashion & art are made. Ø up cycles 2nd hand garments & textile waste into incredible fashion. Ø makes new clothes with 0.05% waste. Ø curates artists that believe in our purpose. from our processes comes a transcending & relevant style of design & art. Ø believes in job creation & open hire. we partner with Beloved Atlanta to provide advocacy & work development for victimized women.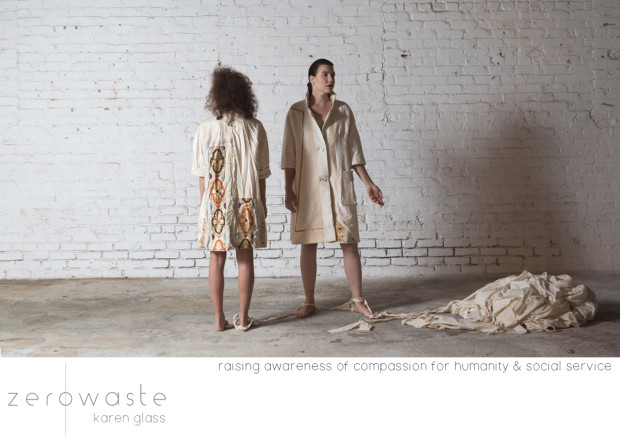 Ø envisions a brand that expands cultural boundaries of acceptance. we believe in preservation and conservation as foundation for a business model. we have developed an integrated entrepreneurial model for US apparel makers that has both domestic and foreign enterprise and that remakes and makes new apparel and fine art in zero waste processes.
it is our goal to position our brand and business sustainably in this new market economy of post consumer waste (repurposing & up-cyling). it is our honor to contribute to the sustainable living of women through our life work project.
life work project: we partner with Beloved Atlanta, to provide advocacy and work development programs to help rehabilitate victimized women. 20% of our work force development is dedicated to helping women move into rehabilitated sustainable lives. we pay a living wage. this is reflected in our prices and in the quality of our work-woman-ship. we believe in living life with fewer things of greater value.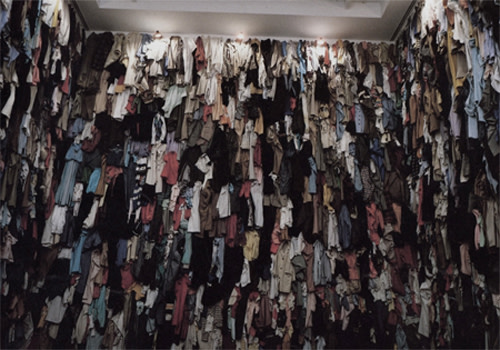 to contribute to the reduction of the massive amount of textile waste (11-13 million tons) per year:
by up-cycling used textile pieces and 2nd hand clothing into beautiful new garments.
by making new garments in a significantly low textile waste process.
by engaging highly skilled designers and stitch artists who embrace our life work project.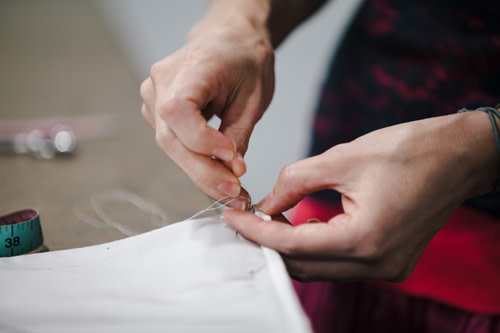 Ø upcycle: is made atelier (fashion work shop) style. we make our founding pieces (Ø archive) like a classic paris atelier, except that, we use waste from each cut as either a body part or adornment in the following pieces until the waste is used. any final waste goes into quilts, given to artists as raw materials, or into local hand made paper. our aesthetic or style is visually stunning.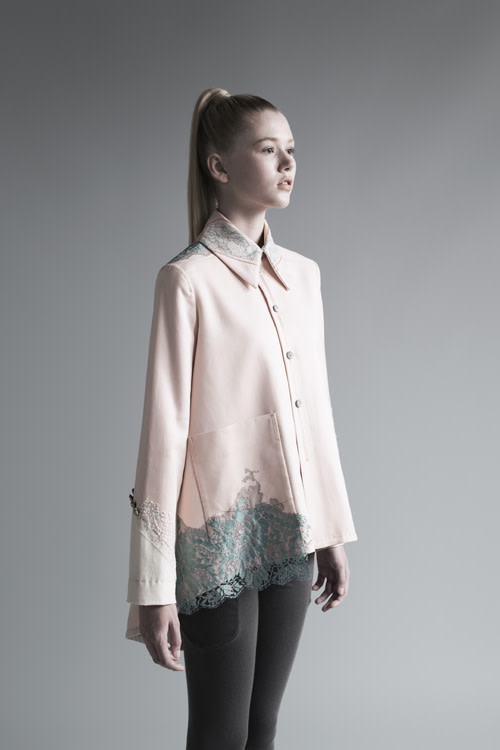 the work-woman-ship and style of our pieces is like nothing you have ever seen in luxury fashion. this we promise. we strive for originality and creativity in our work, executed with an elevated sense of cut, silhouette and embellishment. our upcycle making process is primarily artisanal and made in our atlanta work studio. we do however contract small batches of our tee shirts, gender free shirts and the denim series jackets.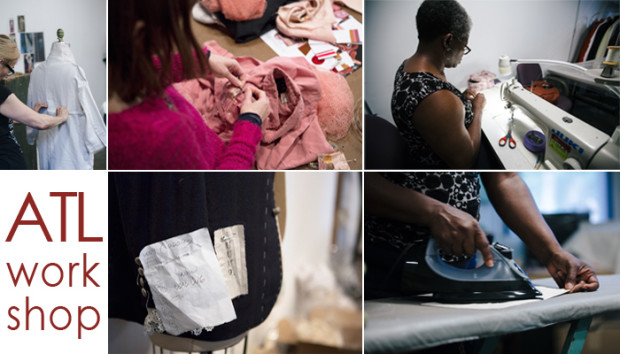 in our knitwear products we use the finest cotton fiber and yarn available on the planet. it is exquisitely soft and luxurious.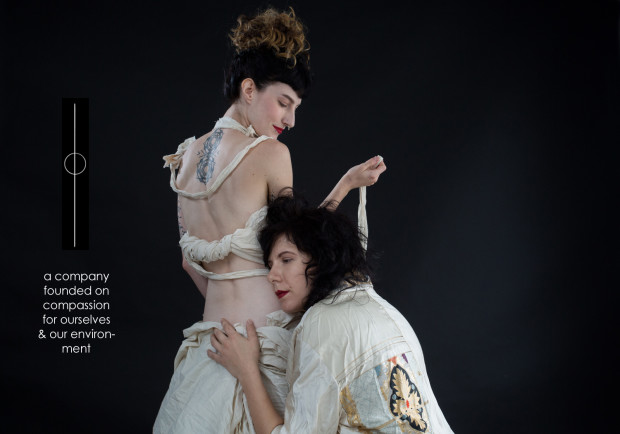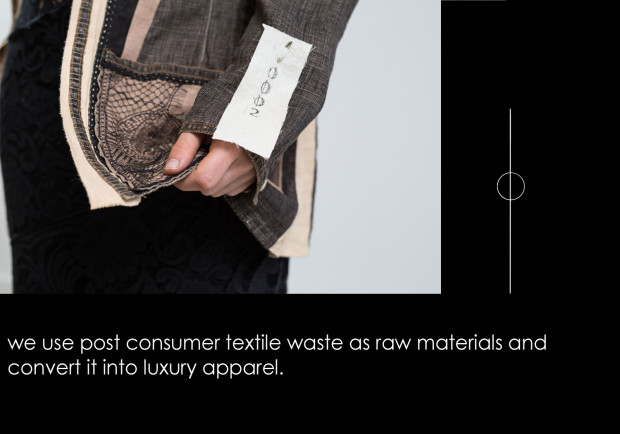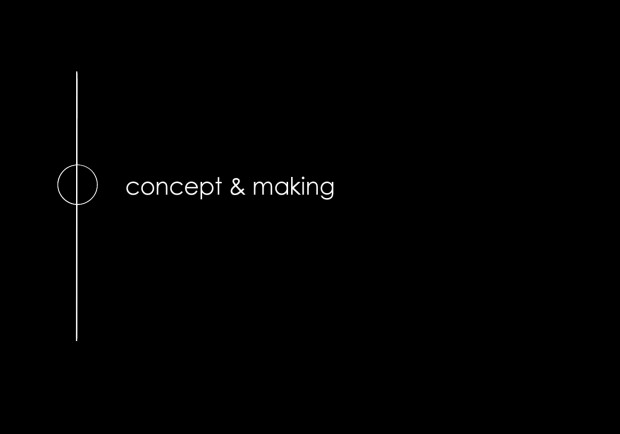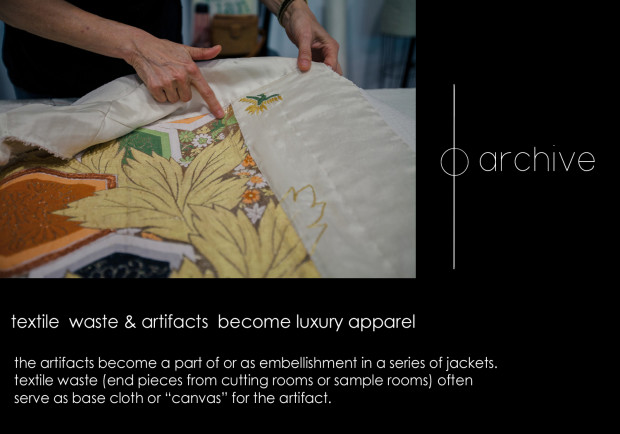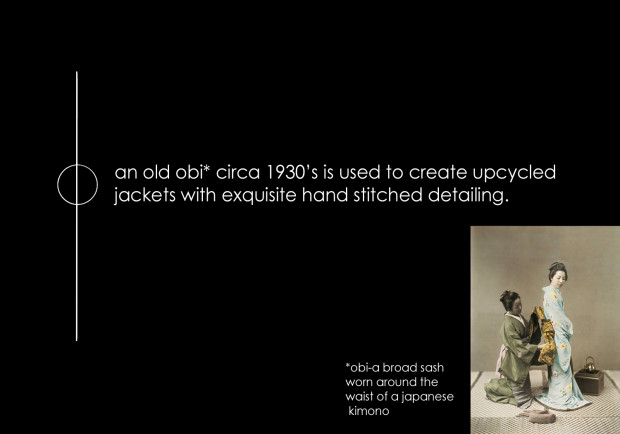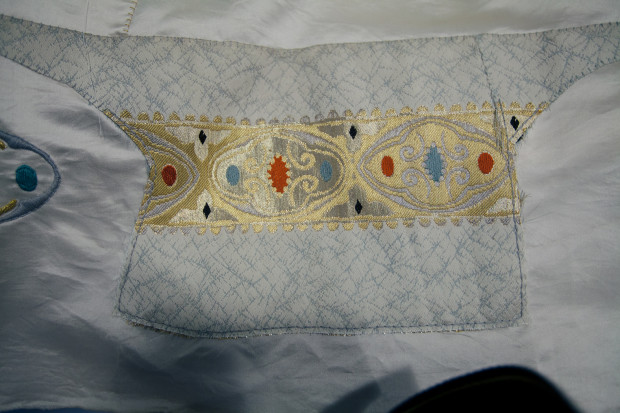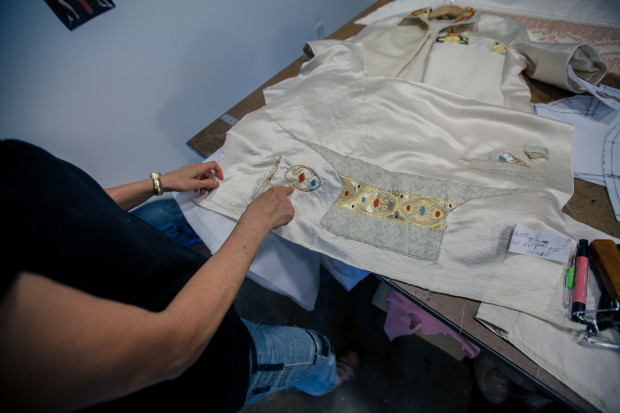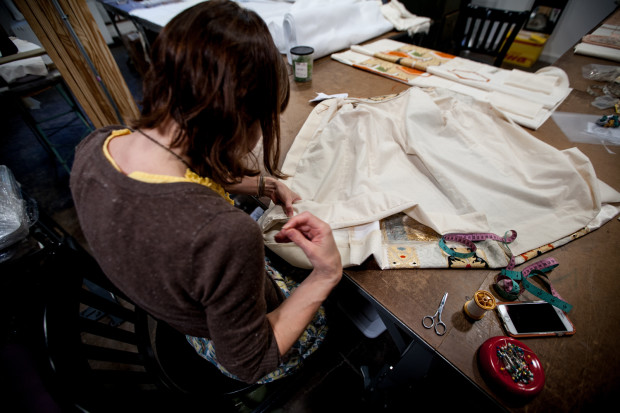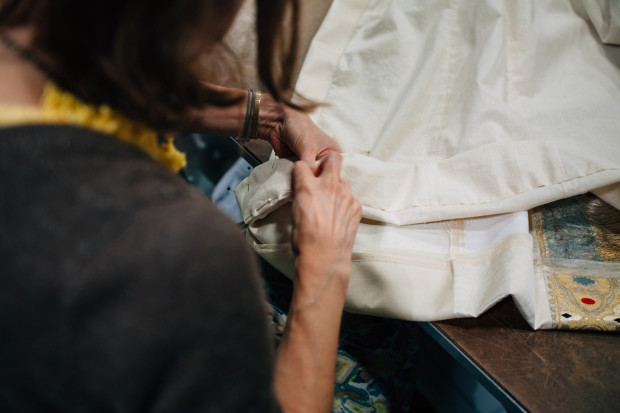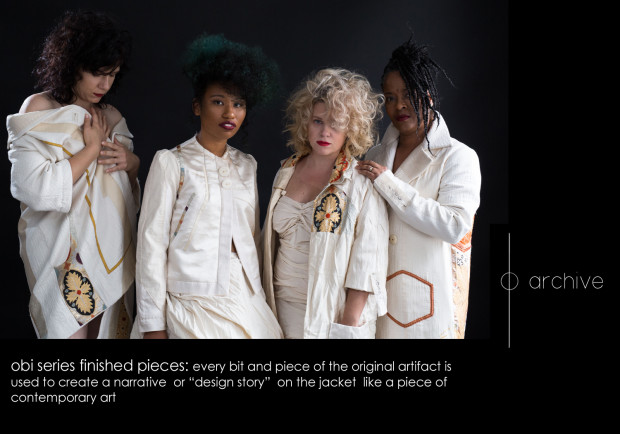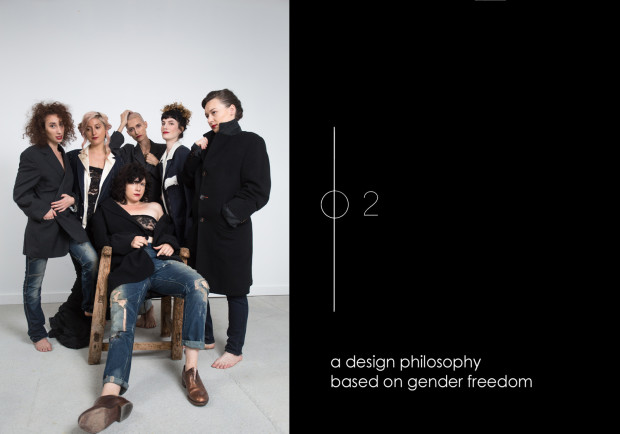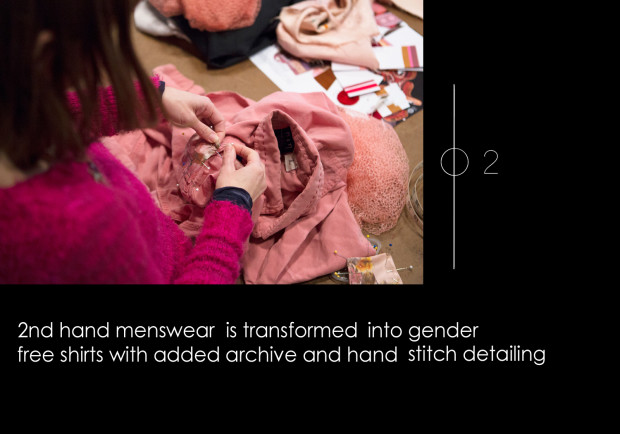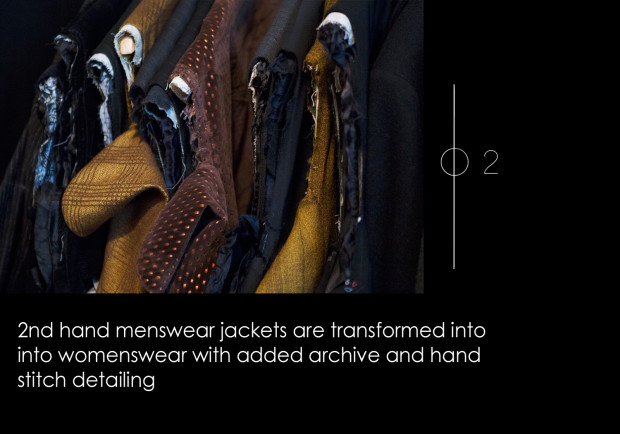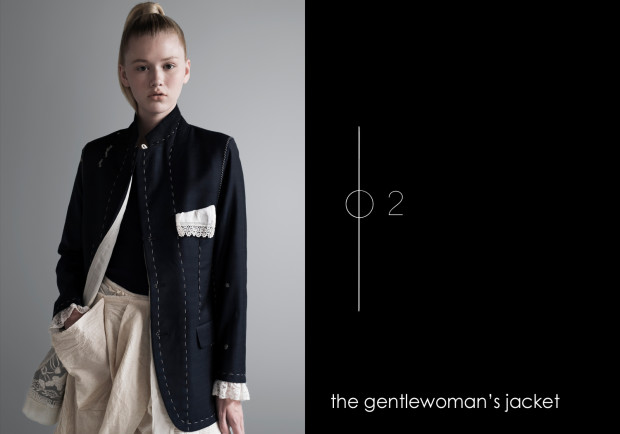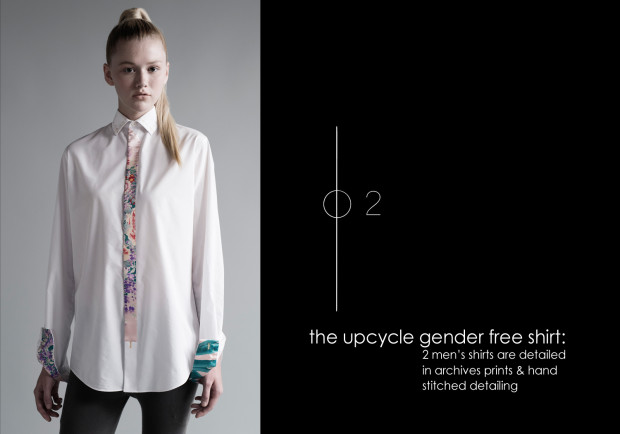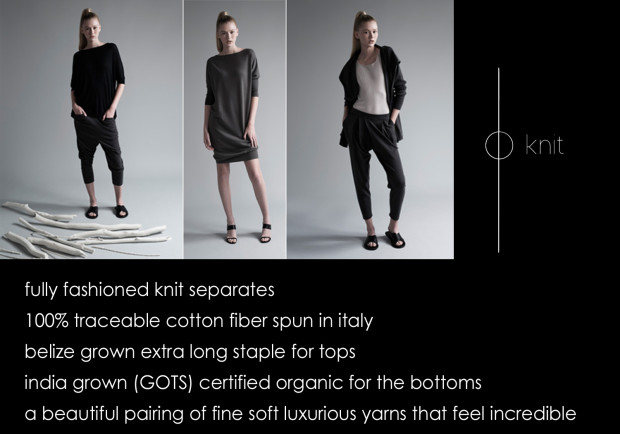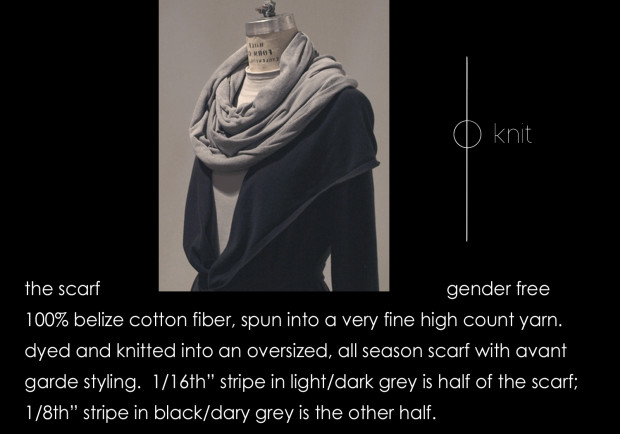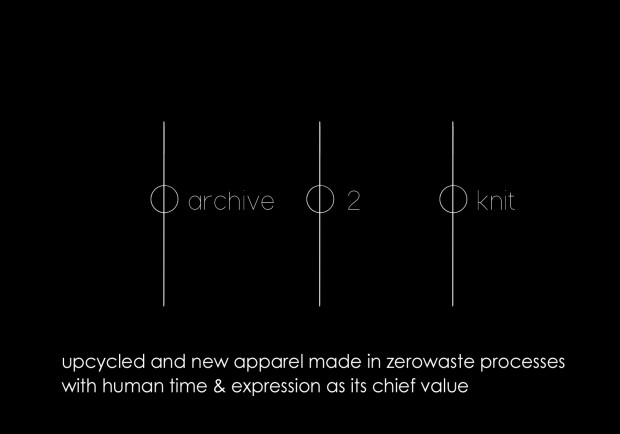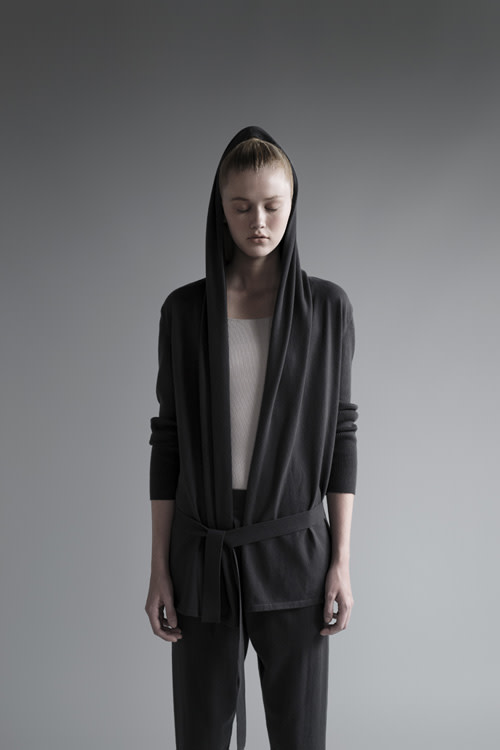 Ø has been in development for nearly 5 years. it started with a 25-year-old collection of fashion artifacts globally collected by the founder, karen glass.
"after working in the textile and apparel business for over 30 years, i began to become acutely aware of all of the textile and garment waste i had personally been accountable for, by either sitting at a sewing machine making 1,000,000 pairs of men's underwear in a year and half, or by directing the product teams of well know apparel companies. i can remember seeing clothes i had been personally accountable to make everywhere, from the local thrift store, to a rag in someone's trash or in the street in an alleyway while in paris. this led me to begin the development of zero waste apparel making through an up-cycle design and make process i could do here in the US and through working with a factory in nepal to develop knitwear in a socially compliant, zero waste (0.05%) process. i was looking to work with yarn companies that were 100% traceable back to fiber. my vision was to find the best possible quality of cotton yarn on the planet. plus it needed to be either 100% GOTS certified and/or 100% traceable back to growing source. GOTS (global organic textile standard) is the gold standard for organic, globally sourced and made fiber, garments and factories. i worked with the factory in nepal to become certified GOTS experienced and to acquire national social compliance for their factory and workers."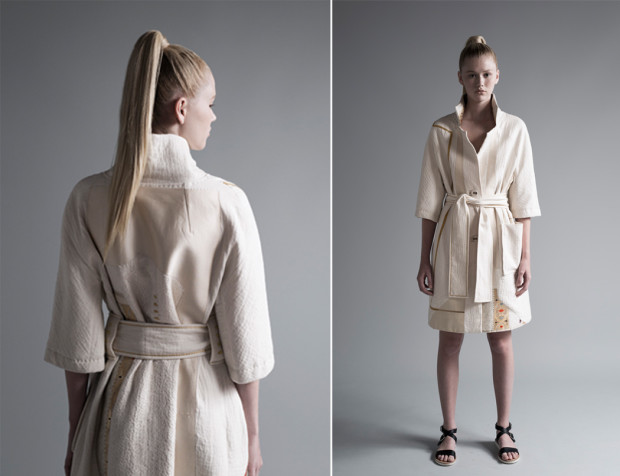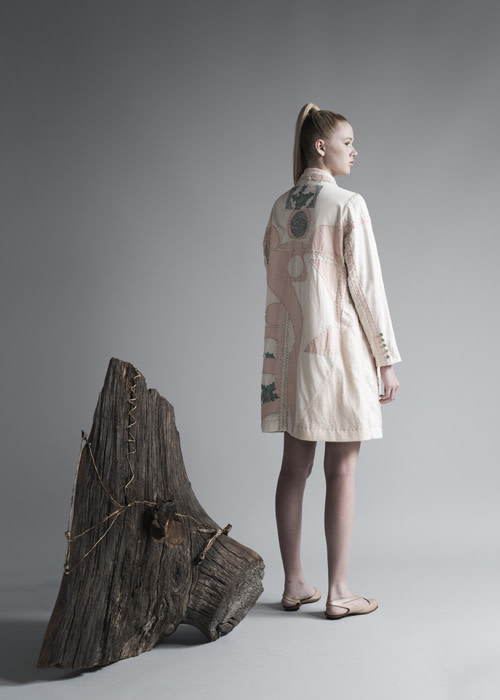 Ø archive: global textile artifacts are transformed into one of a kind new pieces. our first series was made from an old obi cloth made in shanghai, circa 1930s. these are our limited addition, highly luxurious pieces, mostly hand stitched. these pieces are our crown jewel. our archive process involves cutting the first piece from the bulk of the artifact, and then using the remnants to adorn the 2nd piece, and the remnants from that go into a 3rd piece etc, until all of the remnants are used up. any leftovers that are unusable go into fine art, or into local paper making. we offer them ready to wear and as a bespoke service. these pieces define the brand in provenance, style and process. moving forward, we will be making them in a series with a size range from xs-xl, but each will have unique design nuances due to the raw materials used. the retail range is from $2600 to $4500. we are also adding a denim archive jacket that will retail at $1000. the denim jackets will be made in small batch production in new york city.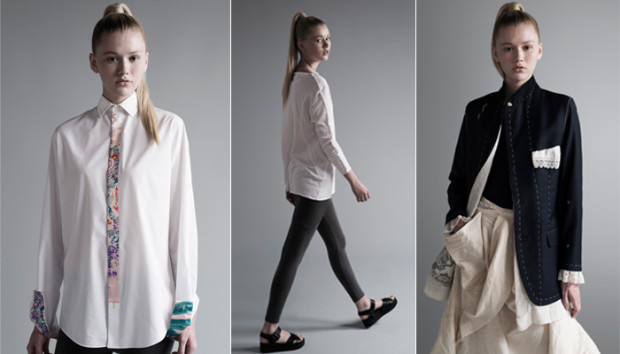 Ø 2: menswear transformed into beautiful feminine pieces. from factory waste or thrift stores, remade and adorned with contemporary detailing of found textile objects and exceptional hand and machine stitch work. we consider our stitch work to be unique and signature to our brand.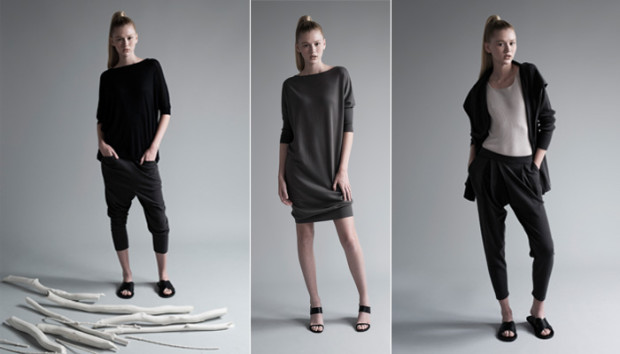 Ø knit: is our lifestyle line of fully-fashioned knitwear in modern silhouettes that transition through daily activity. this line speaks directly to our design and brand philosophy of living life with fewer things (clothes) of greater value. we buy yarn spun in italy because it can be done no where else on the planet as finely as italians do. we looked for a fiber that equals sea isle cotton ( the finest cotton fiber available) or bested it. we found this with cariaggi's belize cotton. it is the finest 2/80 yarn count cotton ever sourced. karen has seen 10's of 1000's of yarn qualities in her career and has found the cariaggi 2/80 to be the most exquisite. we pair this luxurious 2/80 with a fine long staple grown in india within GOTS certified protocol in a 2/50 yarn count with an equally luxurious hand feel, but is a more durable and full bodied yarn for lower body pieces. we make our knitwear in nepal because we believe in contributing to a developing nation's economy as much as we do to that of our own country.


we are looking to raise $190,000 with this campaign. the founder, karen glass, has invested $100,000 +. she believes in the beauty & purpose of this work.
your contribution now to our campaign will give us the funding we need to:
stay in our work studio and build inventory
rebuild our website for e commerce
spread the word of our purpose through marketing channels with an incredible PR and marketing woman (who is currently working for free!)
keep building our upcycle inventory (Ø archive & Ø 2)
buy yarn for our Ø knit line and begin to produce inventory
pay our small team of practictioners: designers, stitch artists & apprentices (our beloved women)

scale up our work studio by adding more practitioners to produce more inventory and add more product lines, such as accessories and footwear
establish a retail presence through pop ups in new york, chicago and miami
establish a selected wholesale presence in major metropolitan areas
build our online presence with a unique digital experience through innovative technology
we want to start selling product in spring 2017. this means ordering yarn for the nepal production by november 1. as soon as we receive funding, we will buy yarn and scale up our Ø archive and Ø 2 production to full-time. we are confident to be able to present a solid business plan to our microcosm of fine potential investors that calls for an initial round of funding of $800,000. our goal is to gross $1.5 mil year one and show a promising but very modest profit. we plan to do 20% of our business in pop up retail in nyc. 40% e-commerce and 40% wholesale.

completed all 2017 prototypes and processes and are in production in Ø archive & Ø 2.
in pre-production for Ø knit, awaiting yarn supply
have a working design, development & production model for both upcycle product in atlanta and new product in nepal.
integrated the life work project partnership with beloved atlanta into our upcycle work process with an apprentice program for women looking to work in the apparel making industry
CREATIVE LOAFING MAGAZINE designer of the year 2016
Modern Atlanta featured designer
Atlanta Magazine
Goat Farm Arts Centet Concept retail space- Installation
in addition to Ø, karen glass has successfully built other brands from scratch for other companies, and rebuilt brands from failing positions. karen has extensive experience in designing and managing apparel production techniques and processes globally, and is now putting her intention and energy into Ø.

social, economic, and environmental concerns and engagement are rapidly becoming a global mainstream ideology that is driving a growing economic sector. we believe change is crucial. Ø imagines and enacts a more sustainable future for industry and community. with our Ø knit line, we impact industrial waste by bringing the typical industry standard of approximately 15% waste to 0.05% waste. we reduce post consumer waste by up cycling it into new apparel. in addition to reducing textile waste on a global scale, the Ø process is a unique approach that can be taught to entrepreneurial designers. we contribute to the sustainable and secure living of women. we are a model for local enterprise that does business globally.

the fashion business is risky and competitive. to get exposure, a brand must stand out. in addition to securing the finances to build our company into a sustainable, self-supporting enterprise, exceptional marketing and outreach will be one of our most important efforts. we are increasing our marketing budget to 2.5 times what we originally considered to amplify our exposure and get the word out about our brand and its purpose.
another challenge is finding highly skilled fashion designers and apparel makers. we have created a modular system of design-and-make that includes an apprenticeship to train individuals in the art and making of fashion apparel. we will also contract out our Ø 2 t-shirt processing and our small-batch Ø archive jackets in atlanta and in new york city. we are also beginning an outreach to colleges to develop curriculum that teaches entrepreneurial design and process.

if you are unable to contribute to our campaign financially, there are plenty of other ways to help. we appreciate any energy you are able to contribute. for us, that means living life more consciously. being mindful of waste not just as stuff, but of thought as well. reduce your 60,000 thoughts a day. live life with fewer things of greater value. have fewer thoughts of greater, more transcendent value. make giving a part of your life. human time translates into human value. help us do good by doing good. help us create movement in the world.
and please share this campaign with everyone who has an ear to listen, and a voice.