iCrowdNewswire - Oct 18, 2016
OOKKIE : The worlds safest skateboard for kids
The ookkie™ is the worlds first & safest true learner skateboard for kids
Introducing the ookkie™. The world's first and only true learner skateboard. The ookkie™ is the world's first dedicated kids skateboard and has been specifically designed for children from as young as 2 years old. The unique 5 in 1 skateboarding system enables children to progress at their own pace, physically transforming along with your child as their confidence and ability develops. Starting with a parent assisted handle, you can add and remove ookkie™ parts to suit your child's ability.




Before the ookkie™ the only two ways to teach kids to skateboard was by a parent awkwardly shuffling alongside a board, or waiting until kids were old enough to go it alone. As soon as our kids saw a skateboard, they were desperate to ride it. We (like many other parents) held them back due to safety concerns. The concept of the ookkie™ was then born with the sole desire to see our kids learning to ride skateboards safely from around 2 years old.
Through extensive design and engineering, the ookkie™ grew from concept to reality.
A learning skateboard that significantly increases safety and helps to build the foundation of balance and coordination. The ookkie™ enables children to progress at their own pace and physically transforms along with them as their confidence and ability develops.


Balance and Coordination Skills
Getting your kids on an ookkie™ will help develop general balance and coordination skills. These skills will stay with your child and apply to other areas of their life whether it is running around or trying to climb trees. Learning to skate on an ookkie™ means that your child's body is learning balance and coordination while having tonnes of fun.
New Generation of Skateboarders
Generally kids can't safely get on skateboards until they are around 6 years old. The introduction of the ookkie™ means that kids can safely learn to skateboard at just 2 years old. This early learning process means that we will be creating a new generation of skateboarders who have had an additional four years of skating experience before reaching the current recommended age. We aren't rocket scientists, but giving children this early learning experience will make for some pretty awesome skaters in the future. We can't wait to see what they can do!
Be part of your child's Skating Journey
The first step of using an ookkie­­™ involves using a parent assisted handle to control variables such as speed and direction. This means that you will be an integral part of how they will learn to use the board while getting out and about into parks, esplanades and walkways enjoying the fresh air and quality time with your kids. You're welcome 🙂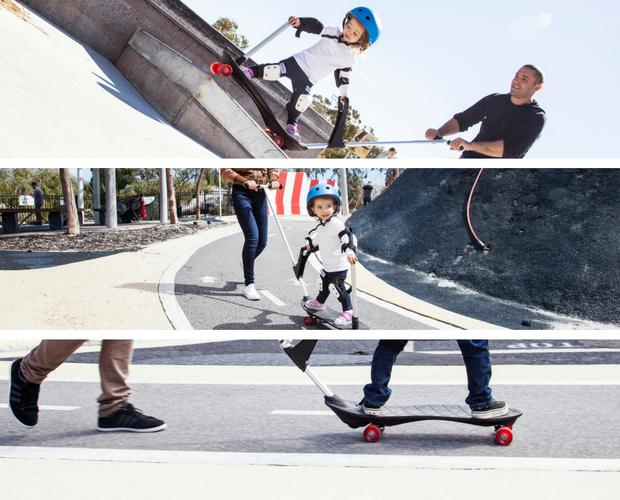 BEGINNER
With two adjustable handles, front and rear, this phase allows the parent to utilize the push handle to control both speed and direction whilst the front and rear handles add three points of contact for the rider to hold. This front and rear handles significantly increases stability and allows the rider to develop the fundamentals of skateboarding.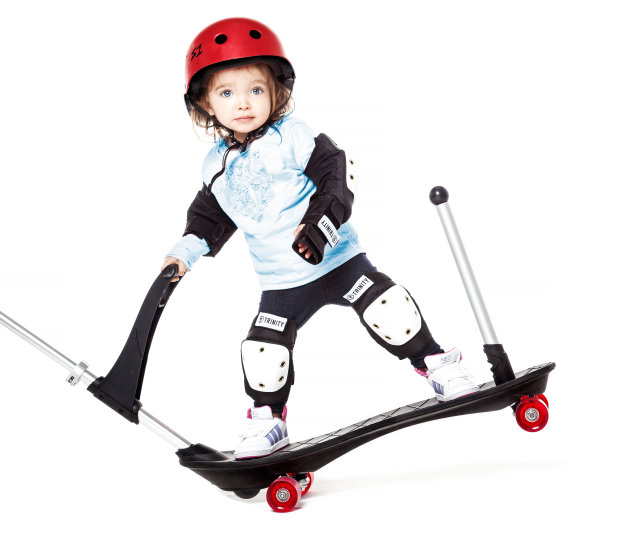 INTERMEDIATE
Having mastered the basics in the beginners phase, the board now transitions with the child to the next level. The front handle can be removed leaving the rear handle for the rider to take control. As confidence grows the rider can let go of the handle when they feel stable enough to do so yet it remains there for support if needed.
ADVANCED
Having graduated from the previous stages, both handles are now fully removed and the rider is armed with all necessary skills to take it to the next level. They have developed their balance and coordination to the point where they can confidently skate unassisted and start focusing on trying to master more complicated maneuvers.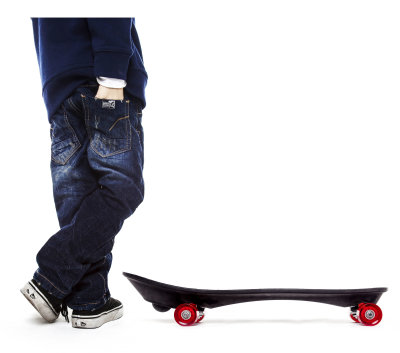 Unique 5 in 1 ookkie™ handle system
The unique 5 in 1 skateboarding system enables children to progress at their own pace, physically transforming along with your child as their confidence and ability develops. Starting with a parent assisted handle, you can add and remove ookkie™ parts to suit your child's ability. The 5 in 1 system significantly increases stability and allows the rider to develop the fundamentals of skateboarding in a safe environment.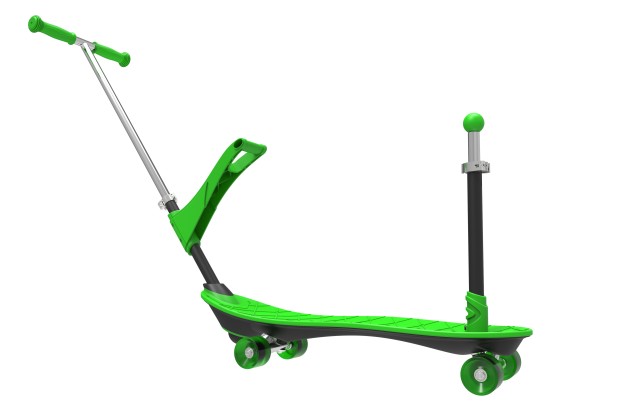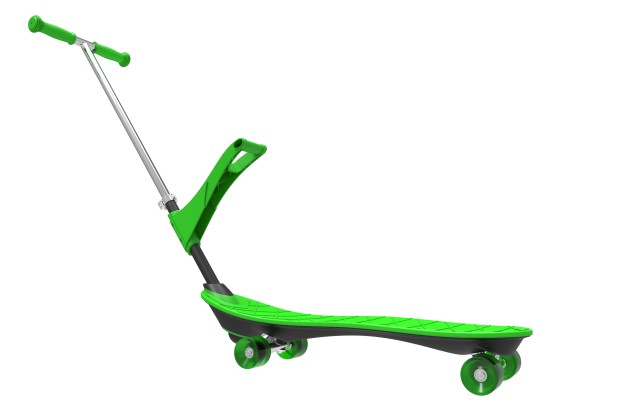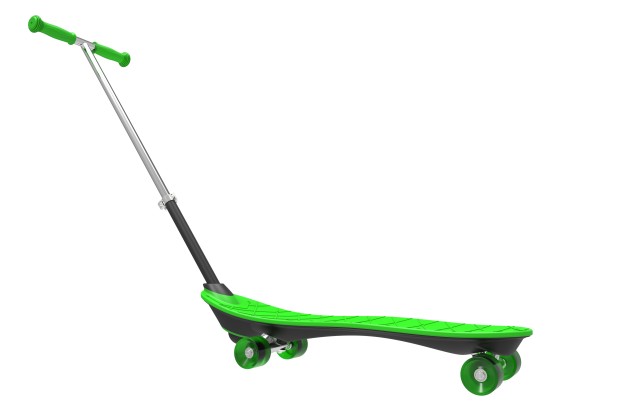 A board that will not be Outgrown
Once your child becomes proficient in skateboarding fundamentals and doesn't require any assistance parts, a ookkie™ deck can be used as a regular skateboard, meaning the ookkie™ will not be outgrown. In fact, we do one better and have developed an additional top deck (coming soon after campaign completion) and introduced a new trick system with a rear 360 rotating ball to keep the older kids busy inventing new tricks.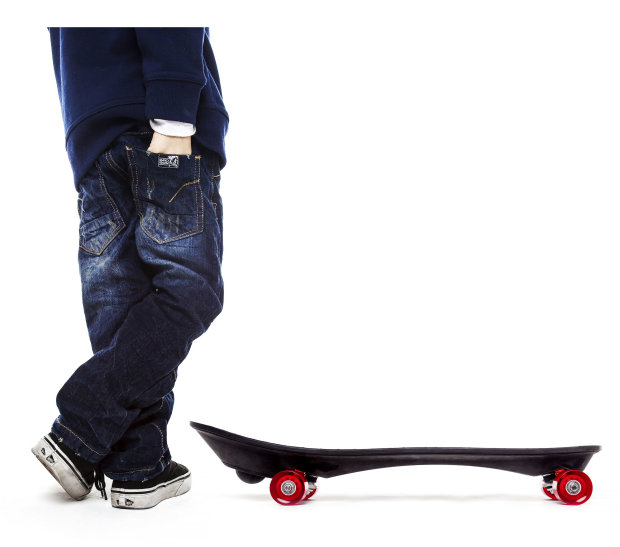 Safe Learning Environment
The ookkie™ means kids now have a safer way of learning how to skate. With several assisted learning features, you will be comfortable knowing that your child will be safe while learning to use the ookkie™.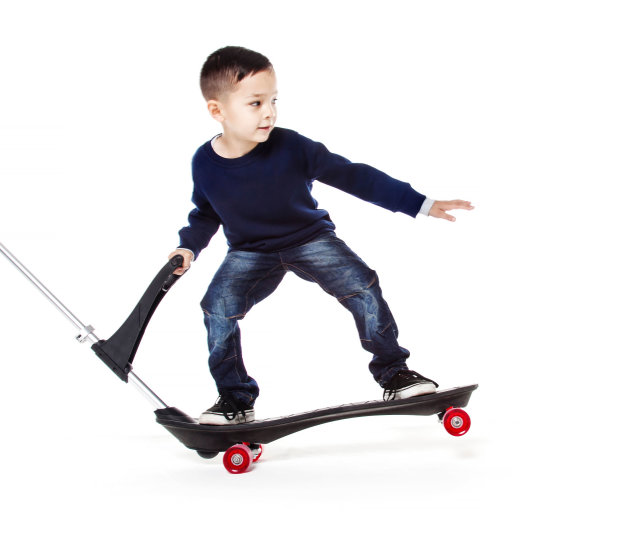 Unique 360 Degree Rotating Ball Feature
The ookkie™ features a rear 360 degree rotating ball which allows kids to balance on the rear ball introducing new tricks to the industry and making the ookkie™ more than just a regular skateboard. The rear rotating ball also assists parents in maneuvering corners while pushing a child by leaning on the ball while turning a corner. As with all ookkie™ features, the rotating ball can be removed if the users wishes.



Our ookkie™ safety pack is also available for purchase, the perfect safety accessories for your little one.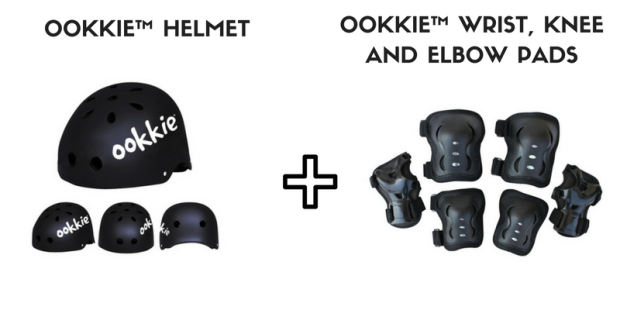 We recently conducted a vote of over 200 people for the first ookkie™ colour. GREEN comes out on top. However, if we get over 500 pledges, we will unlock a new colour!!!! Stay connected with us for your chance to vote and unlock the next ookkie™ colour.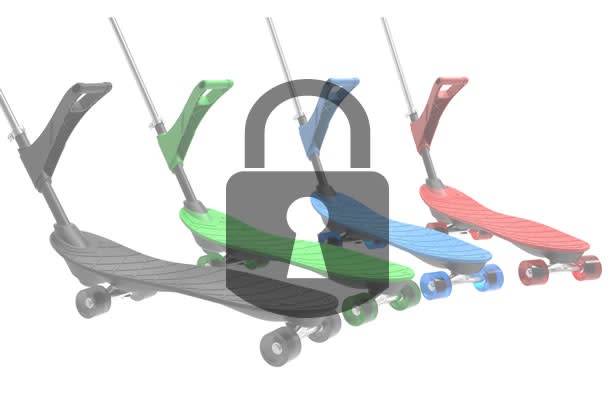 Height: 881 cm
Weight: 4.12 kg





We need your help to get our ookkie™ into the lives of kids and families all over the world. By purchasing an ookkie™ through Indiegogo you will literally be making skateboarding a more available and safer sport for kids to learn.
We have completed total product development of the ookkie™ including 3D designs, Finite Element Analysis testing, and tested the prototype on some tiny, extremely excited subjects. We have had a great response from our test subjects with some kids progressing to using only one assisted ookkie™ part.
The kids and parents have given it the thumbs up, and we are now ready and roaring to get into manufacture, which is the most expensive part of the process. The money raised in the Indiegogo campaign will contribute directly to the manufacture of the ookkie™. One of the main manufacturing expenses include the purchase of molds. To achieve our unique design we need to produce a mold for each plastic part. The ookkie™ is made up of 30 critical parts, which requires 15 molds. While each mold is expensive, they produce over 300,000 parts, meaning that this one off expense will last for 300,000 ookkie™ boards. The other main expense of manufacturing is the actual creation of the ookkie™. Manufacturers deal in minimum quantity orders, which means you may need to create over 1000 boards in one go. While this may seem excessive for a first order, the more boards we create actually means that we can reduce the RRP cost to our customers. It is easy to think of this as buying in bulk, the more you buy, the less each item costs.

What happens if we don't reach our goal?
That's ok! We will still progress into the manufacturing phase getting your ookkie™ into your kids lives. Any assistance we can get as part of the Indiegogo campaign will be immensely helpful as the tooling costs for this project are expensive. We are committed to progressing with the progress of the ookkie™ independent of the Indiegogo campaign. The campaign will get us to our end goal to see kids learning on skateboards sooner!


The concept of the ookkie™ was a brainwave of co-founder Daniel de Gaye who, after a childhood of skating, wanted his kids to get out on a board as soon as practically possible. Teaming up with Mechanical Engineer Jason Koch, Skate Innovation was then created in early 2016 to take this vision to reality.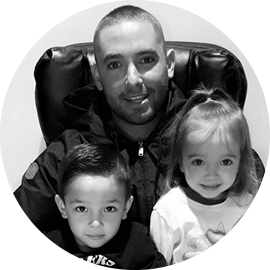 Daniel de Gaye
Daniel can be described as a driven and self-motivated entrepreneur that is always looking to challenge the norm to find a better, more efficient way. Daniel has been involved with board sports for a large part of his life and was very keen to see his little ones follow suit. This combined with his inventive nature, lead to the original idea for the ookkie™ to be developed. Having been through the product development process previously, Daniel knows his way around the product development trail and how to get a product to market. Daniel is also a successful businessman and has the energy and passion to take the ookkie™ the whole way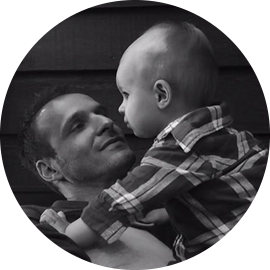 Jason Koch
Jason is the founder of the successful Australian product development company, Invention Steps. Jason founded Invention Steps in 2013 and continues to manage it with the goal of helping inventors all over the world bring their ideas to life. Jason knows the ins and outs of the product development intimately with 20 year's experience in Product Development and Innovation covering a large number of industries. With a multi-disciplined background ranging from Industrial Design, Product Development, Engineering, Prototyping, Business Development and Management, and with a vast experience of China/Taiwanese manufacturing, Jason has "real world' experience ensuring your products are in the right hands. Co-founding Skate Innovation in 2016 was a natural progression of his passion to bring ideas to life. Loving all things outdoors, Jason is extremely excited to see his own son and other families get on a board and having fun sooner!


Current production stage
We have have completed all product design stages including Industrial Design, 3D Product Design, Finite Element Analysis and produced a successful prototype. The kids are loving it!
Unexpected issues
We have done our best to plan for every possible issue but obviously unexpected issues can arise, we will keep our backers informed at all times should this happen.
Deliveries
This will largely depend on how successful our Indiegogo Campaign is. If we reach our funding goal, we expect the first shipment to be ready in approximately 3 months. Customers will be updated with specific times for delivery once the Indiegogo Campaign is finished.
Quality Control
Our team will be visiting the production factory several times to ensure quality control for all ookkie™ parts.
Customer Service
We know how important customer service is. The ookkie™ team is contactable 7 days a week for any questions or issues with our products.


If you aren't ready to commit to our Indiegogo campaign just yet you can help us connect with families all over the world by following and sharing our story on Social Media sites:
https://www.facebook.com/skateinnovation/
https://www.instagram.com/skateinnovation/


What is included with the ookkie ™
When you purchase an ookkie™, you will receive all parts that allow for five riding options, as shown on our website and campaign material.
Where can I find more information on the ookkie™
Hopefully you have found our campaign and website to be quite informative. If you want to keep up to date with any media releases or general awesome pictures of the ookkie™ you can follow us on Indiegogo, Facebook and Instagram.
Is there any assembly required?
Yes. The ookkie™ contains several parts to allow for different ages and different abilities of riders. We will assemble the main components of the ookkie™ in our factories, however there will be some assembly of the handles required. By sending you sub-assemblies of the ookkie™ ready to snap together, we can keep the shipping costs low, in-turn making the ookkie™ affordable for everyone.
Are the handles adjustable?
Yes, we designed all the handles on the ookkie™ to be height adjustable ensuing children of all ages will be comfortable learning on our skateboard.
Can I get custom colours?
We hope to release more information about colour choice throughout our Indiegogo campaign. Please follow our Indiegogo Campaign, website,Facebook and Instagram to keep updated with all things ookkie™ related.
What is the minimum age to use the ookkie™
We have designed the ookkie™ to be ridden by children from as young as 2 years old.
What is the maximum age to use the ookkie™
We have performed Stress Analysis on the ookkie™ and whilst it is comfortably ridden by an adult weighing 85kg, we suggest an age limit of 13 years.
What is the ookkie™ made from?
Plastic, Rubber, Steel and Aluminium.
Where do we ship?
The ookkie™ will ship worldwide.