iCrowdNewswire - Oct 17, 2016
Work For Your Beer: CLT Brewery Fitness Resource
Support Charlotte's brewery yoga, run club, bike ride & fitness community with Work For Your Beer!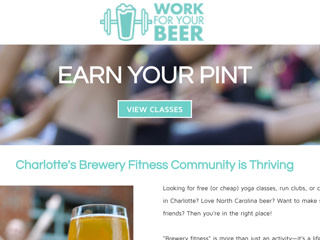 Work For Your Beer, LLC is the ultimate resource for brewery fitness in Charlotte. We will provide a comprehensive guide to all of the fitness activities offered at breweries and restaurants throughout the Queen City, all in one place—workforyourbeer.com. Our goal is to grow the brewery fitness community as much as possible to support local businesses and to encourage a healthy, balanced lifestyle. Help us grow this unique Charlotte community!
The Master Guide to Brewery Fitness in Charlotte, NC
If you live in Charlotte, you've probably heard of at least a few of the major brewery fitness events that go on in the city each week. For instance, many people are familiar with OMB Yoga on Tap, one of the largest recurring yoga classes in the country. And a lot of people know about NoDa Run Club, Charlotte's original brewery run club. But beyond that, most Charlotteans have no idea just how many opportunities there are to get involved in the Queen City brewery fitness scene.
But in reality, almost every brewery in Charlotte hosts some kind of recurring brewery fitness event, whether it's a yoga class, run club, bike-and-brew, pilates class, or strength training workouts.
In fact, there are more than 50 brewery fitness activities currently offered at breweries, restaurants, and bottle shops around CLT.
These classes are only growing in popularity, and yet for some reason, there's no one central location for people in the community to go to find comprehensive information about all of these classes. To find out details about these activities, people have to go to individual breweries' websites, sift through one-off articles and blog posts, or get the details by word of mouth—and even then, the information they find is often inconsistent or incomplete.
So, since there was no single resource that had all the up-to-date details that people were searching for about these events, we decided to make one.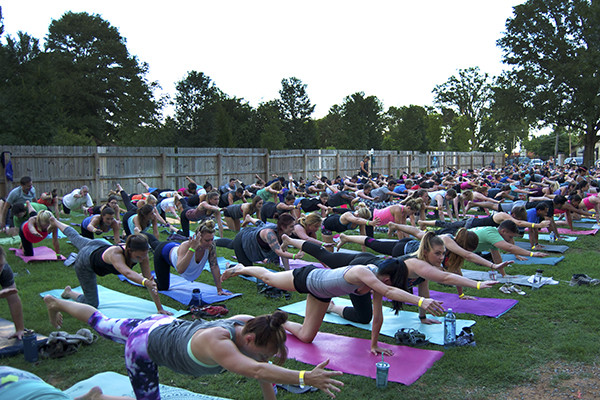 WHAT IS WORK FOR YOUR BEER?
Alicia Thomas & Melanie Fox co-founded Work For Your Beer to create the ultimate Charlotte brewery fitness resource.
Our goal is to provide a comprehensive guide to all of the fitness activities offered at breweries and restaurants throughout the Queen City, all in one place—at www.workforyourbeer.com.
We know that there is ample opportunity to help this niche Charlotte community grow even bigger, and we want to help make that happen. We hope to use Work For Your Beer as a way to highlight members of the brewery fitness community and to help them connect with one another.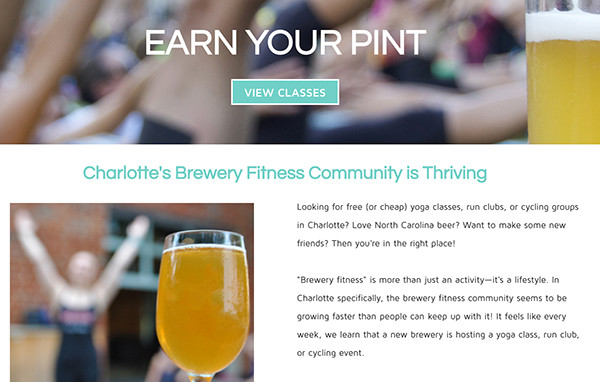 WHAT WE NEED
We are raising $3,500 to support our goal of launching this website before the holidays, since brewery fitness classes see a spike in attendance in January (#NewYearsResolutions). We're just two Penn State graduates working full-time marketing jobs, trying to pull this website together on the side and make it the best resource possible.
In order to make Work For Your Beer as amazing as the Charlotte brewery fitness community deserves, we're setting a conservative financial goal that will simply help cover the business costs of launching the website and starting to grow the business.
Those costs include:
Domain & Website Hosting
Email Marketing Services
LLC & Trademark Applications
Marketing Materials (flyers, stickers, etc.)
Photography Equipment
WHAT YOU GET
We worked with Charlotte-based printing company Ink Floyd (our first partner in the community!) to create some awesome merchandise, including:
Tank tops
T-shirts
Water bottles
Laptop stickers
*Note: We'll email you to get your preferred sizes and colors for t-shirts and tank tops once the campaign has concluded.*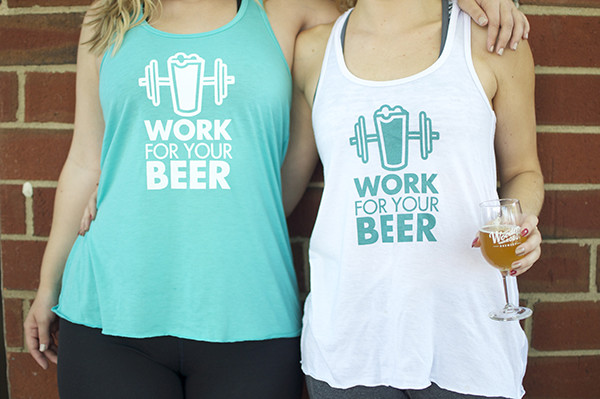 These are just a few of the perks you can get for funding this campaign, in addition to being listed publicly as one of the people who made Work For Your Beer possible.
We'll be crediting everyone who contributes on the Work For Your Beer Membership page, where your name will live on eternally as a token of gratitude for your generosity. As a part of your membership, you will get access to exclusive members-only events, giveaways, content, and other promotions starting in 2017.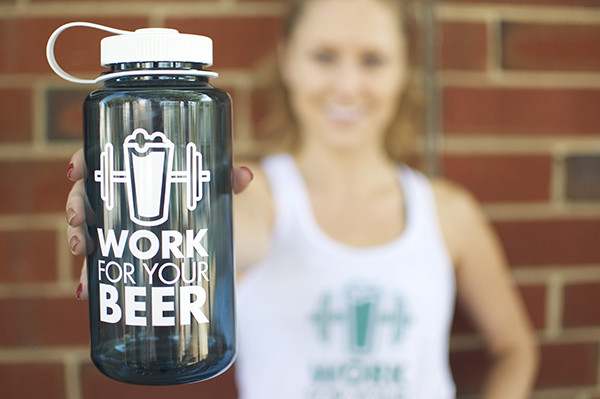 We'll also be offering special, limited edition merchandise if we reach our stretch goal of raising $5,000. We'll provide more details once we get closer to this goal, but suffice it to say that this new swag will make you so excited, you'll want to keep pounding beer, if you know what we mean.
Alternatively, are you a business who digs what we're doing? Check out our sponsorship options here to become a Work For Your Beer partner!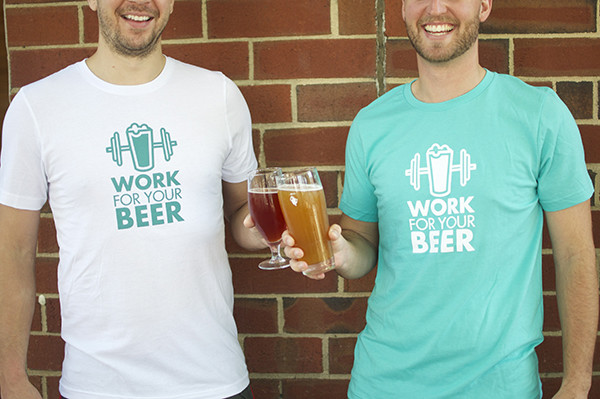 MORE THAN JUST A WEBSITE
We would love to connect with you on social media to help this community grow to its full potential! Anytime you hit up a brewery fitness event, tag us at@workforyourbeer and use the hashtag #wfybCLT—we'd love to see the beer you're drinking and other fun things you're doing in the Queen City. Check us out onFacebook, Twitter, and Instagram!
Along with the website and social channels, we'll also be launching a Weekly Brewsletter. We'll send this email out every Sunday evening with information about what's going on in Charlotte's brewery fitness community this week, so you can plan your week accordingly. It will also include community features, blog posts, and other awesome content you won't want to miss. Sign up to receive our Weekly Brewsletter here.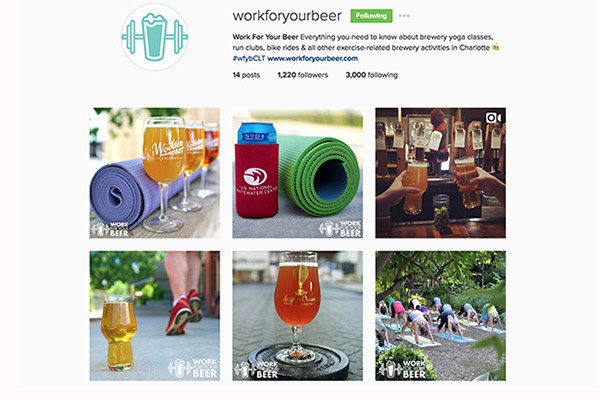 FAQS
Q: Can't I just Google these classes?
A: Well, you could—but you'd have to know that the class existed in order to search for more information about it! Using our website, you'll be able to learn about new classes you may not have heard about otherwise. We're hoping this will get more people out to these events, growing the community and supporting local businesses!
Q: There's an article on a website I like that includes these classes. Why should I need a whole website about them?
A: Well, those articles can be helpful, but they're rarely inclusive of all of the brewery fitness events in the city. As for the events these articles do outline, they typically only provide basic information like date, time, and cost, whereas Work For Your Beer will provide more details about things like vibe, intensity, instructor or leader, whether there are food trucks, the parking situation—basically, anything you'd want to know about the class before attending.
Also worth noting: the information in these articles can become outdated pretty quickly as classes pause for the season, times and locations are switched up, or other factors change. That's why we'll be in constant contact with breweries and fitness instructors to provide the most accurate, up-to-date information about each activity all in one place.
Don't get us wrong, we support these kinds of articles! (The more who know about brewery fitness, the better!) However, other publications are covering more than just brewery fitness, while Work For Your Beer is JUST writing about beer and fitness in the Queen City.
Q: When will the website go live?
A: Our plan is to launch the website on December 1, 2016. We'll be updating the campaign if anything changes!
Q: Do I have to be from Charlotte to contribute?
A: Hell no! We'll happily accept support from anyone who's offering. And hey, if you ever come to visit, we'd love to grab you a beer as a token of our gratitude.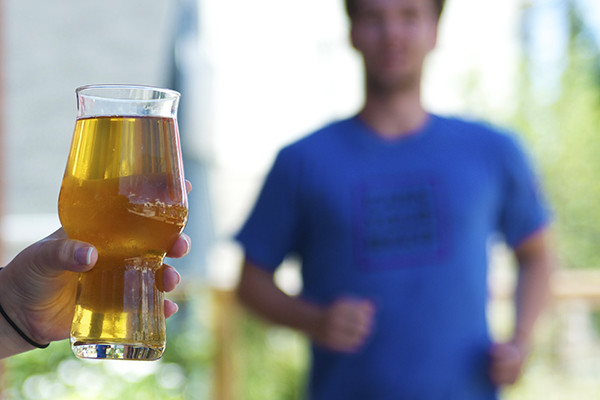 OTHER WAYS TO SUPPORT
We get it: some people just can't contribute. That's totally understandable! There are plenty of other ways to support us as we work toward our goal of launching this website and growing Charlotte's brewery fitness community.
Use the IndieGoGo share tools to get the word out about our campaign
Follow (and engage with) us on social media at @workforyourbeer
Anytime you hit up a brewery fitness class, snap a picture and tag it with#wfybCLT
Sign up to get an email when we officially launch the website!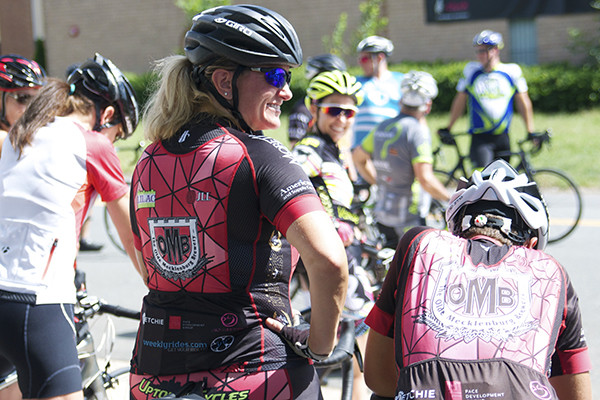 ONE MORE THING
We designed this site based on our own experiences, in hopes that it could be the resource we'd have loved to have back when we started going to brewery yoga classes last year. We tried to answer all of the questions we had about these classes, in as much detail as possible. But we want this site to be the absolute best resource possible, so once the site is live, if there's any information missing, or anything you came to the site to find but aren't seeing, please let us know!
You can contact us here with any questions or concerns (or if you'd just like to chat). We're here to make Work For Your Beer the best it can be for YOU, the Charlotte brewery fitness community, so we'd love to hear from you.
That's it for now. We will be adding updates throughout the campaign, so keep an eye out!
Cheers,
Alicia Thomas & Melanie Fox
Work For Your Beer Co-Founders