iCrowdNewswire - Oct 11, 2016
Dads on Grills
Dads on Grills is a cooking show featuring two dads (us), in search of the perfect backyard cuisine.
NEW SHOW DADS ON GRILLS AIMS TO UNCOVER CALIFORNIA BBQ… Two regular guys set out on a mission to define California style BBQ and identify the restaurants up and down the coast that exemplify this new cuisine – while teaching people at home how to master backyard BBQ grilling
WTF is Dads on Grills?
Dads on Grills is a cooking show featuring two dads (us), in search of the perfect backyard cuisine. For our first season, we plan on establishing that California has its own, unique style of BBQ.
In this show we'll share our passion for cooking delicious meals for the entire family (and sometimes even the whole neighborhood).
We'll teach real cooking methods, test-drive grilling equipment, and visit restaurants that inspire us. We'll share the tips and tools you need to recreate your favorite restaurant recipes at home. We'll also probably spend most of the time trying to one up each other.
About Us
Besides being extremely good-looking, we happen to be professional backyard grillers. Ok, so we didn't train at Le Cordon Bleu or anything, but we take this very seriously, have a ton of experience…and this is the internet, so we can call ourselves anything we want. We're going with "professional." We've also been creating original content for blue chip brands for the last decade, so bringing that together with our love of cooking just makes sense.
We started cooking together for dinner parties and casual weekend barbecues. The crowds grew larger and people kept asking us to write down our recipes. Before we knew it, we were cooking for thirty of our closest friends on a regular basis. Then we got requests for catering and eventually we were getting asked to be guest executive chefs in Los Angeles restaurants. Our seatings sold out in advance, we had the time of our lives, and now we've decided to take it to the next level with a show that will allow us to share our knowledge and passion for cooking.
We're calling the show Dads on Grills because being dads is our main gig. Our kids are our most brag-worthy accomplishments and the biggest challenges in our lives. And although it isn't a show about cooking for kids, we do intend to bring the dad jokes.
Season 1 – California BBQ
Two dads set out on an epic journey to prove that California has its own unique style of barbecue. Welcome to Season 1 of Dads on Grills.
Ever heard of California BBQ? No? Well neither have we. And we live there.
There are more grills and smokers in California than any other state, and it's grilling season 365 days a year. But all we hear about is Memphis style, Texas style, Carolina style, St. Louis blah blah blah…
We are going to prove that California has its own unique style of BBQ, and deserves a seat at the big kids' table.
Season 1 will follow our statewide journey to define California BBQ, and crown one restaurant as the CA BBQ King.
Not only are we determined to mint the Golden State as THE destination for world-renowned BBQ, we will perfect recipes inspired by what we find: from Santa Maria Tri-Tip to grapevine smoked fish.
We'll make eight episodes, and each will feature one restaurant. We'll talk with the chef, sample the food, and then share our own recipe and cooking tips for that restaurant's famous dish.
At the end of Season 1, the audience will know how to master eight dishes at home that are influential in the culture of California BBQ. And Dads on Grills will crown the first ever King of California BBQ.

What We Need
We want to put together a professional crew, rent an RV and set out on an epic, meat-laden adventure to prove that Cali has its own style of BBQ. Plus, we'll get to drink beer for a couple of weeks, and that's cool too.
We will use the money to hire a professional camera crew and audio engineer and hit the road for a few weeks. Then the same team will help us film our in-kitchen segments back in LA, where we'll break down the recipes we found and recreate them. Finally, we will bring in some editors and sound mixers to assemble the final product, an eight episode series.
We may use a little bit of the money to buy beer for the crew but we promise not one cent will go towards hair and make-up.
We think that with your help we can get distribution on Netflix, Amazon or hell — maybe even a network show. But we can't do it without you. Give us the chance to help America. Help us make Dads on Grills.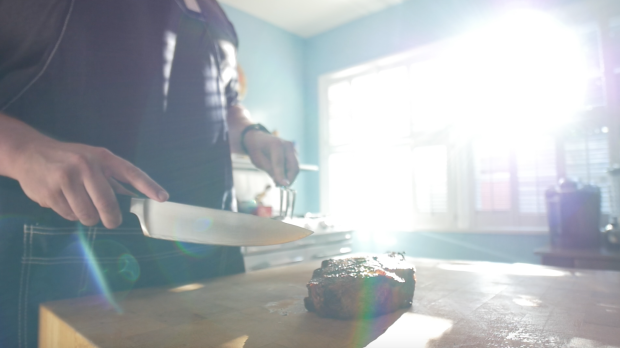 Special Thanks:
We are getting a lot of support from friends and family on this adventure. Special thanks to Sarah and Arthur Anderson, Zoe Fey, Jeff and Eily Bowser, Dana Brook, Becky with the good hair, Will Hamilton, Spacejunk Media, AGON and everybody else who helped us and supported us even though we plan to forget them when this makes us famous.