iCrowdNewswire - Oct 10, 2016
U-GYM Mini: The Smart Digital Muscle Stimulator
Smart, connected, and ultra portable, U-GYM Mini is a massage system designed to help you relax.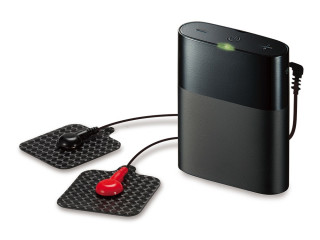 U-GYM Mini is designed by professionals for everyone! Quick product highlights: 1. Deep tissue massage, just like you'd get from a massage therapist 2. Great design by a former Under Armor designer: it's slick and fashionable 3. Smart device: customize and share massage programs using your smartphone 4. Ultra portable: use it at work, at home, indoors, outdoors, anytime, anywhere 5. Easy-to-use and ergonomic: it's designed for everyone
Introducing U-GYM Mini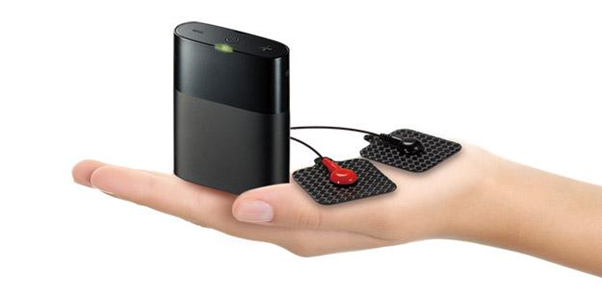 Many people today suffer from stress and muscle pain due to long hours at work or busy days at home. Those who suffer from chronic muscle pain are having to seek professional help. While therapies such as massage, cupping, and acupuncture have proven to be effective, they are too expensive and time-consuming.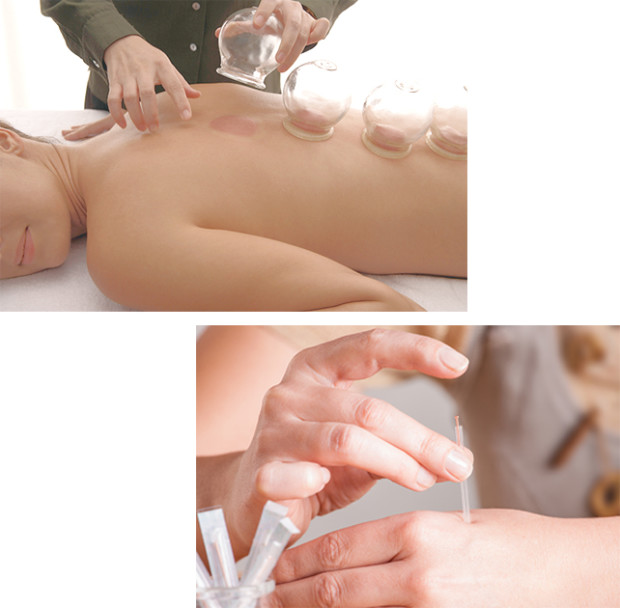 U-GYM Mini does more than give you a satisfying massage. It relieves muscle aches and pains instantly. U-GYM Mini's smartphone-controlled massage programs provide the same kind of deep tissue massage you'd get from a professional massage therapist, and are designed to improve your blood circulation and help you sleep.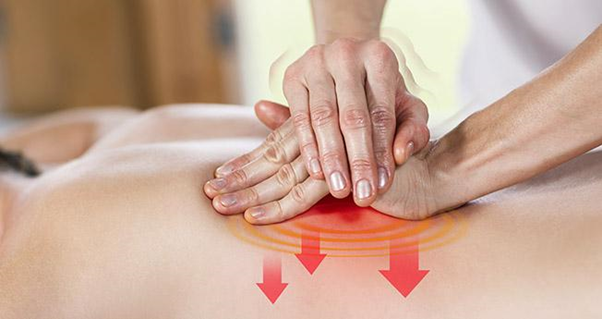 We created U-GYM Mini to be a safe, ultra-portable, and effective digital muscle stimulator, and to treat muscle pain effectively. It's smaller an lighter than a deck of cards. Using proprietary technology, U-GYM Mini gives you a real massage and helps you relax by reducing muscle pain and lowering stress. You can use U-GYM Mini anytime, anywhere, to improve your quality of life and boost your productivity!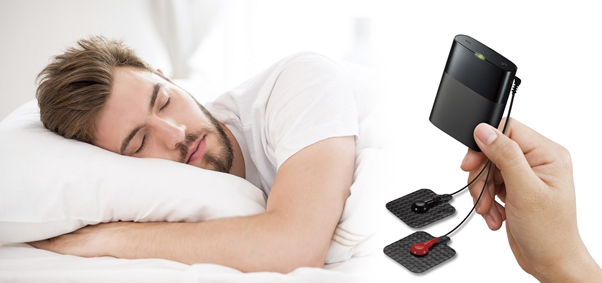 Get an effective massage, ANYTIME, ANYWHERE
With U-GYM Mini you can enjoy a massage anytime, anywhere. It's easy to wear and lets you relieve muscle pain on the go. You can even get a massage without anyone noticing by hiding the pads and cords under your clothes!
Work comfortably during those long days at the office
There's no need to wait until after work to treat sore muscles. Get the massage you need right in the office. U-GYM Mini will get you through those long work days with ease.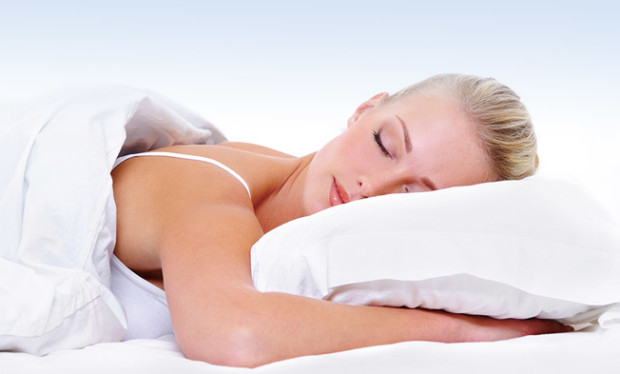 Bring your own personal massage therapist with you
Get more rest by treating aches and pains while you sleep. U-GYM Mini features a timer that turns off after 30 minutes so you can fall asleep worry free while getting a massage.
As seen on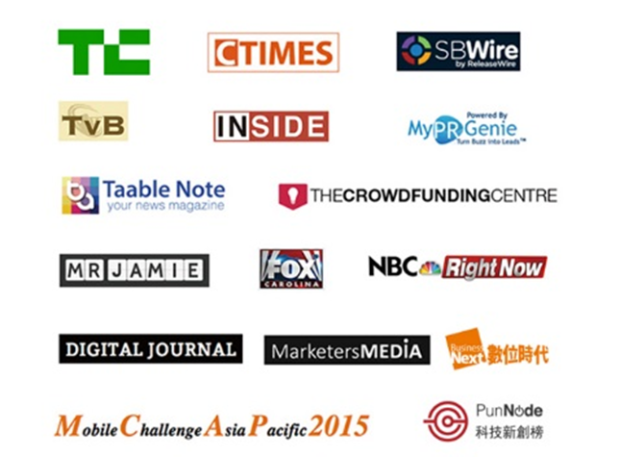 Testimonials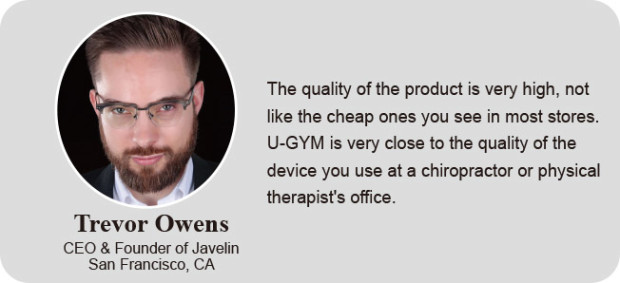 Trevor Owens: "The quality of the product is very high, not like the cheap ones you see in most stores. U-GYM is very close to the quality of the device you use at a chiropractor or physical therapist's office."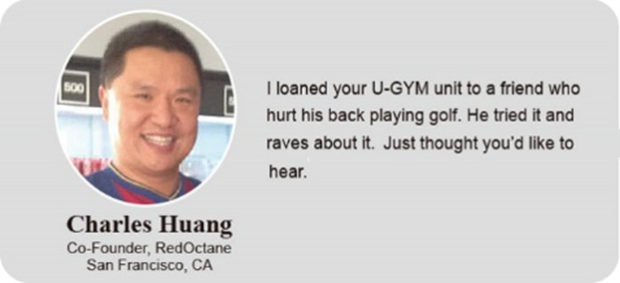 Charles Huang: "I loaned your U-GYM unit to a friend who hurt his back playing golf. He tried it and raves about it. Just thought you'd like to hear."
Product highlights (S.M.A.R.T)
S 一 Smart / Simple / Smile
U-GYM Mini features smart technology, is simple to uses, and (hopefully) makes you smile.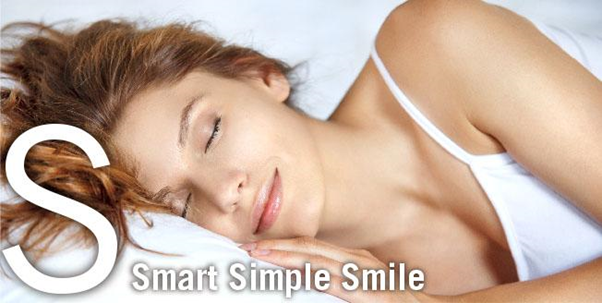 M 一 Mimic
U-GYM Mini mimics the kind of deep-tissue massage you'd get from a professional massage therapist to effectively remove toxins and increase blood circulation.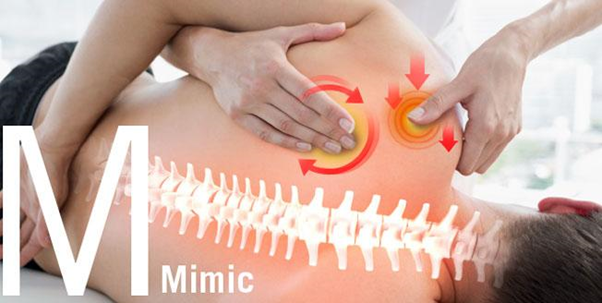 A 一 Active
U-GYM Mini is small and ultra portable. You can use it on the go, anytime, anywhere.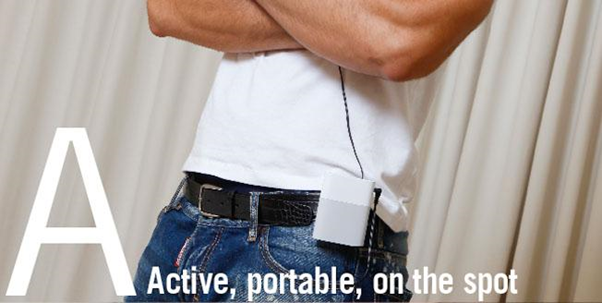 R 一 Reduce
U-GYM Mini can save you time and money. It uses high quality rechargeable batteries to hekp reduce waste.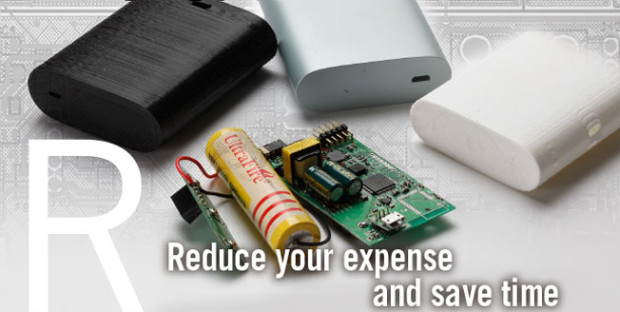 T 一 Technology
U-GYM Mini is the result of years of research. It uses good design to make medical grade electrotherapy technology simple and intuitive.
Key features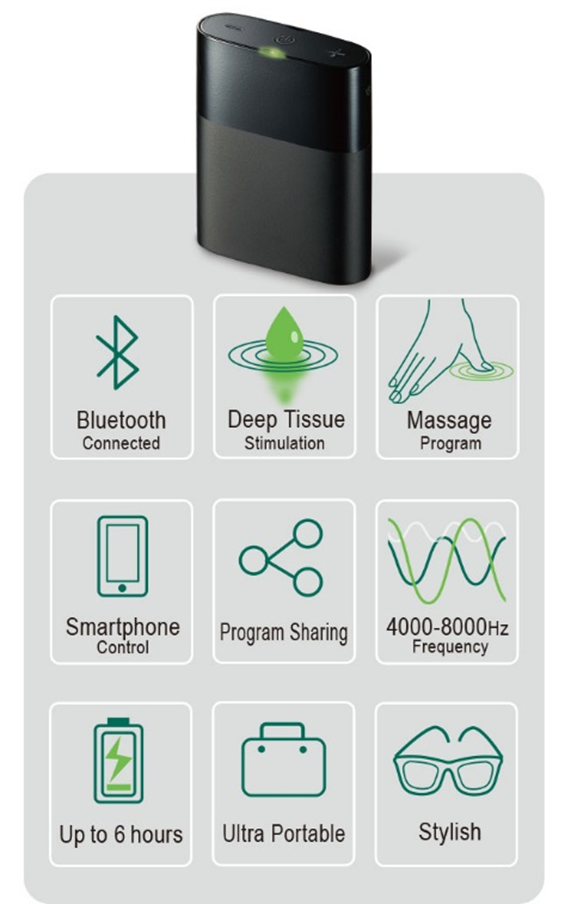 U-GYM app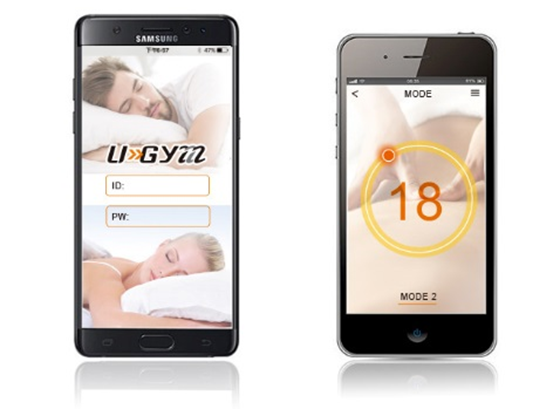 How do you use U-GYM Mini?
It's extremely easy to setup U-GYM Mini for a relaxing massage!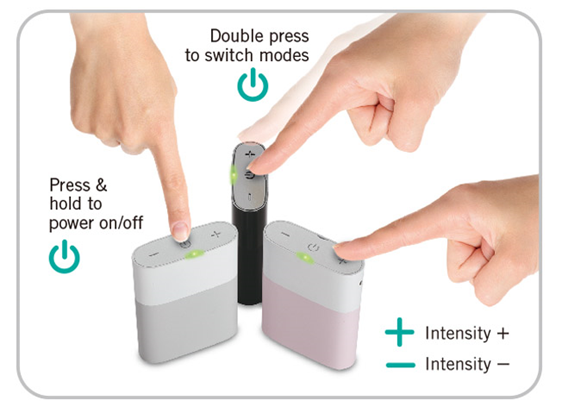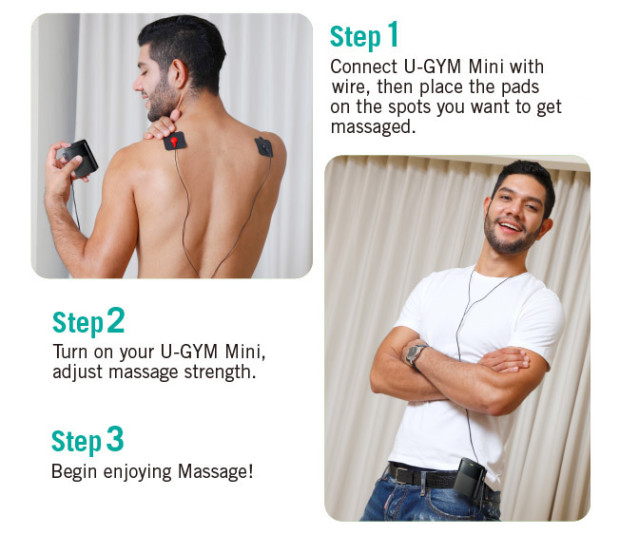 U-GYM Mini is a super-easy to use massaging device with a minimalist, stylish design. You can download different massage programs with the U-GYM app on your smartphone. We'll be releasing new massage programs on a regular basis. You'll also be able to customize massage programs and make them your own, then share them with friends using the U-GYM app.
Why massage can help you sleep
According to the CDC "Insufficient sleep is associated with a number of chronic diseases and conditions such as diabetes, cardiovascular disease, obesity, and depression." While a mere 10% of Americans suffer from chronic insomnia, 25% are not consistently getting the sleep they need. (1)
Getting less than 8 hours of quality sleep per night has been proven to be harmful to your health. Oversleeping on the weekend does NOT make up for the loss and is definitely NOT a solution for sleep deprivation. All these findings suggest that sleeping quality is directly related to your health.
As we know diet and exercise are important for a healthy sleeping pattern, but studies conducted by the MAYO Clinic shows that massage can help relieve stress brought on by insomnia and well as:
Anxiety
Digestive disorders
Headaches
Nerve pain
Soft tissue strains or injuries
Sport related injuries
Joint pain (2)
"Massage is an intelligent, healthy and substance free choice to help the scores of people that have insomnia."says integrative healthcare.
Routine massage has been proven to boost serotonin. Without serotonin our bodies can't create melatonin, which influences the sleep stage of our circadian rhythm. Massage is a reasonable holistic solution to chronic insomnia and symptoms brought on by sleep deprivation. (3)
Although we are still currently conducting research on sleep deprivation, there is a reasonable amount of evidence supporting holistic solutions such as massage is a healthier therapy choice opposed to a quick fix narcotic.
REFERENCES
(1) AMTA; Massage Therapy Can Help Improve Sleep, October 2012.
(2) Mayo Clinic Staff; Insomnia, Mayo Clinic.
(3) Cutler N; Insomnia, Serotonin and Massage; Institute for Integrative Healthcare, August 19, 2005.
Choose Your Perks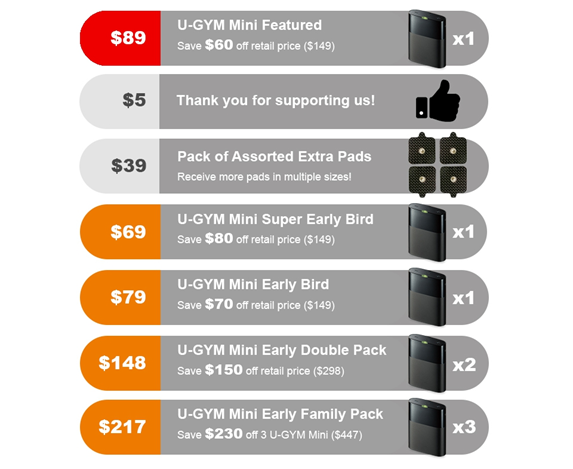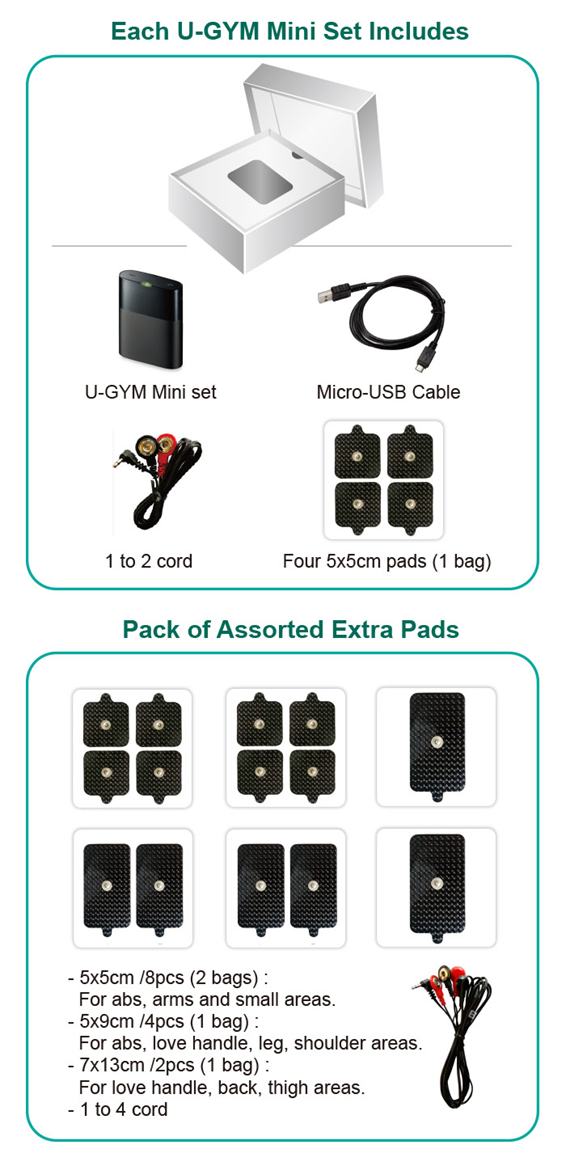 U-GYM Mini vs. Competitors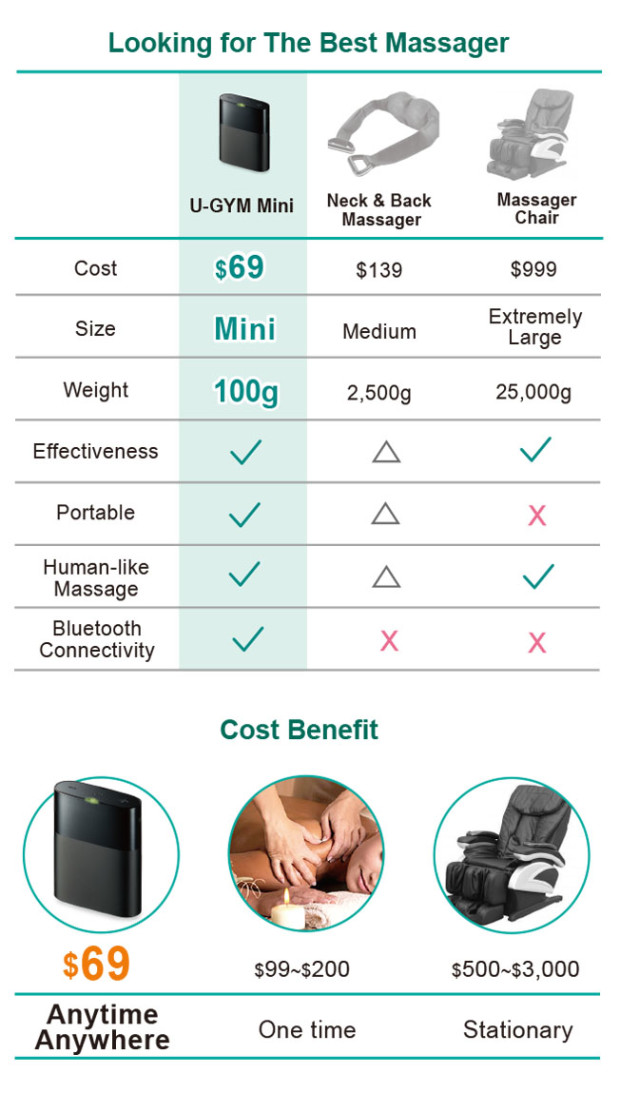 U-GYM Mini Specs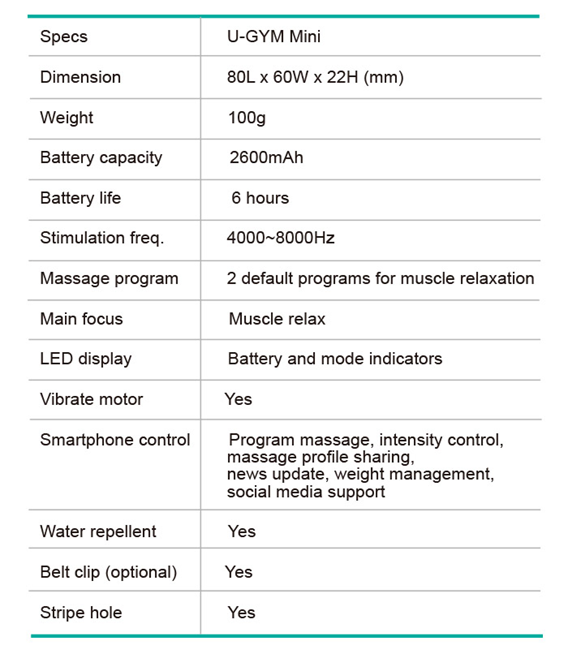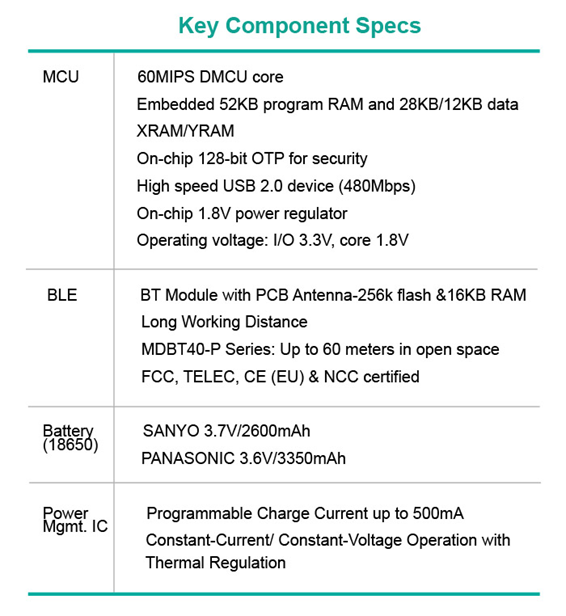 Our Mission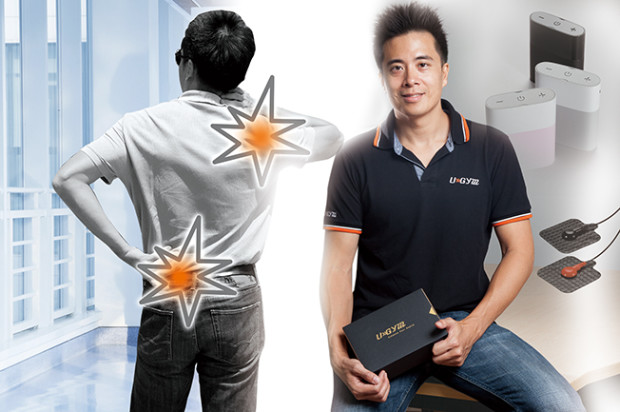 When U-GYM founder and CEO Mark Yu received treatment for a shoulder injury three years ago, he discovered that professional electrotherapy is painless and highly effective. Still, having to travel to electrotherapy appointments was time consuming, inconvenient, and expensive. That's how Mark ended up studying medium frequency stimulation with the goal to create a portable device.
After successfully created the first product U-GYM Pro for sports enthusiasts, there are lots of voices in hope to have a device less complexed and can improve sleep quality. U-GYM Mini is a result of collaboration with the community.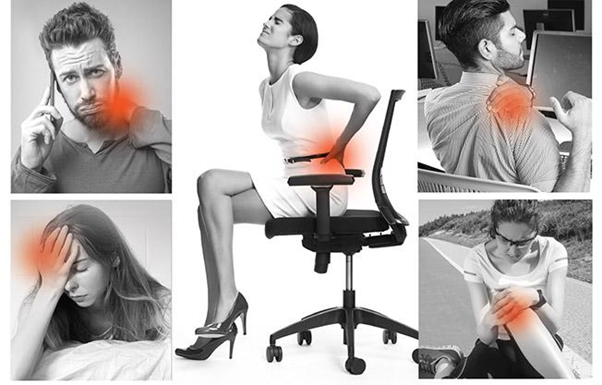 Why U-GYM Mini Works?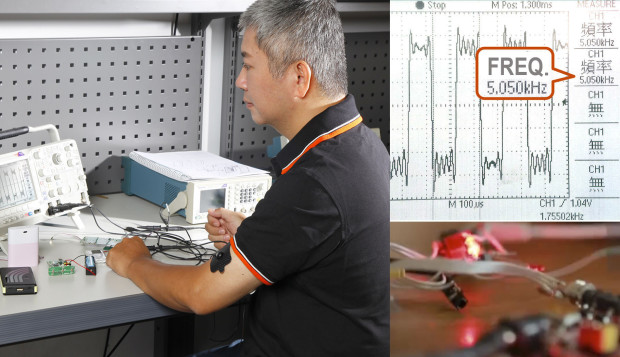 How do you mimic human-like deep-tissue massage?
Our core technology is based on electrical stimulation using higher frequency and intensity to mimic human-like massages. Most consumer TENS (electric stimulators) are using lower frequency which not only irritates the skin but only stimulate shallow tissue to block pain signal but the muscle aches remain.
Whereas U-GYM Mini utilizes medium frequency that can stimulate deep tissue muscle to give more effective and comfortable massage. Once the muscle aches are relieved resulting from improved blood circulation, the pain will also be gone.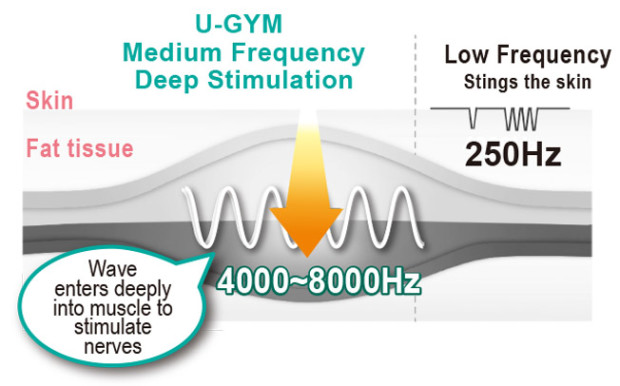 Utilizing complexed technology in the simplest way
Medium frequency (above 1000 Hz) stimulation as used in professional electrotherapy requires traditionally large, stationary machines.
After years of studying medium frequency stimulation, our team has finally succeeded in implementing professional-grade muscle stimulation in a small, light and portable device.
Most TENS units on the market use a simple, low frequency (below 1000Hz) waveform which is less effective and can irritate the skin.
U-GYM Mini uses multiple, simultaneous medium frequency waveforms provide a real deep-tissue massage that effectively relieves muscles aches and pains.

U-GYM's core technology is able to mimic human-like massage technique using complexed waveform at higher frequency and intensity. It's like having a masseur with you when you need to relax.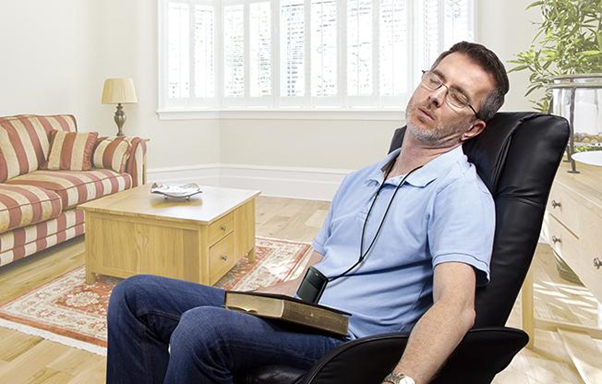 With body relaxed and improved blood circulation, you will finally enjoy a sound and quality sleep.
Stretch Goals
When the goals are met, the following additional rewards will be added to the rewards of every backer who gets a machine (i.e. backers who pledge $69 or more).



Our Team Members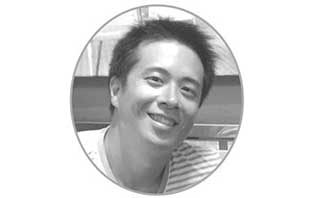 Mark
Founder / CEO
Mastersof Computer Science from New York University, Co-founder/CMO of AirSig, Inc., and founder of CARWAii.com. Mark Yu is an innovative serial entrepreneur and active mentor to young startups. Mark has over 15 years of sales and marketing experience in the Semiconductor and Biotech Industries.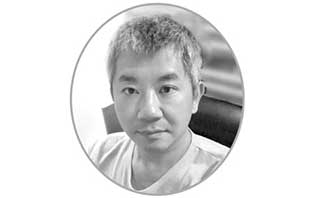 CC
Cofounder / CTO
BS of Electrical Engineering from China University of Science and Technology. Over 20 years of experience in Research Development & Application Engineering for consumer electronics. CC's main focus includes digital electronic circuit design, single chip program design, chip process and production management.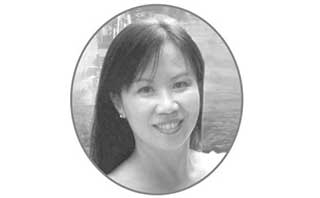 Aki
Cofounder / COO
BS of Commercial Design from Ming Chuan University. Over 20 years of experience in Graphic Design, Packaging Design, Corporate Identity Systems (CIS), Web Design, App Structuring and Marketing. Aki is also Founder & Creative Director of AkiDesign Studio.

Johnson
Developing Engineer
B.S. NCKU Physics, M.S. NCTU Electronical Engineering, analog circuit design, microcontroller robot design, product maintenance, and material management.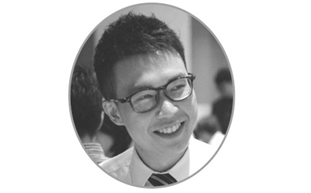 Max
Account Executive
B.A. of CGU Business Management, over 4-year experience in marketing and business development, best of sales for 3 consecutive years at Listen Culture International.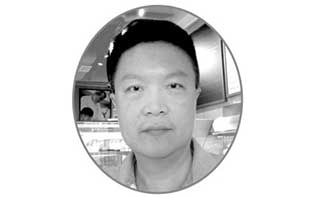 Marty
APP Developer
MBA in Marketing, Lubin School of Business, Pace Univ. Founder & CEO ofInfortonTechnology Co., Ltd. Over 10 years of product marketing and project management experience in wireless & semiconductor Industries. Started working on health-related apps in 2009 for both iOS & Android operating systems.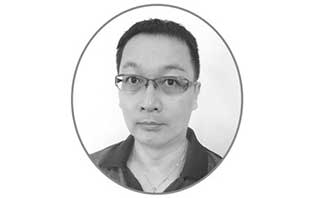 Oren
Mechanical Engineer
BS of Mechanical Engineering from Lunghwa University of Science and Technology in Taiwan. Over 15 years of experience in exterior and mechanical design for innovative products. Special interests in consumer products and medical devices.
Professional Advisors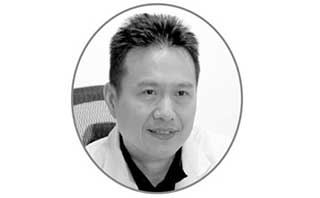 Dr. Chin-Yin Tsai
Medical Advisor
MD of School of Rehabilitation Medicine from Chung Shan Medical University. Bachelor of Chinese Medicine from China Medical University. Founder of Northern Taiwan Chinese Weight-Management Association. President of Chihui Jingxi Traditional Chinese Medicine clinics. Attending physician of both Chihui and Junyue Chinese Medicine Clinics.

Dr. Abel Po-Hao Huang
Clinical Advisor
MD Biodesign fellow at Stanford Health Care, PhD of Institute of Clinical Medicine from National Taiwan University. Attending Neurosurgeon & Assistant Professor at Department of Neurological Surgery, National Taiwan University Hospital. Y Combinator alumni (W15). Neurosurgeon and Medical entrepreneur.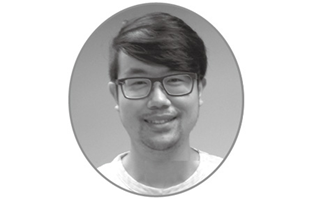 P.T. Victor Tsai
Clinical Consultant
President of Just Well Sports Medicine Center, certified therapist for cancer rehab at the Ministry of Health and Welfare, member of the Taipei Homecare physical therapy team, Physical therapist for the ALS association and Eden Foundation, designated therapist for the X-Revolution Sports Training center, ex team leader of Bo-Cheng orthopedics, ex physical therapist at Country Hospital Rehab center
The Impact
We strongly believe the U-GYM Mini (Smart Mobile Health Enhancer) campaign will help many people improve their health with minimal effort. U-GYM Mini can help people save not just time but also money. It's a very practical and convenient health-enhancing device, and will undoubtedly make a very positive impact on people's lives in today's busy world.
As such, your support for this campaign is definitely significant since your contribution will soon make U-GYM Mini available and affordable to young and old people alike.
Risks & Challenges
Our team members including CC, Marty, CM and Mark all have had many years of experience in Taiwan's electronics and semiconductor industries. Since our country is famous for manufacturing superb products as Apple's iPhone, we believe we're in the best place to undertake the U-GYM project.
In addition, prior to this campaign, we have successfully funded and delivered our U-GYM Pro project. With previous experience in running the complexed product on Indiegogo, we are even more confident to complete this project.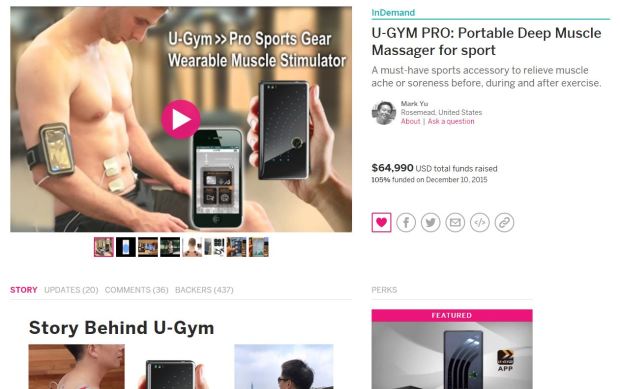 Injection Molding
For quality purposes, we've decided to manufacture our parts using injection molding. There is typically a 60-day lead time to fabricate the molds for these parts, and fine tuning each mold will extend the timeline by an additional two weeks. This is where we might run into delays. To minimize this, we've already spent our own money on molds ahead of the campaign.
Supply Chain and Logistics
To minimize possible delays in acquiring certain key components such as the Lithium Polymer battery, we've made our design accommodate four different battery sizes from four different manufacturers.
For custom-made parts with long lead times like the converter, we've already started the ordering process using our own money ahead of the campaign. This will minimize possible delays.
For common parts, we've already started Quality Assurance by setting up rigs to test incoming components and sub-assembled modules. We have years of experience developing and producing consumer electronics (eg. laptop, mini servers, and communication modules), so we know what we're doing and are confident that we can deal with whatever challenges present themselves throughout the manufacturing process.
Our Timeline
2012.09 The idea of applying professional stimulation technology to a consumer product is born
2014.03 Concept design for U-GYM Pro focused on health and fitness
2014.09 The U-GYM team comes together to develop the product
2015.01 Designed the 5 digital massage modes
2015.05 U-GYM Pro prototype ready
2015.08 Finalized manufacturers and suppliers for U-GYM Pro
2015.11 Launched U-GYM Pro on Indiegogo
2016.03 Shipped first beta version to early backers
2016.07 Fulfilled all orders worldwide
2016.09 Announced U-GYM Mini focused on sleep and well-being
2016.09 Finalized Manufacturers and suppliers for U-GYM Mini
2016.10 Launched U-GYM Mini on Indiegogo
2016.11 Released first beta U-GYM Mini units
2016.12 End of U-GYM Mini campaign
2017.01 Released first production U-GYM Mini units
2017.02 Released U-GYM Mini beta app
2017.02 Start pilot production for U-GYM Mini
2017.03 Start shipping U-GYM Mini to early backers
2017.05 Start mass production for U-GYM Mini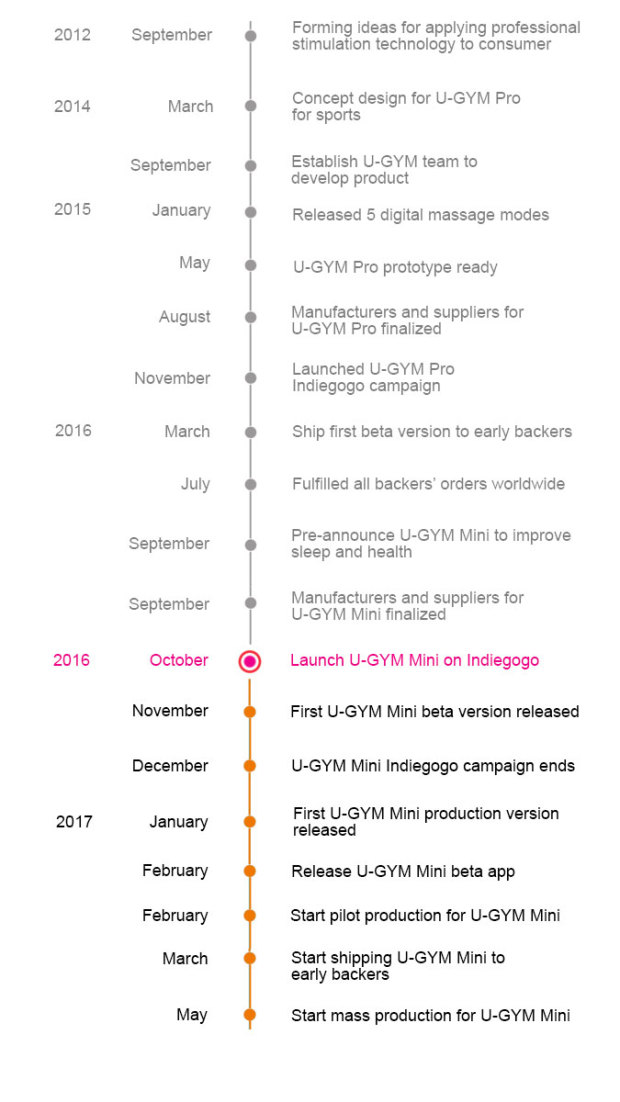 Certification
U-GYM Mini requires certain certifications in its respective markets. As a result, we've started to prepare documents and samples, working closely with a consulting company specializing in international certification procedures for medical appliances.
The manufacturers we've hired in Taiwan are GMP (Good Manufacturing Practice) certified and have experience manufacturing medical devices, and electric TENS units in particular. In addition, we'll have FCC and CE certificates ready for bluetooth connectivity before delivery.
While we're well prepared to handle all the respective processes, we can't eliminate the risk of possible delays due to compliance issues. Should we encounter any unexpected problems, we'll do our best to keep you informed and fulfill your order.
Other Ways You Can Help
Do you like our project? If so, tell your family, friends, and people you think might need it. Please don't hesitate to share our project with them. We need all the help and support we can get. Even just providing your feedback will help us in a big way!
Share our campaign directly: https://igg.me/at/ugymmini
Safety and Precaution
U-GYM Mini is suitable for use by adults. However, like with all forms of exercise, some care is needed when using our product, so please bear this in mind when reading the points below. Do not use U-GYM Mini if:
· You have an electronic implant (eg. pacemaker) or suffer from other heart problems.
· You are pregnant.
· You suffer from cancer, epilepsy, or are under medical supervision for cognitive dysfunction.
· You are connected to high-frequency surgical equipment.
· There are a number of illnesses for which U-GYM Mini is unsuitable. Please consult your physician if you're not certain about your condition.
· Remember to seek professional advice if you feel uncertain in any way after using U-GYN Mini. It's always good to let your doctor know about your progress.
FAQs
Q1. Since your product is categorized as medical device, do you have any compliance records and certifications?
A1. Our product is designed just like any a professional electrotherapy device and we're implementing safety measures and protection against mis-operation. In addition, we plan to apply for FDA compliance and other necessary certifications markets once we have more prototypes on hand. We're working with Emergo Group which is specialized in helping companies get approved. That is why we need to raise a fund on Indiegogo to build more devices and cover the expense of multiple applications.
Q2. I'm trying to compare U-GYM Mini to other portable TENS or EMS machines. Does the U-GYM Mini stimulate muscles in a way that other similar equipment does not? Why is the price so much lower in Taiwan?
A2. The biggest difference between U-GYM Mini and other portable machines are the operating frequencies, the number of waveforms, and stimulation intensity. Most machines out there still focus on one or two specific uses but U-GYM Mini is a multi-purpose device that's user programmable.
People have been using electrotherapy for decades, so there are many different types of devices on the market. Taiwan is home of OEM and ODM manufacturers for many name-brand electro-stimulator companies, such as Antelope Suit, Slendertone, OSIM, and Omron. As such, the devices are cheaper in Taiwan and China. There hasn't been much change in the basic design and functionality of these devices — only small incremental updates and most portable stimulation devices still look similar and have a limited set of features.
U-GYM Mini uses the latest technology and the most advanced components to make it effective, ultra-portable and programmable. We've even customized and designed our own components to match our requirements. As such, the cost of producing U-GYM Mini is much higher than the competition. We hope you enjoy all the benefits U-GYM Mini offers and we look forward to your feedback.
Q3. What's the difference between U-GYM Pro and U-GYM Mini?
A3. U-GYM Pro, our first product in production, is designed for sports and exercise enthusiasts to help them before, during and after exercise. U-GYM Mini is for mass consumers and designed to help users relieve muscle ache and soreness to improve their sleep. The comparison chart is as below: