iCrowdNewswire - Oct 9, 2016
Nomad Tree Lodge – Let's Get This Party Started
Nomad Tree Lodge opens DEC 2016. Pre-opening discounts + fun perks while we finish construction.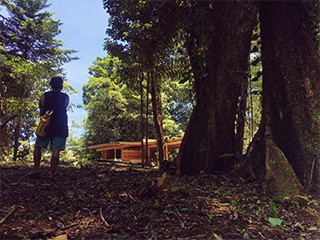 Hey ya'll, we're building a pool… Our lodge with restaurant & bar is almost done and gonna be super awesome, but we wanna make it even better before you show up. We know ya wild cats are gonna come visit us here in Bocas Del Toro, Panama, so let's get this party started and book now. We're offering pre-opening discounts + fun perks while we finish up this huge project. Come visit, make new friends and explore island life. Soft opening is December 12, 2016!
Nomad – The BFFs, The Jungle, The Island
Once upon a time, in 2006, Asher and Morgan started their first business together: a custom screen printing shop in the Bay Area, California. Ten years later, we still don't drive flying cars, but we're digging giant holes on an island in Central America and we brought some frands along with us this time, aka Asher's parents.
Here we are…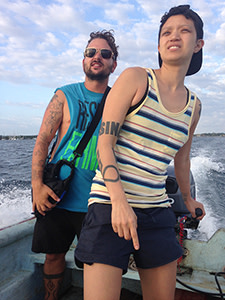 K enough about us…
Yes, it's a jungle lodge, but you can feel the ocean breeze and hear the waves crash, while still enjoying howler monkeys, sloths, toucans, and many more wild, crazy birds amongst our trees.
Come enjoy our amazing space. We are located on the main island, close enough to party in town like it's 1999 (RIP Prince, forever) a 5 minute walk to some of the best surf in the area (Tiger Tail surf break, pictured below), but remote enough to experience the raw and uncensored rainforest jungle lifestyle.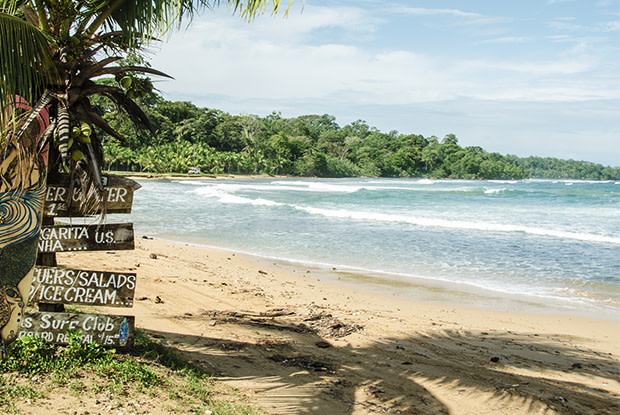 Many before us have called themselves an eco-lodge or eco-destination, but we like to think our state-of-the-art composting toilets, 100% rain-collected water supply and super efficient A-Grade fans, lights and appliances make us pretty eco-conscious.
The lodge is built on 2.5 acres, including a mythical hillside complete with rope bridges and all. We strategically placed EVERY unit including the restaurant and pool to fit between the trees. We even shifted the placement of units rather than cutting a tree, so only unhealthy/dead trees were cleared.
You Scratch Our Back – We Give You Stuff
In exchange for booking while we're still under construction, we are offering heavily discounted prices for our awesome supporters.
Our early supporters will get the first chance to embarrass us poolside, or book with us before we launch our website and open booking to all the major hotel sites.
We're nearly done building:
1 – Tree House with private bath
2 – A-Frame cabins, each with a private bath
4 – A-Frame cabins with shared baths
A huge restaurant and bar, with rooftop seating (and views of the beach)
A massive hole in front of the restaurant (for a 33 ft X 18 ft pool that's being installed in October)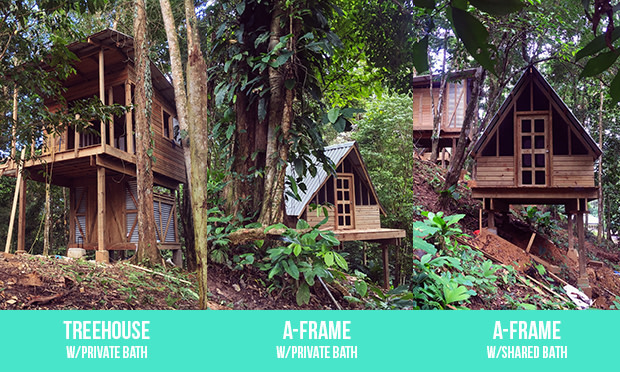 Every unit has one queen-sized custom bed with a cooling gel memory foam mattress. All rooms enjoy an amazing ocean breeze accompanied by a powerful fan. Also, all of our rooms are fully screened so that means no bugs allowed.
What We're Finishing Up
The pool: The pool is a huge project, so we are still digging the hole, building lotsa deck space for lounging poolside and a swim up bar space for drinkin' all the drinks your body can handle.
Cabin exterior and interior cosmetic finishes: We are still painting, installing windows, building furniture and making everything pretty, but we are very closeto finishing the room construction.
Rope bridges: We are currently constructing the rope bridges (yes, ROPE BRIDGES) and platforms connecting the hillside A-Frame cabins to the rest of the lodge. Here is our first rope bridge:

We will keep all of our supporters up-to-date as we continue adding the final touches. Things to note:
Nomad Tree Lodge is opening December 2016 regardless of how much money is received during our pre-opening campaign.
The pool will be built too, but your funds will help us build more of the pool extras now, so that we can ensure all of our early visitors get the full experience.
A Quick Look at Bocas Del Toro, Panama
(Video by bocasdeltoro.travel)
Isla Zapatillas #thatwatertho
This is where we'll take those of you who buy the "Livin' Large + Isla Adventures" Perk… the pic is straight from an iPhone 5s and hasn't been altered at all #promise.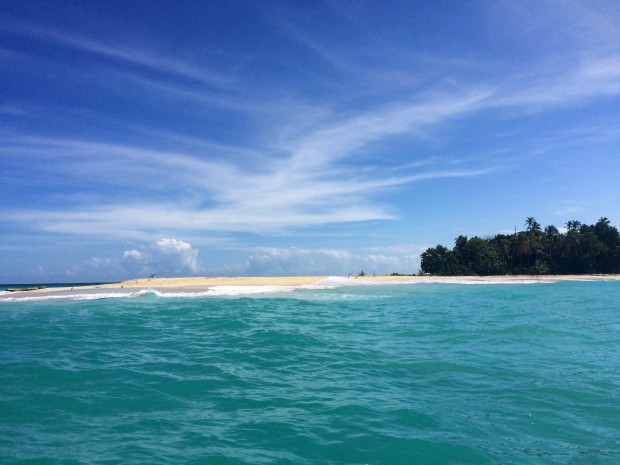 Lodging and Booking Details
Our soft opening is December 12, 2016. Renovations may still be underway at this time.
Each unit is for 2 people maximum; pricing does not include food or drinks unless specified.
As much as we love kids, the lodge topography isn't very kid-friendly. Please reach out to us before booking if you are considering bringing someone under 16 years of age.
If you would like to reserve a room for longer than 5 days, buy the 5 day voucher, then let us know and we will extend your reservation with an additional charge at the reduced rate.
Please email us your desired travel dates ASAP at wander@nomadtreelodge.com; we will fill up room space on a first come, first served basis. If you have specific dates in mind, feel free to check out our calendar to see our availability:



We cannot guarantee specific dates because someone may have requested it right before you, BUT we will do everything we can to work with your travel schedule. We want to see you and we have your back, so we'll work with you to figure it out 🙂

The lodging voucher does NOT expire, so use it whenever you're ready.
Please note, our lodging perks include the required Panama hotel tax… We're keepin' it legal, y'all.
Other Ways You Can Help
We know some people just can't visit us right now, but that doesn't mean you can't help. Share our campaign on all those glittery social media websites to help us get this party started… and by that we mean to make some noise for Nomad Tree Lodge (and our pool)!
Stay in the loop and check out our website and Facebook page:
K Baiiiiii!