iCrowdNewswire - Oct 8, 2016
Baphomet
A beautiful serial killer in a Southern-Gothic road movie laden with atmosphere and dread.
Alex Sinesi
Wilmington, United States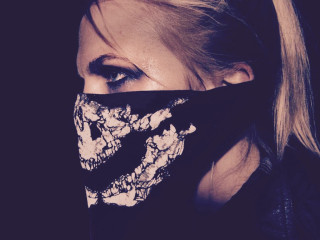 Love strong female protagonists? Anti-heroes beahving badly? Cold-blooded acts of gory violence? How about all three? We know there are so many exciting, original projects on Indiegogo, but we're aiming for the stars on this one, hoping to deliver a new indie classic.
THE STORY OF HANNA,
a beautiful and cold-blooded murderer, a born sociopath with no concern for societal expectations. While living as a drifter on the highways of the east coast, she meets a sensitive young musician and begins a relationship that will blur the line between victim and accomplice.
NOT GRINDHOUSE, NOT ART-HOUSE, but somewhere in between… A dark character study spiked with comedic moments and a supernatural twist. As if the Coen Brothers directed the life story of Aileen Wuornos, but with a detour into Pan's Labyrinth.
THE DEMON BAPHOMET, the architect of the universe, who haunts the edges of the story. Representing Hanna's freedom through amoral acts and her enslavement to compulsion, he is her constant, her nightmare, her underworld muse…
I have been an obsessive movie watcher since before I was able to form a conscious thought, and have been making movies or at least enacting the process of making movies for almost as long. In the time since, my tastes may have shifted from Godzilla movies and Disney to the works of Lars Von Trier and the Coen Brothers, but my appreciation of the craft has not dimmed my excitment over the most fundamental kind of movie magic. At the College of William and Mary (class of '10), I majored in Creative Writing and focused primarily on screenplays, but along with my friends created submissions for the 24 Speed Film Festival four years in a row and, in my senior year won first place in the William and Mary Cans Film Festival. In the time since, I have alternated between producing short films and writing dozens of screenplays, for which I have received notice as a finalsist in the ReelAuthors Screenplay Competition and won the Query Pros Script Contest in 2011. After moving to Wilmington, NC in 2012, I began assembling a crew and meticulously plotting pre production on what would ultimately be my first feature…
BAPHOMET isn't just simple genre fare, it's a deeply personal meditation on my own feeling of disconnect from society at large. If you've ever felt alone in a group, or awkward at a party, or like you might never find a place where you fit in, I think you'll find something to relate to in Hanna's struggle. The fact that her primary coping mechanism lies in brutal murder is just the icing on the cake.
That being said, I don't take the violence in this film lightly. As entertaining as onscreen bloodshed can be, we don't shy away from the psychological toll it takes on our characters, even one as sociopathic as Hanna. For every night of drunken revels, there shall be an equal but opposite hangover. And although she realizes her serial killer lifestyle is unsustainable, she sets herself ever further on the path to self-destruction.
So when I call this story GOTHIC, I'm not trying to evoke the tired tropes of Hot Topic teens and suburban Satanists, but rather the more traditional idea– a story of timeless romance and tragedy, rooted in the universal struggle of attempting, against all odds, to be a human being.
So with these convictions, and a background in turning fast-paced, down-and-dirty guerilla filmmaking into award-winning short films, I humbly ask for your assistance in bringing my dream to life. With an incredible crew of multi-talented hooligans, all wearing way too many hats, and what I'd call a dream cast except for the fact that they consistently exceed my wildest, I truly believe we can make it happen. All we need is you.
Risks & Challenges
Independent films are always a risky proposition, and we are working on a limited budget and a tight schedule. On top of that, the story calls for a large number of locations, many of them outdoors, which can create challenges in lighting and sound recording. To mitigate these potential issues, we are shooting 95% of the movie in the city of Wilmington, North Carolina, a visually rich and diverse area that is also home to one of the largest and most experienced film communities on the east coast. This cuts down on travel expenses for the cast and crew and allows us to complete work on multiple locations within the same day.
We are also using low wattage, high-efficiency battery powered LED lights, which add a great deal of flexibility to shot composition. I designed a tight shooting script with no characters save the leads appearing in more than two scenes, allowing us to take full advantage of our incredible local acting talent by scheduling them in short but potent guest appearances.
And finally, with a lengthy pre-production, we have designed every shot in the film ahead of time down to the finest detail of focal lengths and apertures. With our level of organization, and the talent of our amazing crew, I know we are capable of a great deal, and believe this production will be a series of exciting artistic challenges, rather than a frustrating streak of logistical problems.
Please share the Indiegogo campaign as we enter our final phase of pre production, and thanks for checking out the project!