iCrowdNewswire - Oct 4, 2016
CIVITA: Enchanted City in the Sky, the Dying City
Help finish a film about ancient Italian hill town, Civita di Bagnoregio, before it is lost.

Natalie Reuss
New York City, United States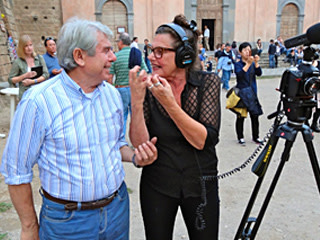 CIVITA is my film about place, memory and the fragile ancient Italian hill town Civita di Bagnoregio, enchanted city in the sky. But forces natural and man-made threaten this exquisitely beautiful place—also known as the dying city. 25 years after first falling in love with Civita, I have decided to preserve its memories before they are forever lost. Production is half done—I've already filmed the autumn and spring seasons and important interviews. To complete production I need your help!

STORY OF CIVITA
Sitting atop a cone of porous volcanic stone 75 miles north of Rome, Civita di Bagnoregio was first inhabited by Etruscans and later by the Romans. The hill town can only be reached by foot bridge, as centuries of violent earthquakes and erosion have separated it from the mainland below. Despite the loss of whole sections of the town to landslides and quakes, people there carried on living as their ancestors lived, day by day, season by season, century upon century.
Poetic and observational, the intention of this film is to capture the beauty and seaonal life of this fragile, ancient place. The camera follows a Mediterranean sun as it extends and attenuates light across the Roman Road, piazza, single surviving walls of houses set on a sheer precipice, olive and grape harvests, colossal reinforcement projects that stabilize the town's stone walls that crumble like ricotta cheese, swarms of invading tourists, stray cats—and encounters with the few remaining year-round residents (Civitanistas) who give witness to past and present, attempting to keep hold of the thread of hill town life that wears so thin.
Civita's beauty and its truth are in stark contradiction. Last year, more than 550,000 international tourists scrambled up the steep bridge to gasp at Civita's breathtaking beauty. (The hill town is only about 4 New York City blocks long). La citta che muore, the dying city, is becoming a postcard city—a commodity for tourist consumption. Authentic social fabric and daily seasonal life are unraveling. The memories, stories and songs of Vittoria, Civita's 99-year-old matriarch, along with Antonio's unique winemaking skills, will exist no longer.
Old-time residents know every story about centuries of geological disaster. They shrug and say simply, "Niente può fermare la natura"—Nothing can stop nature.
A year ago, nature once again exerted her will and assaulted Civita with a series of disastrous landslides. An urgent international appeal supported by officials, scientists, intellectuals, and artists—including film directors Giuseppe Tornatore, Bernardo Bertolucci and Nobel Prize winner Dario Fo—was made to UNESCO toSave Civita and gain its recognition as a World Heritage Site. The designation would ensure a continued flow of funds to the hill town to conserve it and reinforce its foundations. It would almost certainly put Civita even more firmly on tourist itineraries.
The World Monuments Fund (WMF) has placed Civita on its Watch List, and calls for not only a conservation master plan, but also a tourism management plan—both urgently needed if such an ancient settlement is to weather another century.
CIVITA, the film, will tell the story of this enchanted city in the sky. It is a story that cries out a warning and records memories before they are forever lost. Like the filmmaker Chris Marker, I believe that "memory isn't passive, it's an act of resistance—the edge that cuts a path into the future—and the effective work of memory is the very definition of art."
A Note from the Filmmaker
I was born and raised on glacial loam in the American heartland. My fate has led me down a creative path… in modest fashion. I have become an award-winning filmmaker whose oeuvre spans the range of documentary forms. Many of my films tell stories of fascinating cultural figures. Most of them explore the lives of those between worlds—émigrés on the borders. The Oscar-nominated film ASYLUM is a groundbreaking work that illuminates the issues facing women who seek political asylum. And for CIVITA, also between worlds, I take my inspiration partly from the fragile volcanic earth that underpins this ancient, improbable hill town where, today, I can walk under the noon sun and sit in a piazza next to an Etruscan column carved more than 2500 years ago.
Years after first falling in love with Civita, I decided to film its story. I would direct, produce, shoot, take sound and edit. Using a lightweight, inconspicuous digital camera, tripod and sound recorder, I would record daily life through the seasons—winter, spring, summer, fall.
I'm fortunate to have been the first Artist in Residence of the Civita Institute, a preservation project of the Northwest Institute for Architecture and Urban Studiesbased in Seattle. I have extensive access to the hill town itself, its inhabitants, archives, a network of scholars and a lovely studio with an east-facing window.
Production on the film began in late 2012, and is now half done. But to complete the production phase, I do need your help! I need to return to Italy to film Civita in the winter and summer seasons—to capture seasonal life, interview other Civitanistas, strategize with the film's Italian advisors, and, with an Italian film crew, shoot festivals and do aerial photography that require more than my single camera.
Completion of this film feels urgent now because of Civita's fragile environmental and preservation state, which are becoming increasingly precarious. My hope is that this film's poetic observation and recorded memories will help bring Civita to the world's attention.
Why Indiegogo?
Making CIVITA has been a labor of love. I have been in production over three and a half years— researching, listening for stories, interviewing, filming, editing… and fundraising. I have paid for the cost of production, so far, with my meager remaining savings and the contributions of generous friends and family. More substantial funding is needed if I am to complete CIVITA before another earthquake of the magnitude of the one experienced in central Italy on August 23rd takes it, or the collapse of the foot bridge under the weight of the tourist footprint. Your contributions are needed now to finish production.
To make a broader point: we live in times when interest in funding artistic creation is at a historic low. It has become increasingly difficult to fund independent documentary film. Only 5 percent of these films receive foundation grants. Each filmmaker works out some sort of patchwork plan to get the work done. We often schedule shoots without knowing where the money will come from to pay for them, and we balance that fear with an unwillingness to make creative sacrifices for budgetary reasons. It takes years to make a film, not because of a lack of ideas, talent or skill, but because of a lack of funds. Often it takes years just to raise the money needed. My hope is that crowdfunding innovations such as Indiegogo will permanently change that.
I plan to travel to Civita to film in late December and again in June. I will film over a month in each season. Your generous contributions will see me to the completion of production. By the end of next summer, Civita's story will be miles closer to the initiation of a post-production schedule and then hopefully en route to international festival screenings a year later.
YOU will have helped make that possible.Thank you for being part of this beautiful and important project!
Financing the Finish Line for CIVITA
The funding needed to complete CIVITA's production phase is $30,000. The budget includes 2 roundtrip tickets to Italy, airport and ground transportation, translation, film staff, equipment rental and camera supplies, 5 shooting days with an Italian film crew, meals and accommodations, administrative services, Indiegogo fees and the cost of perk fulfillment.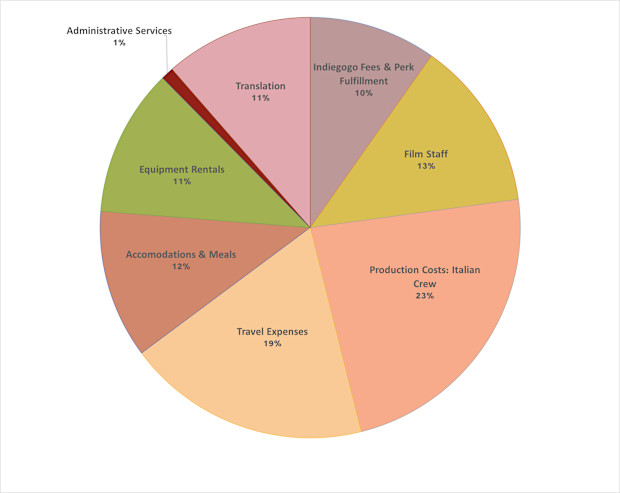 This film is a project fiscally sponsored by the preeminent women's film organization, New York Women in Film and Television (NYWIFT). Through that partnership, all donations to the CIVITA crowdfunding campaign are tax deductible! Please scroll down to FAQ to find out more about how your tax-deductible contribution will work.

SWEET REWARDS
When finished, this film will really belong to all of us. If you decide to support the film financially, we have put together a slate of special rewards to thank you. The award levels should work with any budget.
Here are a few things to keep in mind: All backers will receive a social media shout-out and donor email updates. For most rewards, we've noted December 2016 as the delivery date. The digital download and DVDs will be available when the film is finished (roughly June 2018).
PICCOLO

A set of 3 handsome, sturdy refrigerator magnets with iconic images of Civita. Magnets are round and 2.5″ in diameter.
BELLA ITALIA

Boxed sets of 6 notecards with stunning drawings of sites in Italy (including Civita) created by Anita H. Lehmann, a 2013 Civita Institute Fellow and renowned artist in the State of Washington. She writes: "As an architect and artist, the pencil tells a story, and the line evokes the honest nature of a place, expressing 'literally' weight, value, and tone. The pencil is my natural tool." Anita has taught freehand drawing in Rome, and is now teaching drawing, expressive landscapes and watercolor in Civita.

Set of 6 postcards – Italian Adventure
Set of 6 cards – Field of Poppies
Set of 6 cards – Valentine Poppies
SEBASTIANO