iCrowdNewswire - Oct 4, 2016
The Map – Addis
Addis Ababa is an amazing city and this beautiful map will help you appreciate Addis to its fullest!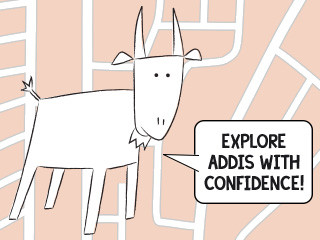 The Map – Addis is the second in a series of maps that will eventually cover all of Eastern Africa and hopefully beyond! The first of the series was The Map – Kigali which was incredibly popular and now I'm back with a map that will showcase the wonderful city of Addis Ababa, Ethiopia! I know, I know… my video is slightly ridiculous and tells you nothing useful. But I hope it made you smile! Read on for all of the juicy map details.
* PLEASE READ THIS FIRST *
I'm working on logistics to allow people to collect maps from within Addis but it's not 100% confirmed. With that in mind, if you're in Addis and want to order a map, please either provide an address outside of Ethiopia for delivery or I'm happy to mail to an address within Ethiopia but, due to the unreliable nature of the postal system, it will unfortunately have to be at your own risk.
I'm confident that I'll be able to set up a collection location but I don't have anything confirmed just yet so, if you have no choice but to collect your map from within Addis, hold off until I know more.
I am able to do map deliveries to people who live in Kigali so if you'd prefer this, just make 'Collection in Kigali' your street address.
Thanks for your patience with this! As soon as I know more, you'll know more!
Introduction
Hello! My name is Kirsty and after making a popular map of Kigali, Rwanda, I've become an accidental cartographer. I've learned so much in the process of making the Kigali map that I had to expand this map project to a second city. Addis Ababa is one of my favourite places in the world and so it was a logical choice for the next map.
I think that I've managed to create a beautiful and useful map worthy of Addis Ababa and I'm sure you'll agree! Please take a look at the The Map – Addis websitefor a closer look at some of the features and images. Your support is essential so I hope you'll consider making a contribution to help me get this amazing product off of my computer screen and into your hands.
I'll be visiting Addis in late-October to zip around the city to take note of any changes since my last visit six months ago so that the map you get will be the most up-to-date as possible. Currently The Map – Addis is 95% completed and will be ready to go to print in mid-November.
Read on for more information!
Front of The Map – Addis
This side of the map covers all of Addis Ababa within the Ring Road and some areas beyond it. It plots 15 minibus routes using a colour-coded system and also has the new rail line with all of the stops. There are 34 well-known landmarks plotted to make getting around town much easier, especially in taxis. There are over 1,000 points of interest plotted and dozens of recommendations and pieces of advice.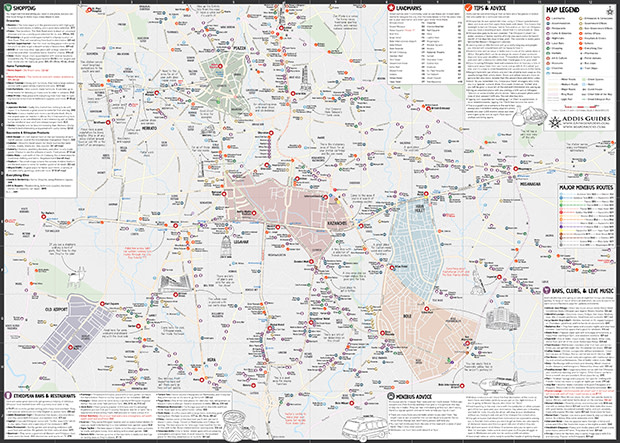 Back of The Map – Addis
The back of the map offers zoomed-in sections for the busiest, most popular areas of the city. It allows for points of interest to be plotted without being crammed too close together creating a map that's both beautiful and functional.

The Map – Addis will:
Be professional, user-friendly, and super useful. It will be the map I wish I had when I arrived as confused a traveller for the first time five years ago.
Show you a whole new side of Addis, including necessary tips to give you the confidence to get out and explore parts of the city you never knew existed.
Highlight local businesses in the hopes that visitors will venture beyond the usual expat and tourist hangouts.
Display Addis in a beautiful format and provide a map worthy of this great city.
Share my passion for Addis Ababa and create a souvenir awesome enough for people to want to stick on their wall that still folds up to a size small enough to fit in your pocket.
Some of features of The Map – Addis will include:
34 landmarks for easy navigation around the city, all well known by taxis.
14 artistic drawings of major buildings and statues to act as visual landmarks that will help you figure out where you are in the city.
A full map of the city to just beyond the Ring Road with all of Addis' main neighbourhoods listed.
Detailed, zoomed-in maps of Kazanchis, Piazza, Old Airport, Haya Hulet, Bole, Olympia, and the centre of town.
Hundreds of restaurants, cafes, local bars and nightclubs are marked. Plus art galleries, memorials, markets, groceries stores, embassies, government offices, major NGO offices, schools, banks, hospitals, clinics, pharmacies, churches, mosques, bus stops, gas stations, and dozens of other useful places for a grand total of over 1,000 points of interest.
A list of 15 of the most useful minibus routes plotted on the map in an easy-to-use format that makes taking minibuses fun and easy.
Dozens of tips and advice on everything from taking minibuses to restaurant recommendations to features of the best grocery stores and more.
Though I've become very familiar with the city over the years, I clearly remember what Addis looks like through a confused newcomer's eyes which, I think, gives me a very useful perspective. However I don't claim to know everything about Addis and I've shown drafts of The Map to dozens of helpers (tourists, longer-term residents, and lifelong locals) who have given great feedback all through the creative process.
Whether you've lived in Addis for a few hours, a few years, are a lifetime resident, or are planning a trip in the future, I know that this map will be extremely helpfuland will make exploring this amazing city easy and fun!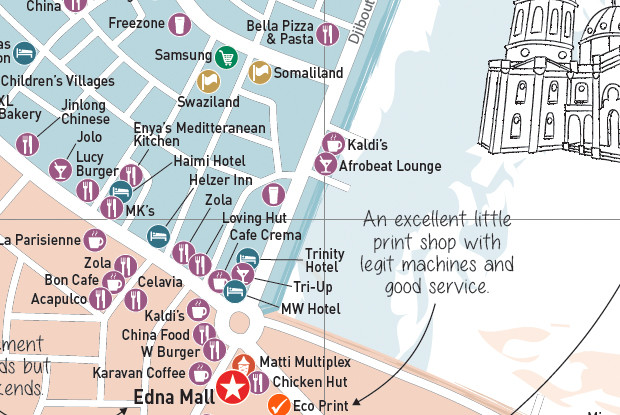 Why I Need Your Funding Help
I tried to conquer the challenging world of operating a business in Ethiopia and I failed – miserably! I gave up on this project for 10 months but I've decided that this map needs to be out there in the world and so I'm going to go ahead and print it, put it onto Amazon, and hope for the best in finding a distributor in Ethiopia.
This means that I'll print far fewer maps and the whole thing will be quite financially risky for me so I'm hoping to raise funds so that I don't end up in the red on this project. Plus I really want to get as many pre-sales arranged so that I can have a better idea of how many maps to print.
The Map – Addis will be worthy of this great city but the project won't be successful without your help. Please help me get The Map printed and into the hands of visitors, Addis Ababa residents, lovers of the city, and fans of great maps.
The £1,500 I'm hoping to raise will partially cover printing and I hope I'm able to push on farther so that I can recoup some of the research costs (five trips to Addis) as well. The £1,500 won't come close to covering all of my costs but it will go a long way towards making the project a bit more viable and less financially terrifying for me.
Contribution Perks
Your initial funds and commitment to the project are essential for me to be able to produce The Map. But it's not money for nothing! I've got some great perks lined up as a 'thank you' for your contribution:
The Map – £9 to £70 – I've set things up so that people can use this Indiegogo campaign as a way of pre-ordering The Map and helping the project get off the ground at the same time. Win win! Not only will you get The Map before anyone else, you'll also help me gauge interest in this project so I can get an idea of how many maps to print. The more you order, the cheaper they get!
Two Unfolded Maps – £25 – I can save you a couple of unfolded versions of the map if you'd prefer to hang them on your wall. The Map is going to be pretty sexy and it'll make a nice addition to any room and a fun conversation starter, too! Your maps will be delivered rolled-up in a hard tube. This perk is only available for delivery by mail and only on Indiegogo.
Put Your Pet on the Map – £80 – It's easier for me to draw pets than people so this perk is a bit cheaper. Love your pet? Want to see them in 2D frolicking around the paper Addis landscape? This is the perk for you! *** This perk must be ordered by October 15th to give my time to complete the artwork. ***
Be on the Map – £100 – Want to be immortalised in 2D waving from the first edition of The Map – Addis? This is your chance! Check out the characters in the image below for an idea of what I did on my Kigali map. We'll work together to come up with something great! *** This perk must be ordered by October 15th to give my time to complete the artwork. ***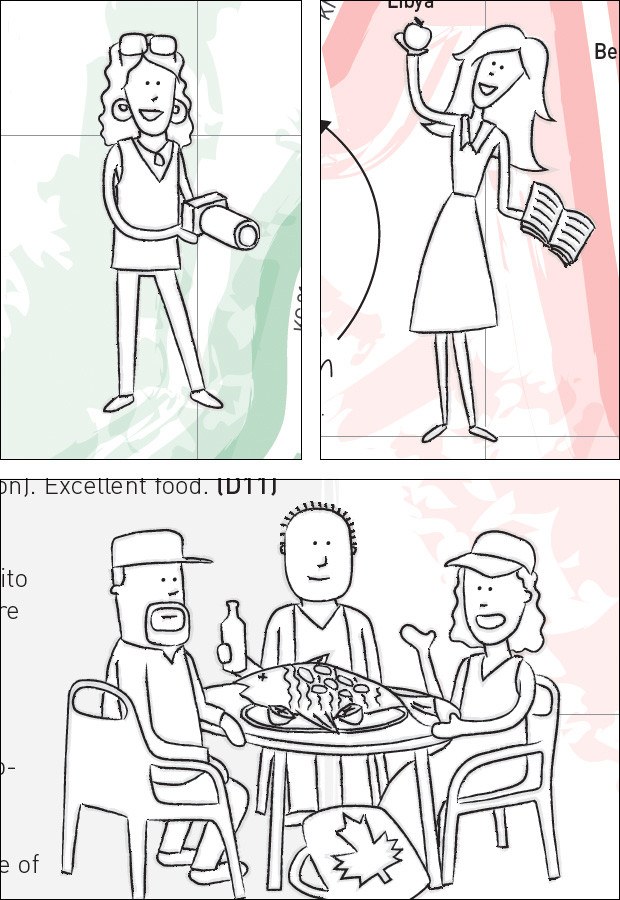 Risks & Challenges
Ethiopian Mail – I'm not sure how reliable Ethiopia's postal system is which means that getting the maps to backers in Addis won't be easy. While I'm willing to try to send maps to postal addresses in Ethiopia, I have to do so at your own risk. If you're going to give it a try, hopefully you have experience successfully receiving mail in Ethiopia. As an alternative, I can send the map anywhere in the world so if you have a more reliable address I can ship to, please use that instead.
Ethiopian Distribution – I'm currently working on a solution for getting maps to people in Ethiopia but nothing has been locked down just yet. There's a good chance that I can offer maps to backers in Ethiopia for collection from a business within Addis, but I won't know for certain for a week or two. When I know, you'll know!
Possible Printing Issues – The map's design is mostly ready to roll out and I'm just waiting on some funding to get started with the printing. I'm fully confident in the printing company I've chosen but that part is out of my control and if they have any issues or delays on their end, that will have an effect on my delivery date. I'm expecting an early-November completion to the printing for a late-November distribution however I've given a delivery date of December just in case any unexpected printing issues pop up. I've used this printer in the past, though, and am very confident in a beautiful and on-time product.
Questions?
There's no reliable postal service in Ethiopia… how will I get my reward? –While I'm happy to send maps by mail to Ethiopia, I'm afraid I won't be able to guarantee when (or even if) they'll arrive. It's not ideal but I don't have a better solution at this moment.
Addis Ababa is changing so quickly! How will you keep your map relevant? – This really is a big challenge because the city is a whirlwind of construction. New places are opening all the time these days along with closures and name changes. Lucky for us, I'm a web design nerd and you can report changes to me by email and get a list of changes on The Map – Addis website.
I've contributed to be a cartoon on the map. What now? – I'll get in touch with you by email straight after your to get a few ideas of what you'd like to be doing on the map. Please make sure your email is accurate. If you don't hear from me within a day, please email me at kirsty@livinginaddis.com. Then you'll send me a photo or two and give me some guidance for making the character look distinctively like you (or your pet!). From there we'll work together to produce a character you love and also fits in well with the map. We have tofinalize all of this by October 15th to give us time to come up with something wonderful before I have to send the map off to the printer.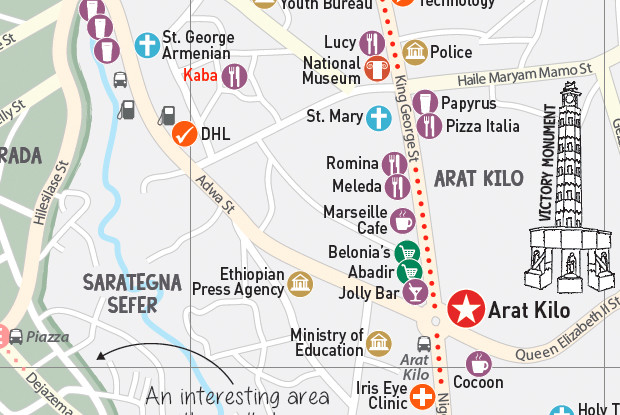 Other Ways You Can Help
You can help me turn The Map – Addis into a reality by sharing this Indiegogo campaign with your family and friends. Just click on any of the Facebook, Twitter, and other sharing buttons to help me get the word out.
I'll keep everyone updated with my progress here on the Indiegogo page but please also feel free to email me with any questions at kirsty@livinginaddis.com or share the website http://www.mapofaddis.com around far and wide!
Thanks for any contribution or promotion you're able to give towards this project!