iCrowdNewswire - Oct 3, 2016
Fuze Cases: Bringing Back the Audio Jack
Fuze is the first iPhone 7 case with an integrated Lightning to 3.5mm audio jack adapter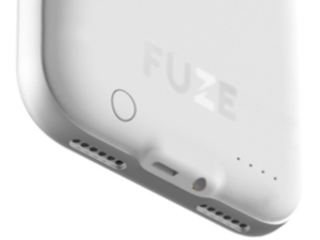 Fuze restores 3.5mm audio jack for iPhone 7 and 7 Plus. It delivers a doubled battery life as well as scratch and shock protection, all while maintaining the iPhone's compact profile. We need your help to bring back the jack. When you purchase Fuze, you purchase the freedom of choice.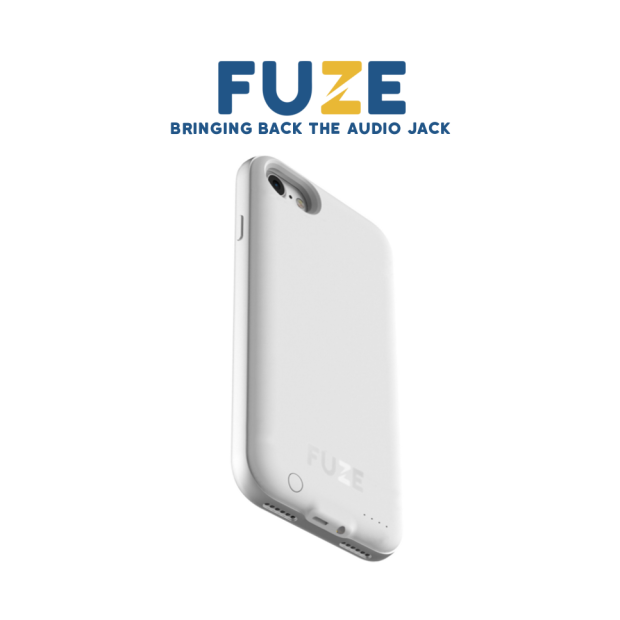 Fuze is an innovative case for the iPhone 7 and 7 Plus that restores the phone's 3.5mm audio jack. It delivers a doubled battery life as well as scratch and shock protection, all while maintaining the iPhone's compact profile. No dongles, no adapters, no problem.

Buy a Fuze case for your iPhone 7 or 7 Plus and bring back the jack. Don't get tangled up in a mess of adapters. You should be able to listen to music with your favorite headphones whenever you want. When you purchase Fuze, you're purchasing the freedom of choice — something that itself should be free.
#bringbackthejack


See what people are saying about fuze.
"…genius iPhone 7 case…"

The iPhone 7 and 7 Plus are right around the corner. And while we're as excited as everyone else for the glossy surface, brighter screen, and the amazing cameras, we were also saddened to hear that Apple has decided to kill the standard 3.5mm headphone jack.
This isn't just about headphones: Most of us use audio devices besides earbuds — in our homes, work, and on the go.
Many tech-experts recommend using a case with the iPhone 7, so why not one that restores the one thing most people think the iPhone 7 is missing?

Apple wants you to buy their new AirPod wireless earbuds. Remember how bad it was a few years back when we were first trying Bluetooth earpieces? This is twice as bad. Plus, they're expensive, and you know that you'll end up losing one. On top of that, you need to recharge them after just five hours of use — curfews are not good for anyone. Regular earbuds don't have curfews. Regular earbuds are ready to party as long as you are.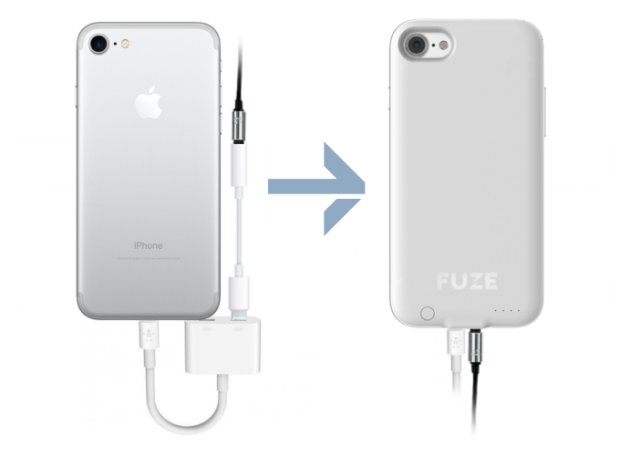 And sure, Apple is packaging the iPhone 7 with a 3.5mm to lightning adapter, but what if you want to charge your phone and listen to music at the same time? If you want to — and most people do — then it looks like this: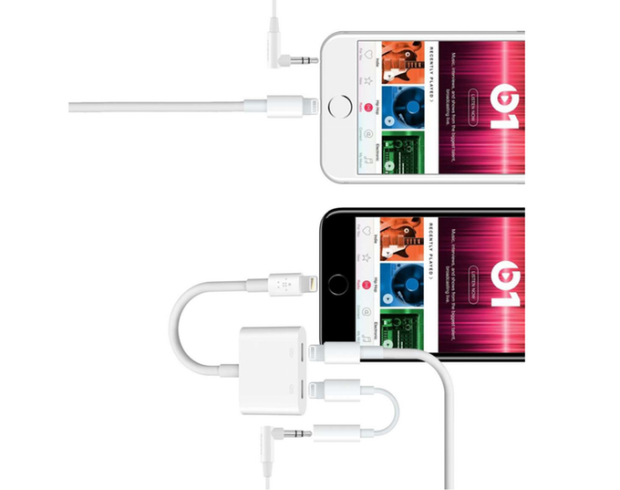 Ridiculous, right? That's why you want a Fuze case. You want your standard audio jack, and we're here to give it to you.


Fuze's differentiating factor is an industry standard 3.5mm audio out jack, just like the one every previous iPhone included. You bring your favorite earbuds, and you're ready to rock.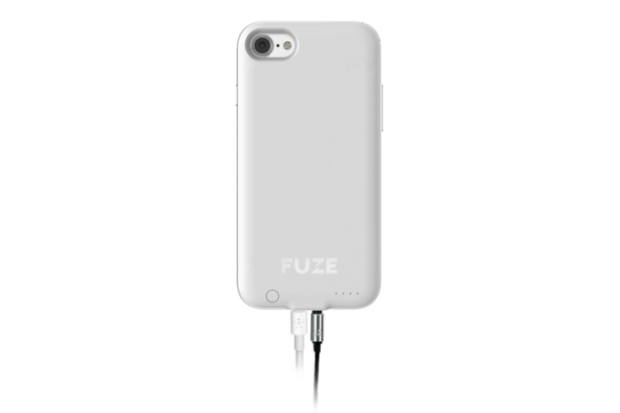 Our smartphones are important parts of our work and personal lives. We all know the anxiety that goes along with a battery that's dangerously low. Don't get stuck in a situation where you can't send that business email, or you miss an important call from a family member. Fuze offers a built-in battery that can double your iPhone 7's daily lifespan, making those anxiety-inducing moments disappear.
Fuze uses advanced Sync-Through technology that allows you to sync or charge your iPhone 7 or 7 Plus without removing the battery case. That means you can charge both your iPhone and battery case at the same time, all while listening to music.
No additional micro-USB cables or adapters like other cases force you to use. Fuze uses the Lightning cable that comes with your iPhone.
The battery size for Fuze is rated at 2,400 mAh (iPhone 7), or 3,600 mAh (iPhone 7 Plus).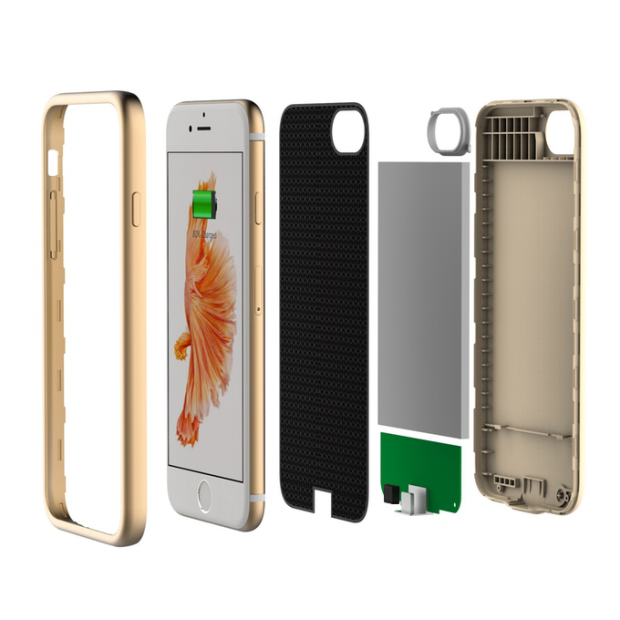 The Fuze case is made of durable TPU and ABS plastics, the same plastics used in Apple's own battery cases. Fuze not only allows you to use your headphones again, but also protects your phone from drops and scratches — something Tim Cook, Apple's CEO, said was very important when buying a new iPhone 7.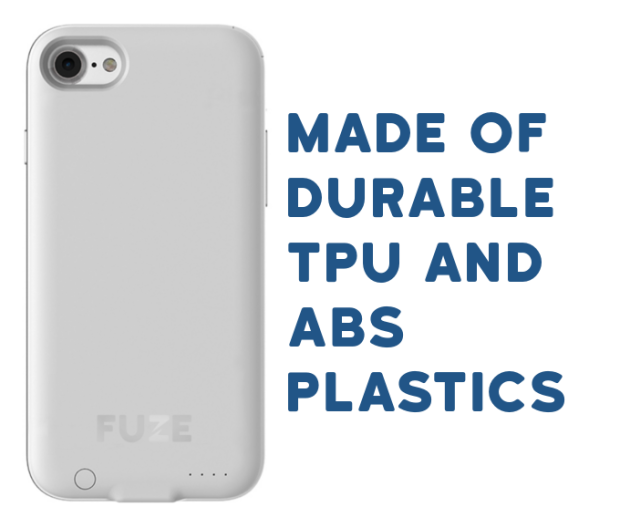 While most cases extend your phone on the bottom with a "chin" — sometimes up to 15mm (.6 inches) — Fuze keeps the slim design the iPhone is known for. Our case only adds volume where it's necessary. Fuze has an incredibly thin profile, adding only 5mm (.2 inches) to the overall thickness of the phone. Additional weight isn't much of an issue either as Fuze weighs only 28 grams (2.9 ounces) — less than a deck of playing cards.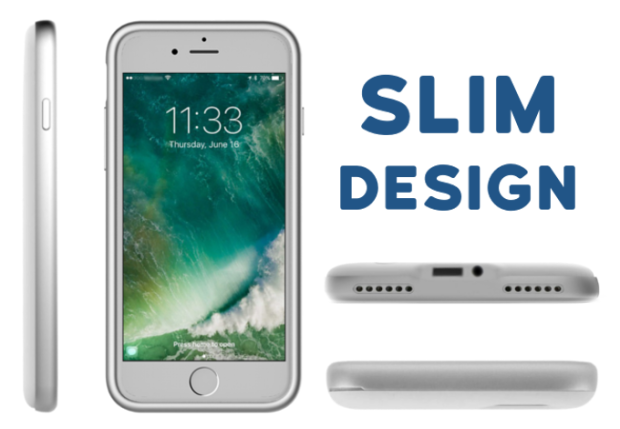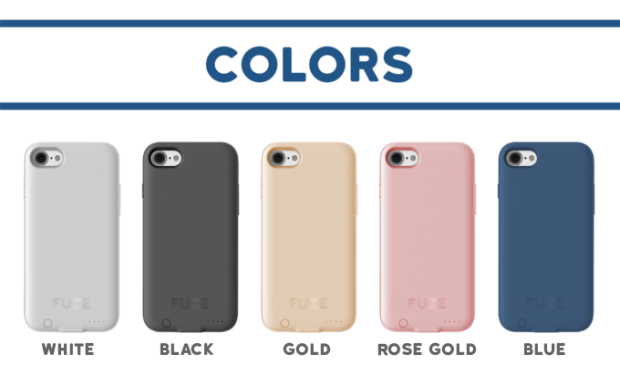 The final design of Fuze didn't come easy — we went through and rejected many revisions of our design until we got something that we're proud to offer here. We used lean hardware development that kept the costs down in both the prototyping phase as well as production. We used the latest rapid prototyping techniques in order to hit the market as close to the iPhone 7 launch as possible — and to make sure it's available to be delivered by the holidays.
The unit you see in the video — and in some of the other pictures — is a design prototype that was used to display Fuze's functions. Our original case was designed to have an extended base where the 3.5mm audio jack would be stored. After prototyping and testing, we came to the conclusion that the extended base is too bulky and unattractive. So, our video displays one case and our pictures display another. The case that our backers will be receiving is the case displayed here on this page.
Fuze is built on an existing case design that has been revered for its positive attributes. We chose the case design due to it's slimness, durability, and great looks. In doing this, we are able to have a beautiful design that compliments the iPhone 7's gorgeous silhouette, advanced technology that you can trust, and a great manufacturer with experience in Apple MFi (Made For iPhone) products. We also have greatly sped up the process for manufacturing, and ultimately delivery. Three months is a very short time but we feel we will be able to deliver your Fuze case in that time.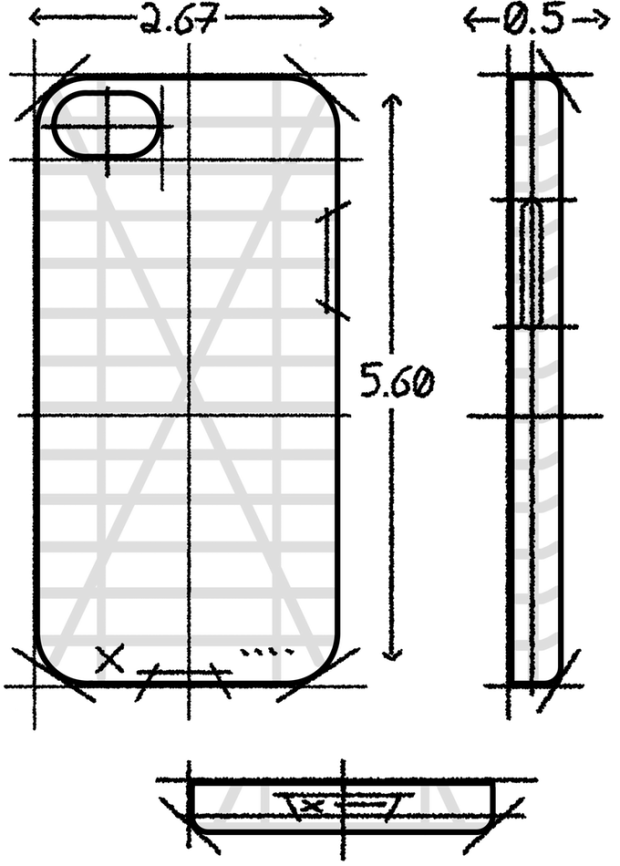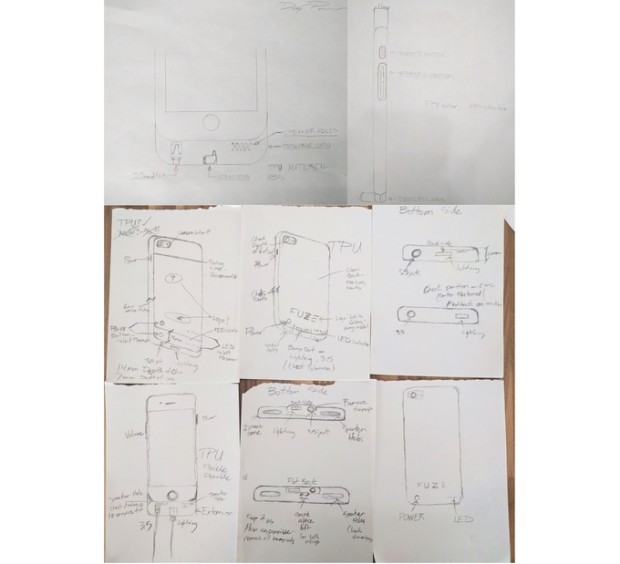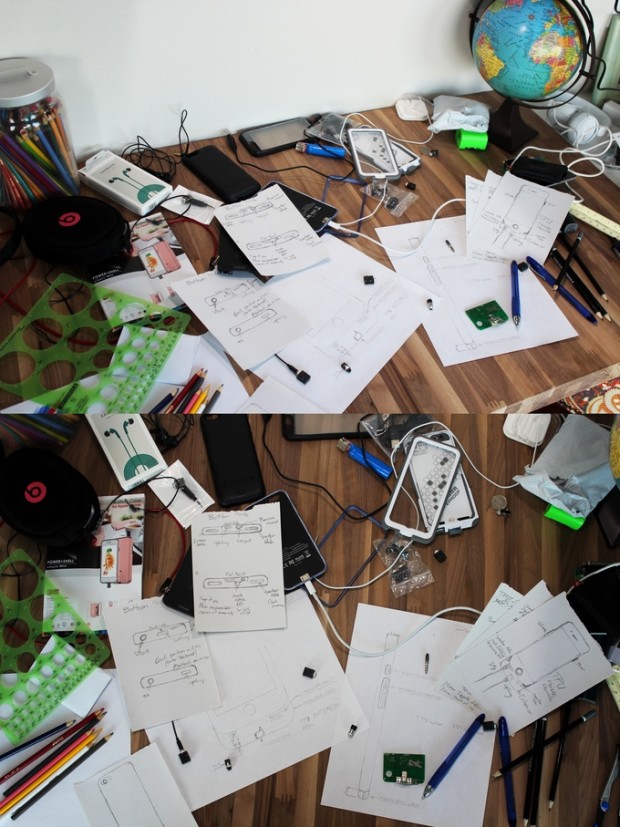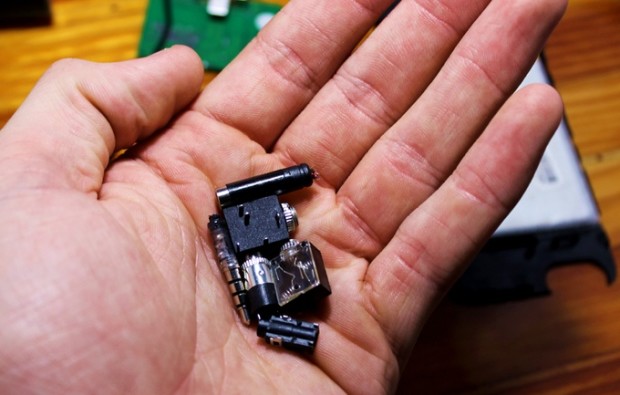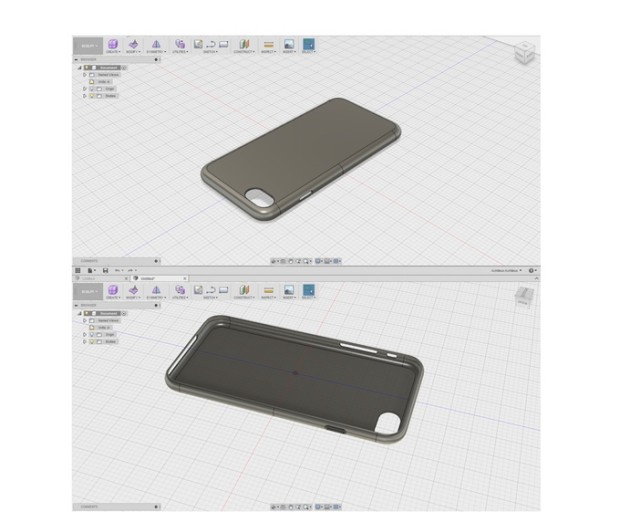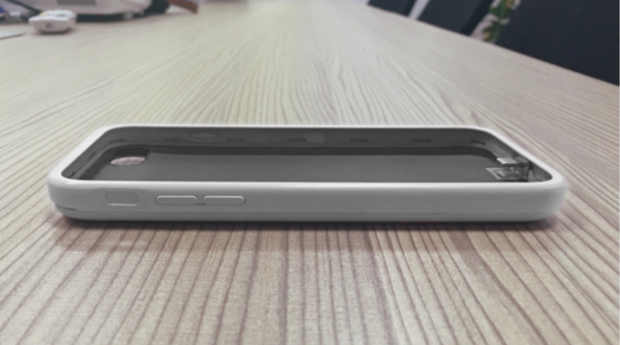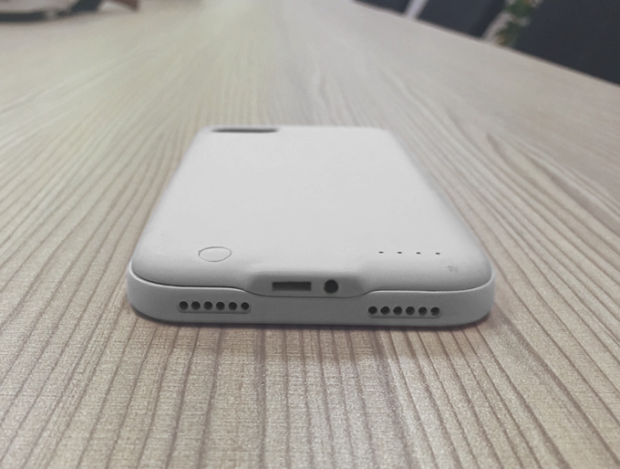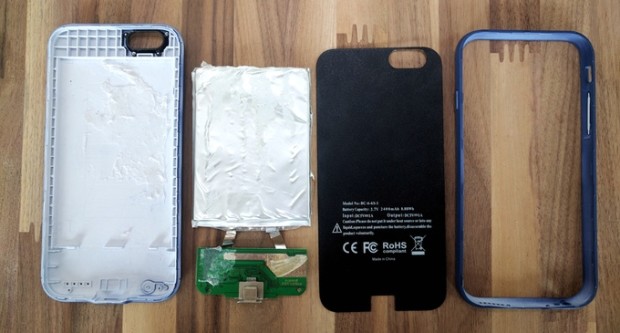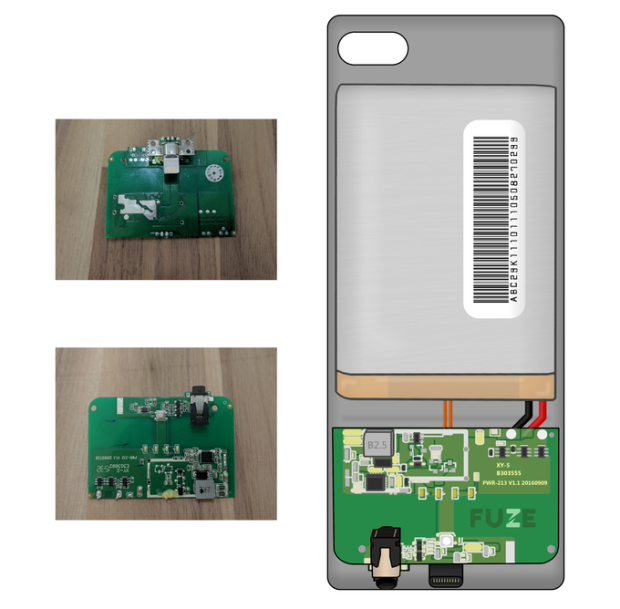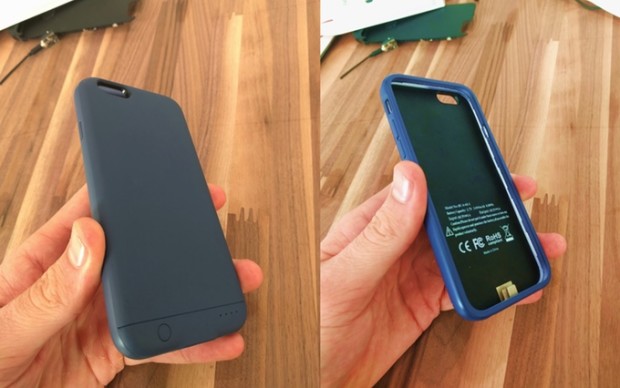 Developing phone hardware is a lot like developing software: You plan, you experiment, you build, and you ship it. Unlike software, though, hardware needs to be physically built, which is something of a large obstacle.
To do this, a product requires hardware designers, engineers, and a team with thorough knowledge of product manufacturing standards and practices. Thankfully, Fuze has all of this and more behind it. The downside is that even with our experience and knowledge there are still minimum orders for production runs due to tooling, logistics, and other hurdles that must be overcome before a product can be brought to market.
We can address many of these in the pre-order stage, and that's where you come in. We've made our goal as low as possible to cover these costs to make sure Fuze is available in a timely fashion. But's it's not just about being quick — our manufacturing partner is MFi certified, something Apple asks of all of its hardware partners. That means the Fuze will be of the same quality as it would be had Apple made it itself.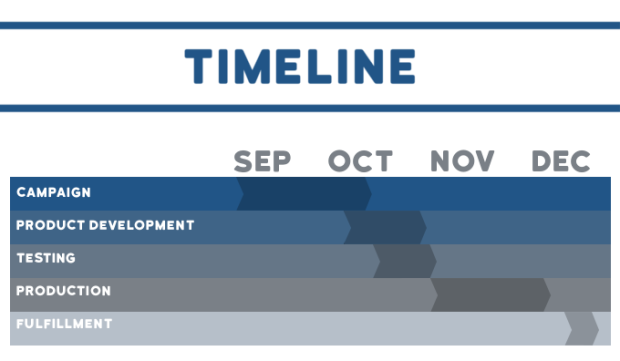 Our Planned Schedule:
September 12 – 25: Prototype and Early Testing Stage
September 28 – October 28: Crowdfunding Campaign
October 5 – October 25: Product Development (Tooling and Final Unit)
October 15 – October 31: Final Testing
November 1 – December 10: Production
December 13: Fulfillment (Units should arrive before December 23)