iCrowdNewswire - Oct 2, 2016
Xpider: World's Cutest Spider Robot
The neural network-powered spider robot that fits in the palm of your hand.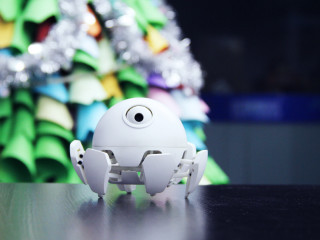 Xpider: The neural network-powered spider robot that fits in the palm of your hand. Smallest 3D Printable and Programmable Spider Robot with unlimited plays and fun! Only 3.4-inch in diameter and weights only 5.3 oz. You can easily place it on your desk and play with it anytime you want.
What's Xpider?
Xpider is the smallest programmable spider robot in the world. It's a neural network-powered spider robot that fits in the palm of your hand. It measures only 3.4-inch in diameter and weights only 5.3 oz. You can easily place it on your desk and play with it anytime you want.
Camera Integrated, you can see the world in different perspective.
Programmable, it can be program with easy to perform all sort of robotic tasks.
Navigate with AR, point and click at object on screen and see Xpider navigate to it automatically.
3D printable, you can easily modify and to create your own version by printing a different 3D model!
Neural network support, it can also be trained thanks to the powerful Intel Curie neural network inside it.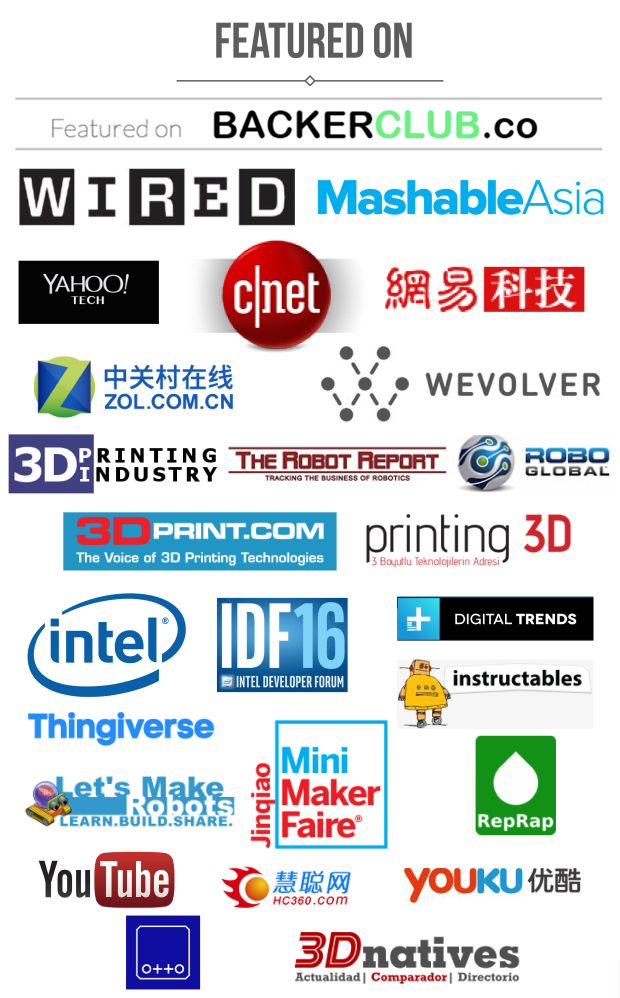 ​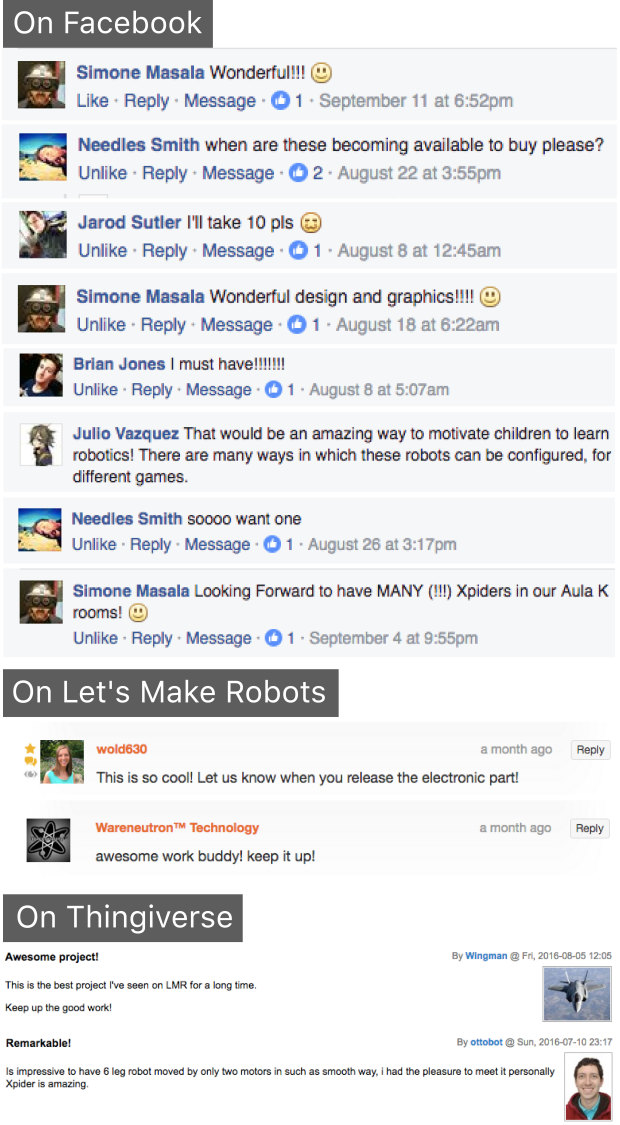 How to Play with Xpider?
See the world in different perspective
The integrated camera gives an entirely different view of the world. You see what Xpider see on your smartphone or tablet. Xpider can be controlled from the phone and give you an adventure of the familiar space in entirely different view.

Navigate Xpider with AR
We developed a surface approximate navigation system to make it easy to navigate Xpider around. Combine with AR; it surely makes moving Xpider around a lot of fun! Check out the demo video here.
3D Printable
We open sourced all the 3D models of Xpider. And we encourage everyone to modify 3D models to make your special Xpider for your own. Do you want a square head version? Ok, no problem, Let's make it!
Super Easy to Program
Xpider is so easy to program that EVERYONE can do it! Thanks to SmartNode that you can easily program Xpider from computer or iPad by simply drag and drop. Check out the video to see how easy it is to get Xpider to do what you want! We integrated Xpider control command into the Smartnode. Just drag and drop, you can custom the action of Xpider, for example, walk, turn, even if human face detection.
Train instead of Program (Curie version Only)
Powered by the neural network inside Intel Curie module, Xpider can not only be programmed but also it can be trained. Add distance sensors and a remote control; you show Xpider how to act, and its neural network learns! How COOL is this!?!
Customizable
There are quite a few ways to customize your Xpider. The case of the Xpider was white and you can paint it easily with model paints. You can also design new accessories and 3D print them to be attached So many ways to customize Xpider, imagination is the limit!

Roboeve Team
Roboeve team is passionate about making robots. Most of us came from Team Water, one of top college robot teams in China. We won three championships in RoboCup, one of the top robotic competitions.
After graduation, we took jobs working on embedded systems and still hang out from time to time. In late Nov last year, we got together to watch anime. While we reminisced of the days of competition and the freedom to experiment with robots, a lightbulb went off! We want a robot that can sit on our desk as beautiful as the anime figure and is also powerful like those competition robots that we can program and modify to do all sort of things!
Team Roboeve was founded and the idea for Xpider was born!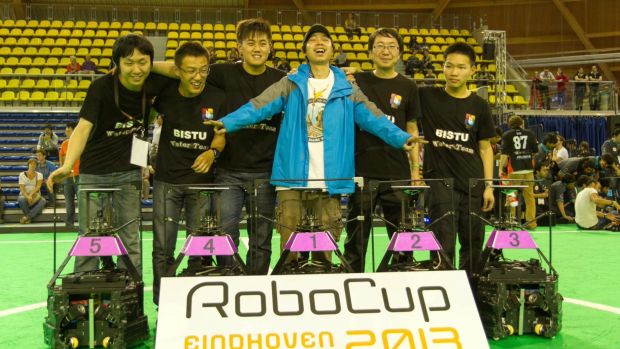 Xpider Labor of Love
Nine months of hardwork and we finally have a Xpider we are proud to bring to the world! Here is our journey to create Xpider.
Sketching like crazy!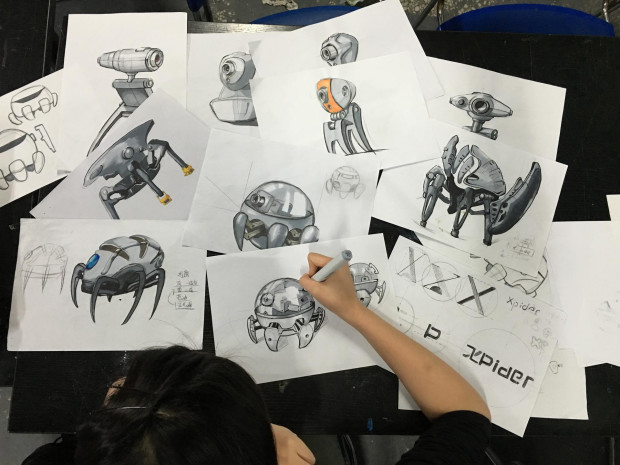 Getting the right look of Xpider is very important to us! Not olny we want a programmable robot for everyday use, we also want it to look great on our desk like an top anime GK (Garage Kit)! We went throught hunderds of sketchs on our notebooks and a dozen times of 3D modeling!
Modeling and 3D Printing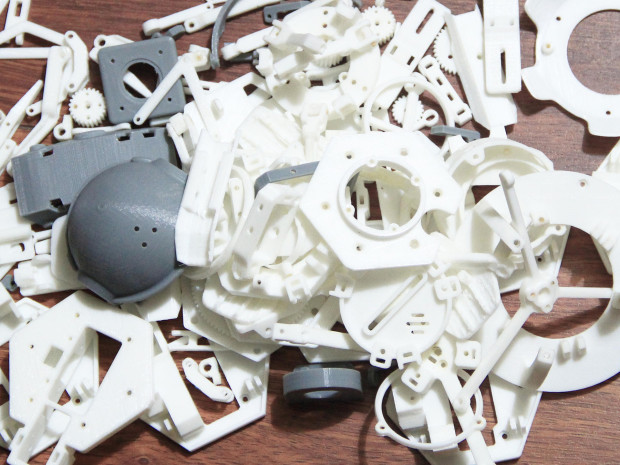 We are so happy to have 3D printers. We want Xpider to walk with style! We have gone through dozens of mechanical designs and print out hundreds of pieces to make sure Xpider walks smoothly and with great style.
Solid Works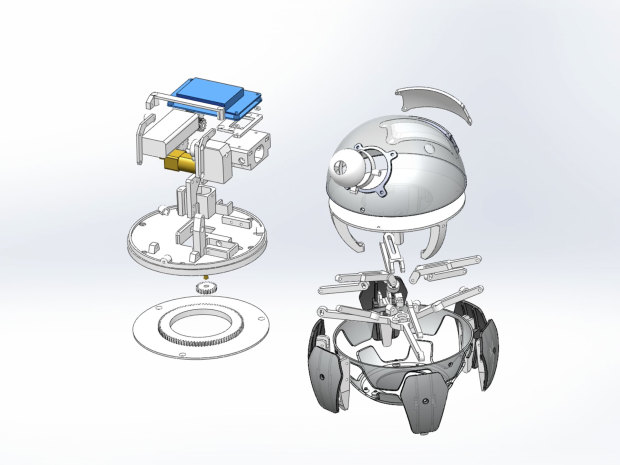 We built dozens iterations of functional spider robots with 3D modeling, part printing and circuits building.
Drag and Drop programming with SmartNode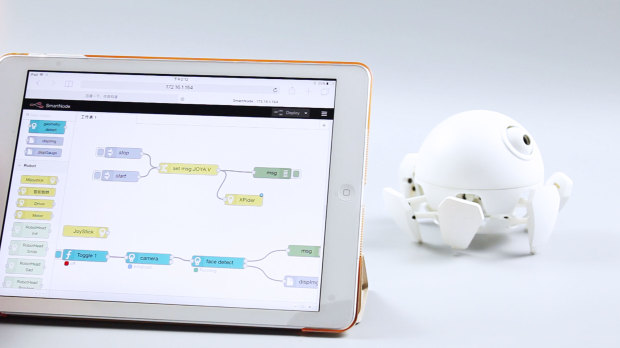 Xpider should be easy to program! Max spent a lot of time integrating Xpider and SmartNode to make sure Xpider is not only programmable but also easy and fun to program for everyone!

Team Members
————————————————————————————————————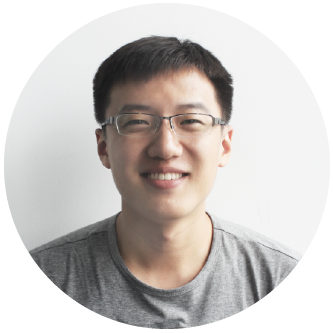 Max Tian
Project Founder
Hi, I'm Max.I am totally into building robots. In college, I was in the Water team, and we won RoboCup championship in 2010, 2011, 2013 and 2015. It is exciting to build robots for competitions, but I only get to do it during the games. I want a powerful robot that not only can be programmed but also can sit beautifully on my desk like anime figure!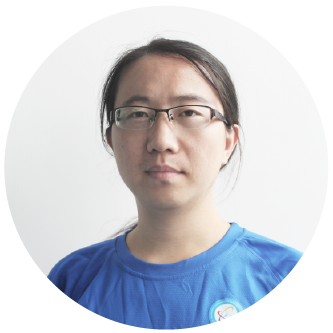 Binbin Li
Hardware Engineer
Hi, I am Binbin. I am happy to get together with my old teammates from Team Water to work on Xpider. I work in the electronics of Xpider designing and building circuits boards.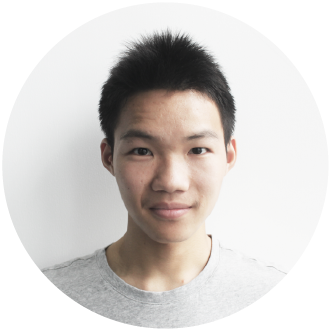 Zongyi Zhang
Structure Engineer
I am Zongyi a.k.a. Craftsman because I am great with structural and mechanical designs. I want Xpider not only being able to walk, but it will walk with style like those beautiful robots from anime. My teammates thought I was nuts with some of the major design changes just to make Xpider walk more elegantly!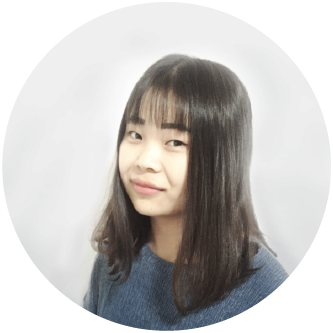 Cara Wang
Graphic Designer
I am Cara. I am a graphics designer. When I met with Roboeve team, I know I want to be part of the team. I am in charge of pretty up Xpider and give it personality. I am in charge of the logo and graphics design for Xpider. I also run the social medias to tell the world about this amazing robot we have created!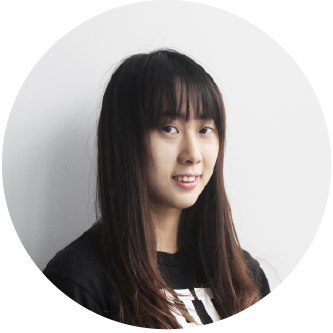 Anna Feng
Copywriter
I'm Anna. I'm the copywriter of the Xpider. I'm a fan of Ghost In The Shell. When I first meet Roboeve team and learned about Xpider. It looks like a real life Tachikoma! I enjoyed writing about the progress of Xpider and share the excitement with the world!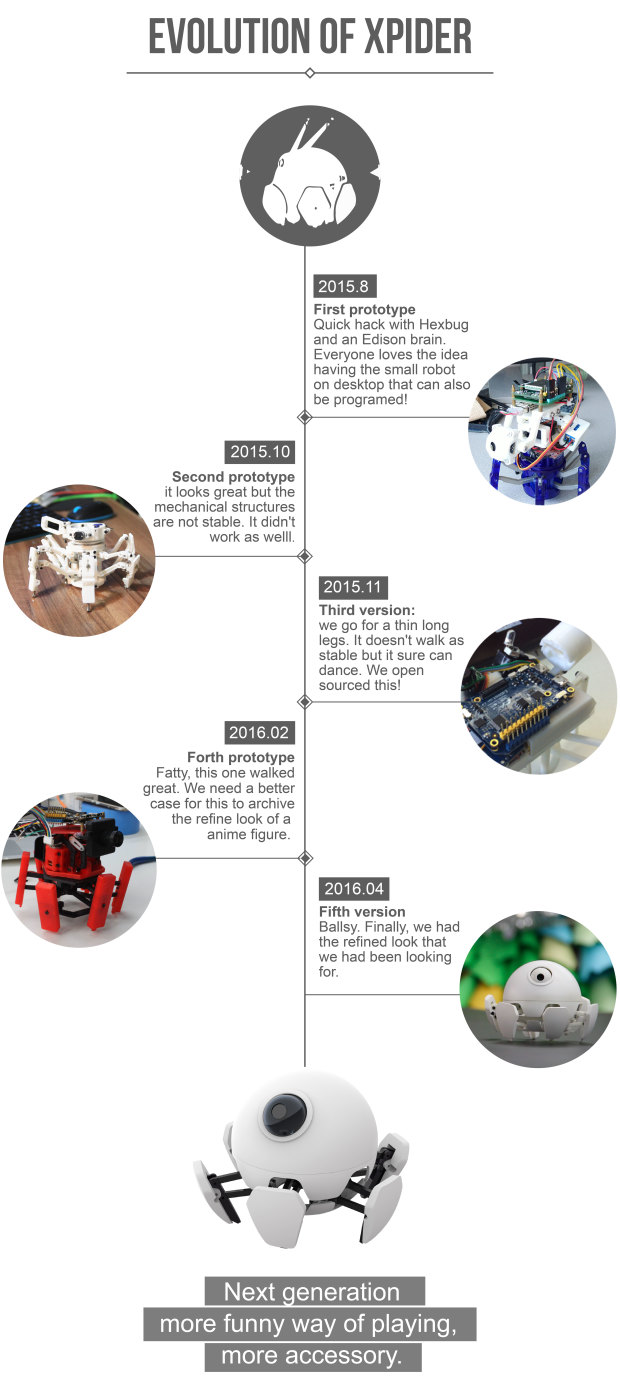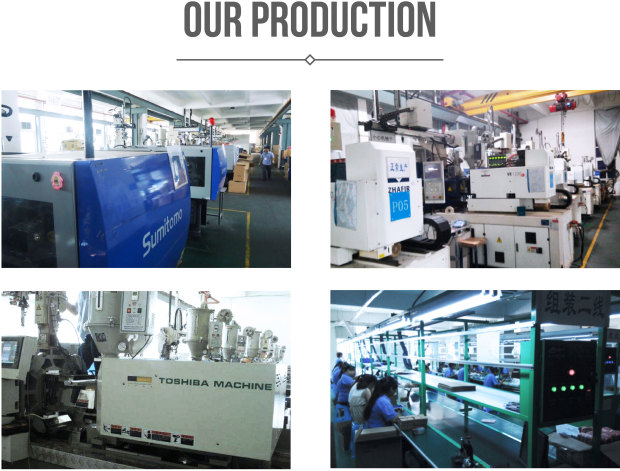 To ensure the best quality possible for Xpider production, we have visited factories all over China. We decide to partner up with Padmate in Xiamen, the beautiful costal city in south China. They have been OEM/ODM for Lenovo, Nokia, ZTE and other major brands and are very keen to help startups.

​
What's the biggest difference between Curie version and Arduino version?
The Curie version Xpider includes Intel curie module in it, which has more powerful processor than Arduino. And the most important part is that the Curie module includes a Neural Network Classifier. With this Classifier, you can teach your Xpider HOW to interact with the world.